Did you ever wonder where the expression "Dog Days of Summer" comes from? That phrase actually dates back to ancient times and relates to the brightest star in the sky, Sirius, the Dog Star. At the peak of summer, the Sun lies in the same part of the sky as Sirius, and early civilizations thought that the combined heat of Sirius and the Sun caused midsummer's sweltering weather. Of course, the appearance of Sirius doesn't actually affect the weather, but the "Dog Days" connection with sultry summer heat has continued to this day.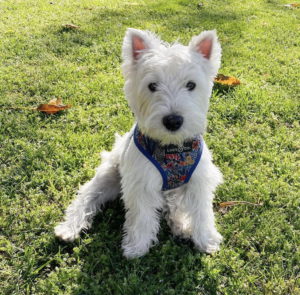 Circa loves pets! We welcome both dogs and cats, and offer an array of fur resident amenities to keep your pet healthy and happy. We've also rounded up some tips and local DTLA resources to pamper your pet during the Dog Days of Summer. Pictured: Super Cooper, one of our resident pets.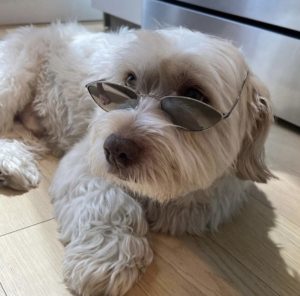 Now that the heat is on, it's time to treat your pooch to some extra special pampering. WebMD has some great tips for keeping Fido cool and comfortable all summer long HERE Pictured: Charlie, one of our resident pets.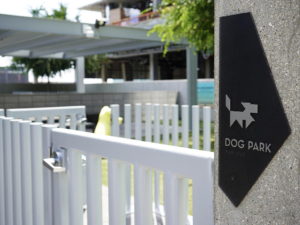 This way to the Dog Park. Our 2-acre rooftop oasis includes a pet grooming area and large and small dog parks.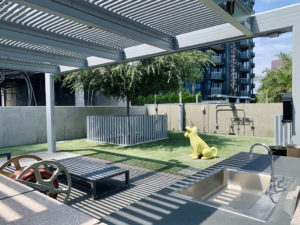 Circa's Dog Park features a "Woof Wash" and grooming station.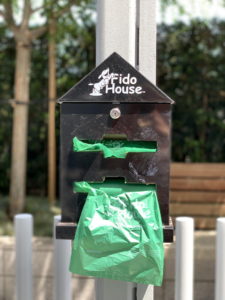 Forgot your bag? Visit the Circa Fido House for easy clean up.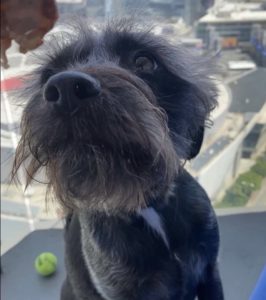 Circa Pet of the Month
We're so obsessed with our fur residents that we created Circa Pet of the Month. Our residents can enter each month by submitting a photo of their pet on Instagram and tagging us (@circalosangeles) + #CircaPets. We then choose three pets and let our community vote on Instagram for their favorite Circa Pet of the Month. Winner gets a $25 rent credit, plus a special discount code for an item out of the Petssentials vending machine. Pictured: Rick Ross, our August Circa Pet of the Month.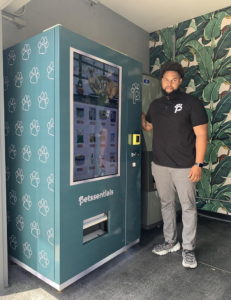 Our Petssentials vending machine offers residents a safe, time saving resource for purchasing quality pet products and essentials. Simply go to our conveniently placed machine and insert your money, pay app, ATM/credit card. Your selection will be dispensed for your instant use.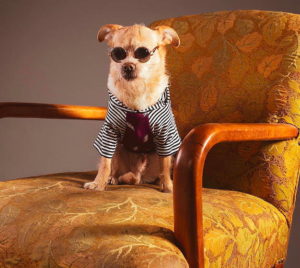 Pet Project LA 548 S Spring St. Los Angeles, CA 90013
Pet Project LA wants to show your fur babies the love by stocking the hottest trends plus all the essentials to keep your pet happy, healthy, and in style. And to keep your pet piqued, their vast inventory is constantly curated to support the DTLA community with creative products for dogs, cats and small animals. Offerings include seasonal pet apparel, pet party supplies, grooming products, bowls, carriers, e-collars, and food & treats from all your favorite brands.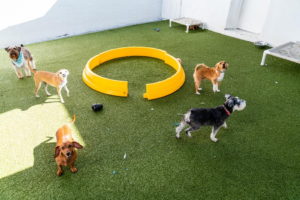 Bone Sweet Bone 435 Molino St. Los Angeles, CA 90013
Located in DTLA's Arts District, Bone Sweet Bone offers a full range of services for pet parents who seek loving alternatives to conventional pet care. Their indoor/outdoor facilities are a cage-free environment with 24/7 supervision, so you never have to worry about what your pup is getting into. Guests of the canine-persuasion can take advantage of Stay + Play Care, Salon + Spa, Slumber Care and the Bark Boutique, selling premium food and treats, toys, supplies, clothing, and accessories.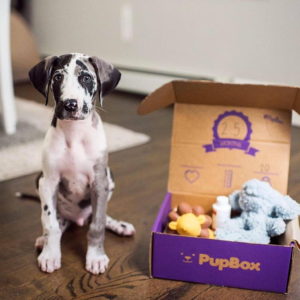 Petco 850 S Hope St. Los Angeles, CA 90017
Got a new puppy? Petco makes puppyhood easy with the PupBox toy, treat and training kit, customized for your pooch. Each month you'll receive a box of all the products and training information you need to be the best puppy parent paw-sible. Toys, treats, chews, and accessories are all handpicked based on your pup's age and physical characteristics. Your box will change based on your pup's growth and development, introducing you to new products and themes along the way. From the potty training blues, to chewing on shoes and the terrible twos, Petco will be there for it all.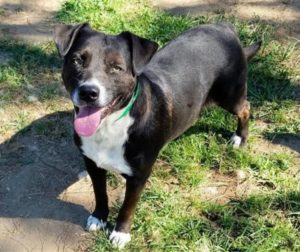 Looking to adopt a furry friend? LA Animal Services offers a wealth of information for prospective pet parents, including adopting a pet, finding a lost pet, licensing, animal vaccinations, spay/neuter information, microchipping, and what to do if you find a stray animal. Search for your perfect animal companion on the website's Adoptable Pet Search. All cats, dogs and rabbits adopted from L.A. Animal Services will have a microchip. The cost of microchipping is included in the adoption fee. LA Animal Services centers are open by appointment, so you can still foster and adopt a pet.
Photo Credits:
Photo #1: @lifewithboujee
Photo #2: @supercooper_westie
Photo #3: @charlieeeemalik
Photo #4: Circa
Photo #5: Circa
Photo #6: Circa
Photo #7: Franky Salerno
Photo #8: Petssentials
Photo #9: Pet Project LA
Photo #10: Bone Sweet Bone
Photo #11: Petco
Photo #12: LA Animal Services