The 2021 Vernal Equinox is March 20, marking the first day of Spring. Now is the perfect time to get out and commune with nature. According to recent research, experiencing awe in nature has a powerful effect on emotional well-being, including less stress in our daily lives and boosting healthy feelings of compassion and gratitude. One of the most coveted features at Circa is the two-acre private rooftop park and amenity collection, offering residents plenty of greenery and spaces to retreat, gather and entertain. But beyond the comfort of home, we've rounded up some wonderful ways to add some awe to your routine, including bird watching trails, a butterfly pavilion, outdoor art installations, and a bounty of spring blooms. We even found some apps to enhance your experience of nature. Check websites for hours, advance ticket sales, and health guidelines.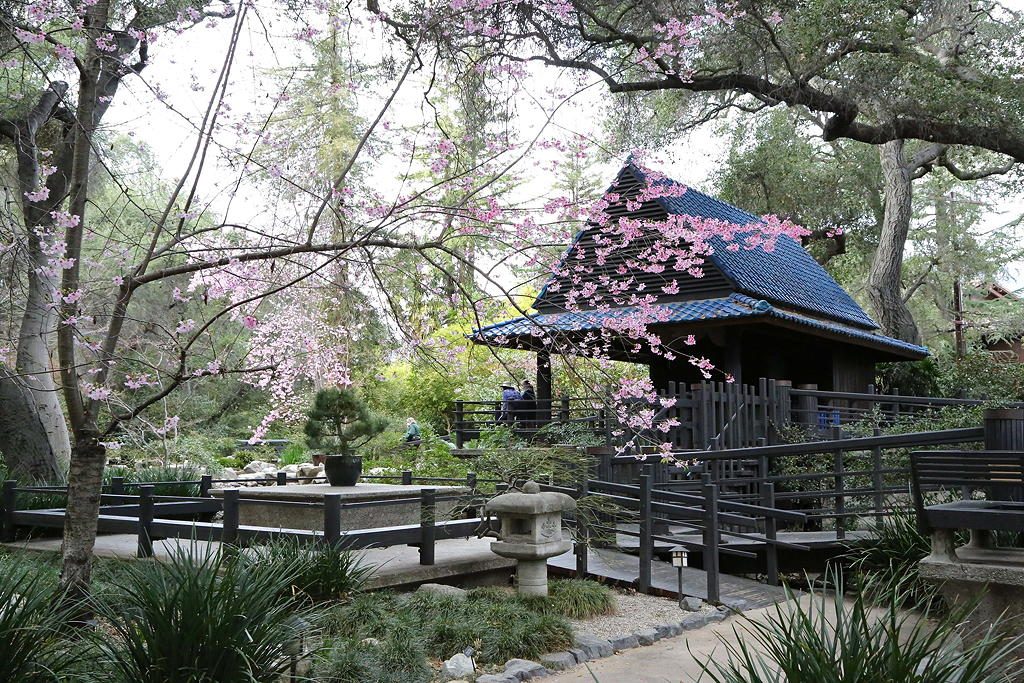 Descanso Gardens Bloom Boom 1418 Descanso Dr. La Cañada Flintridge, CA 91011
Experience Descanso's bloom boom! Descanso Gardens celebrates all nature has to offer in the late winter and early spring. Currently blooming you'll find Descanso's iconic cherry blossoms, camellias, crabapples, daffodils, tulips, California poppies, and lilacs. Colorful flowers are a sure sign of spring, but not the only one. The birds of Descanso mark spring by making their homes in the garden. As you explore Descanso, look for special areas from the Promenade to the Oak Woodland marked with the Signs of Spring logo. There you will find displays both educational and artistic, including works by artist David Lovejoy. They'll invite you to explore birds, nests, blooms, and all the signs of spring. Advance tickets required for non-members.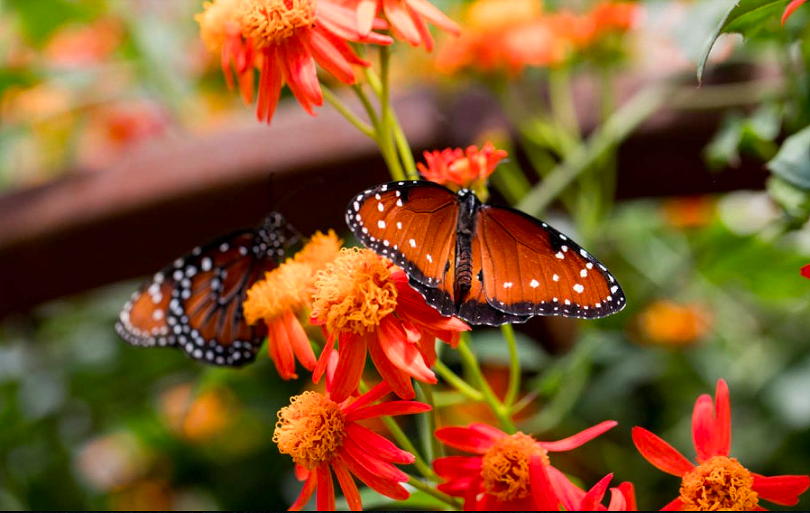 Butterfly Pavilion at NHMLA 900 W Exposition Blvd. Los Angeles, CA 90007
Butterflies are taking flight at the Natural History Museum. Walk among beautiful butterflies in the seasonal Butterfly Pavilion. This springtime exhibition features hundreds of butterflies, colorful native plants, and plenty of natural light to help you see these creatures shimmer. With lots of flight space and a variety of resting spots, you'll have one of the best views in Los Angeles of these amazing insects. Enter through the North Entrance and enjoy a stroll through the beautiful Nature Gardens on the way to the Butterfly Pavilion. All guests are required to reserve all tickets in advance for the Butterfly Pavilion and parking.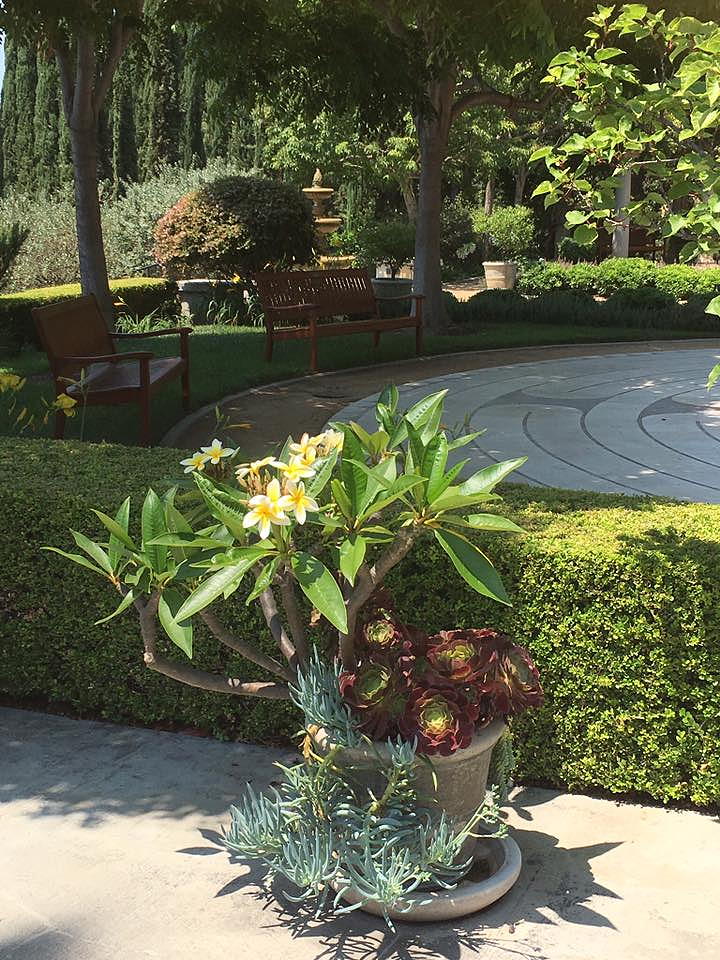 Peace Awareness Labyrinth & Gardens 3500 W Adams Blvd. Los Angeles, CA 90018
Need to unwind your mind? Peace Awareness Labyrinth & Gardens was established by the Movement of Spiritual Inner Awareness as a non-profit center dedicated to peace and spirituality. Called a "Spiritual Oasis in the City," its purpose is to provide a place for people to take time out of their busy lives to visit, reflect, and be rejuvenated by the peace and solace of nature. The centerpiece of the property is an outdoor stone labyrinth, using the same design as the Chartres Cathedral labyrinth. The spectacular Asian-themed meditation garden presents sixteen water features, a koi pond, and intimate seating areas tucked away to reflect, repose, meditate, while a pergola and courtyard gardens offer additional areas to enjoy.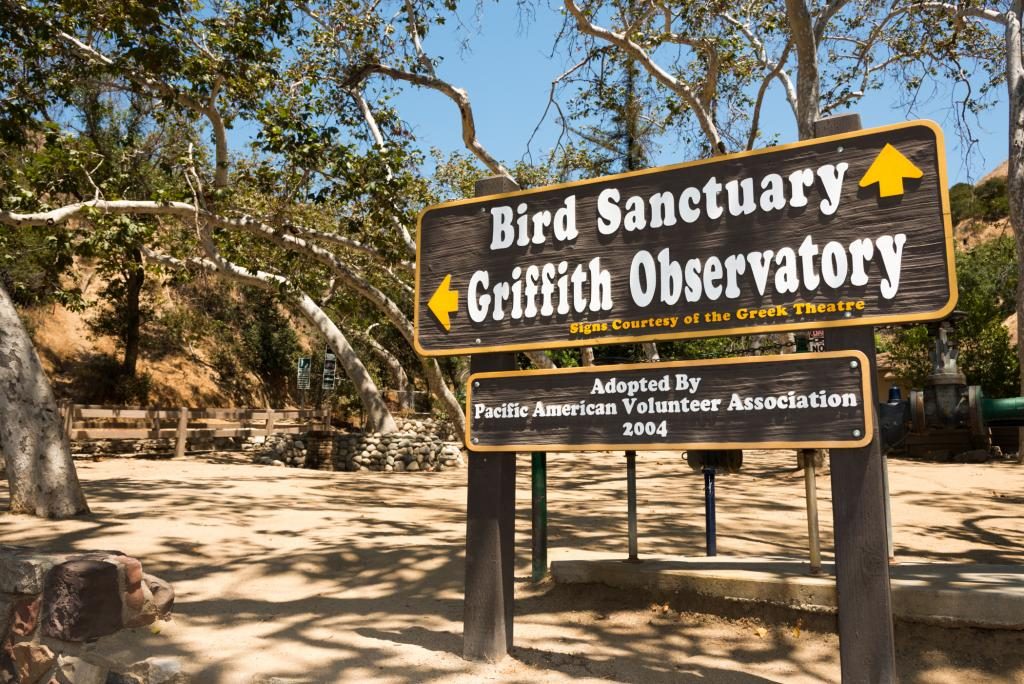 Griffith Park Bird Sanctuary 2900 N Vermont Ave. Los Angeles, CA 90027
Nestled in a wooded canyon with a small stream, the Griffith Park Bird Sanctuary and Trail offers views of many species of birds in their natural habitat. This short hike offers great views and connects to a wider system of trails. The bird community represents most of the rich diversity found in the Santa Monica Mountains. More than 200 species have been recorded over the years, and around 150 are seen every year. From March through June, nearly 70 species may nest, particularly in the many small canyons that drain off the slopes into the Los Angeles River.
Ellen Reid SOUNDWALK Featuring Kronos Quartet in Griffith Park
Ellen Reid SOUNDWALK is a free, GPS-enabled work of public art that uses music to illuminate the natural environment of L.A.'s Griffith Park. Created by Pulitzer Prize-winning composer and sound artist Ellen Reid, the experience is guided by the listener: the path you choose dictates the music you hear, and no two visits will be exactly the same. After downloading the free app and putting on your headphones, you can explore the park, triggering musical cells that are carefully crafted to harmonize with the park's landscape and attractions. SOUNDWALK can be experienced while following social distancing guidelines and will be available free of charge to park visitors through 2023. Get the free app HERE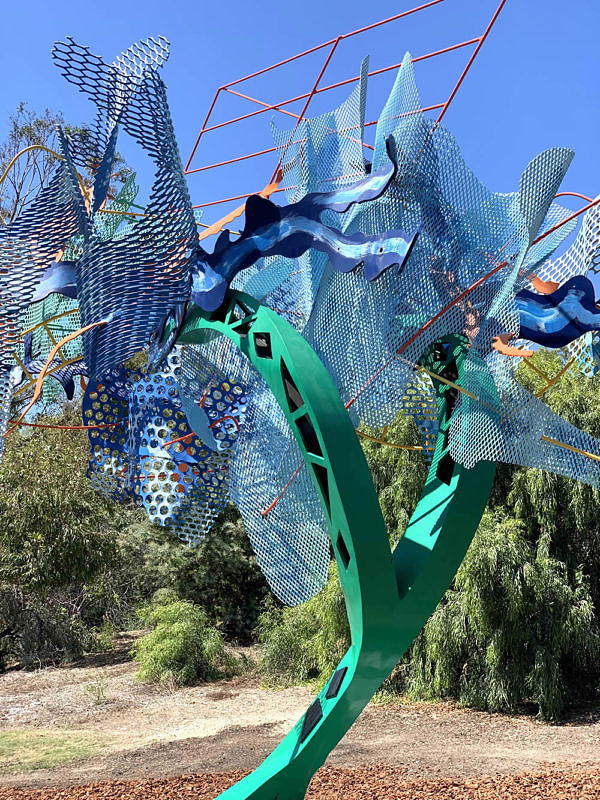 Hide & Seek Art: Meets Nature South Coast Botanic Garden 26300 Crenshaw Blvd. Palos Verdes Peninsula, CA 90274
Embark on an artful adventure at South Coast Botanic Garden and explore 87 acres of lush habitat and manicured gardens. Hiding amid colorful blooms and luscious flowering trees are eight exquisite works of sculpture just waiting to be found at the Garden's newest exhibit: Hide and Seek: Art Meets Nature. The exhibition features two contemporary pieces owned by South Coast Botanic Garden and six modern works from the collection of the Los Angeles County Museum of Art. The sculptures have been carefully placed throughout the Garden as a way to encourage nature exploration with an artful game of hide and seek. The Garden's vast nature space provides an exquisite opportunity for each sculpture to express its own artistic character. The interplay of nature and art will add a whole new level of appreciation for the Garden's botanical collections.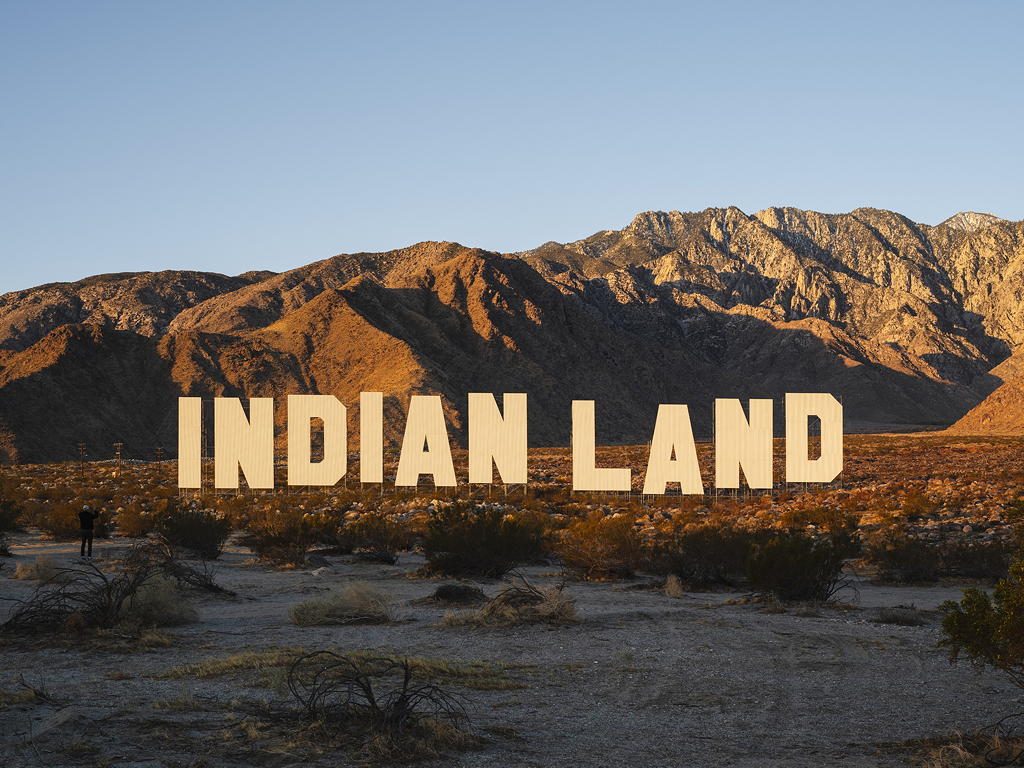 Desert X DX 2021 Coachella Valley, CA
Ready for a road trip? Desert X is a site-specific exhibition that first took place in Spring 2017. Artists from different parts of the world are invited to create work in response to the unique conditions of the Coachella Valley and project their vision based on the extraordinary natural and social history, matchless spectacle of the geologic epic, radical abstraction of the surrounds, and the singular incursions of humans into the seemingly barren landscape. Free and open to the public, but health and safety guidelines apply. Timed tickets are required at select sites. Download the Desert X app HERE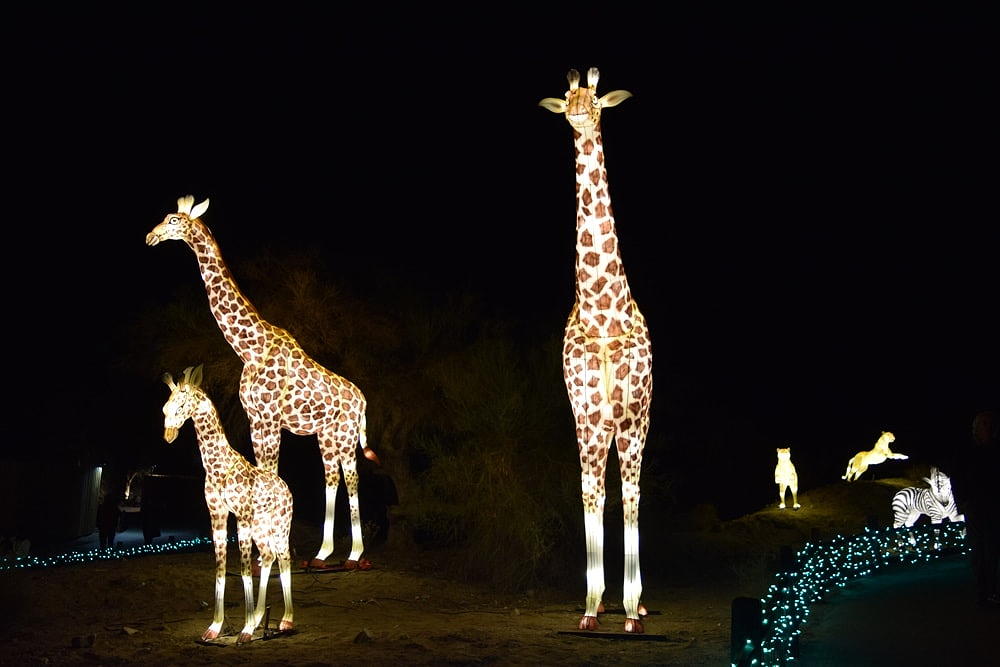 The Living Desert WildLights of Spring 47900 Portola Ave, Palm Desert, CA 92260
The Living Desert Zoo and Gardens is excited to announce that WildLights is returning to the Zoo – with a spring twist! WildLights of Spring will take guests on an illuminated journey around the Zoo with vantages of select animal habitats including the emus of the new Australian Adventures, and new for Spring, a portion of the African Safari loop will be open for guests to see cheetahs, zebras, African wild dogs, and more. Plus, there will be new music for the light zones – including the Tunnel of Lights, Dazzling Gift, and Discovery Center. Guests can take a spin on the carousel and make s'mores around a fire, for an additional fee. Food and refreshments will be available for purchase. Advance reservations required.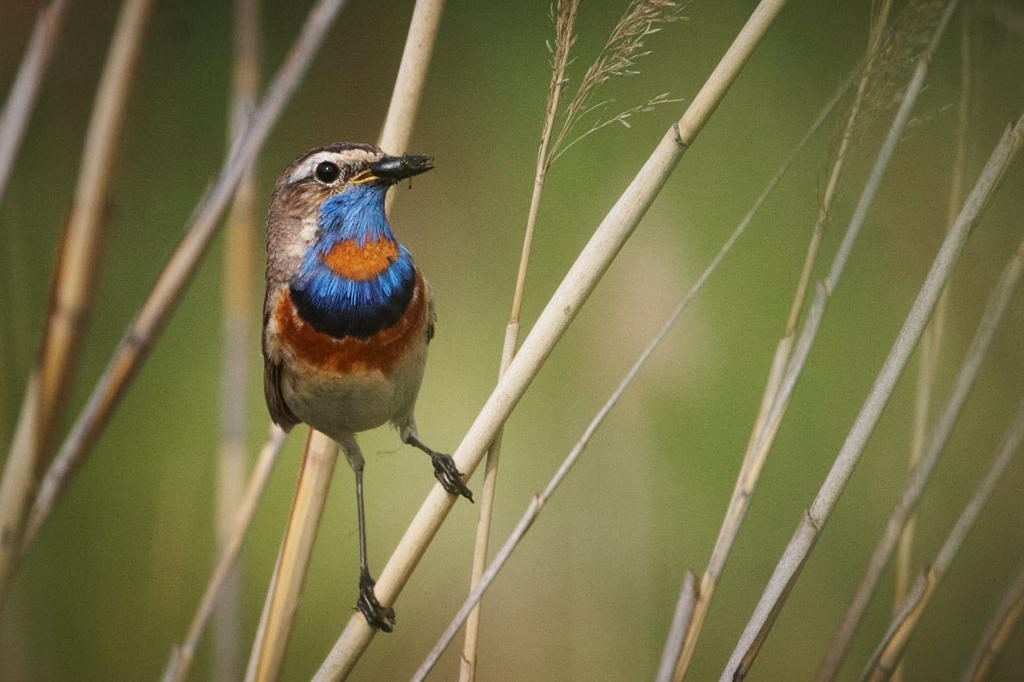 Do you want to contribute to science? The iNaturalist app allows you to connect with nature and record your observations of the natural world, such as birds, plants, forests, butterflies, marine life, and wild bees. You can share your observations with fellow naturalists, discuss your findings, and create your own projects. Every observation can contribute to biodiversity science, from the rarest butterfly to the most common backyard weed. iNaturalist shares your findings with scientific data repositories like the Global Biodiversity Information Facility to help scientists find and use your data. All you have to do is observe. iNaturalist is a joint initiative of the California Academy of Sciences and the National Geographic Society.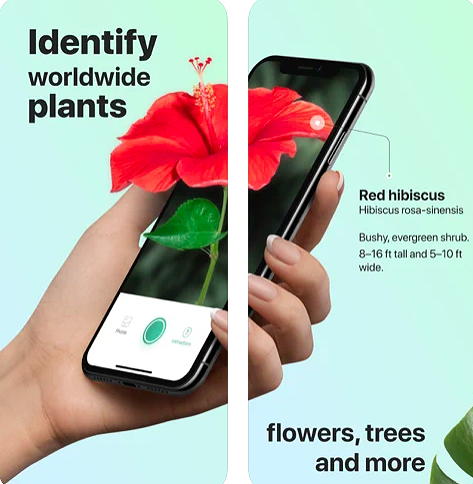 Picture This – Plant Identifier App
Have you ever encountered a beautiful, unknown flower during your walk and wondered what it was? Or do you need advice on how to care for your plants? Simply take a photo of the plant and PictureThis answers all the questions for you. PictureThis® identifies 1,000,000+ plants every day with 98% accuracy – better than most human experts. The app's revolutionary artificial intelligence engine is constantly learning from experts and specialists – and now it's all at your fingertips. Picture this plant, and discover a new appreciation for nature.
Photo credits:
Photo #1: Peace Awareness Labyrinth & Gardens
Photo #2: Descanso Gardens
Photo #3: Natural History Museum of Los Angeles County
Photo #4: Peace Awareness Labyrinth & Gardens
Photo #5: Los Angeles Department of Recreation and Parks
Photo #6: Ellen Reid SOUNDWALK
Photo #7: South Coast Botanic Garden
Photo #8: Desert X
Photo #9: The Living Desert Zoo and Gardens
Photo #10: iNaturalist App
Photo #11: Picture This – Plant Identifier App