Gourmet diners rejoice! Michelin Guide recently updated its coveted awards, recognizing a wide swath of downtown Los Angeles restaurants, many not far from Circa. DTLA currently boasts four Michelin Star restaurants, as our city continues to be a magnet for talented chefs and restauranteurs. While Michelin's celebrated stars tend to skew more upscale, the organization also recognizes smaller, casual, and more affordable places with its Bib Gourmand Awards, a non-starred honor that still carries a lot of clout. And Michelin judges have added a number of "new discovery" restaurants to their Michelin Guide California selection, including several in downtown LA. Whether these restaurants will receive a Michelin Star or a Bib Gourmand is yet to be determined, but it's a great vote of confidence for our culinary community.
Michelin Stars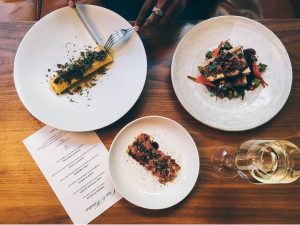 Orsa & Winston 122 W 4th St. Los Angeles, CA 90013
One star, awarded 2019 & 2021. The restaurant was also chosen as L.A. Times restaurant of the year in 2020. Named after two little dogs, Orsa & Winston is inspired by Italian and Japanese flavors, connected by the creativity of chef Josef Centeno. They offer a five-course tasting menu for $125 per person, plus an optional beverage pairing for $80 per person. Beer, wine and sake are available. The tasting menu changes daily, served during two dinner seatings each evening, by reservation only. They are happy to accommodate dietary restrictions, allergies, vegan, vegetarian, pescatarian, and gluten-free requests with ample notice.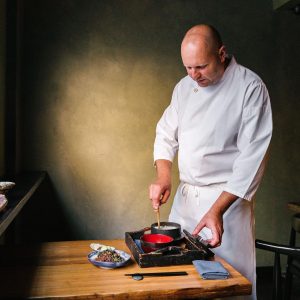 Shibumi 815 S Hill St. Los Angeles, CA 90014
One star, awarded 2019. Chef David Schlosser's Shibumi is a Kappo-style restaurant, offering multi-course meals that are left entirely up to the chef. Kappo simply means "to cut and to cook," an all-encompassing word for a less formal cuisine that emphasizes the proximity between the diner and the chef who is cutting and cooking the food. Presiding over his dining bar, fashioned from a single 400-year-old cypress trunk, Chef Schlosser prepares his dishes with a with a unique tool made from sandpaper-rough sharkskin.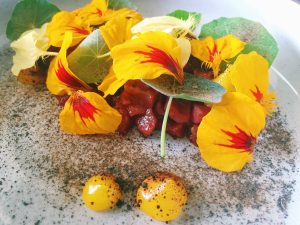 Kato Restaurant 777 S Alameda St. Building 1 Suite 114, Los Angeles, CA 90021
One star, awarded 2019. Helmed by Chef Jon Yao, Kato serves Omakase-style multicourse feasts in his spacious and polished space in ROW DTLA. Imbued with Taiwanese and Japanese influences, the tasting menu offers contemporary food that is at once simple and complex. The dishes (some of which are made by a local artisan) are as elegant as they are inventive, such as the torn bluefin with caramelized onion or the sea urchin donut with rich uni, hand cut jamon Iberico, and brown butter.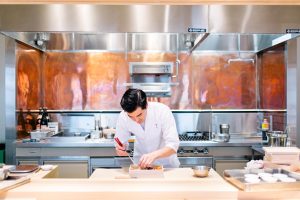 Hayato 1320 E 7th St. #126 Los Angeles, CA 90021
Two stars, awarded 2019 & 2021. Serving traditional Japanese fare, Hayato assumes the responsibility of showcasing the work of master craftspeople in many fields. Potters, fishmongers, carpenters, kimono makers, tea masters, sake brewers and countless other artisans are all part of the team, to help create an exceptional dining experience. According to Michelin, Chef Brandon Go's multi-course kaiseki remains one of the top experiences in the city.
Bib Gourmand Awards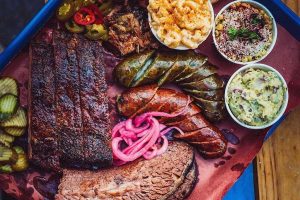 Moo's Craft Barbecue 2118 N Broadway Los Angeles, CA 90031
Recognized by Food & Wine's Best Barbecue 2020 and acclaimed by LA Times and Eater LA as the best underground barbecue cooking in Los Angeles, Moo's Craft Barbecue started as a BBQ pop up in a small East Los Angeles backyard in 2017. Inspired by Texas Barbecue, Moo's uses old school techniques to produce delicious, melt in your mouth smoked meats with a Cali Mex twist.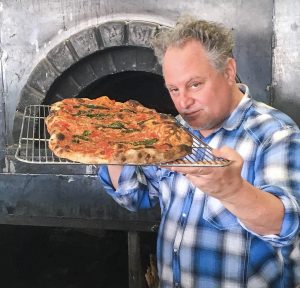 Pizzeria Bianco 1320 E 7th St. #100 Los Angeles, CA 90021
Due to popular demand, Chef Chris Bianco has at last opened Pizzeria Bianco in downtown Los Angeles. Located in ROW DTLA, the restaurant is an adaptive reuse of a former coffee roaster and cafe. While much of the space remains intact, a wood-burning oven now inhabits the room where the roasting machine was formerly housed, and a large window offers diners a view of pizzas being made. The menu features a selection of sandwiches on house-baked focaccia and salads, as well as New York style pizza by the slice, small plates, salads, and sides. A focused list of food-friendly wines and beers complement the meal.
New Discoveries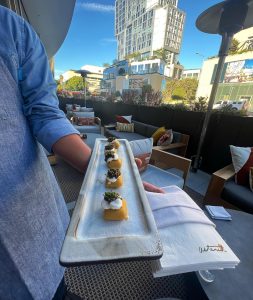 asterid by Ray Garcia 141 S Grand Ave. Los Angeles, CA 90012
Located in Walt Disney Concert Hall, asterid is named after the largest group of flowering plants, ranging from colorful vegetables and fragrant herbs to radiant florals. The restaurant  uses a unique and joyful expanse of local, hyper-seasonal ingredients that bring celebration to life at its tables through a familial dining experience. Authentically from and for Los Angeles, Chef Garcia's Modern American menu and bar program is unexpected, offering contemporary sensibility, inspiring curiosity, and paying respect to the independent spirit of L.A. Culinary traditions and techniques are both cherished and evolved in imaginative and bright ways at asterid, to share the spirit of its cultural home.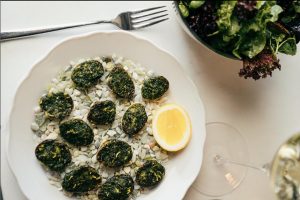 Camphor 923 E 3rd St. Suite 109 Los Angeles, CA 90013
Camphor is a modern bistro located in DTLA's bustling Arts District, led by Co-Executive Chefs Max Boonthanakit and Lijo George. Camphor is all about easy and relaxed eating, and letting classic French flavors and culinary techniques do the talking. With a menu replete with personal nods to both chefs' global upbringing, expect a mix of refreshing, refined, yet light fare in a convivial setting that harkens back to the basics with a shareable feast of small plates, alongside a vast selection of curated wines and curated cocktails to pair.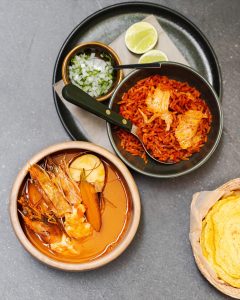 Damian 2132 E 7th Pl. Los Angeles, CA 90021
Housed within a repurposed warehouse in DTLA's Arts District, Damian serves contemporary cuisine rooted in Mexican culture. Founded by Chef Enrique Olvera, Damian is Inspired by the Pacific coast's culinary traditions, while celebrating seasonal Californian produce. Damian's beverage program focuses on artisanal spirits and mirrors its cuisine, letting the high quality ingredients shine through.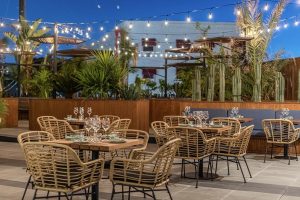 LA Cha Cha Chá 812 E 3rd St. Los Angeles, CA 90013
The sister location of Terraza Cha Cha Chá in Mexico City, LA Cha Cha Chá is located in a chic outdoor rooftop space in the LA Arts District. The restaurant presents gorgeous views of DTLA and a notable menu by Mexico City-born, LA-raised chef Alejandro Guzman, serving traditional starters like aguachile and ceviche, chicharos de sierra with fresh peas, serrano aioli, and crispy potato – a revamped family recipe. Cha Cha Chá also offers a tacos and tostada menu, along with more substantial dishes like grilled fish, charcoal roasted chicken, and pork shoulder confit carnitas.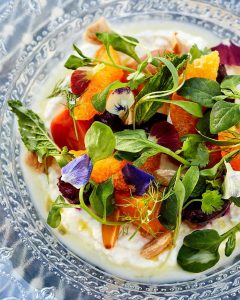 San Laurel at Conrad Los Angeles 100 S Grand Ave. Los Angeles, CA 90012
San Laurel, a signature dining experience from Chef José Andrés, offers the flavors of Spain as seen through a California lens, highlighting the beautiful ingredients of the abundant Golden State. Heralded by the vision of legendary architect Frank Gehry, Conrad Hotel is an elegant oasis with 305 modern rooms, a rooftop terrace with private pool deck, a full-service spa, and locally inspired dining. Framed by dramatic views of the Walt Disney Concert Hall and downtown LA, discover energizing experiences that will ignite your inspiration.
Photo Credits:
Photo #1: Orsa & Winston
Photo #2: Orsa & Winston
Photo #3: Shibumi
Photo #4: Kato Restaurant
Photo #5: Hayato
Photo #6: Moo's Craft Barbecue
Photo #7: Pizzeria Bianco
Photo #8: asterid by Ray Garcia
Photo #9: Camphor
Photo #10: Damian
Photo #11: LA Cha Cha Chá
Photo #12: San Laurel