Let's face it, sometimes you just want to sink your teeth into a big ole juicy burger! Living in downtown LA, you don't have to travel far to wrap your chompers around some of the best hamburgers in town. From venerable icons like the Original Tommy's and George's Burger Stand, to sleek gastropubs, casual joints, and classic diners, you're in for some mighty good eating! Meat not your thing? Many restaurants offer plant-based options, along with salads and veggie sides. We've found the beef – so get ready to bite into DTLA's best burgers!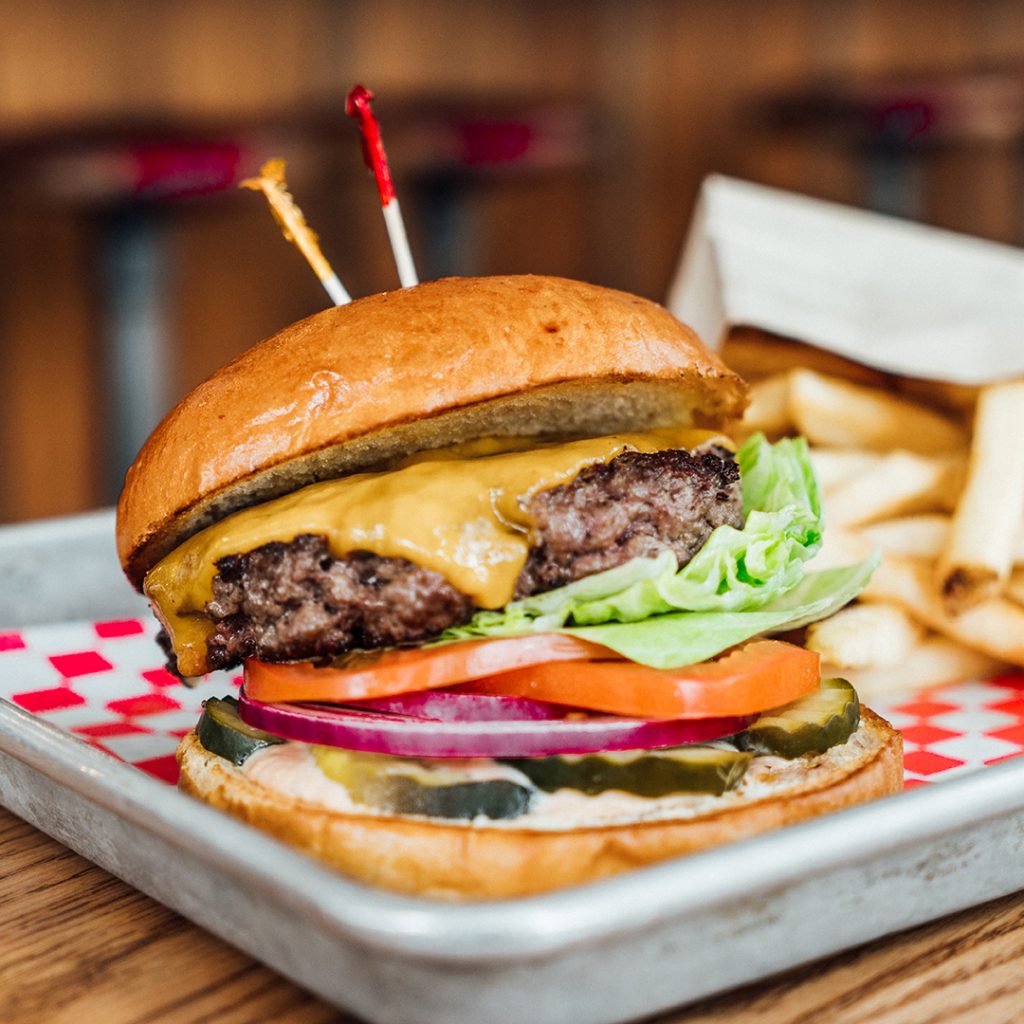 Cassell's DTLA 421 W 8th St. Los Angeles, CA 90014
When Al Cassell opened Cassell's Hamburgers in 1948, it became an instant icon in the LA lunch counter scene. Cassell's DTLA stays true to the founder's original principles of being a hamburger shop with a focus on premium beef, ground daily in house. Cassell's uses many of the legacy recipes, but the menu has been expanded to classic milkshakes and malts, a 50s breakfast menu, coffee bar, house made pies, and a fully stocked bar.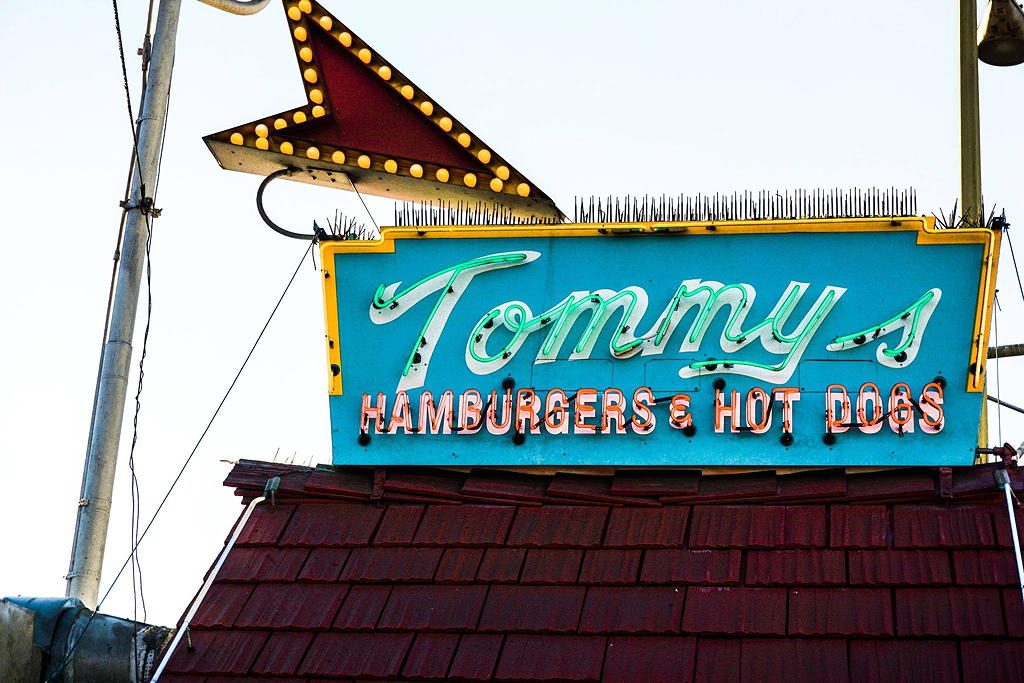 Tommy's Original World Famous Hamburgers 2575 W Beverly Blvd. Los Angeles, CA 90026
We dare you to deny that you've never wended your way to Tommy's Original World Famous Hamburger after an appetite-inducing night on the town! Open 24 hours, the Shack, as it's affectionately known, is a favorite of the nocturnal crowd, especially after Dodgers games. Since 1946, the Original Tommy's hamburger stand has been serving burgers, fries and hot dogs, topped with their signature chili, from a walk up window where the only dine-in option is a stainless steel countertop. While there are dozens of locations in California and Nevada (including imposters), Tommy's Original World Famous Hamburgers on Beverly Boulevard in Westlake is the bomb. Not a night owl? Tommy's serves breakfast, lunch dinner, and coffee.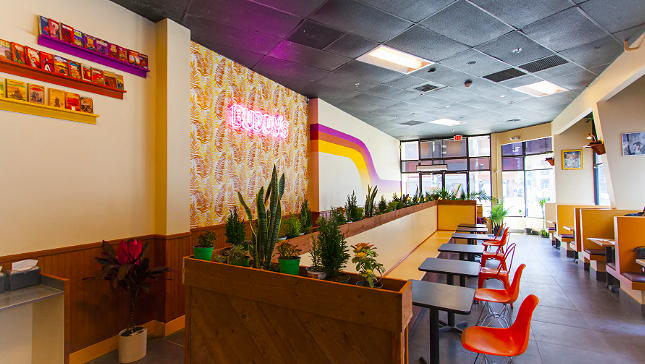 Buddy's DTLA 363 S Broadway, Los Angeles, CA 90013
Ready for some classic affordable diner-inspired grub? For the traditionalist, Buddy's offers a mouthwatering cheeseburger (lettuce, tomato, onion, mustard and American cheese, served on a Martin's potato roll) for just $7. For a vegetarian option, try the Impossible Burger – a classic cheeseburger made with Impossible™ plant-based patty, with lettuce, tomato, onion, mustard and American cheese on a Martin's Potato Roll. Other items include the Chicken Parm Sandwich and the Hash Burger veggie patty (roasted cauliflower, mushroom, farro), caramelized onion, fried onion, American cheese). The default is vegetarian, but can be made vegan on request.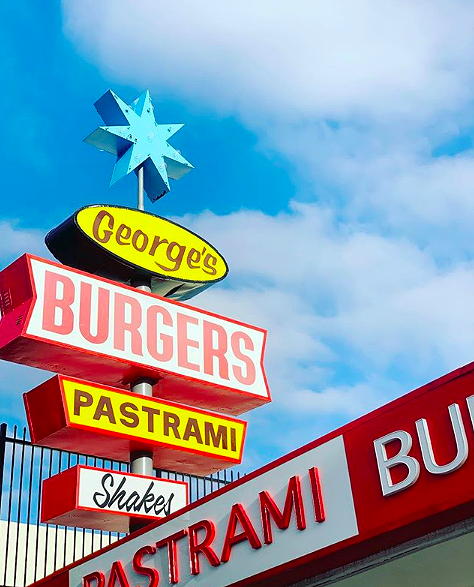 George's Burger Stand 2311 East Cesar E Chavez Ave. Los Angeles, CA 90033
Located on Cesar E Chavez Ave, formally known as Brooklyn Ave, George's Drive In was a place made for the simple things in life – burgers, pastrami, shakes and fries – serving the community since 1960. Under new ownership and management, this neighborhood staple has returned to its roots in the beautiful East Los Angeles community of Boyle Heights. Featuring a classic menu, similar to one that once graced 2311 Brooklyn Ave, "Georges Burger Stand" is officially back in business. Offering a menu that serves no frozen meats, they are proud to serve simple, fun, quality food at an affordable price.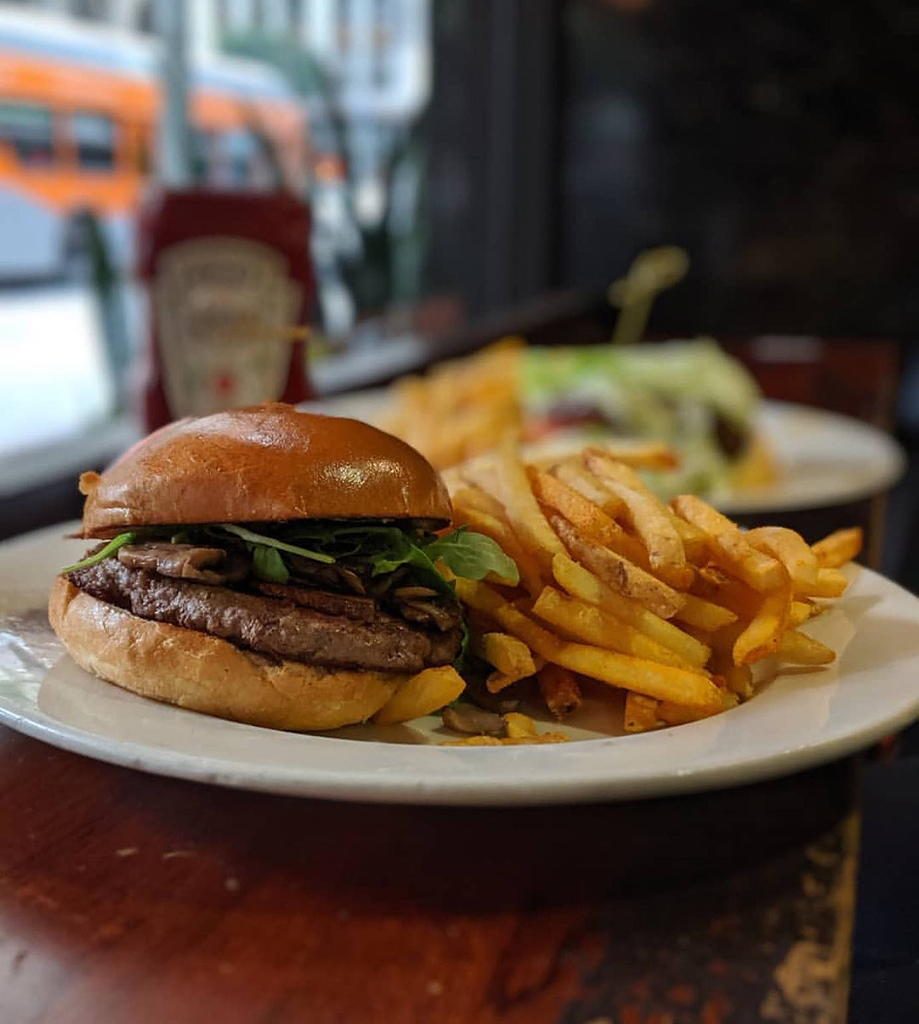 LA Cafe 639 S. Spring St., Los Angeles, CA 90014
LA Café strives to give you the freshest and best experience possible, using organic ingredients whenever possible, and all natural meats roasted in-house. Soups, sauces and salad dressings are all made from scratch. Vegan and gluten-free options are available as well. Please be advised that LA Cafe is not a vegan, vegetarian or gluten free establishment – all products are prepared and cooked in the same kitchen using same utensils and equipment.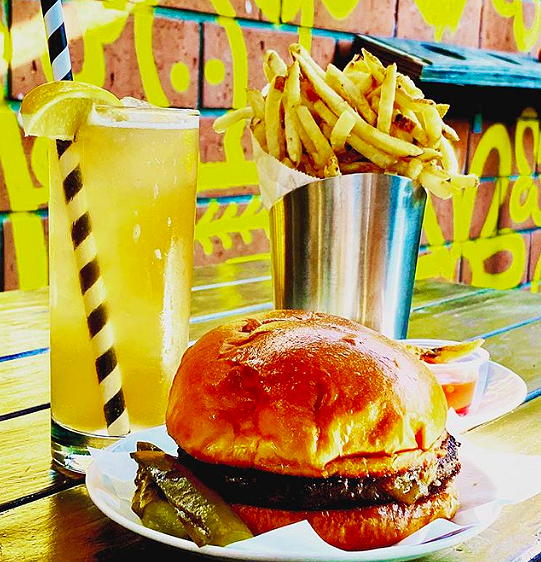 Everson Royce Bar 1936 E 7th St, Los Angeles, CA 90021
Be prepared to check all formalities at the door when you enter Everson Royce. This lively bar offers a vast selection of hand crafted cocktails, beer and wine in their "Big Book of Spirits." Patrons are encouraged to try their signature boilermaker, consisting of a beer and a shot, because "God gave you two hands for a reason." To anchor all these righteous beverages, Everson provides a sticks-to-your-ribs menu featuring burgers, Kennebec French fries, corn dogs, smoky potato taquitos, and more.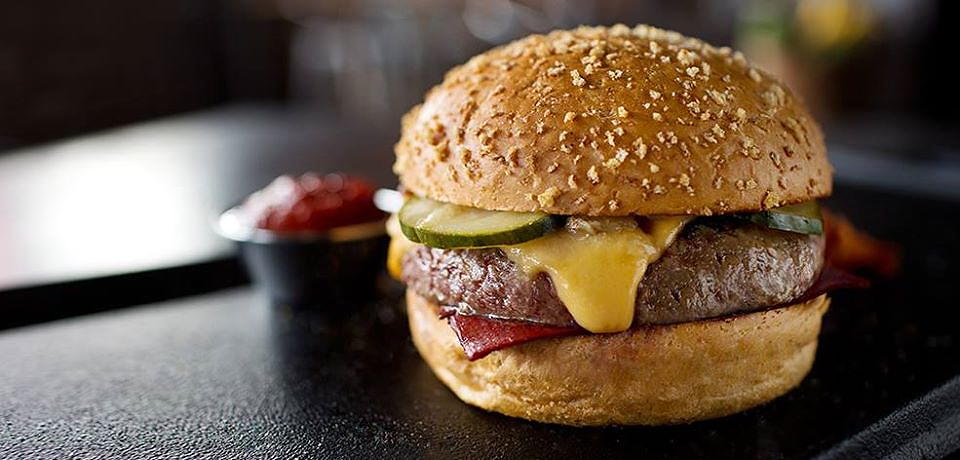 Plan Check Kitchen + Bar 1111 Wilshire Blvd, Los Angeles, CA 90017
Plan Check Kitchen + Bar serves modern American comfort food, along with unique cocktails and craft beers. Founded by Terry Heller in 2012, the Plan Check name and brand stems from its first location in West LA, adjacent to the Building and Safety Department, where hundreds of architects, developers, designers and engineers would flock daily to get plans reviewed for permitting. Plan Check Kitchen + Bar is the home of Ketchup Leather™. This innovative square of deliciousness makes the Plan Check signature burger unique – not only does it add great flavor, it also prevents the burger buns from getting soggy!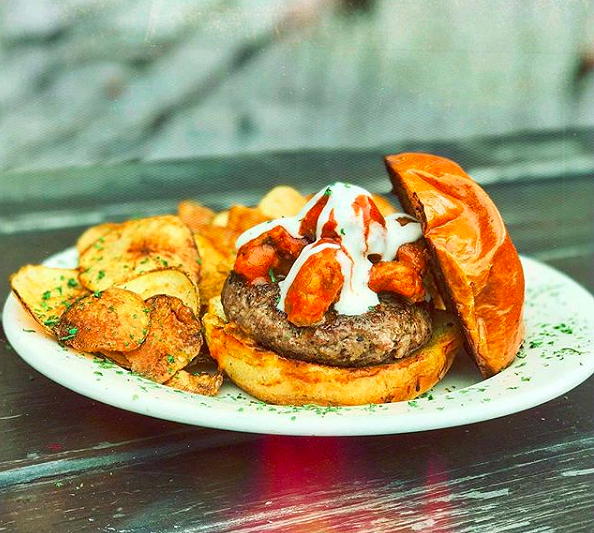 The Escondite 410 Boyd St. Los Angeles, CA 90013
The Escondite ( The Hideout ) opened its doors in Los Angeles, CA in 2011. This hidden roadhouse has since then committed its efforts to create an environment for Downtown locals to eat, drink, and listen to free live music daily. They pride themselves on having deliciously scrumptious food, but at an affordable and reasonable price. There are no substitutions on the house created burgers. All burgers are served with a choice of 6oz beef patty, chicken breast, or vegetarian patty, as well as a choice of either fries or salad.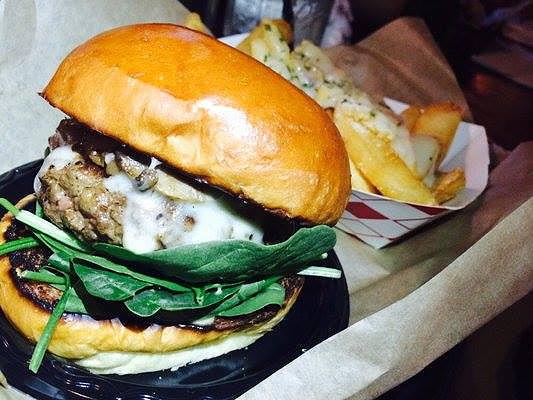 The Black Sheep 126 E 6th St, Los Angeles, CA 90014
This welcoming gastropub features craft brews on tap, and hearty burgers and bar bites with an Asian twist. Sandwiched between the fancy Mignon Wine and Cheese Bar on one side and the venerable Cole's on the other, this super casual joint could very well be the black sheep of the neighborhood – except for the lines that stretch down the street. Try the eponymous Black Sheep burger (gouda, caramelized onions, garlic aioli, a couple thick slabs of bacon, and some arugula to keep it fresh). If you're not feeling the beef, you can swap in a veggie patty. Pair your burger with Black Sheep's truffle or carne asada tater tots, or just go for some good old-fashioned French fries!
Photo credits:
Photo #1: Image courtesy of Original Tommy's
Photo #2: Image courtesy of Cassell's DTLA
Photo #3: Image courtesy of Original Tommy's
Photo #4: Image courtesy of Buddy's DTLA
Photo #5: Image courtesy of George's Burger Stand
Photo #6: Image courtesy of LA Cafe
Photo #7: Image courtesy of Everson Royce Bar
Photo #8: Image courtesy of Plan Check Kitchen + Bar
Photo #9: Image courtesy of The Escondite
Photo #10: Image courtesy of The Black Sheep