Thanksgiving is right around the corner, and we're dreaming of a fabulous feast with all the trimmings!  If cooking is not on your radar, your favorite DTLA restaurants near Circa are dishing up some delicious fare to share, from elegant dining to Thanksgiving meals to-go, and luscious desserts to cap it all off. This is the season of gratitude and giving back. Spread the holiday spirit by donating to a worthy cause like St. Vincent Meals on Wheels or work up an appetite at LA's iconic Turkey Trot, which benefits The Midnight Mission.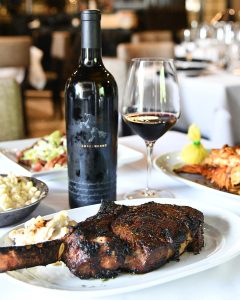 Mastro's Ocean Club DTLA 1200 S Figueroa St, Los Angeles, CA 90015
For Circa residents, there's no place like home! Mastro's new Downtown L.A. location on the ground floor our of building is offering a lavish Thanksgiving dinner to-go with a $350 four-person spread. Each package includes a ready-to-grill wet-aged prime rib and side dish favorites like caesar salad, garlic mashed potatoes, creamed corn, green beans, and their signature bananas foster butter cake. If you're feeling extra-indulgent, you can upgrade to lobster mashed potatoes for an extra $20. Or dine-in to enjoy the highest quality steaks and seafood, with exceptional service in a sophisticated atmosphere.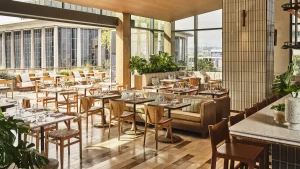 San Laurel at Conrad Los Angeles 100 S Grand Ave, Los Angeles, CA 90012
San Laurel, a signature dining experience from Chef José Andrés, offers the flavors of Spain as seen through a California lens, highlighting the beautiful ingredients of the abundant Golden State. The restaurant is offering a pre-fixe Thanksgiving dinner for $140 a person, featuring traditional dishes with a Spanish twist. Heralded by the vision of legendary architect Frank Gehry, Conrad Hotel is an elegant oasis with 305 modern rooms, a rooftop terrace with private pool deck, a full-service spa, and locally inspired dining. Framed by dramatic views of the Walt Disney Concert Hall and downtown LA, discover energizing experiences that will ignite your inspiration.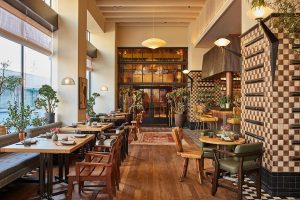 Caldo Verde DTLA Proper Hotel 1100 S Broadway Los Angeles, CA 90015
Commence the holiday season with friends and family for a memorable meal at the Proper Hotel's casually elegant signature restaurant. Indulge in classic courses, a curated spread of desserts, and boutique wines as you celebrate Thanksgiving. The James Beard Award-winning team of chefs Suzanne Goin and restaurateur Caroline Styne blend local flavors and specialty wines with old California influences. LA-based artistry runs throughout, from Morgan Peck ceramics and lighting, to a pair of Judson Studios stained glassworks. Historic windows bathe the architectural space in natural light, while outdoor seating opens onto the bustle of Broadway.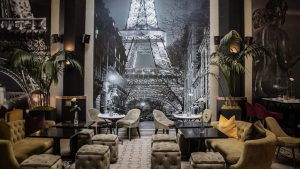 Le Petit Paris 418 S Spring St. Los Angeles, CA 90013
Le Petit Paris is offering a pre-fixe Thanksgiving meal priced at $85 per person and $40 per child.  Choices include turkey rolade, sea bass with herbs, mushroom risotto, and a decadent selection of sweets. Housed inside the historic El Dorado Building, Le Petit Paris is the vision of Cannes-based restauranteurs David and Fanny Rolland, bringing a quintessential brasserie dining experience to Downtown LA's Historic Core.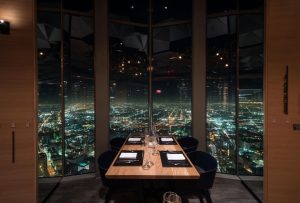 71 Above 633 W 5th St. 71st floor Los Angeles, CA 90071
The highest restaurant west of the Mississippi is serving an elevated three-course Thanksgiving Dinner, featuring Mary's Turkey Breast and family-style sides like pomme purée, mushroom stuffing, roasted carrots, and mac & cheese. For dessert choose between passion fruit curd and pineapple foam. Pricing is $95 for adults, with optional $54 wine pairing, and $45 for the Children's Dinner.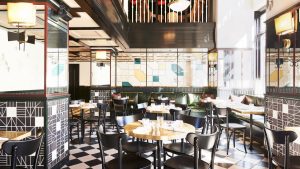 LOAM at Ace DTLA 927 S Broadway Los Angeles, CA 90015
Enjoy a delicious seasonal three course pre-fix menu for $98 per person. Chef Josh Guarneri has prepared traditional dishes with a twist, such as chicory salad, roasted kabocha squash soup, cider brined turkey, wild mushroom risotto, pumpkin tart and mulled wine poached pear. LOAM is offering both dine in and takeaway options for everyone.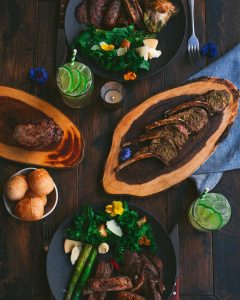 H&H Brazilian Steakhouse 518 W 7th St. Los Angeles, CA 90014
H&H will be open all day on Thanksgiving, Thursday, November 24 offering their specially priced $65/per person AYCE churrasco menu that includes the usual 16 cuts of meat and sides, plus freshly carved turkey with all of the fixings – stuffing, gravy, sweet potato casserole and cranberry sauce – included for no additional cost.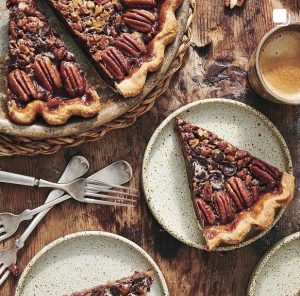 Fat & Flour Grand Central Market 317 S Broadway Los Angeles, CA 90013
Order your Thanksgiving pie from Fat and Flour, a tiny pie shop in Grand Central Market from Los Angeles chef and author Nicole Rucker. Rucker is known internationally for her rustic desserts and has won several awards for her homespun pies, including the 2012 National Pie Championship, KCRW Good Food Pie contest, and a Star Chef award for baking. Her first cookbook, Dappled: Baking Recipes for Fruit Lovers, was recently nominated for a James Beard Award for baking.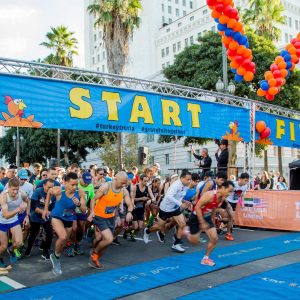 Turkey Trot 200 N Spring St. Los Angeles, CA 90012.
Nov 24 Don't miss LA's best Thanksgiving tradition! Run/walk a 5k or 10k before you feast and help fundraise for The Midnight Mission. Enjoy a historic course along Spring Street, referred to as the Wall Street of the West. You'll pass by such notable buildings as the Continental Building (LA's first skyscraper), the Walt Disney Concert Hall and more! What a great way to see the city without traffic. The race starts and finishes in front of City Hall. Packet pick up opens at 6:30 AM. Arrive early!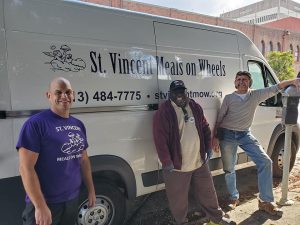 Over 250,000 seniors in Los Angeles County are at risk of hunger. St. Vincent Meals on Wheels prepares and delivers nutritious meals to homebound seniors and other vulnerable residents throughout Los Angeles, regardless of age, illness, disability, race, religion or ability to pay. For many seniors, St. Vincent Meals on Wheels is a vital lifeline.
Photo Credits:
Photo #1: Baltaire Restaurant
Photo #2: Mastro's Ocean Club
Photo #3: Conrad Los Angeles
Photo #4: Caldo Verde
Photo #5: Le Petit Paris
Photo #6: 71Above
Photo #7: LOAM at Ace DTLA
Photo #8: H&H Brazilian Steakhouse
Photo #9: Fat & Flour
Photo #10: Turkey Trot
Photo #11: St. Vincent Meals on Wheels