Labor Day weekend is right around the corner, and what better way to celebrate than to gather your crew and go out for a cold brew! The craft beer craze has taken LA by storm, and thanks to the passion and dedication of brewers and suds lovers alike, our city is awash in microbreweries, beer gardens, and industrial-cool taprooms. From great lagers to awesome ales, sumptuous stouts, and hoppy IPAs, you'll find it all near Circa. So put your work ethic aside and do your patriotic duty – commemorate Labor Day at a craft beer destination in DTLA. Check websites for hours and pick up/delivery options.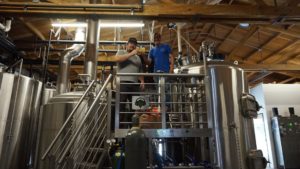 HiDef Brewing 1203 S Olive St. Los Angeles, CA 90015
An avid home brewer for the last decade, Trevor Ward decided to take it to the next level and open his own brewery. A former guitar shredder turned music audio engineer, Trevor made a name for himself tracking and mixing records for many of the San Francisco bay area's rap luminaries of the 1990s amongst other acts. Having mastered well over 1000 film titles, tuning and designing countless mixing studio audio reproduction systems, Trevor decided that just wasn't enough work on his plate and HiDef Brewing was born. The name Hidef and hophead headphones logo is a nod to his life experiences and passions.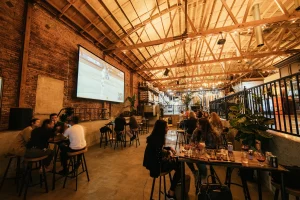 Flying Embers Brewery & Social Club 581 Industrial St. Los Angeles, CA 90013
Flying Embers was born in Ojai, CA during a massive wildfire that threatened their homes and their brewery. A single ember could have been the end, but for them it was just the beginning. Today Flying Embers donates a portion of their proceeds to firefighters and first responders for their service to the community. Known for their bubbly hard kombucha in tasty fruity flavors, Flying Embers is located in DTLA's Arts District with a taproom, brewing facility, and food truck pairings from Westside Banh Mi Thursday – Sunday, ranging from your favorite comfort foods to vegan-friendly dishes.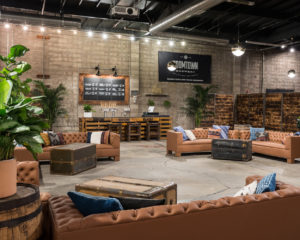 Boomtown Brewery 700 Jackson St. Los Angeles, CA 90012
In the mid-1800s, the boomtowns of California were points of convergence for those lured by potential riches and discovery. Today, Los Angeles maintains a similar allure for those who move here every year to pursue their dreams. Located in DTLA's Arts District, Boomtown Brewery aspires to speak to that audience by serving as a venue and showcase for artists and galleries. Local artists design many of Boomtown's labels, as well as furnishings, fixtures, and structures. The taproom is a community space where people gather to enjoy beer, games, and express themselves creatively. Outdoor seating is available as well.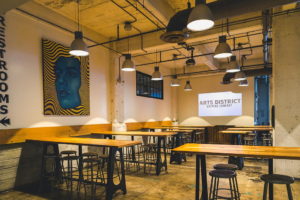 Arts District Brewing Company 828 Traction Ave. Los Angeles, CA 90013
Arts District Brewing Company opened December 2015 in Downtown LA's historic Arts District. With a 15-barrel brewhouse that produces an average of 2,100 barrels each year, their brewers craft a variety of beer styles ranging from wheat ales to stouts to IPAs. Beers on tap are brewed on-site by their award-winning team. The hearty food menu presents a beer-appropriate selection of wings, burgers, fires, salads, fried calamari, fish tacos, and nachos. Arts District Brewing also offers beer to-go, including Crowlers™, 6-packs, and limited edition bottles from their barrel-aging program.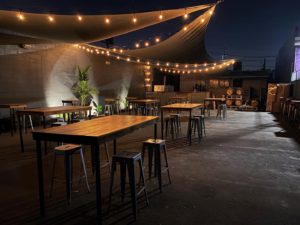 Frogtown Brewery 2931 Gilroy St. Los Angeles, CA 90039
An independent craft brewery and tap room along the L.A. River, Frogtown Brewery was recently named one of the 50 Fastest Growing Breweries in the United States by the Brewers Association. Owned by long time friends and home brewers Adam and Mike, the pair had the crazy dream to one day open their own brewery. After many years of hard work and planning, they finally made Frogtown Brewery a reality. The brewery and taproom opened its doors in 2016 with a focus on creating quality handcrafted beers served in a comfortable space built for community connection and interaction.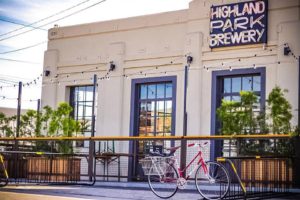 Highland Park Brewery 1220 N Spring St. Los Angeles, CA 90012
From their original space in Highland Park as a production-only facility, Highland Park Brewery has expanded into Chinatown, housing their first tasting room. Highland Park Brewery has a simple goal of making excellent beer in Los Angeles. Their journey in beer focuses on good people, discovery, adventure, and, quite simply, fun. Their world of fresh hoppy beers, crisp lagers, bold stouts, and adventurous mixed culture fermentation is accompanied by unique processes, wacky microbes, and local ingredients, among other things.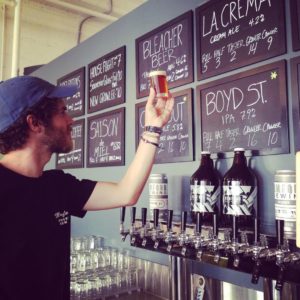 Mumford Brewing 416 Boyd St. Los Angeles, CA 90013
Located in DTLA's Little Tokyo, Mumford Brewing is a microbrewery and tap room, serving a small offering of various snacks. Patrons are welcome to bring their own bites or order from nearby restaurants. The tap room offers draft on-site, cans, bottles and crowlers. All seating is first come, first served. The tap room is also available for private events.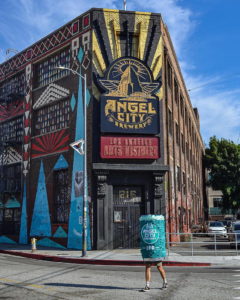 Angel City Brewery 216 S Alameda St. Los Angeles, CA 90012
In a city known more for its glitz than its grit, Angel City Brewery is proud to rough things up a bit and work beneath the shiny surface. Their home in the Los Angeles Arts District is both brewery and canvas, the center of a revival for the city's artists, musicians, hustlers, and craftspeople. The establishment presents an ever-rotating selection of Angel City beer on tap. Pablo Romero, owner of Downtown Taco, has been serving up tacos at the brewery ever since they opened their doors in DTLA in 2013. There are also many other local eateries to order take out or delivery to the brewery.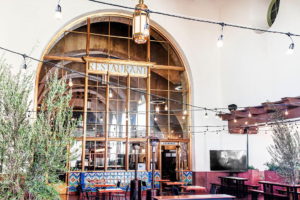 Homebound Brew Haus Union Station 800 N Alameda St. Los Angeles, CA 90012
Homebound is a raucous Dodger-loving Brew Haus and beer garden stashed away in LA's Union Station. They like to consider themselves Los Angeles's Clubhouse. All are welcome as long as you are brimming with hometown pride. In addition to a vast selection from their tap list, Homebound offers a full menu ranging from sharable bites to salads, burgers, and wursts. A curated collection of cocktails is also available.
Photo Credits:
Photo #1:Homebound Brew Haus
Photo #2: HiDef Brewing
Photo #3: Flying Embers Brewery & Social Club
Photo #4: Boomtown Brewery
Photo #5: Arts District Brewing Company
Photo #6: Frogtown Brewery
Photo #7: Highland Park Brewery
Photo #8: Mumford Brewing
Photo #9: Angel City Brewery
Photo #10: Homebound Brew Haus