The holidays are coming, and you know what that means – scrumptious calorie-laden feasts, endless carbs, and heaps of tempting sweets! But before you dive off the deep-end of the dining table, take some preemptive steps with a walking tour! LA Conservancy has a slew of fascinating tours exploring the social, cultural, and architectural history of Los Angeles. Do you like craft beer with your graffiti – there'a s tour for that – courtesy of LA Art Tours. How about an in-depth tour of Chinatown and Little Tokyo – check. Art lovers rejoice – Downtown Art Walk, a self-guided experience of local galleries, is held on 2nd Thursdays every month.
So go ahead, indulge yourself this holiday season. But first walk it off, and discover DTLA's cultural walking tours!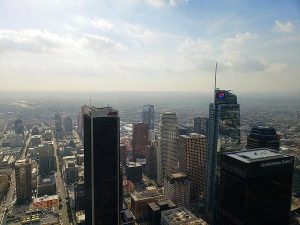 LA Conservancy Above the Skyline Walking Tour 633 West 5th Street, Los Angeles, CA 90071
Saturdays November This special version of LA Conservancy's popular Modern Skyline walking tour visits the OUE Skyspace LA observation deck and Skyslide, on the 70th floor of the iconic U.S. Bank Tower building. Enjoy the view of Los Angeles' evolving skyline from almost a thousand feet in the air! Think skyscrapers aren't historic? Think again! After seeing how downtown L.A. has evolved over the past century, you'll see our beloved skyline in a whole new way. You'll learn the fascinating story of Bunker Hill's evolution, explore some of L.A.'s newest landmarks, and see how old and new architecture co-exists. At the end of the tour, take a trip down Skyslide, an exterior glass-enclosed slide high above Los Angeles, included with each ticket.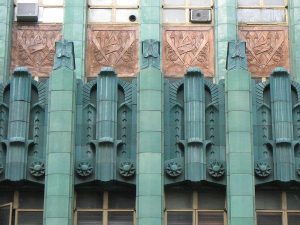 LA Conservancy Art Deco Walking Tour Meeting Location: Pershing Square
Everyone knows that L.A. is a glamorous city. But few know that true Old Hollywood glamour lies in the streets of downtown L.A.! Nothing evokes Jazz Age elegance like Art Deco. Its clean lines and geometric patterns proved a perfect style for L.A. in the 20s and 30s, and an extraordinary collection of these masterpieces still stands in the heart of the city. On this tour, you'll marvel at the incredible detail of these structures, with their brilliant colors and lush materials. You'll learn how Art Deco made its way to L.A., and why it became such a defining architectural style in the city.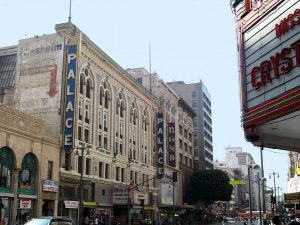 LA Conservancy Broadway Historic Theatre & Commercial District Walking Tour
Broadway thrived for decades as the entertainment epicenter of Los Angeles. Massive department stores and magnificent movie palaces drew generations of Angelenos to the city center. Still a vibrant shopping street, the area is now a hub of adaptive reuse projects that have turned office buildings and department stores into housing, dining, retail, and nightlife destinations. Subject to availability, the tour visits the interiors of one or more of the following: the Los Angeles Theatre, The Theatre at the Ace Hotel (formerly United Artists Theatre), and the Orpheum Theatre. Reservations are required for this tour. Meeting and parking information will be provided with your reservation confirmation.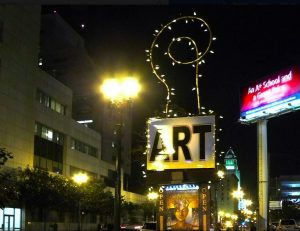 Downtown Art Walk is a self-guided art experience of local galleries, artist studios, and cultural events held on 2nd Thursdays every month. From its inceptions over 10 years ago as a monthly coordinated collaboration along Spring and Main Streets in downtown Los Angeles, today this vibrant community thrives, with art experiences beyond one day, two streets, and 12 blocks. The Downtown Art Walk nonprofit engages, educates, and informs through year-round programs and social media platforms connecting art lovers and enthusiasts to galleries, artists, city-wide art openings, cultural events, exhibits, art conventions, national and international art news and innovations, 365 days a year! Gallery Guide Map pick up locations HERE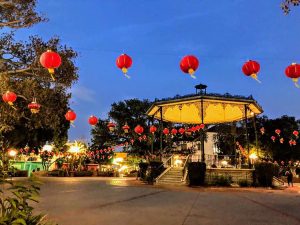 DTLA Walking Tours Chinatown & Little Tokyo Chinatown Plaza 943 N. Broadway Los Angeles, CA 90012
Walk into the two largest ethnic neighborhoods of Downtown and learn about their growth and history in Los Angeles. Understand how international issues, such as nationalism, World War II and segregation affected the Chinese and Japanese cultures, but have allowed each to retain their strong community neighborhoods. Tour requires a Metro Rail journey in the middle of the tour between Chinatown and Little Tokyo (rail fare not included).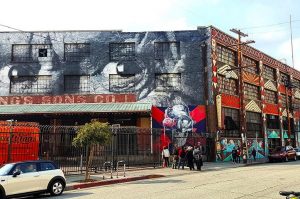 LA Art Tours Craft Beer and Urban Art/Graffiti Tour Angel City Brewery 216 S Alameda St, Los Angeles, CA 90012
Two guides, three beer stops, dozens of amazing urban art pieces! A collaboration between LA Art Tours and SoCal Brew Bus, this walking tour centers on the hottest spot in Los Angeles, the Downtown LA Arts District. Long a hotbed of the best graffiti and murals in Los Angeles, it is now also home to several great craft breweries. Two stops are made at the largest breweries in the Arts District. The third stop varies by availability, and will be one of two smaller craft breweries, or the craft beer garden of LA's largest art gallery. The breweries have food options available, so you are welcome to order some bites while sampling beers. Between breweries, an awesome urban art guide will take you by a number of famous as well as hidden and lesser known works of urban art. All art guides are long time local artists with in-depth knowledge and experience in the local graffiti/mural scene.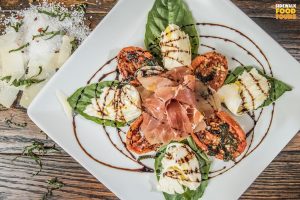 Sidewalk Food Tours Downtown LA Food Tour Pitchoun Bakery 545 S Olive St. Los Angeles, CA 90013
Sidewalk Food Tours Downtown LA Food tour includes six unique stops showcasing the best of the growing, diverse DTLA food scene. The tour's expert foodies have done extensive research to offer you a variety of delicious foods from the best specialty food stores, buzz-worthy spots, and ethnic eateries. The tour includes visits to famed landmarks such as the Bradbury Building, the Million Dollar Theater, the Biltmore Hotel, and a stroll through the historic Grand Central Market with tastings from some of its most well-known vendors. Flavorful food specialties are served from six of the following locations (subject to change): Pitchoun Bakery, Horse Thief BBQ, Berlin Currywurst, DTLA Cheese, Madcapra Falafel, Guisados (slow-cooked braised meat tacos), OkiPoki (Asian fusion spot serving sushi burritos) and Bottega Louie in the historic Brockman building.