Looking for something different to do in DTLA? Of course there's the expected slew of restaurant openings, hot new shops, and cool brewpubs––and who's complaining! But if you stray a bit off the beaten track, you'll find that our city is teeming with unusual diversions, fun frolics, and hidden gems, just waiting to be discovered.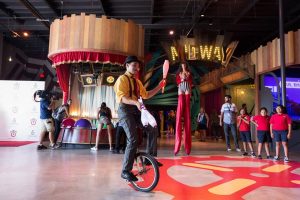 Two Bit Circus 634 Mateo St. Los Angeles, CA 90021
Billing itself as he world's first Micro-Amusement Park™, Two Bit Circus is an experiential entertainment playspace where fun-seekers of all ages can gather and play. The park promises an ever-changing landscape of immersive entertainment; including multi-person virtual reality, narrative-based escape/story rooms, indie arcades, molecular mixology and liberal use of lasers and robots. As a brand new type of social playspace (Two Bit Circus just opened in September 2018), the venues are also a launchpad for new technologies and aim to bring ideas from designers, inventors, makers, engineers, storytellers and more from concept to reality. Sounds like a blast? Make reservations here.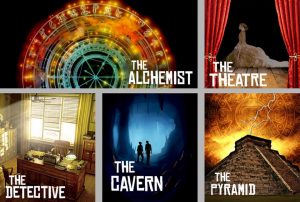 Escape Room L.A. 120 E 8th St. Los Angeles, CA 90014
Imagine yourself in a real-life adventure game filled with mysterious puzzles and brain-teasing clues! Escape Room LA. immerses you in a choice of five extraordinary environments, from a 1940's detective office to a mystifying underground cavern, an ancient Mayan pyramid, an old haunted theatre, or a medieval alchemist's secret laboratory. Gamers have to solve a series of challenging clues and puzzles and escape before their time runs out! Before the game, friendly Escape Room staffers will review the rules and answer any questions before your countdown to escape begins. Never fear, if you don't make your way out before time's up, the door will be unlocked. At the end of your game, the staff will recap your accomplishments and explain how to solve the remaining puzzles inside the room. Plan on spending a total of about 90 minutes from start to finish. Buy tickets here.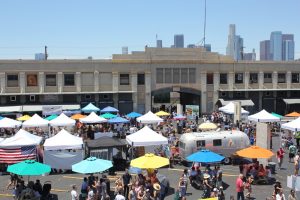 Smorgasburg LA ROW DTLA 777 S Alameda St, Los Angeles, CA 90021
Launched in June of 2016, Smorgasburg LA has become the largest weekly open-air food market in Los Angeles, attracting 8,000 to 12,000 attendees every Sunday, year round. Located on the five-acre site of the weekday 7th Street Produce Market in ROW DTLA, Smorgasburg LA features over 90 food vendors, a beer garden offering local craft beer and micheladas, live DJs, cultural events, pop-ups, and sophisticated shopping including design, craft, style, vintage, wellness, and more. Sundays, 10 AM – 4 PM. Sorry, no pets allowed.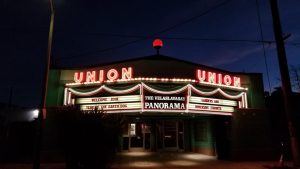 The Velaslavasay Panorama 1122 West 24th Street, Los Angeles, CA 90007
Drawing on the illustrious history of the great panorama paintings of the 18th and 19th centuries, The Velaslavasay Panorama is an exhibition hall, theatre and garden dedicated to the production and presentation of unusual visual experiences, including those of the 360-degree variety. The Velaslavasay Panorama panoramic exhibition encircles the spectator within a fully enveloping atmosphere; a vast painting of a continuous surrounding landscape, accompanied by sound stimulation and three-dimensional elements, affords the viewer an opportunity to experience a complete sensory phenomenon.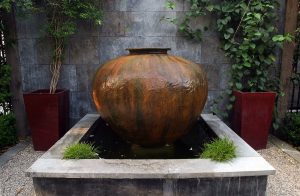 Peace Awareness Labyrinth & Gardens 3500 W Adams Blvd, Los Angeles, CA 90018
Need to unwind your mind? Peace Awareness Labyrinth & Gardens was established by the Movement of Spiritual Inner Awareness as a non-profit center dedicated to peace and spirituality. Called a "Spiritual Oasis in the City," its purpose is to provide a place for people to take time out of their busy lives to visit, reflect, and be rejuvenated by the peace and solace of nature. The centerpiece of the property is an outdoor stone labyrinth, using the same design as the Chartres Cathedral labyrinth. The spectacular Asian-themed meditation garden presents sixteen water features, a koi pond, and intimate seating areas tucked away to reflect, repose, meditate, while a pergola and courtyard gardens offer additional areas to enjoy. Classes and workshops exploring topics focusing on personal growth and practical spirituality are offered weekly. Complimentary admission here.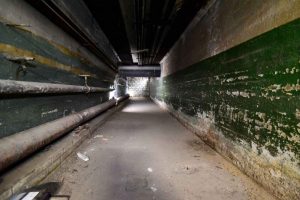 Underground L.A. Cartwheel Art Tours
Cartwheel Art Tours pulls back the curtain on LA's "underground" past, from notorious Prohibition-era murders to infamous speakeasy haunts frequented by the Old Hollywood elite. Tours include a few stops under the busy streets of DTLA to discover a century-old tunnel and speakeasies, alongside more modern interpretations of the city's hidden watering holes. Based in the DTLA Arts District, Cartwheel Art creates and produces immersive, neighborhood explorations and experiences designed by founder Cindy Schwarzstein, a hands-on active member of the Los Angeles arts community. The tours are offered as an opportunity to engage individuals and groups in art, food and historical adventure, with a focus on supporting local artists and artisan businesses. Buy tickets here.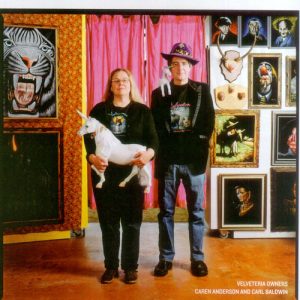 Velveteria: The Museum of Velvet Art 711 New High St. Los Angeles, CA 90012
Velveteria is a velvet painting museum located in Chinatown, curated by owners Caren Anderson and Carl Baldwin. The museum features over 420 paintings culled from the couple's 3,000 piece collection, gathered from every corner of the world. An ancient technique, velvet painting is thought to have originated in Kashmir, the homeland of the fabric. Traditional paintings were generally religious and portrayed the icons of the Caucasus region. Marco Polo and others introduced black velvet paintings to Western Europe, and some of these early works still hang in the Vatican Museum. In 20th century America, black velvet paintings attained full-on cult status, depicting imagery from pop culture such as the classic "Velvet Elvis."