Did you know that downtown Los Angeles was once the epicenter of a thriving Little Italy? LA's earliest Italian enclave, dating back to the 19th century, was located near the Los Angeles Plaza, at what is now El Pueblo de Los Angeles Historical Monument. A great place to learn more about this fascinating history is the Italian American Museum of Los Angeles, located in the historic Italian Hall, which was constructed in 1908 to serve as a gathering place for the Italian community.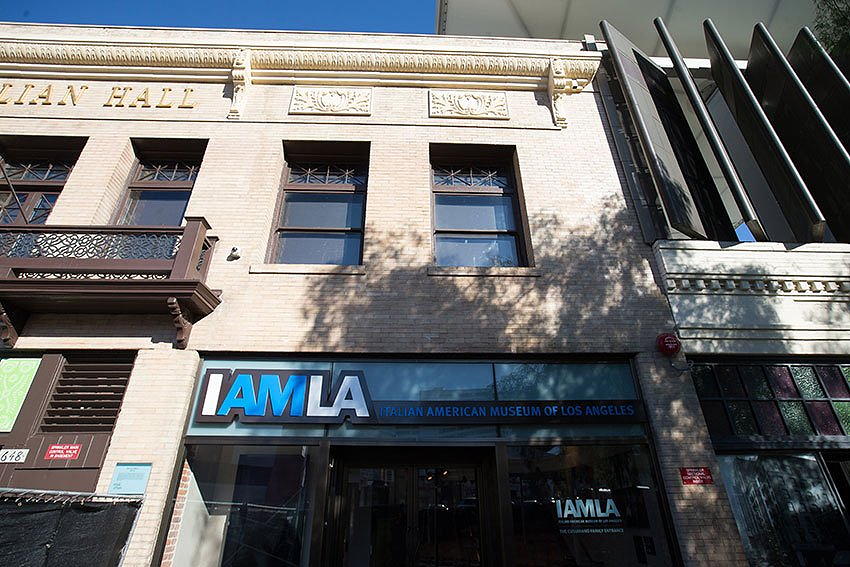 Italian American Museum of Los Angeles 644 N Main St. Los Angeles, CA 90012
Just a short distance from Circa, the Italian American Museum of Los Angeles will be reopening soon to the public. But you don't have to wait to savor the flavor of Italy. From authentic trattorias to handmade organic pasta cucinas, and chef-driven ristorantes, you'll find some of the best Italian restaurants in DTLA. Now that's amore! Check websites for reservations and health guidelines.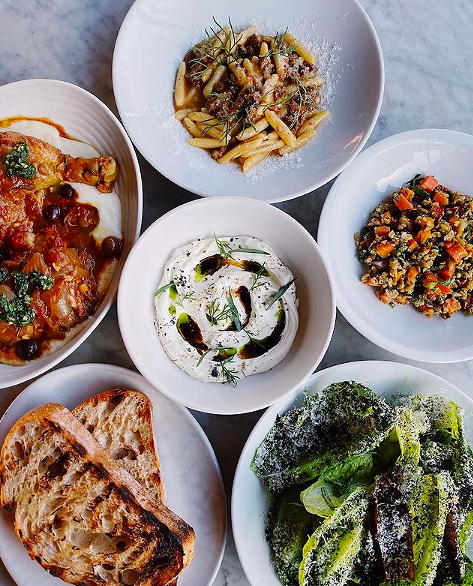 Bestia 2121 E 7th Pl. Los Angeles, CA 90021
Arts District darling Bestia is open and accepting reservations in accordance with LA city guidelines. Owned and operated by husband and wife Ori Menashe and Genevieve Gergis, the menu features a generous selection of authentic Italian stalwarts such as antipasti, pizzas, pasta, secondi (fish, lamb, steak), finished off with dolci (mascarpone rice pudding, crème fraîche panna cotta, and bar au chocolat bittersweet chocolate budino tart). Buon appetito!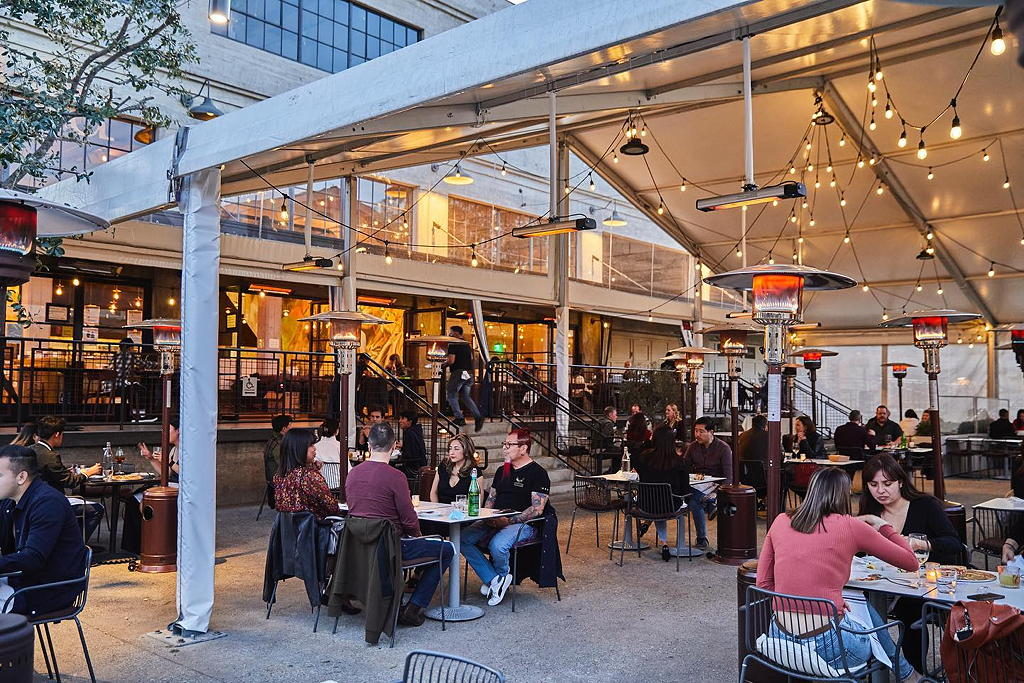 Rossoblu City Market South 1124 San Julian St. Los Angeles, CA 90015
Rossoblu is open for dining on their heated outdoor patio. The restaurant tells the story of the two places Chef Steve Samson considers home – Los Angeles and Bologna, Italy. The menu features handmade pastas, fresh produce, and an extensive in-house butchery and salumi program. The wine list offers unique Italian and Californian varietals. At its core, Rossoblu is a true family-owned and operated restaurant, with Steve's wife Dina helming the operations and long time friend and partner Hans Luttmann leading a team that has become family.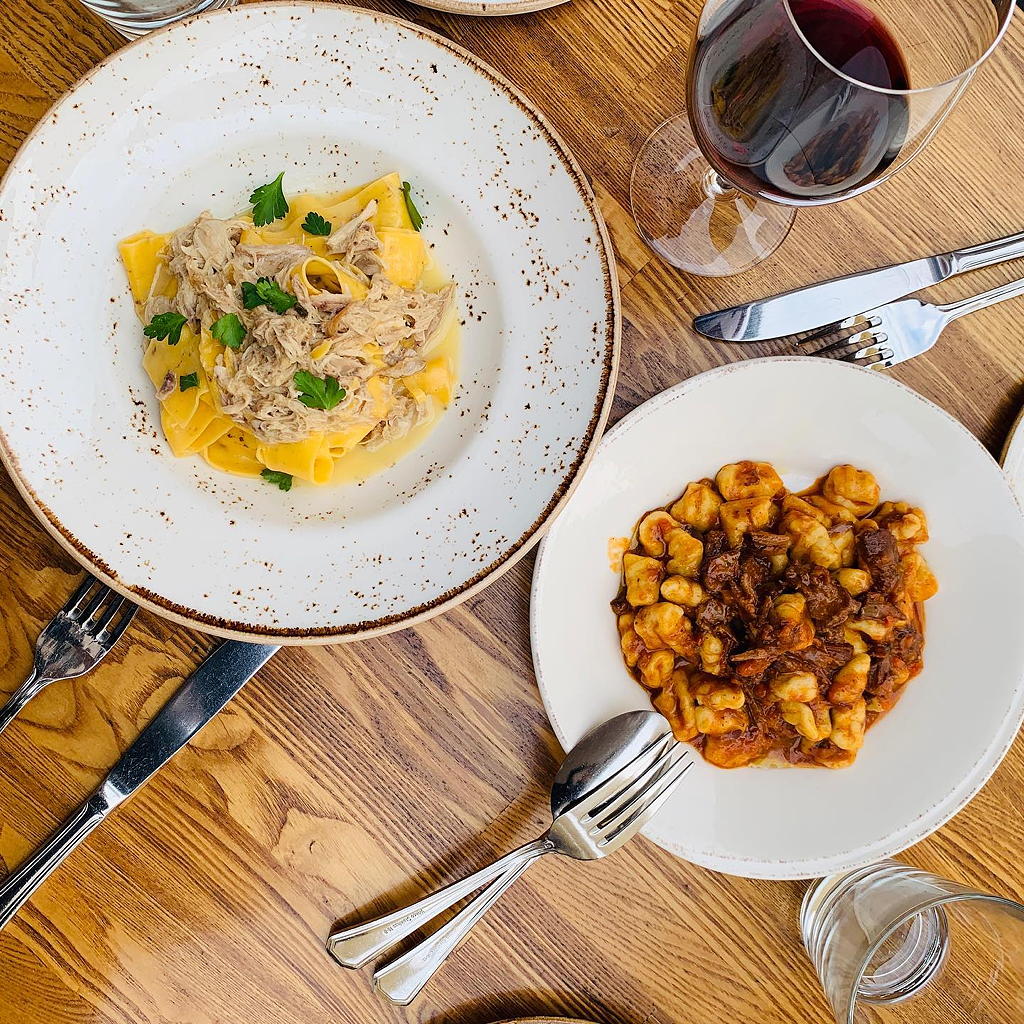 The Factory Kitchen 1300 Factory Pl. Los Angeles, CA 90013
Located in the heart of the DTLA Arts District, The Factory Kitchen is a trattoria in a reclaimed factory space serving traditional Italian fare, including delicate house-made pastas, fresh seafood and focaccinas. The Factory Kitchen is open for outdoor dining on their spacious patio. You may also dine indoors with limited seating. Reserve online at Open Table.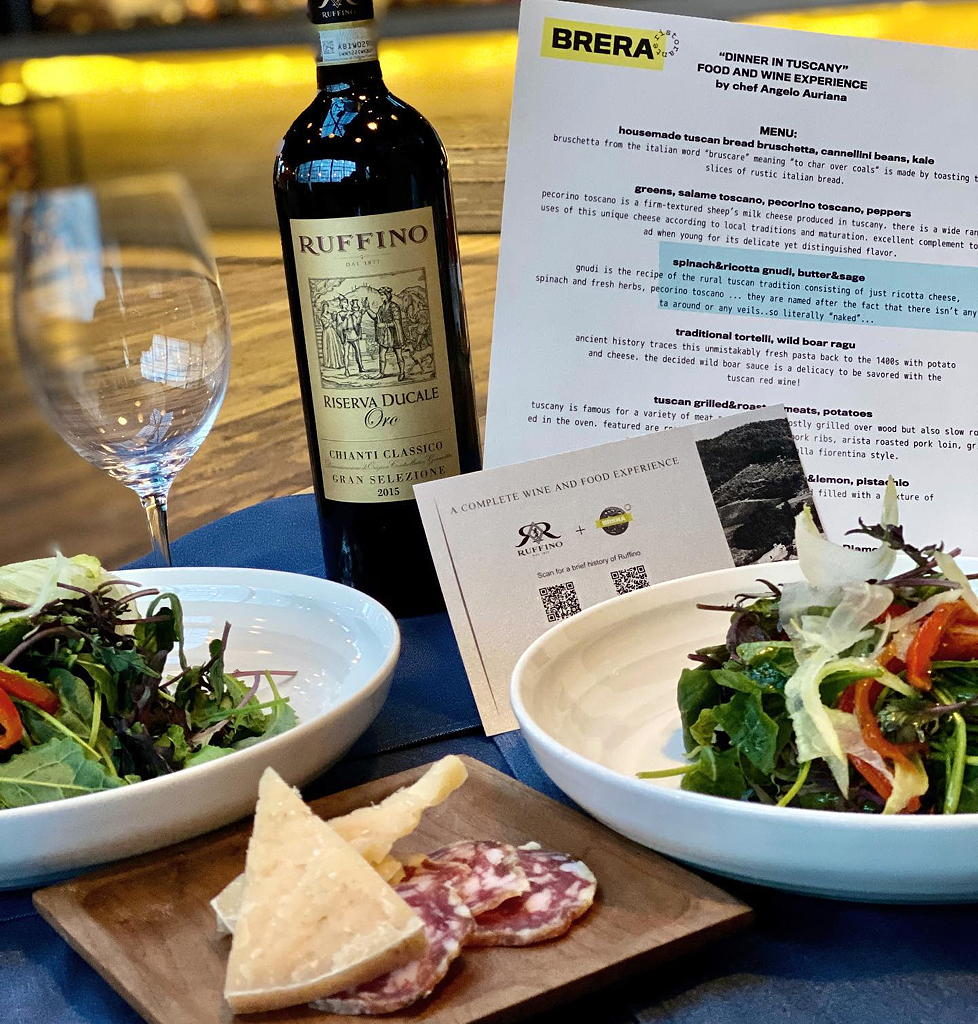 BRERA Ristorante 1331 E 6th St. Los Angeles, CA 90021
A multi-regional Italian Osteria by Chef Angelo Auriana and Matteo Ferdinandi, BRERA Ristorante is a hybrid of an informal osteria with rather formal cooking in an elegant setting. A concept influenced by the artsy-cool BRERA neighborhood in Milan Italy, it displays Chef Angelo's personal culinary identity that emphasizes on the importance of the highest quality fresh ingredients and the use of cooking techniques that are meant to highlight their true flavors, presented in a minimalistic way. BRERA is open for outdoor dining. Limited seating is now available indoors and must be reserved on OpenTable.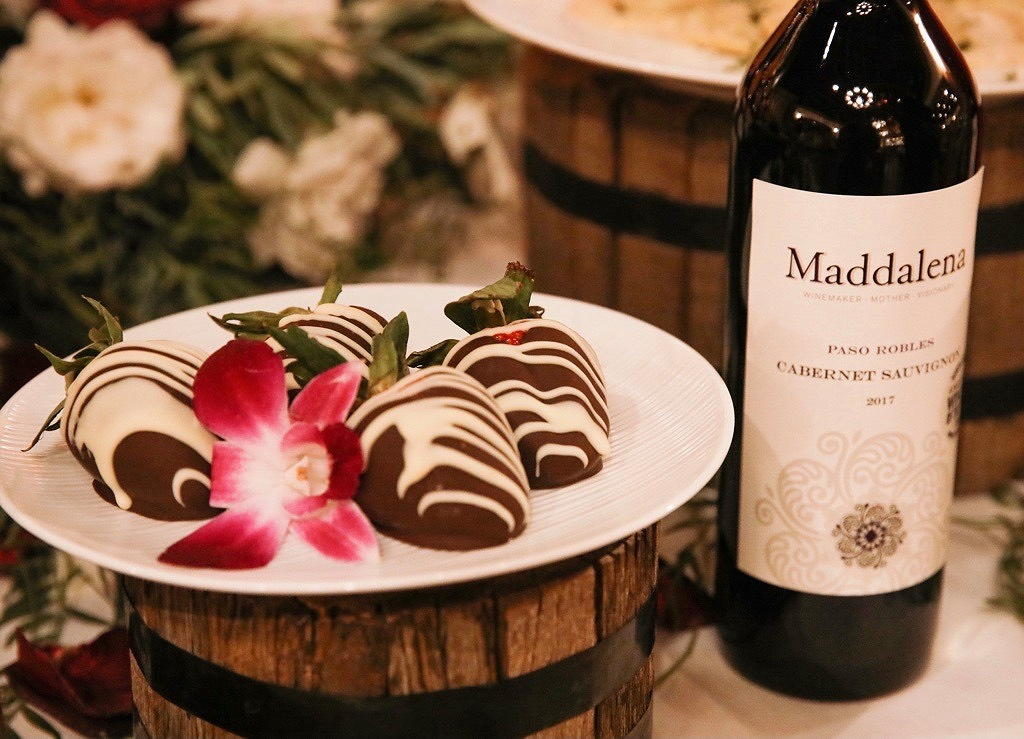 Maddalena Restaurant 737 Lamar St. Los Angeles, CA 90031
Maddalena Restaurant is a popular trattoria-style restaurant located within the San Antonio Winery in downtown Los Angeles. They offer a variety of freshly made Italian entrées that range from fresh pastas, grilled meats, gourmet salads and sandwiches, along with seasonal wine flights from their winery. Enjoy outdoor dining in their patio garden or inside with limited seating.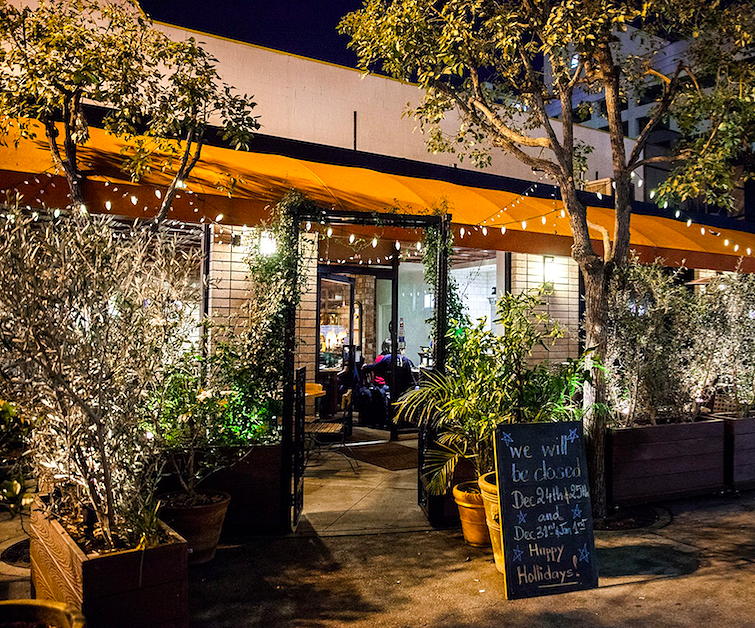 Maccheroni Republic 332 S Broadway Los Angeles, CA 90013
Maccheroni Republic specializes in handmade fresh organic pasta, crafted daily in-house using organic flour and organic semolina. In addition to a variety of authentic Italian pasta dishes, the restaurant serves an array of fresh appetizers, salads, sweets, and an extensive wine and beer list. No reservations required. Seating is on a first come, first served basis.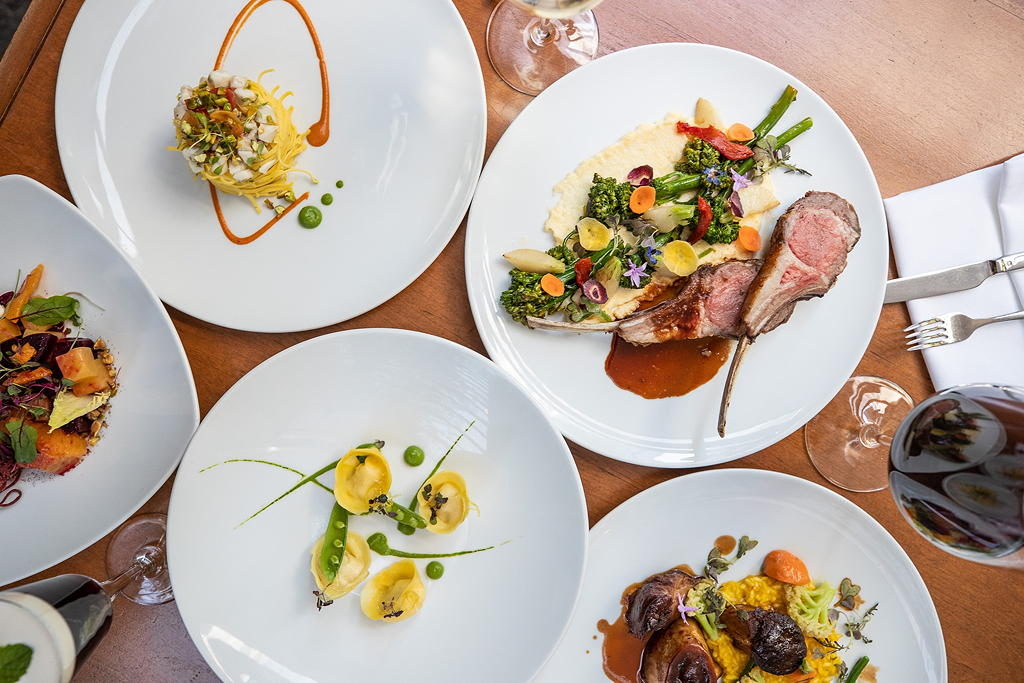 Drago Centro 525 Flower St. Los Angeles, CA 90071
Drago Centro is one of downtown LA's premier dining destination for fans of authentic Italian Sicilian cuisine with an innovative edge and impeccable service, Executive Chef Celestino Drago's menu is delectably approachable and features a signature selection of innovatory Italian dishes including house-made pastas, savory steaks and elegant desserts. Complemented by managing partner Piero Selvaggio's extraordinary personalized service and unprecedented wine knowledge, this exclusive team brings satisfaction to any palate, while creating an indelible experience showcasing the essence and magic of Drago Centro's outdoor dining patio.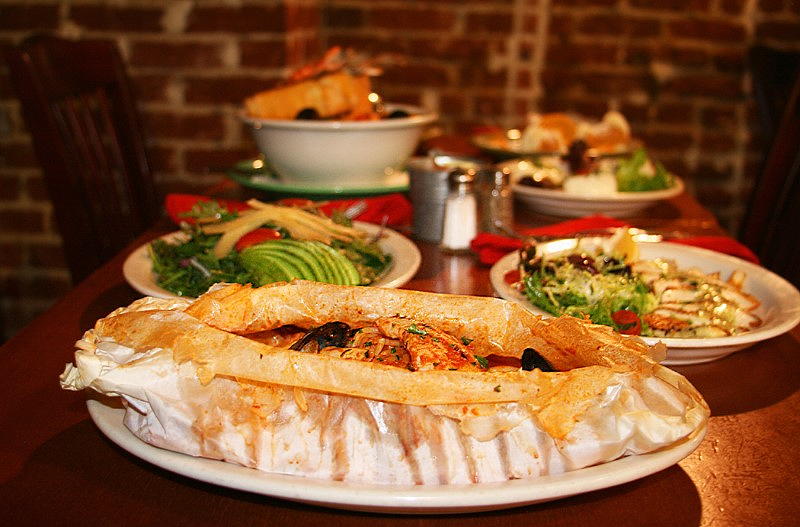 Colori Kitchen 429 W 8th St. Los Angeles, CA 90014
Colori Kitchen is a small neighborhood restaurant located in a petite storefront on 8th Street in the Downtown Historic District, offering country-style dining reminiscent of an authentic Italian trattoria. Chef Luigi Barducci Contessi, along with his wife Paola, serve top quality homemade Italian food at affordable prices, adding to people's dining experience the warmth, and of course a bit of the drama, that only a real Italian family can offer. Open for dine-in with limited space. Walk ins are welcome.
Photo credits:
Photo #1: Rossoblu
Photo #2: Italian American Museum of Los Angeles
Photo #3: Bestia
Photo #4: Rossoblu
Photo #5: The Factory Kitchen
Photo #6: BRERA Ristorante
Photo #7: Maddalena Restaurant
Photo #8: Maccheroni Republic
Photo #9: Drago Centro
Photo #10: Colori Kitchen