April 22 is Earth Day, the world's largest environment movement, and we can't think of a better way to celebrate than getting out and communing with nature. Did you know that California's superblooms are so dramatic that you can see them from space? But you don't need a satellite to enjoy this stunning flower show. LA Arboretum and Descanso Gardens are in full bloom, and the historic Virginia Robinson Gardens has finally reopened after a three year hiatus. LA is also home to some delightful secret gardens that you may not have heard about, many not far from Circa. And if you want to get involved for Earth Day, Friends of the LA River is offering a variety of activities that welcome everyone to the River Movement.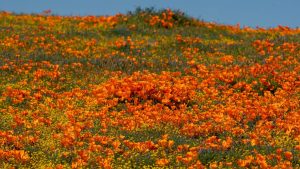 California Poppy Festival AV Fair & Event Center 2551 W Avenue H, Lancaster, CA 93536
Apr 21-23 Celebrate our beautiful state flower at the California Poppy Festival. For three days, people from across the state will be able to enjoy live entertainment, a beer garden, food, and more than 200 vendors amidst the sunshine and colorful flowers. While you're there, be sure visit the Antelope Valley California Poppy Reserve, and explore eight miles of trails through the gentle rolling hills, bursting with wildflowers.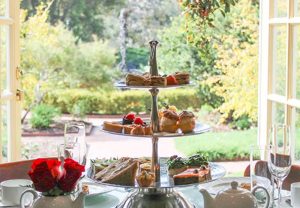 The Huntington 1151 Oxford Road, San Marino, CA 91108
Encompassing about 130 acres, The Huntington botanical gardens feature living collections in 16 stunning themed gardens with more than 83,000 living plants, including rare and endangered species, and a laboratory for botanical conservation and research. Great news for high tea fans! After an extensive renovation, The Huntington Rose Garden Tea Room will reopen on May 24. Set within the historic Rose Garden, the Tea Room offers an elegant and memorable experience inspired by the tradition of English tea service with a distinctive California twist.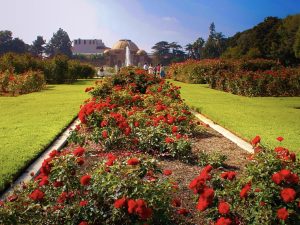 Rose Garden Exposition Park 900 Exposition Blvd. Los Angeles, CA 90007
Located across the street from USC in downtown Los Angeles, Exposition Park is home to some of LA's top cultural attractions and venues, including the Los Angeles Memorial Coliseum, the Natural History Museum of Los Angeles County, the California Science Center, and the California African American Museum. The beautiful 7.5-acre Rose Garden features 15,793 rose bushes in about 200 varieties. The Rose Garden is currently among the three major public-display rose gardens in Southern California and one of the most important in the state. In 1991 the Rose Garden was added to the National Register of Historic Places.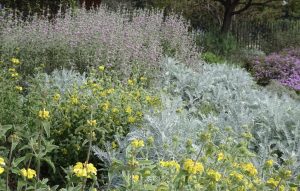 Nature Gardens at NHM 900 Exposition Blvd. Los Angeles, CA 90007
If you're visiting Exposition Park, be sure to explore the Nature Gardens, an urban wildlife wonderland at the Natural History Museum of Los Angeles County. Over 600 kinds of plants, including California natives and others from around the world, make a home for birds, butterflies, lizards, squirrels, and more. One of the most popular spots is the Pollinator Meadow (pictured above). Flowers are blooming, seeds are ripening, and wildlife is paying attention!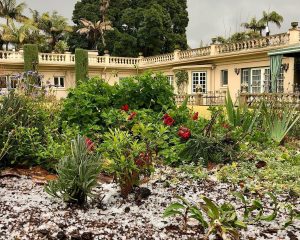 Virginia Robinson Gardens 1008 Elden Way, Beverly Hills , CA 90210
May 20 Back in Bloom Garden Tour. After a three-year hiatus, the Virginia Robinson Gardens reopens for the Garden Tour and Showcase House, offering an exclusive opportunity to visit magnificent private gardens in the area, and enjoy an extravagant showcase at the Robinson Estate, featuring top interior designers, florists, and a lavish luncheon. Proceeds will raise funds for the restoration needs of the estate and the Children's Science program, which has served more than 5,000 children throughout the pandemic years. Built in 1911, the Robinson mansion was one of the first homes in Beverly Hills, known for hosting the area's most legendary parties. Today, the garden is recognized not only as a historical landmark, but also as an exotic paradise that all sightseers are invited to enjoy by appointment only.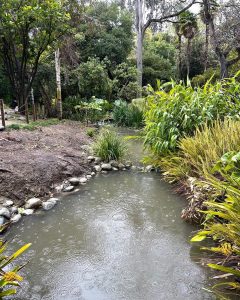 Mildred E. Mathias Botanical Garden 707 Tiverton Drive, Los Angeles, CA 90095
Mildred E. Mathias Botanical Garden is a living museum that maintains one of the most important living botanical collections in the U.S. Over 3,000 types of plants grow in the garden and a wide range of environments are found within its borders, from the dry desert and Mediterranean sections on the eastern end to the shaded, lush interior. A stream and series of ponds run through the center of the garden, which is home to koi and turtles.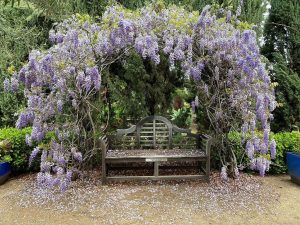 Arlington Garden 275 Arlington Dr. Pasadena, CA 91105
Pasadena's only dedicated free public garden, Arlington Garden is a three-acre community-built Mediterranean garden in the heart of Pasadena on Caltrans-owned land leased to the City of Pasadena. The garden includes thousands of California native plants, such as poppies, sunflowers, cactus and succulents, orchards of orange and olive trees, and many more species. This lovely space is not only friendly to people and pets, but also exists as a refuge for Pasadena's native fauna. Birds, bees and butterflies are particularly abundant, and can be seen throughout the year.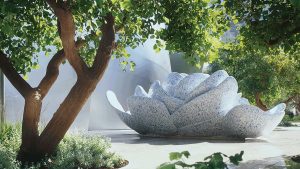 Blue Ribbon Garden Walt Disney Concert Hall 111 S. Grand Ave. Los Angeles, CA 90012
The Blue Ribbon Garden is a hidden rooftop garden at Walt Disney Concert Hall. Nearly an acre in size, the garden is enclosed by the hall's flowing exterior and filled with lush landscaping that blooms throughout the year. What started as a personal connection between just two people: Frank Gehry and Lillian Disney, has become a shared public art experience for concertgoers and Los Angeles tourists alike. One of the garden's highlights is the Frank Gehry-designed fountain, a tribute to the late Lillian Disney and her love for Royal Delft porcelain vases and roses.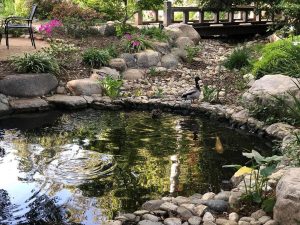 Storrier Stearns Japanese Garden 270 Arlington Dr. Pasadena, CA 91105
The Storrier Stearns Japanese Garden was created by Kinzuchi Fujii for Charles and Ellamae Storrier Stearns in 1935. Fujii designed and built Japanese landscapes across Southern California in the first half of the 20th century. This pond-style stroll garden features a fifteen-foot waterfall and a formal teahouse on approximately two acres of land. The garden is considered by many to be a masterwork and it demonstrates the adaptability of Japanese culture in modern America.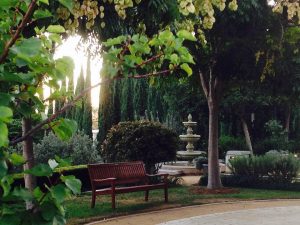 Peace Awareness Labyrinth & Gardens 3500 W Adams Blvd. Los Angeles, CA 90018
Need to unwind your mind? Peace Awareness Labyrinth & Gardens was established by the Movement of Spiritual Inner Awareness as a non-profit center dedicated to peace and spirituality. Called a "Spiritual Oasis in the City," its purpose is to provide a place for people to take time out of their busy lives to visit, reflect, and be rejuvenated by the peace and solace of nature. The centerpiece of the property is an outdoor stone labyrinth, using the same design as the Chartres Cathedral labyrinth. The spectacular Asian-themed meditation garden presents sixteen water features, a koi pond, and intimate seating areas tucked away to reflect, repose, meditate.
Photo Credits:
Photo #1: Descanso Gardens
Photo #2: California State Parks
Photo #3: The Huntington
Photo #4: Exposition Park
Photo #5: Natural History Museum of Los Angeles County
Photo #6: Virginia Robinson Gardens
Photo #7: Mildred E. Mathias Botanical Garden
Photo #8: Arlington Garden
Photo #9: LA Phil
Photo #10: Storrier Stearns Japanese Gardens
Photo #11: Peace Awareness Labyrinth & Gardens