Spring is in the air! Circa's lavish living spaces, with dramatic floor-to-ceiling windows and breathtaking views, provide the perfect canvas to inspire your home interior design goals. If previous seasons were all about sleek modernism and understated neutrals, this Spring is offers livable luxury, versatility, and effortless chic. One of the top trends is color, so we were excited when Pantone announced Viva Magenta as the Color of the Year. Other design directions include comfortable furniture, fluid lines, and calm, restorative spaces that utilize expressive natural materials and textures. You can also mix in a hint of vintage. Ready to give your home a new signature style? We've compiled a list of unique DTLA home decor resources so you can get the look you love.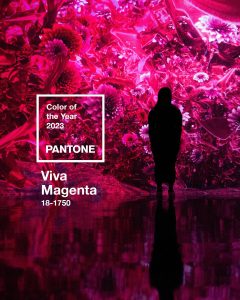 Pantone Color of the Year: Viva Magenta
Pantone's Color of the Year: Viva Magenta vibrates with vim and vigor. It is a shade rooted in nature descending from the red family and expressive of a new signal of strength. Viva Magenta is brave and fearless, and a pulsating color whose exuberance promotes a joyous and optimistic celebration, writing a new narrative. Viva Magenta welcomes anyone and everyone with the same verve for life and rebellious spirit. It is a color that is audacious, full of wit, and inclusive of all.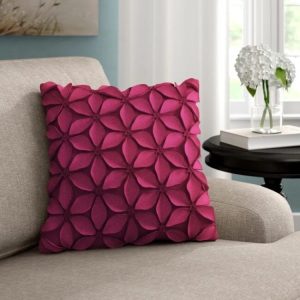 7 Ways to Work Pantone's 2023 Color of the Year Into Your Decor Style
Home improvement expert Bob Vila has some creative tips on how to incorporate Viva Magenta into your home style. Whether you splash it across an entire wall or use it as a pop of color, Viva Magenta is a bold and brilliant addition to your home design and daily life. Viva Magenta combines electrifying red with a smidgen of blue, resulting in a mood-boosting shot of color that invokes a feeling of strength through creativity. Try using this dynamic color on pillows, wall-hangings, window dressings, or furniture accent pieces. Pictured: Throw Pillow from Wayfair.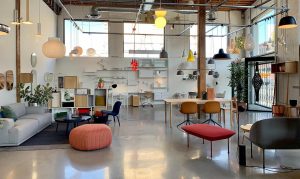 A + R ROW DTLA 777 S Alameda St. Los Angeles, CA 90021
A+R stands for Andy and Rose: British ex-pat Andy Griffith, a former film editor and self-avowed design junkie, and Rose Apodaca, a pop culture and style journalist and author. From sofas to stools, clocks to carafes, tables to lightning, A + R's oeuvre is design that charms, functions and inspires. Need some style advice? A + R has a knowledgable team in-store and behind the scenes who will share their enthusiasm for design, bound by the pursuit of aesthetics and innovative ideas.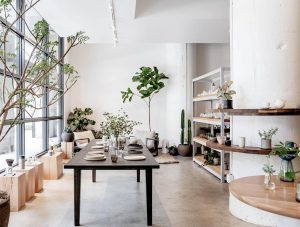 KINTO Tableware & Lifestyle Goods ROW DTLA 767 S Alameda St B2 Ste. 188, Los Angeles, CA 90021
Looking for the perfect accent piece for your home? KINTO is a Japanese brand that develops coffeeware, teaware, tableware and lifestyle accessories valuing the balance between usability and aesthetics. To slow down and see the beauty of nature, to unwind and feel connected with your loved one, KINTO imagines scenes that enrich your life to bring you products with genuine creativity and thoughtfulness.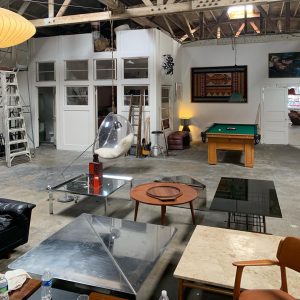 Motley Design Showroom 1907 E 7th St. Los Angeles, CA 90021
Motley Design is an award winning, curated collection of vintage modern designs and modern art located adjacent to the Arts District in downtown Los Angeles.  The showroom is generally open every day of the week by appointment.  Parking is ample. Call 562.508.6732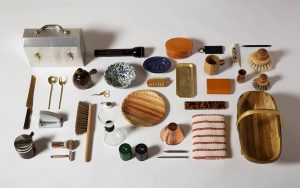 The Good Liver 705 Mateo St. Los Angeles, CA 90021
The Good Liver is a modern day version of a general store that sets out to inform, inspire and ultimately suggest a better way of living through a conscientious collection of enduring, quality goods from around the world. Motivated by the simple things in life, The Good Liver strives to provide high quality, functional products with aesthetic appeal – the unification of design and quality. The store offers a carefully selected range of objects from international brands and makers, showcasing the history, philosophy and craftsmanship behind each item.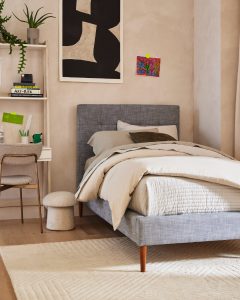 West Elm Broadway Palace 928 S Broadway Ste. A, Los Angeles, CA 90015
West Elm offers a vast selection of home goods, including furniture, rugs, bedding, lighting, window treatments, storage and more. From their Brooklyn studios, West Elm's in-house team designs exclusive collections you won't find anywhere else. They collaborate with artisan collectives around the world to help preserve their handcraft traditions and create opportunities for sustainable employment, especially in rural areas. West Elm was also the first-ever home retailer to join Fair Trade USA, ensuring workers fair wages, healthy working conditions and community development.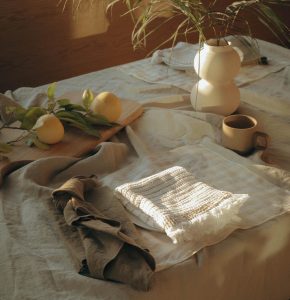 Morrow Soft Goods ROW DTLA 767 S Alameda St. Suite 196, Los Angeles, CA 90021
Morrow Soft Goods, creator of sustainable bedding, towels, rugs, and fabric accessories, has partnered with the Detroit-based furniture brand Floyd for the launch of their first showroom, which features both brands' intentional approach to design. Customers can test Floyd's products in person and see materials and fabric swatches, all while shopping Morrow's product line for purchase in store to create an interactive and design-forward showroom experience.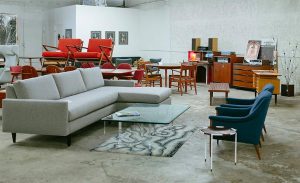 The Hunt Vintage Home Furnishing Store 812 Mateo St. Los Angeles, CA 90021
The Hunt Vintage is a vintage furniture store located in the DTLA Arts District. Looking for the perfect sofa or accessary? Hunt through their eclectic collection of mid-century and custom seating, desks, tables, lighting, storage, and table top to find the ideal piece. They also do custom work, and carry a selection of vintage yarn art wall hangings, framed posters, and lithographs.
The Hunted Fox 688 S Santa Fe Ave. Studio 111, Los Angeles, CA 90021
The Hunted Fox creates custom furniture using leather and unique vintage or handwoven textiles. They focusi on the soft landing and work with finish craftsmen and iron foundries across the city to create complete furniture pieces. Every item is made by hand in partnership with local family owned and operated companies. Their online store gives you access to their one stop shop for the hardest to find, rare, ethnic, tribal or designer pillows, home décor accents and leather furniture from some of their favorite projects and vintage decor finds.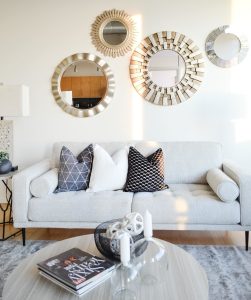 Ashley 1810 S Broadway Los Angeles, CA 90015
Ashley Furniture Industries is the world's largest furniture manufacturer, offering a vast range of products including furniture, lighting, rugs, accent seating, tabletop accessories, mirrors, and wall art. Their talented team of in-house designers and engineers travel the world to gain an understanding of the latest trends and discover emerging materials, constructions and technologies.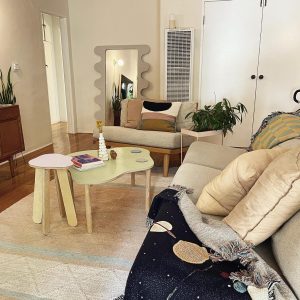 TITO Art & Design 1855 Industrial St STE 107, Los Angeles, CA 90021
TITO Art & Design is an art and design Haus dedicated to making weird and wonderful things, locally and sustainably. They design and make art, furniture, and decor in their space in the Arts District in downtown Los Angeles. Whatever they don't make in-house is made in the U.S. by worker-owned companies. TITO Art & Design is part of TX2, Inc., a California benefit corporation owned by Tito Gonzalez-Blaine and Tristan Blaine-Gonzalez. They are are committed to making a positive impact on society and the environment, while also being financially self-sustaining. Your support helps accomplish both of these goals.
Photo Credits:
Photo #1: Ashley
Photo #2: Pantone
Photo #3: Wayfair
Photo #4: A + R
Photo #5: KINTO Tableware & Lifestyle Goods
Photo #6: Motley Design
Photo #7: The Good Liver
Photo #8: West Elm
Photo #9: Morrow Soft Goods
Photo #10: The Hunt Vintage
Photo #11:The Hunted Fox
Photo #12: Ashley
Photo #13: TITO Art & Design