Spring is in the air! Now is the perfect time to get out and commune with nature. According to recent research, experiencing the natural world has a powerful effect on our emotional well-being, including less stress in our daily lives and boosting healthy feelings of compassion and gratitude. You don't have to travel far to experience the great outdoors. LA is home to a wealth of scenic trails and urban oases that are easily accessible from Circa, where you'll discover everything from lush flower blooms to rugged woodlands, refreshing waterfalls, and a wide variety of wildlife. We even found some apps to enhance your experience of nature. Before you go, check websites for health & safety guidelines.
Descanso Gardens Bloom Boom 1418 Descanso Dr. La Cañada Flintridge, CA 91011
It just wouldn't be spring without cherry blossoms! Descanso Gardens celebrates all that nature has to offer this season, with guided walking tours, craft demos, and live music. In addition to Descanso's iconic cherry blossoms, you'll find camellias, crabapples, daffodils, tulips, California poppies, and lilacs. The birds of Descanso also mark spring by making their homes in the garden. Check out the flowering tree map, which is updated weekly HERE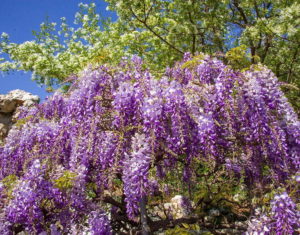 The Huntington 1151 Oxford Rd. San Marino, CA 91108
Lavender and white wisteria are in full bloom in the Chinese Garden and well on their way to taking over the faux bois arbor in the Japanese Garden. The Huntington is home to 16 spectacular themed gardens spread across 120 acres, including Desert Garden, Camellia & Rose Gardens, Jungle Garden, Herb Garden, Australian Garden, Lily Pond, and more. See what's blooming at The Huntington on their interactive map HERE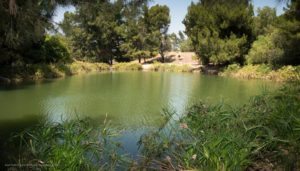 Earnest E. Debs Regional Park 4235 Monterey Road Los Angeles, CA 90032
Ernest E. Debs Regional Park is 300 acre urban oasis on old ranch land in the Arroyo Seco neighborhood just northeast of downtown L.A. The fourth largest park in Los Angeles, the area is home to walnut-oak woodland, grassland, coastal sage scrub, and over 140 species of birds. A five mile loop meanders through almost every section of this dog-friendly park. Along the way, you'll discover a pond where you can actually go fishing.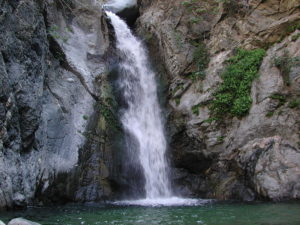 Eaton Canyon Natural Area 1750 N. Altadena Dr. Pasadena, CA 91107
Eaton Canyon Natural Area is a natural preserve located at the base of the San Gabriel Mountains. This scenic 198 acre natural area was originally called "El Precipicio" by Spanish settlers because of its steep gorges, and was later named after Judge Benjamin Eaton, a progressive pioneer who was the first to use irrigation from Eaton creek to grow grapes on the slopes. Visitors can explore Eaton Canyon's expansive hiking and equestrian trails, majestic waterfalls, seasonal streams, and abundant native plants.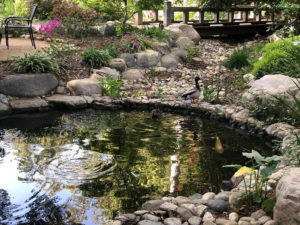 Storrier Stearns Japanese Garden 270 Arlington Dr. Pasadena, CA 91105
The Storrier Stearns Japanese Garden was created by Kinzuchi Fujii for Charles and Ellamae Storrier Stearns in 1935. Fujii designed and built Japanese landscapes across Southern California in the first half of the 20th century. This pond-style stroll garden features a fifteen-foot waterfall and a formal teahouse on approximately two acres of land. The garden is considered by many to be a masterwork and it demonstrates the adaptability of Japanese culture in modern America.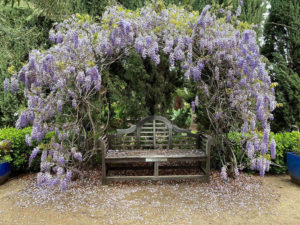 Arlington Garden 275 Arlington Dr. Pasadena, CA 91105
Another hidden gem is Arlington Garden, Pasadena's only dedicated free public garden. This three acre community-built mediterranean garden is located in the heart of Pasadena on Caltrans-owned land. The garden includes thousands of California-native plants such as poppies, sunflowers, cactus and succulents, and orchards of orange and olive trees. Arlington Garden is not only friendly to people and pets, but also exists as a refuge for Pasadena's native fauna. Birds, bees and butterflies are particularly abundant and can be seen throughout the year.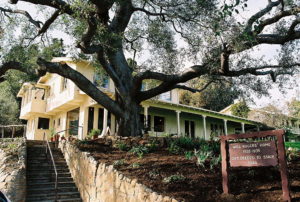 Will Rogers State Historic Park 1501 Will Rogers State Park Rd. Pacific Palisades, CA 90272
Will Rogers was one of the most popular and highest paid actors in Hollywood and "America's most beloved citizen." During the 1920s, he bought land in Santa Monica, where he developed a ranch. Eventually, Rogers owned about 359 acres overlooking the Pacific Ocean, in what is now Pacific Palisades. After Rogers passed away, his widow Betty donated the ranch to California State Parks in 1944. Casual hikers can enjoy a moderate 2-mile loop to and from Inspiration Point, and more adventurous hikers, mountain bikers, and equestrians can tackle the Backbone Trail National Trail into the Santa Monica Mountains, which can take you all the way to Point Mugu.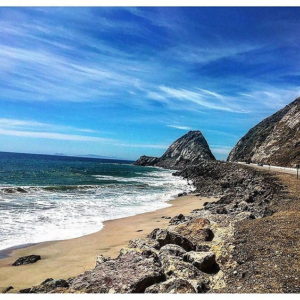 Point Mugu State Park 9000 West Pacific Coast Highway Malibu, CA 90265
Point Mugu State Park, located in the Santa Monica Mountains, features five miles of ocean shoreline with rocky bluffs, sandy beaches, sand dunes, rugged hills and uplands, two major river canyons and wide grassy valleys dotted with sycamores, oaks and a few native walnuts. In all, there are more than 70 miles of hiking trails. The beach also features swimming, body surfing and surf fishing. The park includes the jagged pinnacles of the Boney Mountains State Wilderness Area.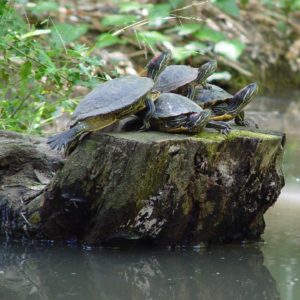 Mildred E. Mathias Botanical Garden 707 Tiverton Drive Los Angeles, CA 90095
Mildred E. Mathias Botanical Garden is a living museum that maintains one of the most important living botanical collections in the U.S. Over 3,000 types of plants grow in the garden and a wide range of environments are found within its borders, from the dry desert and Mediterranean sections on the eastern end to the shaded, lush interior. A stream and series of ponds run through the center of the garden, which is home to koi and turtles.
Peace Awareness Labyrinth & Gardens 3500 W Adams Blvd. Los Angeles, CA 90018
Need to unwind your mind? Peace Awareness Labyrinth & Gardens was established by the Movement of Spiritual Inner Awareness as a non-profit center dedicated to peace and spirituality. Called a "Spiritual Oasis in the City," its purpose is to provide a place for people to take time out of their busy lives to visit, reflect, and be rejuvenated by the peace and solace of nature. The centerpiece of the property is an outdoor stone labyrinth, using the same design as the Chartres Cathedral labyrinth. The spectacular Asian-themed meditation garden presents sixteen water features, a koi pond, and intimate seating areas tucked away to reflect, repose, meditate.
Do you want to contribute to science? The iNaturalist app allows you to connect with nature and record your observations of the natural world, such as birds, plants, forests, butterflies, marine life, and wild bees. You can share your observations with fellow naturalists, discuss your findings, and create your own projects. Every observation can contribute to biodiversity science, from the rarest butterfly to the most common backyard weed. iNaturalist shares your findings with scientific data repositories like the Global Biodiversity Information Facility to help scientists find and use your data. All you have to do is observe. iNaturalist is a joint initiative of the California Academy of Sciences and the National Geographic Society.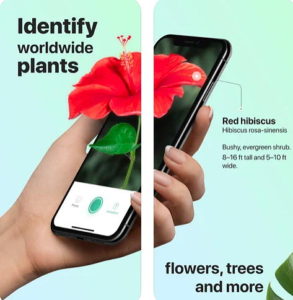 Picture This – Plant Identifier App
Have you ever encountered a beautiful, unknown flower during your walk and wondered what it was? Or do you need advice on how to care for your plants? Simply take a photo of the plant and PictureThis answers all the questions for you. PictureThis® identifies 1,000,000+ plants every day with 98% accuracy – better than most human experts. The app's revolutionary artificial intelligence engine is constantly learning from experts and specialists – and now it's all at your fingertips. Picture this plant, and discover a new appreciation for nature.
Photo Credits:
Photo #1: Descanso Gardens
Photo #2: Descanso Gardens
Photo #3: The Huntington
Photo #4: Earnest E. Debs Regional Park
Photo #5: Eaton Canyon/Wikipedia/Scott Medling
Photo #6: Storrier Stearns Japanese Garden
Photo #7: The Arlington
Photo #8: Will Rogers State Historic Park
Photo #9: Point Mugu State Park/California Dept. of Parks & Recreation
Photo #10: Mildred E. Mathias Botanical Garden
Photo #11: Peace Awareness Labyrinth & Gardens
Photo #12: iNaturalist App
Photo #13: Picture This – Plant Identifier App