Now that we're settling into autumn, with the busy holiday season looming ahead, the change of pace can wreak havoc on your equilibrium! It's time to rev up your energy, calm your senses, and renew your ch'i. A day of pampering at the spa is the perfect prescription for wellbeing, whether it's unwinding after a long stressful day at work, relieving post-workout aches and pains, or looking your best for a special occasion. So treat yourself to a spa spree – and discover the best places to relax, revitalize, and rejuvenate in DTLA.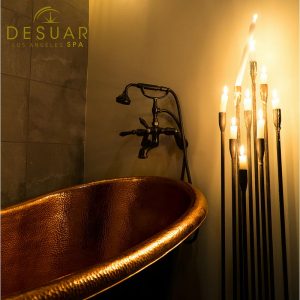 Desuar Spa 220 W 5th St Basement Los Angeles, CA 90013
Amidst the hustle and bustle of the city, there is an oasis of calm exclusivity to balance the body and mind. Desuar Spa's expansive state-of-the-art facility has been designed to deliver a fully immersive holistic health experience and unique atmosphere of well-being and relaxation. Guests have full access to the relaxation room and locker facility, and the spa provides bath robes and slippers for use in between services. Desuar also offers their special blend of herbal teas, along with other refreshments including complimentary wine. Beyond the usual massage and skin care treatments, Desuar offers the only Himalayan Salt Bed in Downtown LA, and exotic treatments such as the Cleopatra Soak (milk bath soak), Cannabis Soak, and Wine Soak. All soaks are done in a copper tub–the copper metal is bacteria and mold resistant, making it easy to maintain a clean and sanitary environment. Book appointment here.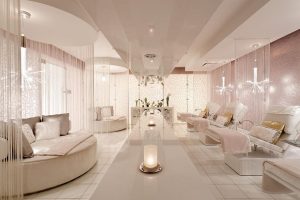 The Ritz-Carlton Spa The Ritz-Carlton 900 W Olympic Blvd, Los Angeles, CA 90015\
At The Ritz-Carlton Spa, Los Angeles, wellness is infused with red-carpet style. From arrivals marked by a glass of champagne to spaces inspired by the golden age of Hollywood, this luxury spa captures the sophistication of LA. Encompassing 8,000 square feet, The Ritz-Carlton Spa is the largest in downtown Los Angeles and features a couple's suite, a co-ed sanctuary, a hair salon, a boutique and separate lounges with eucalyptus steam rooms and cold-plunge showers. Other offerings, like poolside yoga, complement traditional experiences for a quintessentially Angeleno spa day.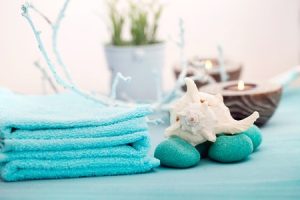 Omni Spa at Omni Los Angeles at California Plaza 251 S Olive St, Los Angeles, CA 90012
Relax at the end of a long day with a massage or facial from the experienced professionals at the Omni Spa at the Omni Los Angeles Hotel at California Plaza. Couples massages, facials, corporate chair massage, spa packages and poolside spa parties are just a few of the offerings from the beautiful and cozy spa by Be Well Incorporated. Be Well is a full-service holistic wellness team that specializes in the creation of customized wellness experiences that empower clients to be well – to exist in a state of balance through awareness and integration of mind, body, and spirit.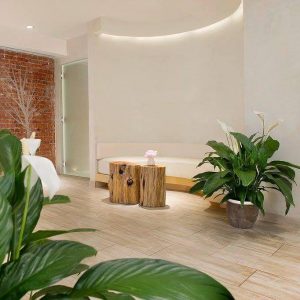 Frais Spa at The O Hotel 819 S. Flower St. Los Angeles, CA 90017
Calling itself the first "connected spa," Frais Spa's mission is to educate its clients and help them progress to improve their quality of life. Mixing an authentic spa-care experience with therapeutic expertise, Frais aims to redefine the relationship between spa, health professionals, clients and patients to provide a complete health benefit. Services include an array of massages, such as Tech Neck and Couples; Hot Stone Service; Organic Salt Foot Soak; and a variety of Scrubs, Wraps, and Facials. Frais also offers a Chiropractic and Acupuncture treatments, performed by licensed professionals. Book with the Frais app.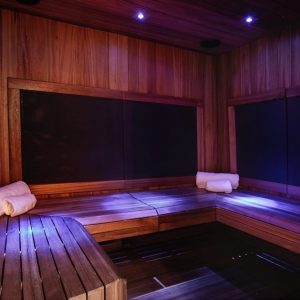 Hotbox Infrared Sauna Studio 835 S. Hill Street Los Angeles, CA 90014
Some like it hot! Developed in the 1970's by Japanese health practitioners, Infrared saunas offer the same health benefits as the traditional Finnish variety, but provide a cooler, more gentle and soothing experience. Unlike Finnish convection saunas, which heat the body from the outside-in, infrared saunas heat the body from the inside-out, leaving the air more breathable and allowing for a longer sweat. According to the Mayo Clinic, no adverse effects have been reported with infrared saunas, and the lower temperature can make them accessible to people who can't tolerate the heat of a conventional sauna. Infrared heat can also kill bacteria, creating a more sterile environment. During any Hotbox session, you can add Chromotherapy, the healing power of color. Choose a color based on your mood, such as Calm, Balance, Clarity, Inspired, and Optimism, and your private sauna will be filled with the electromagnetic flow of colored light.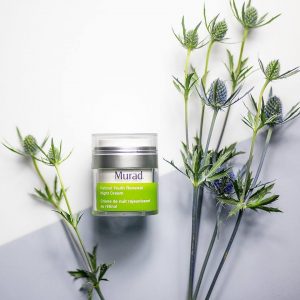 Massage Envy 315 West 9th St. Suite 101 Los Angeles, CA 90015
Need to find the perfect place for customized, affordable and convenient Los Angeles facials and massages? It's right in your own backyard at Los Angeles Massage Envy. Professional massage or skin care services are performed by licensed therapists and estheticians who care about helping you look and feel your best! Massage therapy can relax your muscles to help relieve common stress, boost overall energy, refresh your mental and emotional outlook and positively impact all aspects of your life. Professional skin care helps expose the skin to beneficial nutrients and improve the cellular regeneration process, so you'll look and feel healthy. Open 7 days a week with late weeknight and weekend hours.