First settled in the late 1800s, Little Tokyo has grown into a bustling hub of delectable food options, exciting nightlife, world-class museums, and eclectic shopping. A major attraction is the restaurant and bar scene, offering an authentic Japanese experience in the heart of the city. From cozy family-owned sushi bars, to hipster hangs, exclusive high-end establishments, and even Japanese cooking classes, you'll find the best sushi, sashimi, and sake in DTLA!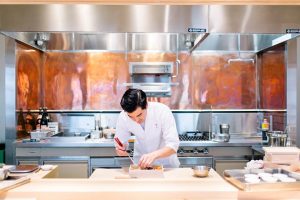 Hayato 1320 E 7th St #126, Los Angeles, CA 90021
This small gustatory gem is all about creating a personal connection and intimate dining experience, as if you were invited into a friend's home. Dinner is served by the chefs themselves, at one of eight counter seats in front of an open kitchen. For guests who prefer more privacy, a single table in a private tatami seating area is available by special request. The nightly omakase tasting menu menu consists of approximately ten dishes focused on the best fresh seafood available. Hayato uses the five Japanese cooking techniques (sashimi, grilling, steaming, frying and simmering) to produce simple dishes that derive their complexity from the quality of the ingredients. Dinner usually lasts about two and a half hours, but guests are welcome to ask the staff to pick up the pace or slow things down, as they wish.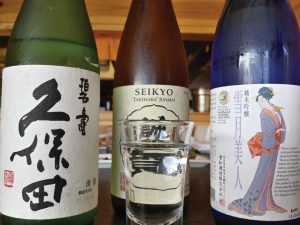 Third Generation Sake Bar 808 W. 7th St. Los Angeles, Ca 90017
Located in the heart of DTLA's Financial District, 3rd Generation Sake Bar serves small plates of popular Japanese dishes and sake in a simple, polished wood-infused room. Specialties include ramen, sushi hand rolls, poke bowls, dumplings, and octopus fritters. Wednesday is Sake Night, featuring $3 Sake Glass & 1/2 off Sake Bottles from their excellent selection of Japanese imports.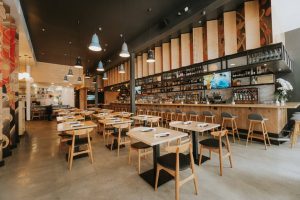 Sake Dojo 333 E 1st Street, Los Angeles, CA 90012
From the owners of Far Bar (and just a few doors down), Sake Dojo is an immersive dining and drinking sanctuary amidst the hustle and bustle of DTLA's Little Tokyo. The name Dojo means a hall or space for intensive learning or meditation – the term literally means "Place of the Way" in Japanese. The food is authentic Japanese-style, with a modern culinary twist. Beverages consist of a large selection of craft Japanese sakes, whiskeys and beers.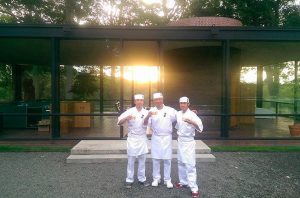 Sushi Zo 334 S Main St, Los Angeles 90013
Sushi Zo features "Omakase," a Japanese-style chefs' choice meal, presenting customers with seasonal dishes, using the highest quality and freshest natural ingredients. The balance between the neta (seafood) and shari (sushi rice) is the most important aspect of sushi. Each day, seafood products are carefully selected, prepared and served at their flavor peak, using a perfectly matched accompaniment for the particular neta, which may include a unique soy sauce, sea salt and other ingredients. The shari (rice) is meticulously cooked, seasoned with a unique blend of vinegars and served at body temperature, to create the perfect partner to the nata. The goal is Ittai-kan – when the neta and shari unite in perfect harmony.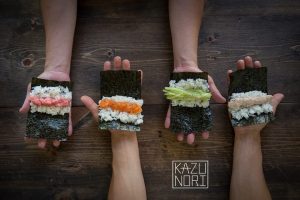 KazuNori: The Original Hand Roll Bar 421 South Main Street, Los Angeles 90013
KazuNori: The Original Hand Roll Bar was created with the idea that the experience of eating hand rolls is truly something special and worthy of its own restaurant. Created by Sushi Nozawa Group, the Los Angeles-based restaurant group behind Sugarfish and Nozawa Bar, KazuNori is the first restaurant of its kind to focus exclusively on hand rolls. The restaurant serves only the freshest fish, along with specially harvested seaweed, house made sauces, and their signature warm rice.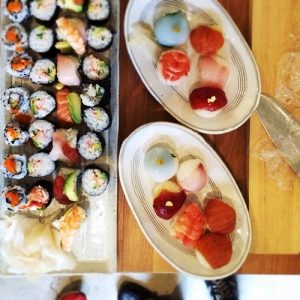 Japanese Cooking Classes at Foodstory 810 S Spring St #1204, Los Angeles, CA 90014
Yoko Isassi came up with Foodstory cooking classes as a way to pass on what she learned about Japanese food culture from her grandmother, great Japanese chefs in Japan and the US, her friends, favorite books, and fellow food lovers. Foodstory offers more than a dozen cooking classes including ramen, bento box, plant-based dishes, noodles, and the art of tea. She also organizes cooking and tasting tours at Japanese markets in Little Tokyo. Most classes are limited to 10 people with some exceptions. Classes usually last around 3 hours including dining time. Book your class here.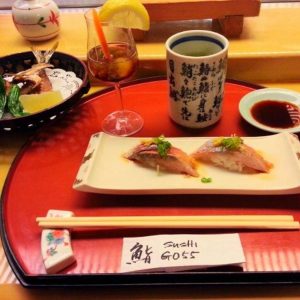 Sushi Go 55 333 S Alameda St, Ste 317 Los Angeles, CA 90013
Located on the top floor of the Little Tokyo Galleria Market, Sushi Go 55 has been a Little Tokyo fixture for nearly 60 years. Owned by the Morishita family, "America's First Family of Sushi," Sushi Go 55 was a pioneer in bringing sushi to America, with the mission to provide a memorable experience as if you stepped into a sushi bar in Japan. This cozy establishment focuses on the highest quality fish, flown in fresh from Japan and all over the world.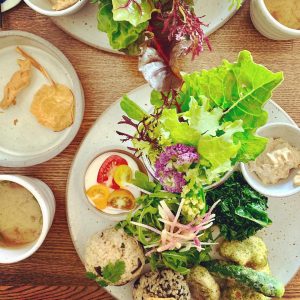 Shojin 333 Alameda St #310, Los Angeles 90013
Fish not your thing? Shojin is a vegetarian option, serving organic, gluten free Japanese vegan and macrobiotic dining, washed down with a heady selection of sake, beer and champagne. Their vision is to provide the most flavorful and naturally preserved meals using natural foods with no chemical seasonings and harmful additives. With personal service in a warm, friendly and relaxing atmosphere, Shojin offers a community setting to help guests understand the importance of healthy eating habits to achieve a rewarding lifestyle.