Autumn weather is finally here! And there's nothing like a cozy wine bar to warm those chilly nights and keep your spirits bright! DTLA is flush with some of the city's best wine bars, serving unusual and hard to find bottles guaranteed to please the most discerning palates. Whether you're a serious wine afcionado or just want a convivial place to gather with friends, the fruit of the vine beckons.

Pour Haus Wine Bar 1820 Industrial St. #101 Los Angeles, CA 90021
With its soft lighting, congenial seating, and colorful collection of books, bottles and board games, Pour Haus is the perfect environment for an after work attitude adjustment. Tucked away in the DTLA Arts District, this comfy boîte offers a variety of wines from across the globe, craft beer, and an interesting menu of noshes and desserts. You might start with Peppadew Pepper Poppers (stuffed with goat cheese & chives), and work your way through the gauntlet of increasingly substantial offerings–from Fromage Au Filo (baked sweet & savory cheese-filled turnovers), to Roasted Zucchini Salad, Croque Monsieur, and Oxtail Tacos. For a soft landing, try the Le Pour 'Smores (graham, chocolate & housemade marshmallow). Pour Haus is also a retail bottle shop, without any additional prices for in-house consumption.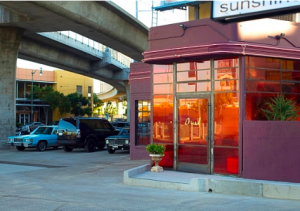 Oriel Chinatown 1135 N. Alameda St. Los Angeles, CA 90021
For lovers of authentic French wine and food, Oriel is a chic, comfortable wine bar styled to please even the most homesick Parisian. Located just far enough away from Chinatown's main drag, Oriel might be a little hard to spot hidden beneath the Chinatown Gold LIne Metro stop. But once inside, you'll be charmed by the sleek black and rose interior, lush hanging plants, and soft pink neon lighting. Oriel offers a curated selection of French bottles and some 20 wines by the glass, along with a classic bistro menu featuring French onion soup, steak tartare, chicken liver mousse, steak frites. escargots, and gnocchi à la Parisienne. Bon appétit!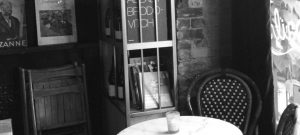 Mignon 128 E. 6th St. Los Angeles, CA 90014
True to its name (mignon roughly translates to "small and cute" in French), this elegant little food and wine bar in DTLA's Historic Core aims to be an oasis for anyone who is weary of the ubiquitous bar experience. Seating about 20 around a U-shaped central bar, Mignon's inviting interior is rich with midnight blue walls, a pressed tin ceiling, homey book shelves, and framed portraits. Mignon specializes in small production, offering natural wines from all over the globe with an emphasis on the Old World. They also serve seasonal, rustic French cuisine, including a three-course pre-fixe option, small plates, and fine artisanal cheeses and charcuterie. Get there at lunchtime from Wednesday to Saturday for some of the best pasta in town from Cento Pasta Bar. The space is also a retail shop, so make sure you grab some bottles to go.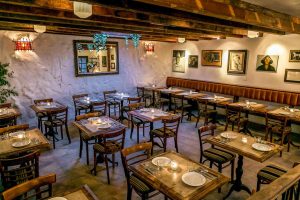 Bacaro LA 2308 S. Union Ave. Los Angeles, CA 90007
Bacaro LA is a Venetian-inspired small plates restaurant featuring Mediterranean-influenced dishes by Chef Lior Hillel. On most nights, this fun downtown wine bar near USC is jumping with students, professors, and the nearby after-work crowd. Barcaro's wine program focuses on Italian wines by the glass, with a chalkboard wall showcasing a rotating menu of reds, whites, sparkling, and sweet, which are replaced after the case is empty. Bacaro LA specializes in cichetti––the Italian version of tapas, along with a selection of pizzas, cheese/salumi plates, and sweets. The menu ranges from more mainstream dishes like Caprese Salad, Bruschette, and Panini, to dare-to-go-there Crispy Pigs Ears and Oven Roasted Bone Marrow. If you like your sweets on the sybaritic side, try the Nutella Panino (served on honey wheat bread with strawberries or bananas) Brown Butter Cookie Dough (with cardamom chocolate ganache, banana brulee, candied walnuts, and hand whipped cream) or Malabi (rosewater custard with shaved coconut, hibiscus flower, and ground pistachio).