It just wouldn't be summer without the tantalizing aroma of barbecue wafting in the breeze! Whether you like your chow Texas-style, hot and spicy, or classic American, we've smoked out some of DTLA's best BBQ joints, guaranteed to tempt your tastebuds with fresh grilled goodness. For the vegetarian in your household, many menus offers salads and other meatless sides. Check their websites for takeout, delivery, and patio dining details.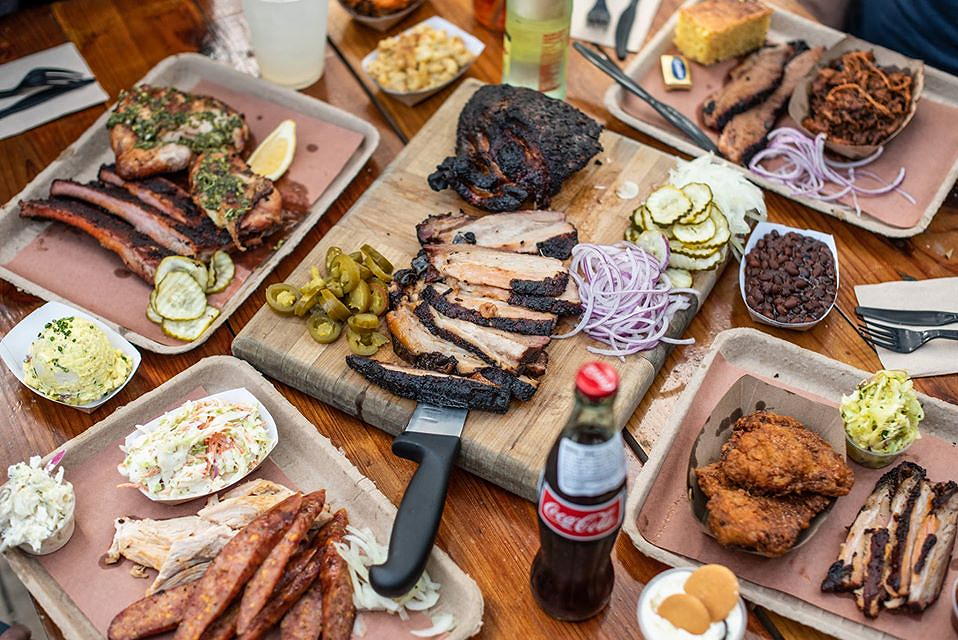 Horse Thief BBQ Grand Central Market 324 S Hill St. Los Angeles, CA 90013
Horse Thief BBQ is a Grand Central Market window from proprietors Wade McElroy and Russell Malixi, serving central Texas inspired BBQ, along with smoked meats and gourmet sides. Signature dishes include pork spare ribs, beef brisket, pulled pork, and turkey breast butter brined. Pair with classic sides like coleslaw, BBQ baked beans, potato salad, banana pudding, sweet potato casserole and corn bread. Order ahead for pick up. Delivery is available through Caviar or Doordash.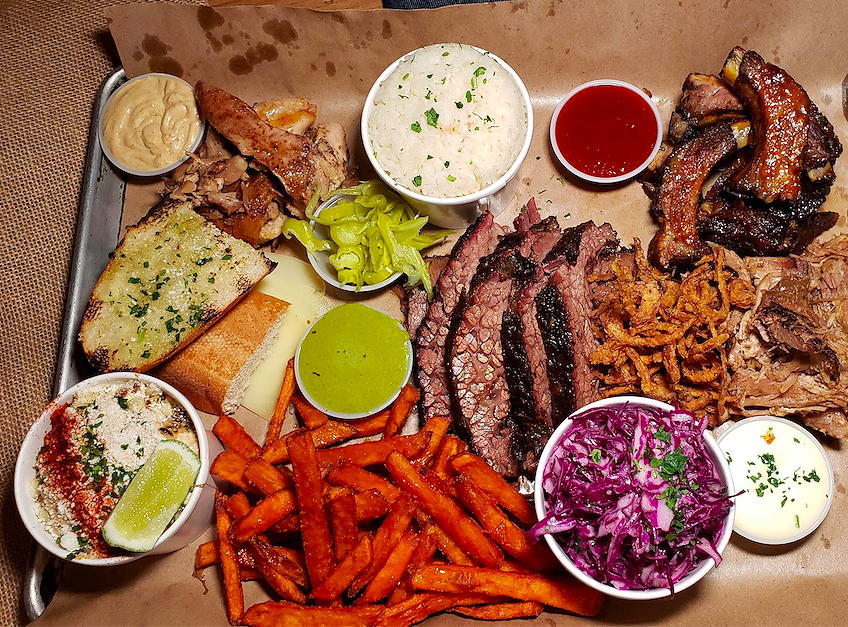 L.A. Brisket 736 N Broadway, Los Angeles, CA 90012
A popular destination originating in Artesia, L.A. Brisket recently opened a spiffy brick-and-mortar location in Chinatown. The restaurant specializes in hand crafted sandwiches loaded with all natural meat sold by the pound, with house BBQ sauce and bread. The menu offers brisket, chicken, pulled pork, pork ribs, and BBQ Bowls served with LA slaw, salsa verde, garlic, and jasmine rice. Sides include elote (grilled Mexican corn), French fries, truffle fries, and sweet potato fries. Order online for pick up or delivery.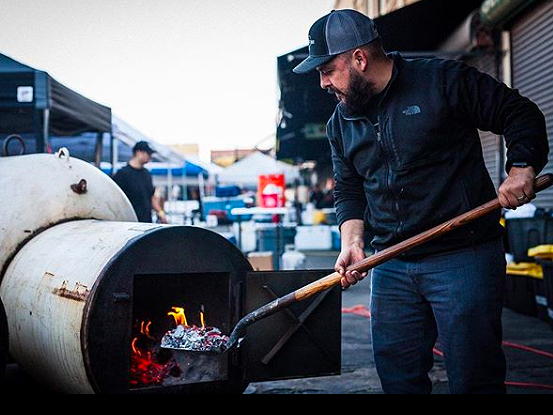 Acclaimed by LA Times and Eater LA as perhaps the best underground barbecue cooking in Los Angeles, Moo's Craft Barbecue is smoking up a storm this summer! With owners Michelle and Andrew Muñoz at the helm, the Texas-styled menu includes classics like ribs and brisket, smoked meats, and homestyle sides. Check their website to order ahead for curbside pickup in the LA Arts District.
Spring Street Smokehouse BBQ 640 N Spring St, Los Angeles, CA 90012
Spring Street Smokehouse is an American BBQ joint offering all the classic barbecue meats, hickory-smoked from four to 12 hours. The meat is wonderfully dense and smoky and includes all the favorites you'd expect: Beef and Pork ribs, Texas hot links, Brisket, and Pulled Pork. The down-home sides of mac & cheese, beans and cornbread round out a truly authentic BBQ experience. Spring Street also features some surprises, like chicken stuffed with peppers, onions, and cheese, then wrapped with bacon and pit-smoked. Fresh made desserts including Bourbon bread pudding and Peach cobbler. Open for sidewalk dining, take out and delivery.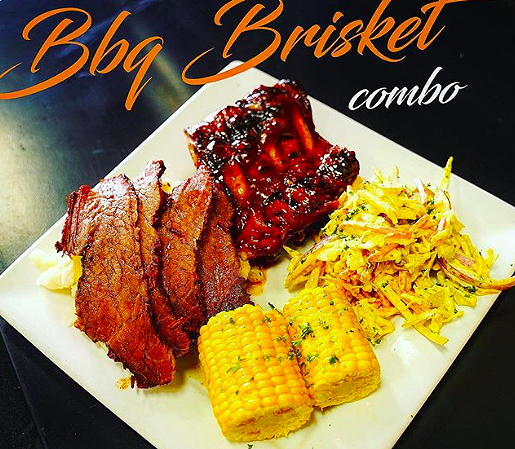 TBLA Catering & Cafe 765 Santee St. Los Angeles, CA 90014
A cozy spot in the DTLA Fashion District, TBLA Catering & Cafe is open for pick up and delivery. Specializing in American comfort food, try their signature Memphis Style BBQ baby back ribs served half and full rack, or their juicy BBQ pulled pork sandwich. Sides include a choice of mac n cheese. sweet potato fries, potato salad, and onion rings. TBLA also offers a selection of wraps such as Texas BBQ, Rajun Cajun, and Charbroiled Gal Bi, along with salads, burgers, sandwiches,and pastas.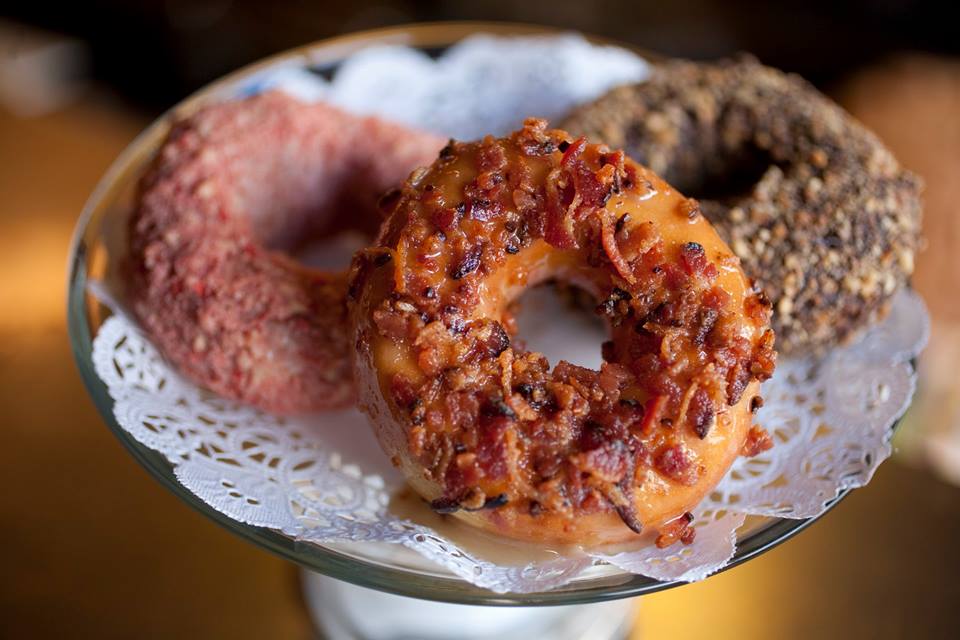 Nickel Diner 524 S. Main St, Los Angeles, CA 90013
Featured on Diners, Drive-In's and Dives, the Cooking Channel and Jonathan Golds 101 List, this vintage-style diner serves updated versions of old-school comfort fare on the site of a long-forgotten eatery, with the original hand-painted wall menus still intact. Specialties include beer braised brisket with ancho chile sauce, charred broccolini & cowboy beans; pulled pork sandwich; and fried chicken with maple bacon jam. They also serve an array of creative sweets and desserts like their famous glaze bacon doughnut. Check their website for order and pick up details.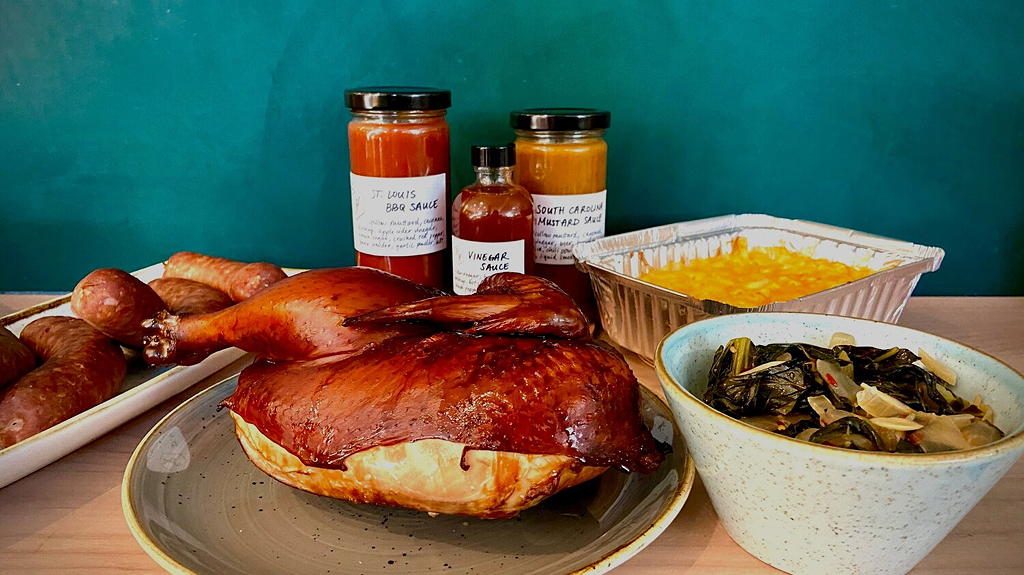 Red Herring LA 770 S Grand Ave A, Los Angeles, CA 90017
Red Herring is offering BBQ Boxes to go! Box #1 contains one meat, one sauce, one side, pickles & Texas toast (Feeds 1-2). Box #2 contains two meats, two sauces, two sides, pickles & Texas toast (Feeds 2-3). Box #3 contains three meats, three sauces, three sides, pickles & Texas toast (Feeds 4). You can also order their BBQ sauce to enjoy at home, which comes in three flavors: St. Louis BBQ Sauce, Vinegar Sauce, and South Carolina Mustard Sauce. Founded by husband and wife team Chef Dave Woodall and Alexis Martin Woodall, Red Herring offers Refined New American cuisine with global influences. Order ahead for curbside pick up.
Photo credits:
Photo #1: Horse Thief BBQ
Photo #2: Horse Thief BBQ
Photo #3: LA Brisket
Photo #4: Moo's Craft BBQ
Photo #5: Spring Street Smokehouse
Photo #6: TBLA Catering & Cafe
Photo #7: Nickel Diner
Photo #8 -Red Herring