From its humble 19th century beginnings as Jean-Louis Vigne's vineyard and later, an industrial center for railroads and manufacturing, the Arts District has evolved to become one of DTLA's hottest neighborhoods. In the 1970s, artists in search of cheap studio space began to occupy the area's dilapidated warehouses, opening art galleries, redeveloping old buildings, and preserving a big part of L.A.'s industrial history. Today, you'll find it all – from hidden gems to eclectic stores, creative concepts, and high end retail – when you shop DTLA's Arts District!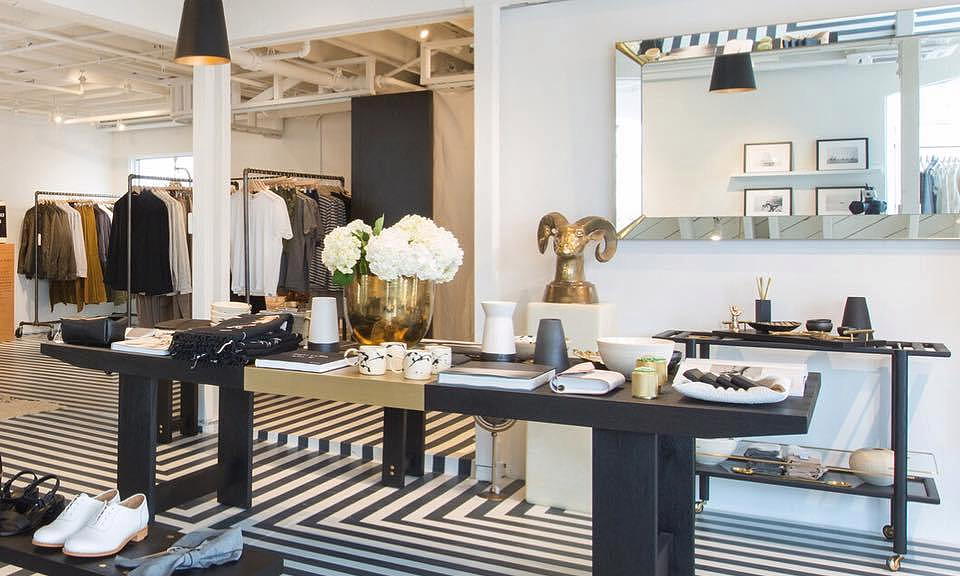 Alchemy Works 826 East 3rd St. Los Angeles 90013
Alchemy Works is a lifestyle retail, gallery, and events space concept, highlighting designers and unique home wares, clothing and accessories, including the Warby Parker Glass House, where you can have custom eyeglasses fitted. They regularly host events, bringing a community feel to this sophisticated open-air design venue.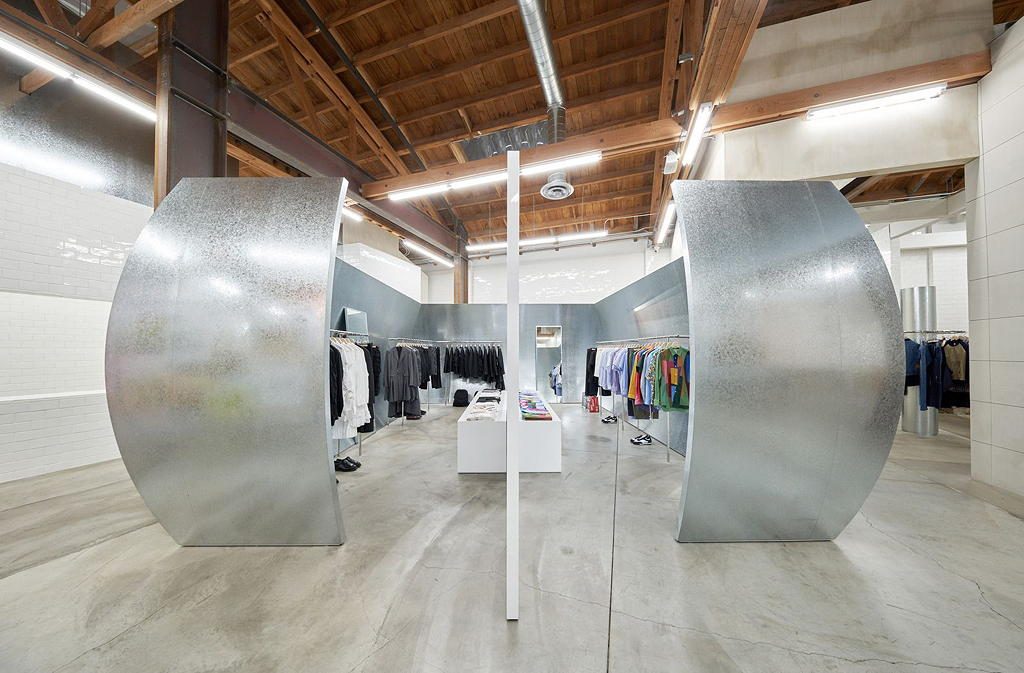 Dover Street Market 606-608 Imperial Street Los Angeles, CA 90021
Dover Market, one of the most exclusive and highly regarded retail trendsetters in the global fashion scene, opened DSMLA, its Los Angeles flagship store, in 2018. Housed in a white 15,000 square-foot renovated warehouse, DSMLA is the latest art-meets-retail concept from the Commes des Garçons label. The interior is laced with a warren of arresting visual displays, art installations, chain link fencing, and galvanized metal, creating distinct sections for coveted brands like Gucci, Palace, noir kei ninomiya, Chanel Fine Jewelry, Mark Jacobs, and Commes des Garçons Women's and Men's.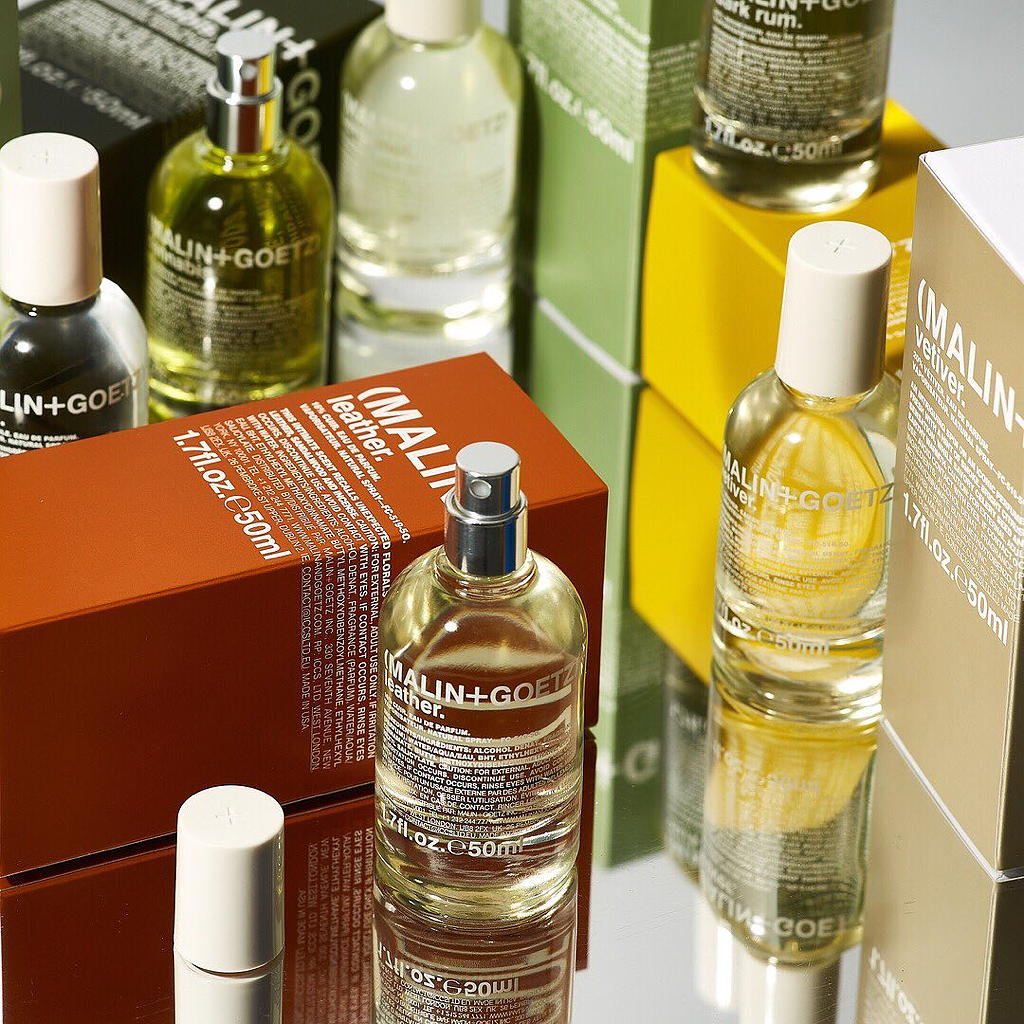 Malin + Goetz 300 S Santa Fe Ave. Suite S Los Angeles 90012
This New York-based beauty line and apothecary features high-end products for various skin types, combining trusted natural ingredients with advanced technology to create uncomplicated luxury skincare and fragrance for the modern, design-conscious individual. Formulated with sensitive skin in mind, the products are suitable for all skin types and genders. They never test on animals and are always striving towards more sustainable formulation and packaging practices.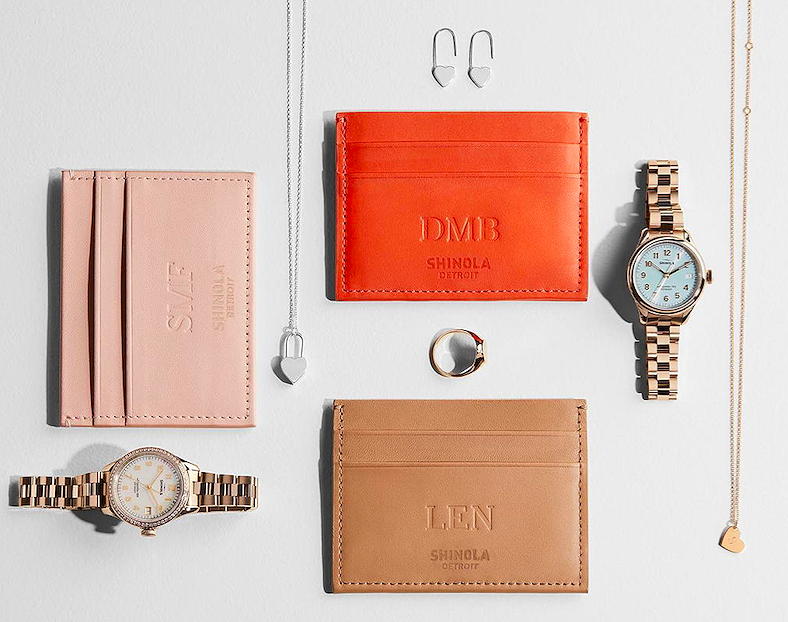 Shinola 825 E 3rd St. Los Angeles 90013
Shinola is a luxury design brand with an unwavering commitment to crafting products that are built to last – from timepieces to leather goods, jewelry and audio. Founded in 2011, the company operates an in-house watch and leather factory on the fifth floor of the historic Argonaut Building in Detroit, where a team of artisans hand assembles luxury timepieces and crafts premium leather straps. The Arts District store carries a variety of watches, leather bags and journals – you might even find a Shinola bike!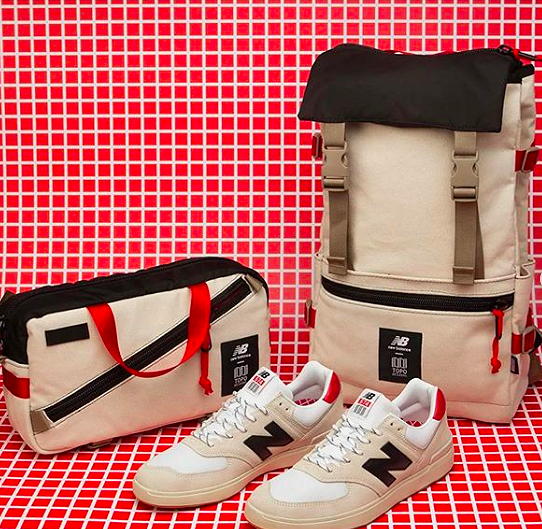 Hatchet Outdoor Supply Co. 941 E 2nd St. Los Angeles 90012
A mens clothing store for the 21st century adventurer. Hatchet Outdoor Supply offers contemporary and lifestyle apparel influenced by exploration, nature, and the outdoors. You'll find everything from parkas, pants, boots and backpacks, to tents and and other outdoor gear. They even carry candles and cabin spray scents that bring the outdoors inside!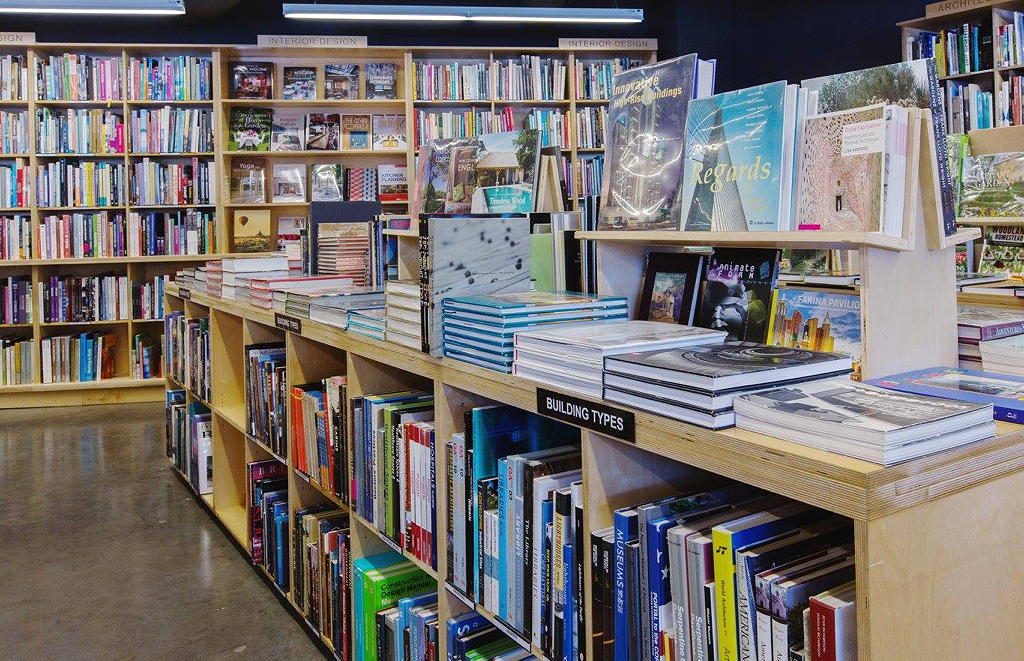 Hennessey + Ingalls 300 S Santa Fe Ave. Los Angeles, CA 90013
Since its founding in 1963, Hennessey + Ingalls has grown to become the largest art, architecture and design bookstore in the Western United States. In 2016, the store moved to its current location in DTLA's booming Arts District. A landmark in the visual arts community, Hennessey + Ingalls counts many of the country's leading architectural firms as clients, along with museums, collectors, art galleries, students, interior designers, graphic design firms, and schools. Even if you're not an industry professional, it's fun to browse the store's in-depth selection of books, including art, art history, architecture, photography, interior design, graphic design, and landscaping.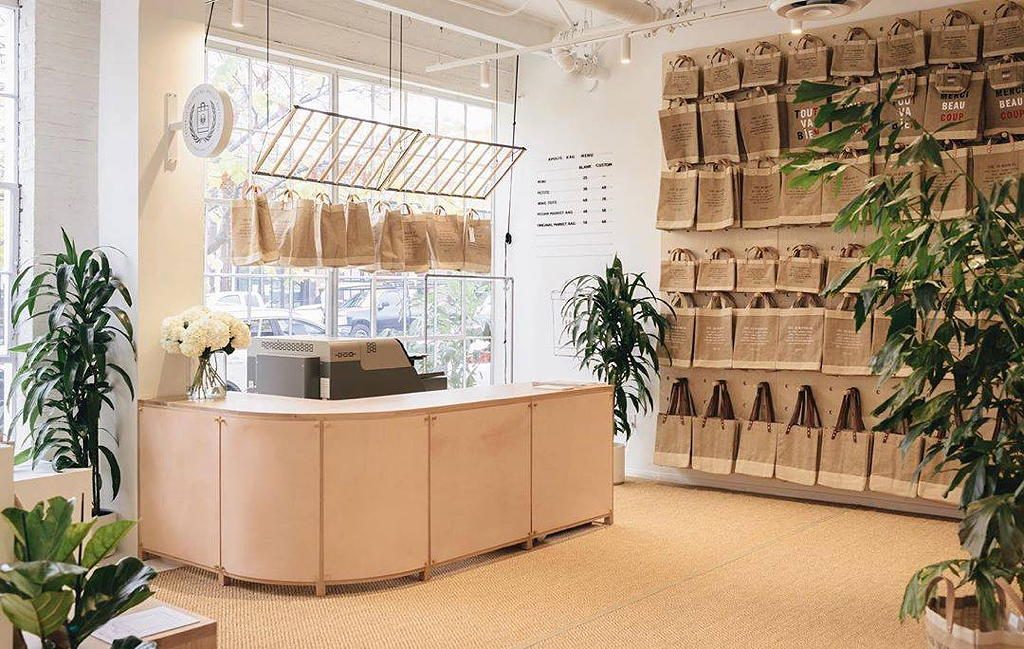 Apolis Common Gallery 806 E 3rd St. Los Angeles, CA 90013
Doing good is in the bag! In 2004, brothers Raan and Shea Parton founded Apolis with a simple idea – that business can create social change. This model is founded on the simple idea that people can live better lives when they are given equal access to the global marketplace. Their signature customizable market bags are sourced and manufactured with partners in Uganda, Peru, Bangladesh, and even around the corner in Los Angeles. These long–lasting, everyday items improve the lives of the people who make them, and help shape our world.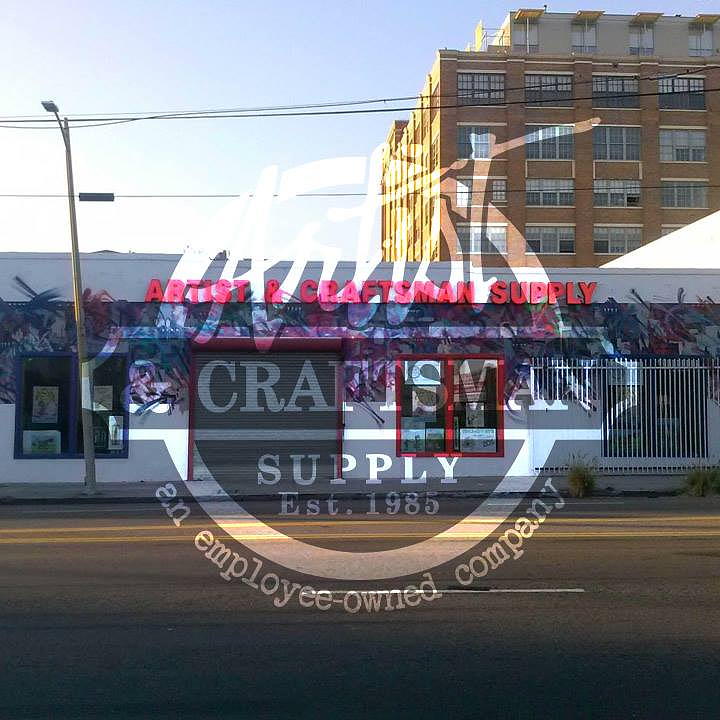 Artist & Craftsman Supply 1917-1921 E 7th St. Los Angeles 90021
Where would the Arts District be without an art supply store? Welcome to the Artist & Craftsman Supply, an employee-owned company that has been providing artists with excellent materials at competitive prices since first opening in Yarmouth, Maine in 1985. The store carries a wide variety of supplies for all types of arts and crafts that are on average 15-20% off of the manufacturer's suggested list price. Educators and student also qualify for 10% off their purchases. Any questions can be answered by the helpful, knowledgeable staff of artists.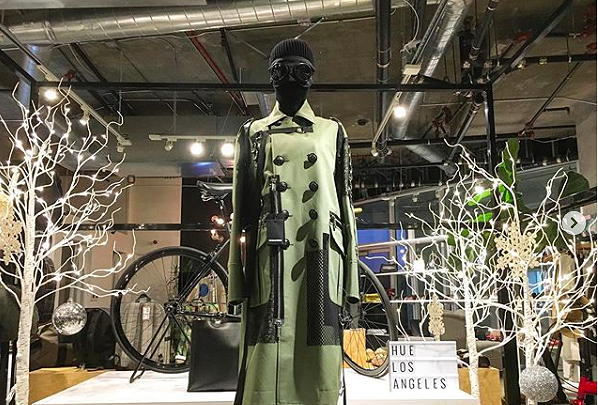 Hue 300 S Santa Fe Ave. Suite G Los Angeles 90013
Hue is a new, specially curated shopping experience that features the latest trends for women's, men's, kid's, contemporary and high-end fashion brands from around the world, such as Kenzo, Marc Jacobs, Bally, Repetto, Zadig & Voltaire, and Jonathan Adler. They focus on creating a space where people can enjoy the wide selection of brands in a chic, relaxed atmosphere.
Photo credits:
Photo #1: Alchemy Works
Photo #2: Alchemy Works
Photo #3: Dover Street Market
Photo #4: Malin + Goetz
Photo #5: Shinola
Photo #6: Hatchet Outdoor Supply Co.
Photo #7: Hennessey + Ingalls
Photo #8: Apolis Common Gallery
Photo #9: Artist & Craftsman Supply
Photo #10: Hue Los Angeles