June 20 is the Summer Solstice, marking the longest day of the year and the beginning of summer. What could be more fun than celebrating the season at an outdoor movie! Ever since the first patented drive-in movie theatre opened in New Jersey in 1933, movies under the stars have been a summer rite of passage. Today, outdoor movies are bigger than ever, with parks, rooftops, and even airports popping up state-of-the art screens and sound systems, many just short distance from Circa. Southern California is also host to some of the most iconic drive-in theaters in the US, with design themes ranging from Route 66 to Tiki kitsch and 50s cool. Feast from food trucks and concession stands, or pack your own picnic. Say hello to summer, outdoor movies are back.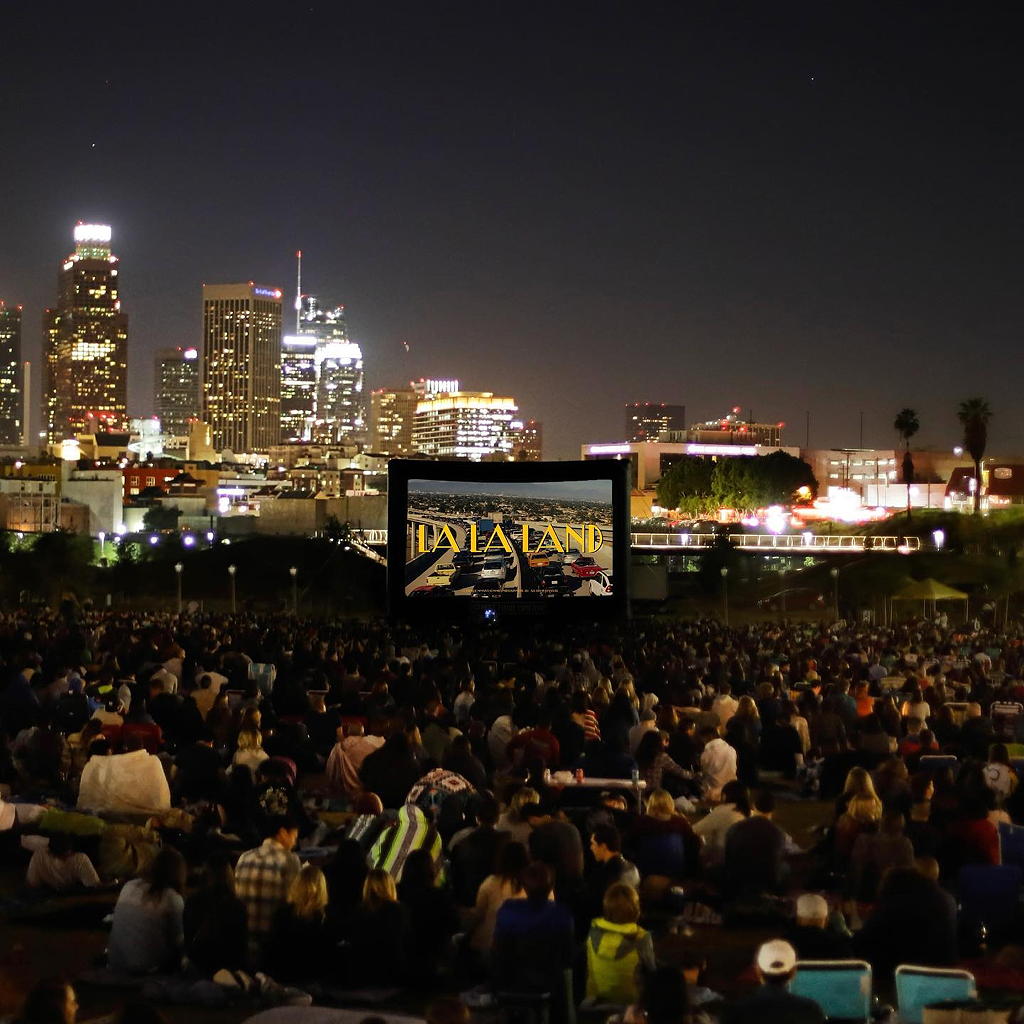 Street Food Cinema Los Angeles State Historic Park 1245 N Spring St. Los Angeles, CA 90012
Launched in 2012, Street Food Cinema is more than just an outdoor movie, it's an experience bringing together the best in pop culture films, gourmet street food and progressive new music. Street Food Cinema reinvents the traditional movie going experience – al fresco style. Every element is carefully curated to develop a unique atmosphere that will make you want to come back again and again.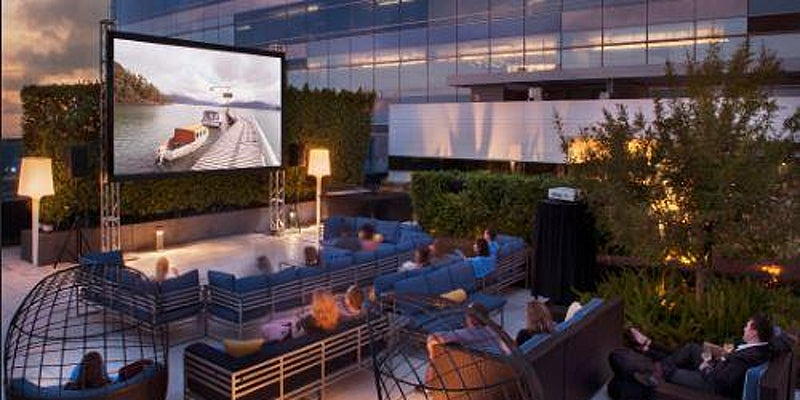 Poolside Dinner & A Movie JW Marriott L.A. LIVE 900 W Olympic Blvd. Los Angeles, CA 90015
Enjoy movies under the stars on the Rooftop Pool Deck at the JW Marriott. Tickets include a two-course meal (one appetizer and one entree selection), plus unlimited popcorn and complimentary soft drinks. Full bar is available, but not included in the ticket price.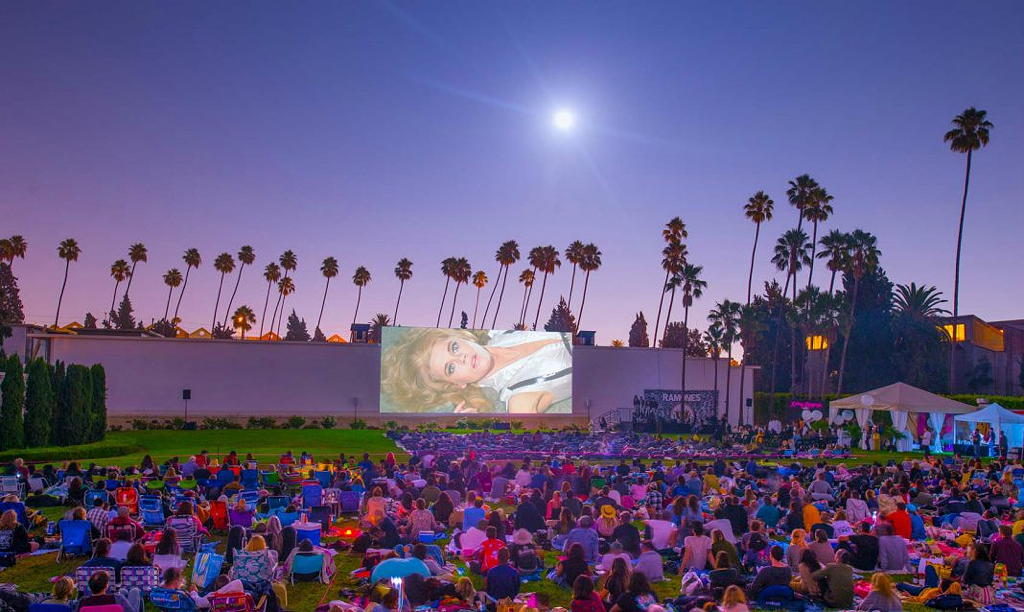 Cinespia Hollywood Forever Cemetery 6000 Santa Monica Blvd. Los Angeles, CA 90038
Cinespia brings movie magic to life with screenings of classic films to an audience from around the world, including some of Hollywood's most famous faces. With over 30 events per year, Cinespia hosts dazzling screenings under the stars at iconic venues including The Hollywood Forever Cemetery and The Greek Theatre. The 2021 season, presented by Amazon Studios, marks the 20th anniversary of the first and longest running outdoor screening series in Los Angeles.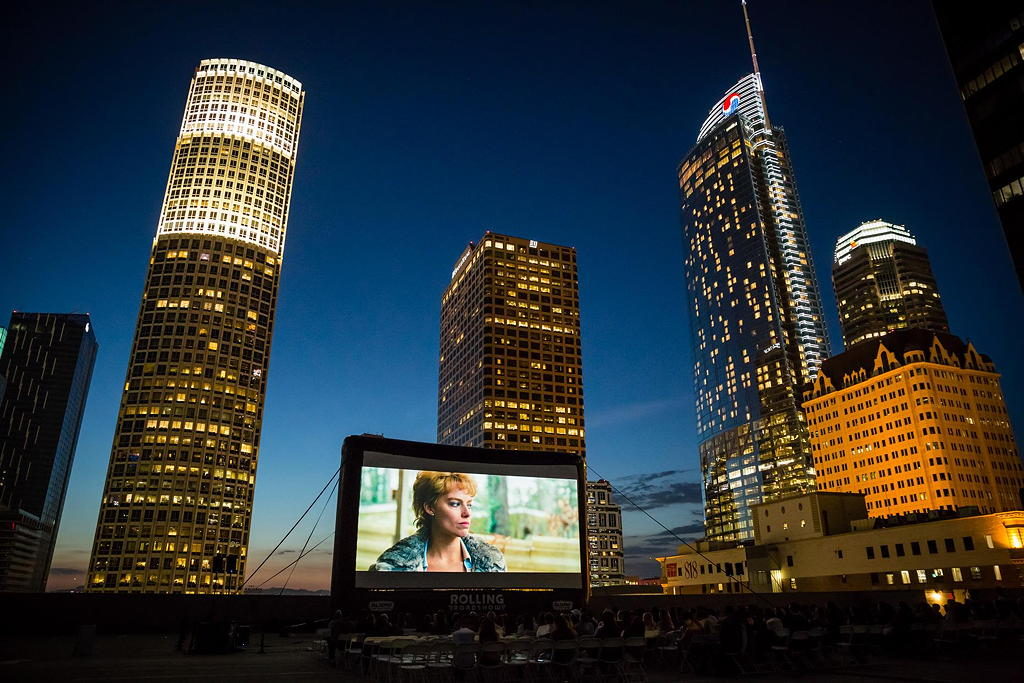 Drive in Movies at The Bloc 700 S Flower St. Los Angeles, CA 90017
Coming soon! Calling all movie lovers – The Bloc invites you to experience a night at the movies from the comfort of your car every Thursday night in the month of August. The Bloc is a vibrant, open-air urban center in the heart of downtown Los Angeles encompassing a full city block along LA's iconic 7th Street corridor, The Bloc connects the financial, fashion, jewelry, and theater districts – and the 7th Street Metro Center Station, where four DTLA lines converge. More details to come HERE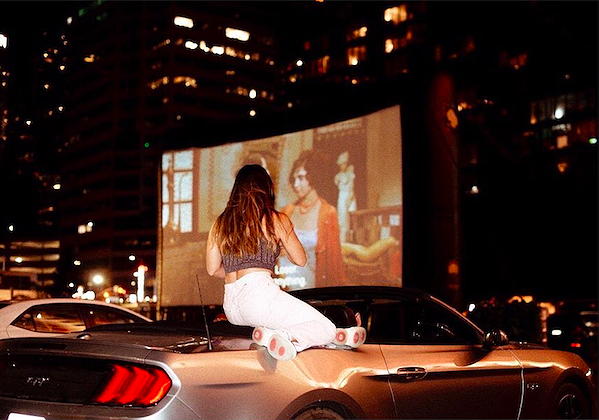 Sounds of Summer Exposition Park South Lawn 500 Exposition Park Dr. Los Angeles, CA. 90037
Sounds of Summer is a screening series curated by WUTI (Women Under the Influence) in partnership with Crush Palace for everyone that has been craving shared musical experiences over the past year. WUTI is very excited to be partnering with Dublab to curate the Talking Heads inspired sounds at the Stop Making Sense screening extravaganza on June 25.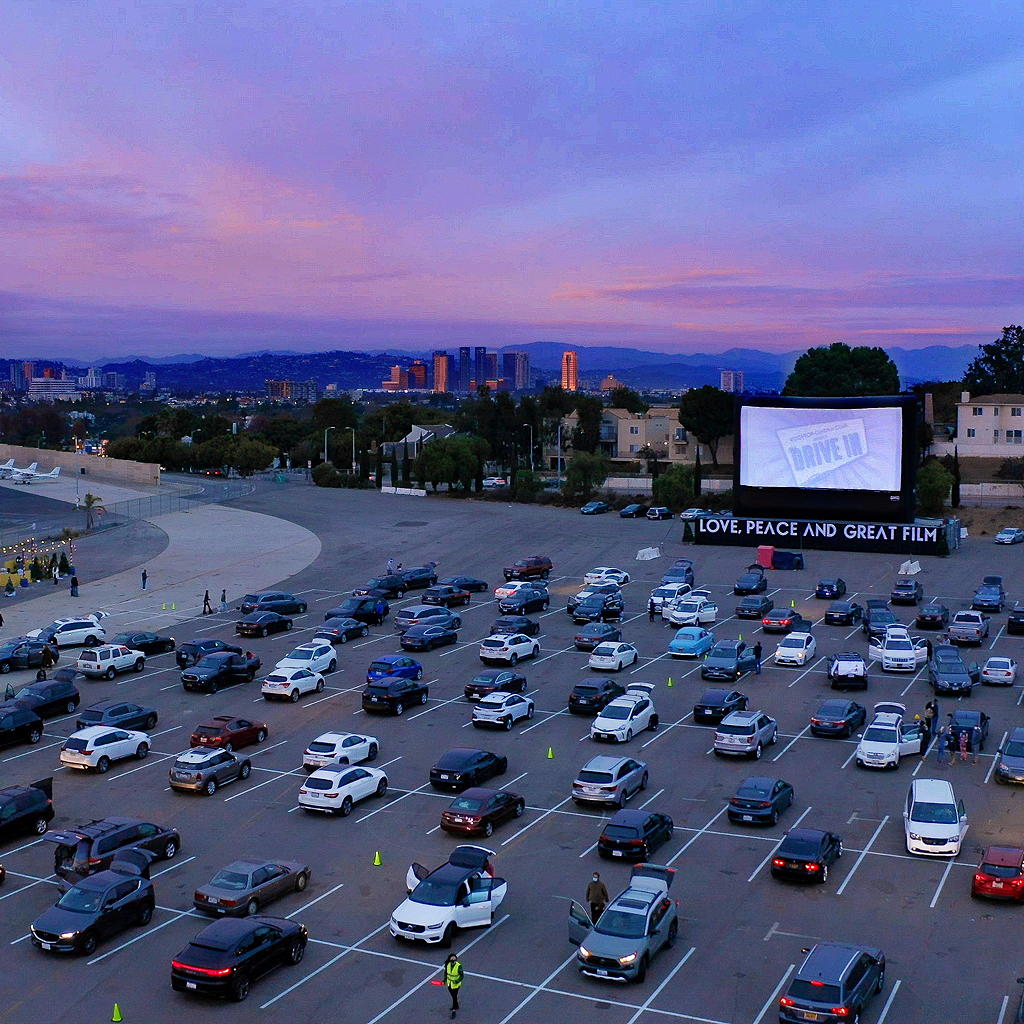 Rooftop Cinema Club Santa Monica Airport 3233 Donald Douglas Loop S. Santa Monica, CA 90405
Enjoy movies under the stars at the Santa Monica Airport. Movies will be projected onto a 52-foot screen, and audio will be broadcast through the FM transmitter radio in your car. Each parking spot will now come with a designated tailgating area, giving you the option to watch the film from within or outside of your vehicle. You are welcome to bring your own food and drink, but they also offer local food trucks every Thursday through Sunday and a selection of classic cinema concessions nightly.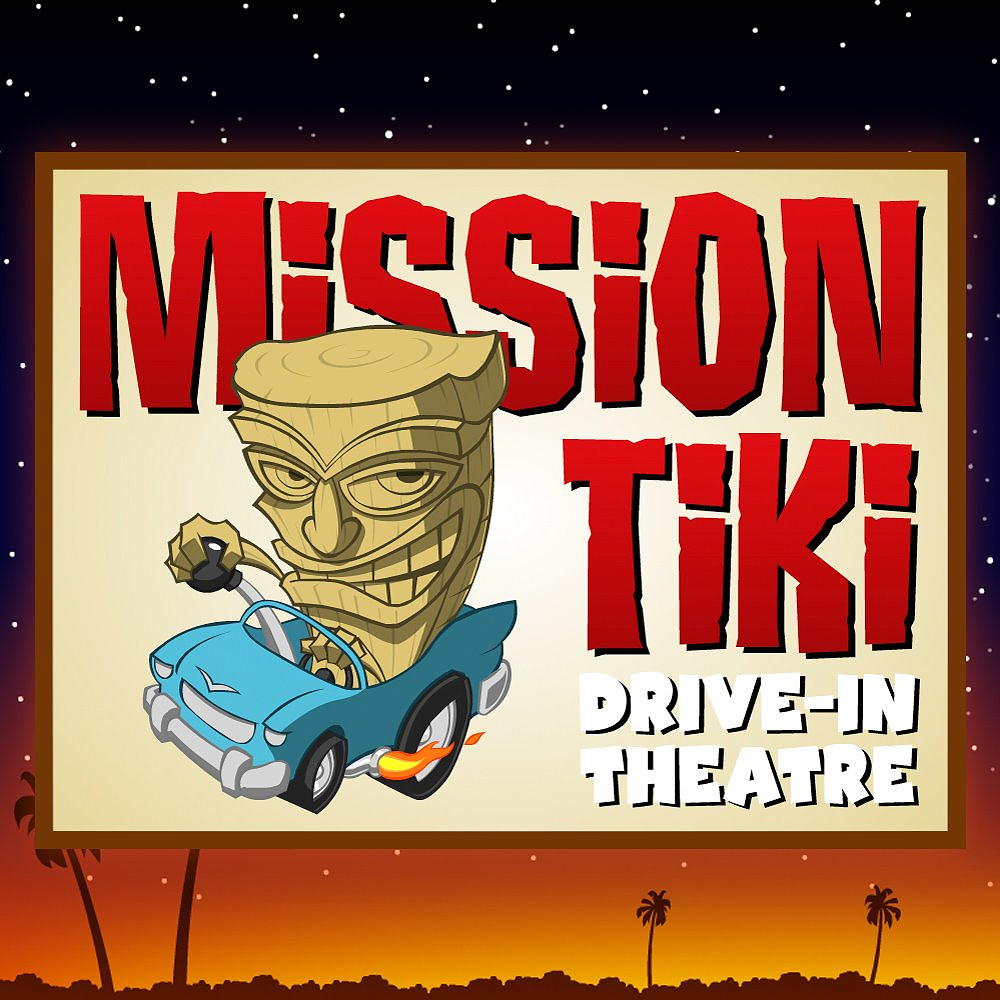 Mission Tiki Drive-In Theatre 10798 Ramona Ave. Montclair, CA 91763
For those of you who like your movies with a side of kitsch, Mission Tiki Drive-In in Montclair is just the ticket. The box office opens 1.5 hours before showtime on Friday and Saturday nights and 1 hour before on Sunday through Thursday. Come early to get the best parking spots. Admission is $10 for adults. Check their website for weekly schedule.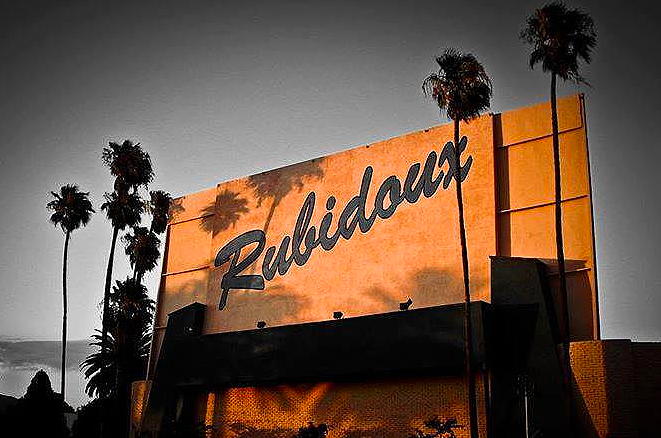 Rubidoux Drive-In 3770 Opal St, Riverside, CA 92509
The Rubidoux, with its original 1948 screen tower still standing tall, is the last of the classic drive-in theaters remaining in Southern California. Though it retains much of its original character, time has transformed this gem into a thoroughly modern outdoor theatre. The incorporation of FM transmitters and Technalight digital projection ensures the best possible picture and sound available. The box office and snack bar have gotten a new treatment as well, and are now reminiscent of the theatre's original postwar Route 66 heritage.
Photo credits:
Photo #1: Street Food Cinema
Photo #2: Street Food Cinema
Photo #3: JW Marriott
Photo #4: Cinespia
Photo #5: The Bloc
Photo #6: WUTI
Photo #7: Rooftop Cinema Club
Photo #8: Mission Tiki
Photo #9: Rubidoux Drive-In