March is National Noodle Month! Time for a slurpy celebration of brothy ramen, brimming with palate-pleasing umami. While Little Tokyo is the obvious DTLA destination for authentic Japanese ramen, check out Chinatown, Grand Central Market, and other downtown LA neighborhoods, where you'll find everything from house-made Japanese tsukemen ramen to vegan and gluten free options.
So get out there and start roamin' for ramen. DTLA boasts some of the best bowls in town, and we're not just noodlin' around!

DTLA Ramen 952 S. Broadway Los Angeles CA 90015
DTLA Ramen inhabits a sleek modern space with an open kitchen, so you can watch your food as it's being prepared. You have a choice of broth for your ramen, including pork, chicken, vegetarian, soy milk, or no broth at all, with a selection of add ons, such as ground spicy chicken, spicy miso paste, injected egg, or hard boiled egg, and chashu belly. In true DTLA spirit, the restaurant offers interesting craft beers, with an emphasis on Japanese brews. For starters, try their cold sake sampler – pick three from the sake list. They also serve free black and green tea for your much-needed midday pick-me-up.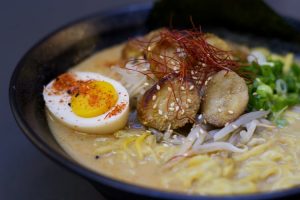 Ramen Hood Grand Central Market 317 S Broadway Los Angeles, CA 90013
Ramen Hood is a vegan ramen shop located in Downtown LA's historic Grand Central Market. The food is one hundred percent vegan, with broth made by simmering kelp and shiitake mushrooms to extract their maximum umami. Roasted sunflower seeds with white miso are combined with the kelp/mushroom stock, then the mixture is pressure cooked to release the natural oils and starches from the seeds. What's left is a rich, creamy, broth that rivals its non-vegan counterparts' flavor and texture. The "egg" is completely vegan, made in two parts. The "white" of the egg starts as locally made, GMO-free soy milk, seasoned with salt and pepper and gelled with agar (a seaweed extract). The "yolk" is a combination of nutritional yeast, back salt and sodium alginate. The yolk is spherified, using a little magic, and placed it in the center of the white, so that the yolk pops just like the real thing!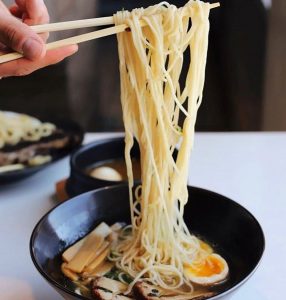 Okiboru House of Tsukemen 635 N Broadway Los Angeles, CA 90012
Tsukemen is extremely popular in Japan but few know about it outside the country. The founders of Okiboru, who trained in Japan to master the tsukemen craft, are on a mission to introduce this style of "dipping ramen" to a wider audience of eaters. With tsukemen, unlike its traditional ramen cousin, the noodles are served on the side separate from the broth, hence the name "dipping ramen." Okiboru makes their own noodles on-site from scratch using their proprietary recipe. The broth is painstakingly brewed twice as long as the typical ramen broth, until the consistency is perfect for dipping. In addition to the traditional pork chashu, they offer a side of grilled pork ribs which are marinated for hours and grilled to add the perfect amount of smoky flavor. The chefs have also created a delicious vegetarian broth, which is available in both tsukemen and ramen dishes.
Shojin 333 S. Alameda St. Suite 310 Los Angeles, CA 90013
Shojin presents a unique vegan, macrobiotic, gluten free Japanese dining experience, offering natural, organic cuisine for health-conscious customers.The ramen is onion and garlic free, made from cabbage, carrot, celery and olive oil. Choose from Spicy Ramen Revolution (brown rice noodles, kale, avocado, bean sprouts, spicy miso broth), Vegan "Egg," ane Soy Chicken. Add ons include garlic, ginger, kale, extra noodles, shiitake mushrooms, and extra chile oil.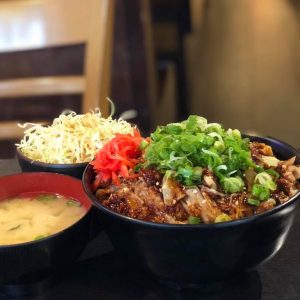 Daikokuya Little Tokyo 327 E 1st St. Los Angeles, CA 90012
Featured on ABC News, LA Eater, Thrillist, LA Times, ZAGAT, LA Weekly, Sunset magazine, and more, Daikokuya is known for their original soup made from soy sauce and pork bones, which are simmered for a full day. The signature Daikokuya Ramen consists of noodles, boiled egg, seasoned bamboo shoots, and green onions, with tender slices of homemade pork belly chashu. Eggs are soaked in a special sauce all through the night before serving. Be sure to try their premium brand sake, handmade by Daikokuya/Bishamon Group.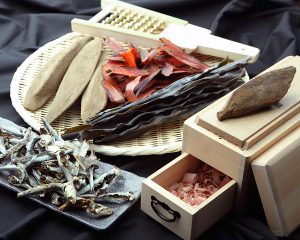 Rakkan Ramen 359 E 1st St. Los Angeles, CA 90012
In 2011, Rakkan Ramen began as a tiny, four seat ramen bar in Tokyo. In 2017, with a passion for the world to taste their authentic Japanese ramen, Rakkan Ramen opened their first overseas location in Los Angeles. The plant-based broth is made with Dashi, a traditional Japanese soup stock full of umami, bringing out the essence of each ingredient. Then the carefully chosen vegetables and kombu (kelp) are slowly simmered to extract the best flavor and lock in the umami. The marriage between the Oishii Japanese broth and silky slim noodles will help you discover another level of pleasure for your palate. Take a slurp!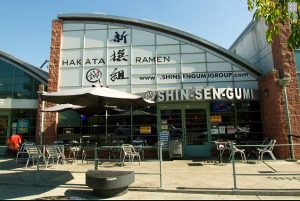 Shin-Sen-Gumi Hakata Ramen 132 S Central Ave. Los Angeles, CA 90012
This classic ramen restaurant is located in the heart of Little Tokyo. Pronounced "shin sen goo-me," the name was taken from the historical samurai clan who fought for a great "cause" during a civil war in Japan. The samurais' commitment to excellence and sincerity of service to the nation became the restaurant's model for serving excellent, traditional Japanese cuisine. Choose which size ramen bowl you want, then choose your noodles, and finally pick all the extra toppings you want to customize your ramen bowl just the way you like it. Extra toppings include wontons, spicy miso, curry, chili oil, pork cutlet, hard boiled egg, seaweed, corn and more.