According to The Old Farmer's Almanac, the Dog Days of summer are traditionally the 40 days beginning in July and ending in August which coincide with the dawn rising of Sirius, the Dog Star. The ancient Egyptians thought that the combined heat of Sirius and the Sun caused midsummer's sweltering weather. Of course, the appearance of Sirius doesn't actually affect the weather, but the "Dog Days" connection with sultry summer heat has continued to this day!
So now that the Dog Days are upon us, it's time to treat your pooch to some extra special pampering. Here are some great tips from WebMD for keeping Fido cool and comfortable.
No pet, no problem! Why not adopt a furry friend of your own! You can even rent a rescue dog for a hike in Runyon Canyon! LA is packed with perks, pop-ups, and parks to keep those tails a waggin' during the Dog Days of Summer!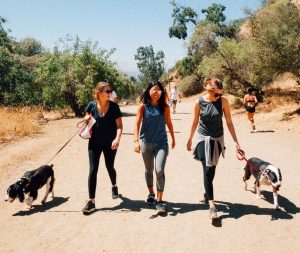 Did you know you can rent a rescue dog for a romp in Runyon Canyon? The Original Rescue Dog Hike was created by Free Animal Doctor cofounder Ryan Boyd to raise money for his animal welfare nonprofit. Angelenos a great opportunity to meet some adorable, adoptable pets, and dogs get a chance to exercise and socialize. The hikes are done in a group of up to 12 hikers, plus the dogs. Upon arrival, everyone gets a few minutes to sniff each other out, then grab a leash for the three-mile trek. If you bring your own dog along, they're allowed to join the pack as long as they're friendly to the other dogs.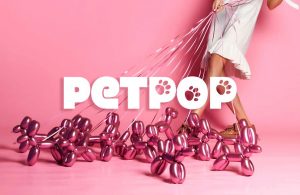 PetPop 2020 E 7th St. Los Angeles, CA 90021
July 11 – Sept 30 The first pet themed pop up experience has landed in DTLA! PetPop is the ultimate pop-up photo experience now in Los Angeles for a limited time! Imagine witnessing a pack of balloon dogs on a group stroll, only to be caught in a downpour of cats and dogs (literally), while on your way to a spin class on the world's largest hamster wheel?! How about immersing yourself in more spots than 101 Dalmatians ever imagined before transcending into an enormous dog bowl ball pit, only to find out that this was only the beginning? Over 15 fanciful pet-themed rooms await your pleasure, with something for all animal lovers! Every PetPop ticket supports their pet adoption organization partners – over 20 animals have found homes in the first month!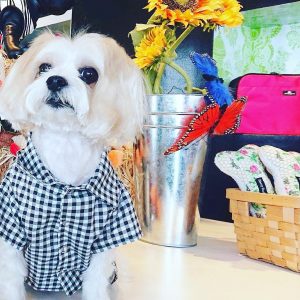 Pussy & Pooch Pethouse and Pawbar 564 S Main St. Los Angeles, CA 90013
You lead a stylish life and your pet companion should, too. That's the thinking behind Pussy & Pooch, an adventurous destination where convenience meets community in a design-forward, social experience for pets and people. With a focus on nutrition and green living, the store is dedicated to providing a playful and edgy twist to the traditional pet store experience. Services include pet grooming, pet dental, and pet parties, along with an insane array of boutique pet toys, furniture and accessories. Pussy & Pooch offers convenient local delivery, and in-store and curbside pick-up for online orders.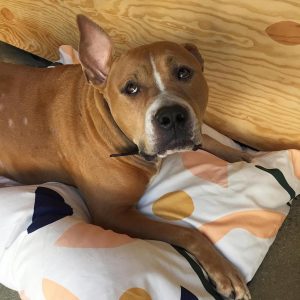 Pet Project LA 548 S. Spring St. Ste. 107 Los Angeles, CA 90013
Pet Project LA wants to show your fur babies the love! And to keep your pet piqued, their vast inventory is constantly curated to support the DTLA community with creative products for dogs, cats and small animals. Offerings include seasonal pet apparel, pet party supplies, grooming products, bowls, carriers, e-collars, and food & treats from all your favorite brands. Pet Project LA offers same-day delivery with local courier PDQ. Find out more info about them here.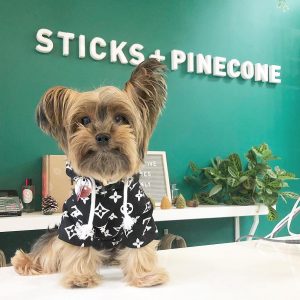 Sticks and Pinecone 600 W 9th St. Ste.135, Los Angeles, CA 90015
Sticks and Pinecone is a community-driven small business offering pet products and small dog daycare services. They carry only the highest quality dog and cat food and uniquely curated toys, treats, clothing, leashes, beds, bowls, accessories and more. Their goal is to promote healthy and happy lifestyles with our family of pets and pet owners by creating authentic relationships and providing a one-of-a-kind retail and small dog day care experience.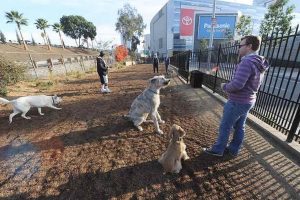 L.A. Live Dog Park L.A. Live Way Los Angeles, CA 90015
Located On L.A. Live Way, just west of the parking garage behind Regal Cinemas, L.A. Live Off-Leash Dog Park is a fenced-in landscaped park fitted with benches and water fountains. There are designated areas for both small and large dogs to exercise with similar sized friends, and both sections are stocked with waste bags. The park is patrolled by L.A. Live security officers, with surveillance cameras and an emergency call box for extra safety.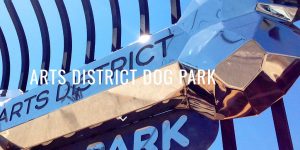 Arts District Dog Park 1004 E 4th Street Los Angeles, CA 90013
In 2009, Los Angeles River Artists and Business Association (LARABA) launched the Arts District Dog Park Park project. True to its creative surroundings, the park is punctuated with colorful murals from LA artist Septerhed. The parks includes a dog water fountain, separate small dog area, shade trees, benches for humans, a community bulletin board, pooper-scoopers, and trash bins. Not run or supported by the City of Los Angeles, this volunteer-run park is a true example of community spirit. While the land is being generously loaned to the community, there are yearly operational costs to cover. You can help keep the Arts District Dog Park open to the public with a donation to cover operational costs.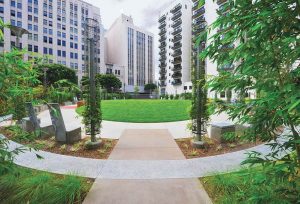 Spring Street Park 428 S Spring Street Los Angeles, CA 90013
Spring Street Park brings a substantial and much-needed green space to DTLA's Historic Core. A former parking lot has been transformed to a lawn, playground, and seating area nestled in the shadow of luxury lofts. This small park allows dogs to fun free, and humans a chance to relax and linger in this fascinating neighborhood. The park also has a children's play area and concentric walkways circling the lawn. The park provides security and is cleaned every morning. Make sure you observe the poo poo rules-they can be quite strict!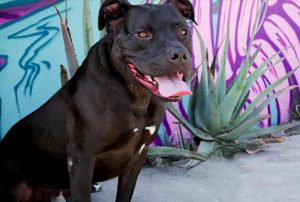 Around twenty years ago, Lori Weise started working at Modernica Inc., a furniture factory near L.A.'s Skid Row. On her drive to work she saw countless homeless people and their dogs — many being abused, suffering, and starving. An animal lover at heart, as well as a calm, strong advocate for justice, this reality led to her creation of Downtown Dog Rescue, which she began at the back of the Modernica factory. Since then, Downtown Dog Rescue has paid for thousands of spay/neuter surgeries, has placed or fostered thousands of dogs, and has provided meals for many animals and the people who love them, whether they be homeless or just need a helping hand. Meet the rescue dogs here.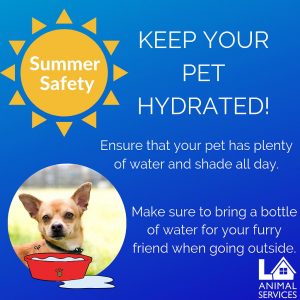 Looking to adopt a furry friend? LA Animal Services is a wealth of information for prospective pet parents, including adopting a pet, finding a lost pet, licensing, animal vaccinations, spay/neuter information, microchipping, and what to do if you find a stray animal. Search for your perfect animal companion on the website's Adoptable Pet Search. All cat, dogs and rabbits adopted from an L.A. Animal Services will have a microchip. The cost of microchipping is included in the adoption fee.