We're all hopped up for Oktoberfest, and catching the "gemütlich" vibe. "Gemütlich" is a German word meaning a pleasant and cheerful atmosphere, which perfectly describes Oktoberfest. This month, you'll find plenty of oom pah pah action, with Oktoberfest celebrations all around LA and nearby communities, some just s short distance from Circa. So don your dirndls and lace your lederhosen – Oktoberfest is here!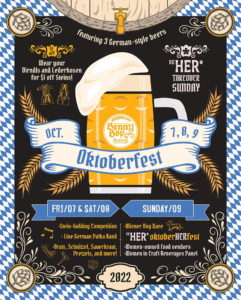 Oktoberfest Weekend at Benny Boy Brewing 1821 Daly St. Los Angeles, CA 90031
Oct 7 – 9 Popular DTLA beer destination Benny Boy Brewing is presenting a wundebar Oktoberfest Weekend, featuring three German-style beers, live German polka band, stein holding competition, Weiner dog race, brats, schnitzel, sauerkraut, pretzels, women-owned food vendors, women in craft beverages panel and more. Wear your dirndls and lederhosen for $1 off steins. Founded by a husband and wife team, Benny Boy Brewing was created with the mission to create an outdoor drinking experience with a strong sense of community, uniting craft beer, cider and wine lovers in one urban Backyard.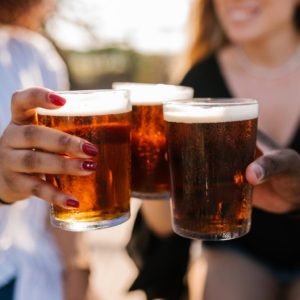 Oktoberfest at Fig at 7th 735 S Figueroa St. Los Angeles, CA 90017
Oct 14 & 15 Oktoberfest at FIGat7th promises all the beers, brats, and beats to transport you to a SoCal version of this traditional festival, featuring a stellar DJ lineup curated by The Regent! This 21-plus event will have unlimited pours of craft beer, cider, and other libations from multiple SoCal breweries. Grab your friends and kick back on the outdoor plaza as you transition from day into night while soaking up fresh sounds, knocking back some suds, and sinking your teeth into authentic schnitzel and bratwurst, with a few vegan options for good measure.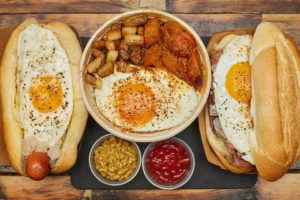 Berlin Currywurst Grand Central Market 317 Broadway Stall C-1/12 Los Angeles, CA 90013
Ich bin ein Berliner! The founders of Berlin Currywurst grew up in the home country of currywurst, and want to share this German cultural treasure with the people of LA. Created over 60 years ago in Berlin, currywurst has become the number one street food in Germany. Berlin Currywurst does authentic currywurst, the way you'll find it on Berlin's urban sidewalks. Their recipe is steeped in German tradition, where you'll discover an unlimited variety of combinations by experiencing different sausages, heat levels, and flavors. The meat is all-natural, served with 100% organic sauce, fries hand cut from organic potatoes, and fresh and crispy German farmer's bread.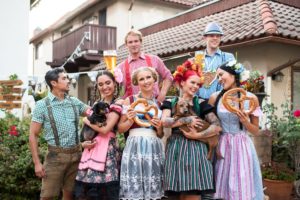 Old World Oktoberfest The Biergarten 7561 Center Ave. Huntington Beach, CA 92647
The Biergarten at Old World is proud to announce that Oktoberfest is here! Huntington Beach has been home to Southern California's best Oktoberfest since 1978. Through November 6th, Old World Village will be buzzing with chicken dancing, amazing German food (voted "Best Bratwurst" in California), over 60 beers on tap, oom pah pah bands, DJs, The Biergarten Shotzie Girls, competitions, and craft cocktails. Guests can prosit in the 10,000 square foot open air Biergarten and ginormous indoor Fest Hall.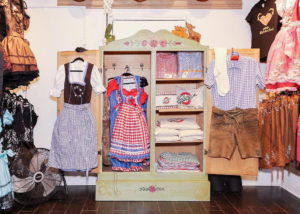 CA Dirndl Haus 7561 Center Ave #51a, Huntington Beach, CA 92647
Get ready to level up your Oktoberfest game at CA Dirndl Haus. Founded in 2018 by two best friends, Cyndie and Arpeni, Dirndl Haus sells trendy and traditional dirndl dresses and blouses, lederhosen, mens shirts and vests, and accessories including hats, hat pins, wreaths and jewelry. Dirndl Haus is an extension of the greater Old World Market and Oktoberfest Facility. Co-founder Cyndie's parents Josef and Dolores Bischof, originally from Germany, founded Orange County's famous Old World Village in 1975, along with Huntington Beach Oktoberfest, enjoyed by thousands of attendees each year.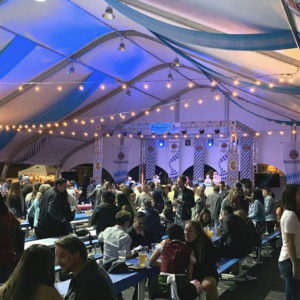 Long Beach Oktoberfest 855 Elm Ave. Long Beach, CA 90813
Long Beach is bringing back the oom pah pah with the 2nd annual Oktoberfest celebration. Enjoy authentic German beer and eats, live performances, music, and games. Festmeister Hans und Die Sauerkraut will command the stage. Get ready for non-stop fun with a mix of traditional and modern tunes, sing-alongs, dance-alongs, wacky games, contests, and so much more! And don't forget to don your Lederhosen or Dirndl. Dressing up for the event is highly encouraged.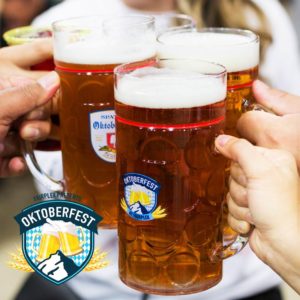 Oktoberfest at Fairplex 1101 W McKinley Ave. Pomona, CA 91768
Oktoberfest brings a taste of Germany to Los Angeles at Fairplex, home of the L.A. County Fair. In celebration of Bavarian culture and a nod to the world's largest beer festival, Oktoberfest at Fairplex provides all the excitement and German tradition that Los Angeles can offer. Guests will be "transported" to Bavaria as they walk through the gates and into an Oktoberfest full of oom pah pah music, games, prizes. authentic German food, and gallons upon gallons of beer.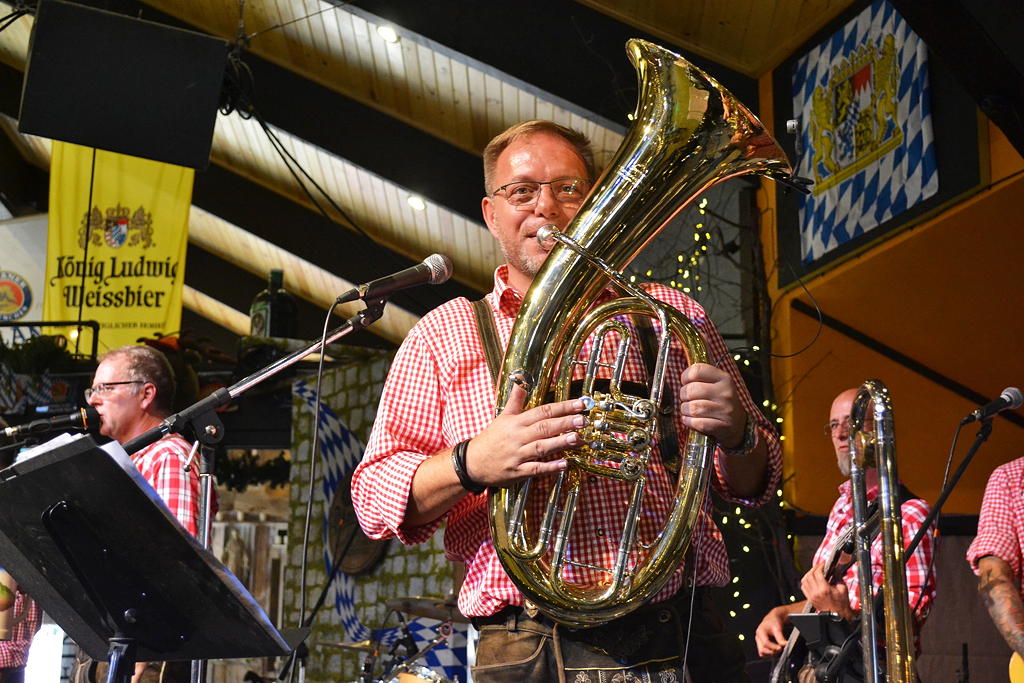 Big Bear Lake Oktoberfest 42900 Big Bear Blvd. Big Bear Lake, CA 92315
For 52 years in the mountains of Southern California, an extended family has come together to celebrate Oktoberfest. At 6,750 ft., the crisp Fall air creates an atmosphere of "Getmütlichkeit" and well-being. Surrounded by pine trees, the aroma of Brats grilling, and German Polkas, the hassles of everyday life melt away. The 2022 Big Bear Lake Oktoberfest runs for nine consecutive weekends through Nov. 5, every Saturday and Sunday, plus Fridays in October.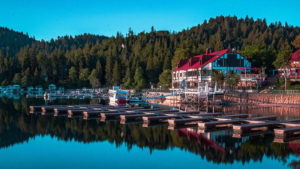 Lake Arrowhead Oktoberfest Lake Arrowhead Village 28200 State Hwy.189 Lake Arrowhead, CA 92352
Lake Arrowhead Oktoberfest has moved to an all-new venue, Waterfront Park, situated on the waterfront at the Lake Arrowhead Village, a replica waterfront Alpine Village with over 100 shops and restaurants. Since 1981, Lake Arrowhead Oktoberfest has offered authentic German beer, food, music and fun. Admission to the event is free and parking is free at Lake Arrowhead Village.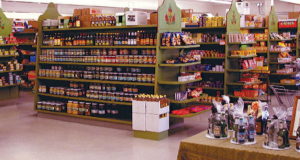 Alpine Village Market 833 W Torrance Blvd. Torrance, CA 90502
Ready to stock up on Oktoberfest goodies to enjoy at home? Just scoot down the 110 Freeway and faster than you can say wunderbar, you'll arrive at Alpine Village Market in Torrance. The market offers a huge selection of German food imports, and also houses an authentic European bakery, a butcher shop that produces award-winning sausages, and a great selection of beers, wines and liquors such as Goldschläger, a Swiss cinnamon schnapps with real gold flakes floating inside. While you're there, take a stroll around Alpine Village, a little slice of Bavaria in sunny Southern California. This iconic shopping destination was recently designated a County Historic Landmark by the Los Angeles County Board of Supervisors.
Photo credits:
Photo #1: Big Bear Lake Oktoberfest
Photo #2: Benny Boy Brewing
Photo #3: Fig at 7th
Photo #4: Berlin Currywurst
Photo #5: Old World German Village
Photo #6: CA Dirndl Haus
Photo #7: Long Beach Oktoberfest
Photo #8: Oktoberfest at Fairplex
Photo #9: Big Bear Lake Oktoberfest
Photo #10: Lake Arrowhead Oktoberfest
Photo #11: Alpine Village Market