Just in time for Oktoberfest, LA County is allowing breweries to reopen, albeit with some new rules. Your favorite DTLA establishments are celebrating Oktoberfest with some outdoor Gemütlichkeit (German for a comfortable, friendly feeling). Check websites for openings hours, reservations, and takeout/delivery options. If you're looking for the full on oom-pah-pah experience, head out to Old World Village in Huntington Beach or motor up to Big Bear Lake for their 50th Anniversary Oktoberfest. You can also stock up on Oktoberfest goodies to enjoy at home from Alpine Village Market in Torrance, just a short distance from Circa. So don your dirndls, lace your lederhosen, and hoist your beer steins! Oktoberfest is here and DTLA breweries are back.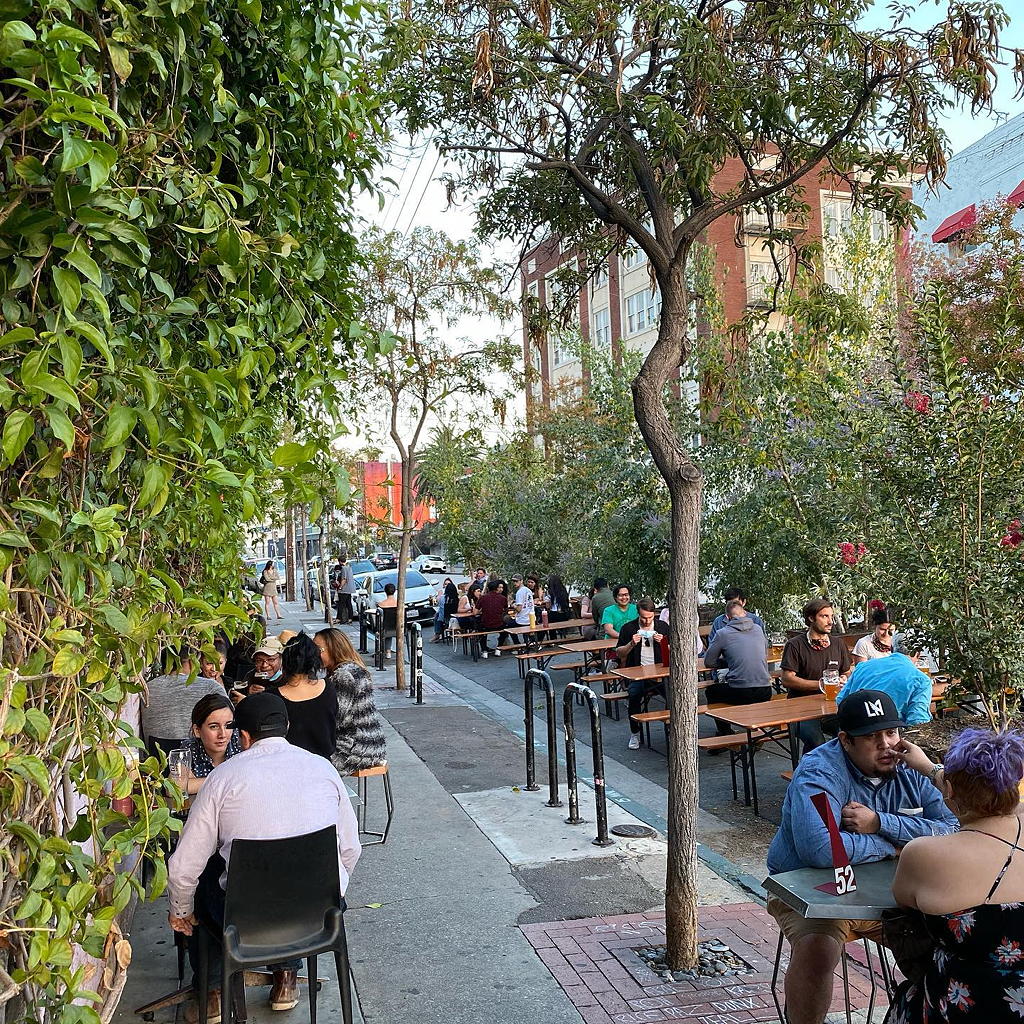 Wurstküche DTLA 800 E 3rd St. Los Angeles, CA 90013
Soak up the Oktoberfest zeitgeist in the Wurstküche Beer Garden. Known as a purveyor of rare and exotic grilled sausages – from rabbit to rattleshake – this popular joint also offers more mainstream meats such as bratwurst, bockwurst, hot Italian sausage, Polish kielbasa, and Louisana hot links. Expect an extensive selection of draft and bottle beers from Belgium, Germany, US and UK, along with a nice wine list. For s apecial treat, try a palate-cleansing, digestion-promoting Eaux de Vie, such as the German favorite Underberg, or some fruitier fixes such as Blume Marillen Apricot, Kirschwasser (dry cherry bfandy) or Pear Williams Purkhart.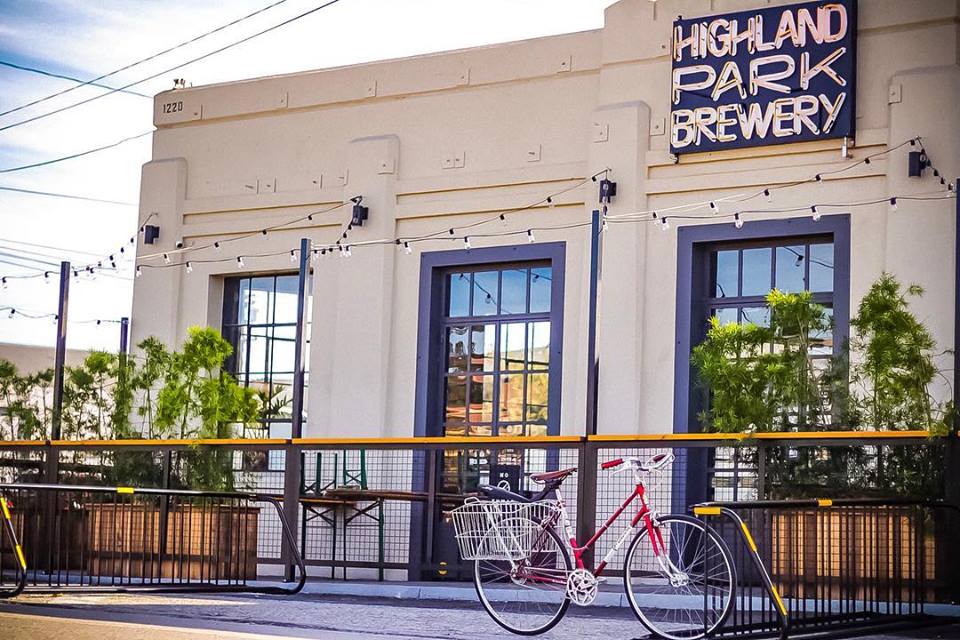 Highland Park Brewery Chinatown 1220 N Spring St. Los Angeles, CA 90012
Highland Park Brewery in Chinatown is open for patio dining. HPB, as the brewery is affectionately known, was founded with the goal of making excellent beer in LA, focusing on fresh hoppy beers, lagers, and mixed culture fermentation, using local ingredients. HPB offers a robust, beer-friendly food menu including queso and chips, fried cheese curds, and a sausage plate with chorizo, salsa verde and focaccia. The tasting room is currently closed, but the brewery has expanded their delivery zones.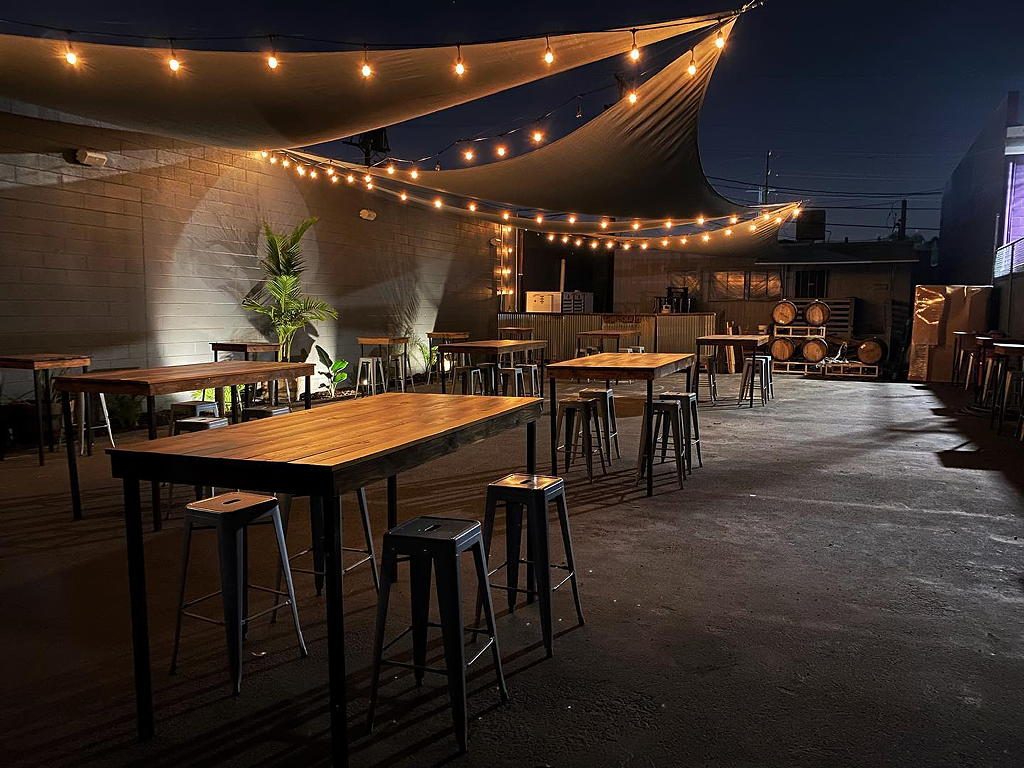 Frogtown Brewery 2931 Gilroy St. Los Angeles, CA 90039
Frogtown Brewery is getting ready to open their outdoor patio. Check their Instagram for details. An independent craft brewery and tap room along the L.A. River, Frogtown Brewery is owned by long time friends and home brewers Adam and Mike, who had the crazy dream to one day open their own brewery. After many years of hard work and planning, they finally made Frogtown Brewery a reality! They are offering some fun flavors, such as Painkiller Milkshake and Nebula Fog, for pick up at the brewery or delivery within a 10-mile radius.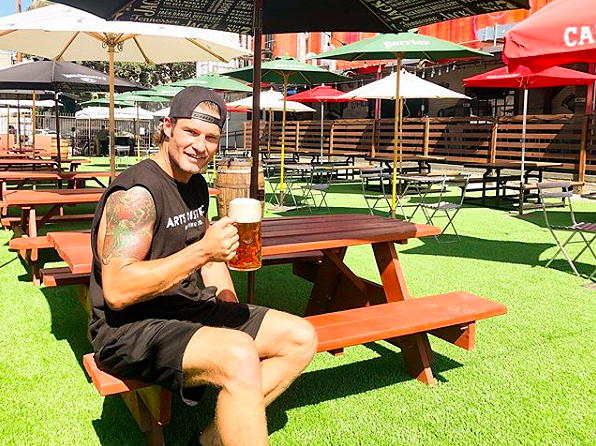 Arts District Brewing Company 828 Traction Ave. Los Angeles, CA 90013
Arts District Brewing Company just spruced up their outdoor dining area with a fresh carpet of grass. One of LA's few craft brewpubs with an on-site, 15-barrel brewhouse capable of producing 3,300 barrels of beer each year, this sprawling establishment opened December 2015 in DTLA's historic Arts District. Choose from their curated craft beer list, which is updated on a regular basis. The hearty food menu offers a beer-appropriate selection of wings, burgers, fries, salads, fried calamari, fish tacos, and nachos. Pictured is Nic, the newest team member. Stop by and say hi.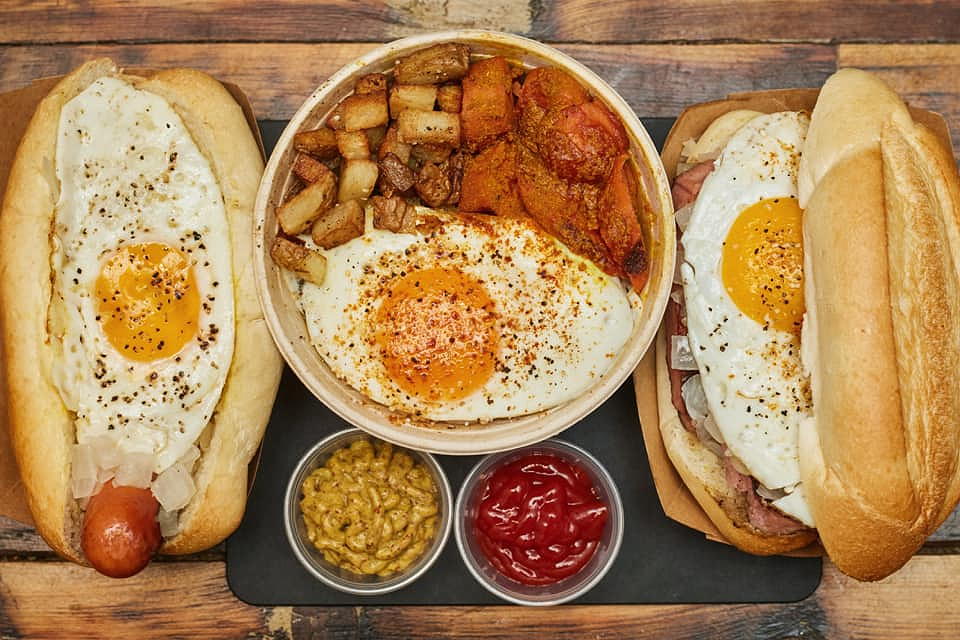 Berlin Currywurst Grand Central Market 317 Broadway Stall C-1/12 Los Angeles, CA 90013
Ich bin ein Berliner. Having grown up in the home country of currywurst, the founders of Berlin Currywurst decided to share this German cultural treasure with the people of LA. Created 60 years ago in Berlin, currywurst has become the number one street food in Germany. Berlin Currywurst does authentic currywurst, the way you'll find it on Berlin's urban sidewalks. Their recipe is steeped in German tradition, where you'll discover an unlimited variety of combinations by experiencing different sausages, heat levels, and flavors. The meat is all-natural, serve with 100% organic sauce, fries handcut from organic potatoes, and fresh and crispy German farmer's bread.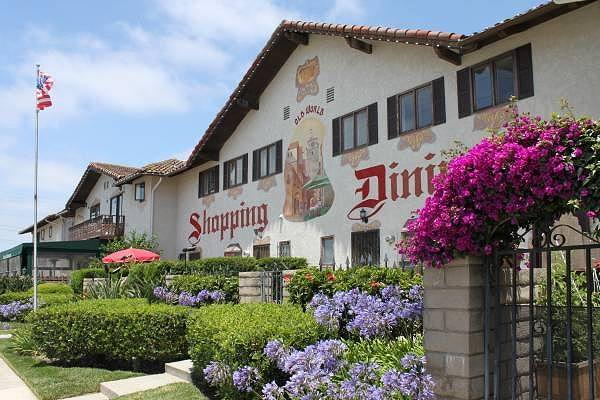 Old World Oktoberfest Old World Village 7561 Center Ave. Huntington Beach, CA 92647
Old World Huntington Beach has been host of Orange County's Biggest Party since 1977. When you attend Old World's Oktoberfest this year, you'll be welcomed to a new concept – a casual drinking and dining experience in their spacious outdoor patio and biergarten. Enjoy the sounds of German music, great food, and of course, imported beer. Guests will order from the front counter and wait for their food at the table of their choice located outside. Table reservations are required and masks are mandatory upon entry and at all times when not seated at your designated area.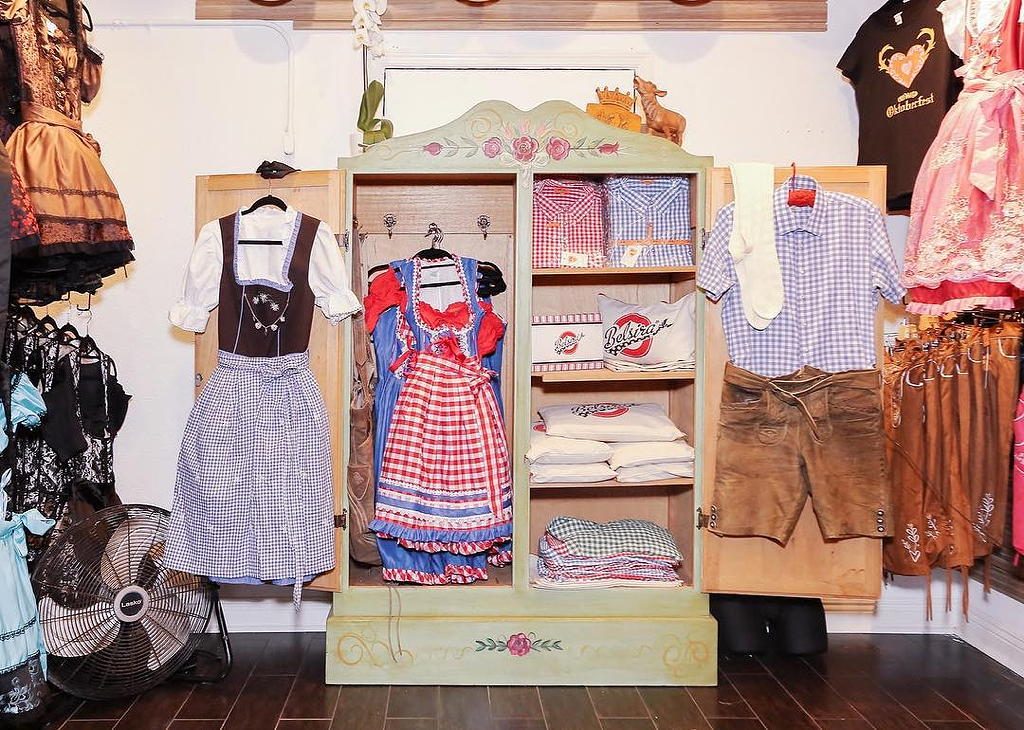 Dirndl Haus 7561 Center Ave. Ste #51A Huntington Beach, CA 92647
Get ready to level up your Oktoberfest game at the Dirndl Haus. Founded in September 2018 by two best friends, Cyndie and Arpeni, the Dirndl Haus sells trendy and traditional dirndl dresses and blouses, lederhosen, mens shirts and vests, and accessories including hats, hat pins, wreaths and jewelry. Dirndl Haus is an extension of the greater Old World Market and Oktoberfest Facility. Co-founder Cyndie's parents Josef and Dolores Bischof, originally from Germany, founded Orange County's famous Old World Village in 1975, along with Huntington Beach Oktoberfest, enjoyed by thousands of attendees each year.You can also shop online on their website.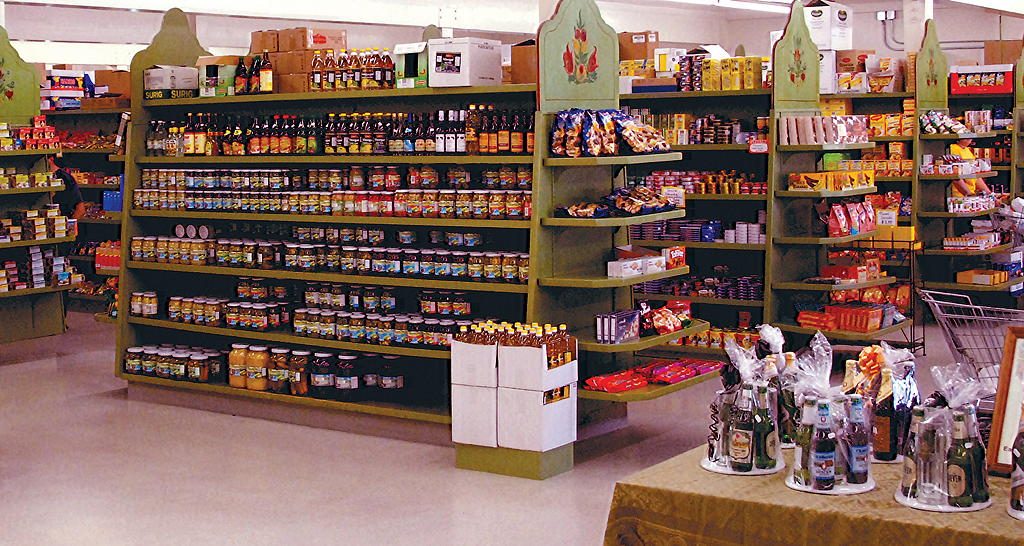 Alpine Village Market 833 W Torrance Blvd. Torrance, CA 90502
Ready to stock up on Oktoberfest goodies to enjoy at home? Just scoot down the 110 Freeway and faster than you can say oom-pah-pah, you'll arrive at Alpine Village Market in Torrance. The market offers a huge selection of German food imports, and also houses an authentic European bakery, a butcher shop that produces award-winning sausages, and a great selection of beers, wines and liquors such as Goldschläger, a Swiss cinnamon schnapps with real gold flakes floating inside. While you're there, take a stroll around Alpine Village, a little slice of Bavaria in sunny Southern California. This iconic shopping destination was recently designated a County historic landmark by the Los Angeles County Board of Supervisors.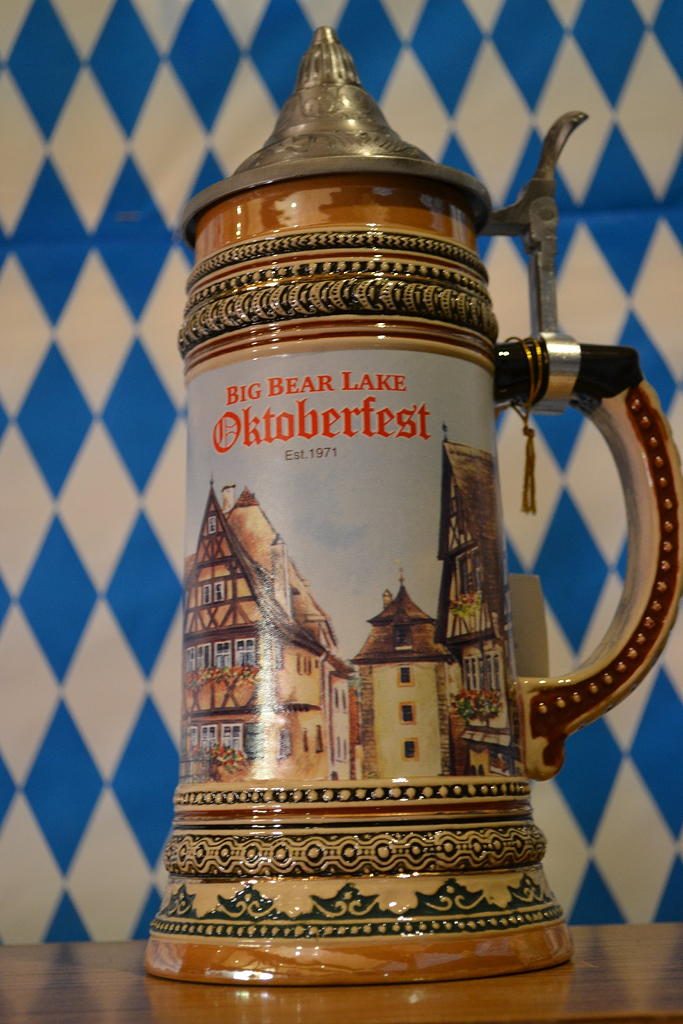 Big Bear Lake Oktoberfest Wyatt's Grill & Saloon 42900 Big Bear Blvd. Big Bear Lake, CA 92315
If you're looking for a real Alpine experience, head up to Big Bear for their 50th Anniversary Oktoberfest – Celebrating 50 Years of Love. This year Oktoberfest will take place outdoors under the majestic mountain pines. Seating and tables will be set-up restaurant-style in their expansive outdoor area, all socially distanced from one another. Expect some zany Oktoberfest fun including Log Sawing, Stein, Safe Slam contests, plenty of Chicken Dances and many a Prosits! Enjoy live music on the outdoor stage, along with DJ's spinning everything from traditional Oktoberfest tunes to today's favorites.
Photo credits:
Photo #1: Old World Village
Photo #2: Wurstküche DTLA
Photo #3: Highland Park Brewery Chinatown
Photo #4: Frogtown Brewery
Photo #5: Arts District Brewing Company
Photo #6: Berlin Currywurst
Photo #7: Old World Village
Photo #8: Dirndl Haus
Photo #9: Alpine Village Market
Photo #10: Big Bear Lake Oktoberfest