With 2019 in full swing, it's time to rev up your energy, calm your senses, and revitalize your ch'i for the exciting New Year ahead! Pampering yourself at the spa is the perfect prescription for wellbeing, whether it's unwinding after a long stressful day at work, relieving post-workout aches and pains, or looking your best for that special occasion.
From ultra-luxurious hotel sanctuaries to tucked-away retreats, and spa to-go services, DTLA offers every indulgence to refresh your mind, body and spirit!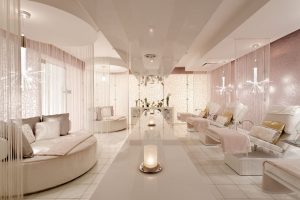 The Ritz-Carlton Spa 900 W Olympic Blvd. Los Angeles, CA 90015
Evoking the glamour of old Hollywood, The Ritz-Carlton Spa welcomes guests with a glass of champagne and the sense that being red-carpet-ready is just a spa day away. This luxury day spa is the largest in downtown Los Angeles and spans 8,000 square feet to include treatment rooms, a couple's suite, a co-ed sanctuary, separate lounges with eucalyptus steam rooms and cold-plunge showers, a hair salon and a boutique. Choose from a variety of inventive therapies, including the Garden to Glamorous Seasonal Scrub, which incorporates ingredients harvested from the hotel's rooftop garden, and the Crystal Clarity Collection, which features crystal therapies in collaboration with the metaphysical boutique, House of Inspiration. The spa uses ESPA natural skincare and beauty products for results-oriented treatments. Book appointment online.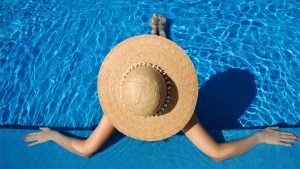 Omni Spa at the Omni Hotel 251 S. Olive St. Los Angeles CA 90012
Relax at the end of a long day with a massage or facial from the experienced professionals at the new Omni Spa by Be Well Incorporated (BWI) at the Omni Los Angeles Hotel at California Plaza. BWI is a full-service holistic wellness team that specializes in the creation of customized wellness experiences that empower clients to be well and to exist in a state of balance through awareness and integration of mind, body, and spirit. Couples massages, facials, corporate chair massage, spa packages and poolside spa parties are just a few of the offerings, all performed by the highest quality of hand-selected and extensively trained professionals. In addition to the Omni Hotel, BWI spas can be found at Luxe City Center Hotel, Hilton Checkers Hotel, Sheraton Downtown Los Angeles Hotel, The California Club, and Los Angeles Center Studios. Book appointment here.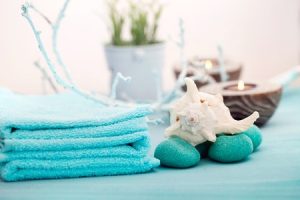 Enjoy the luxury of a spa experience in the privacy of your own home! Be Well's "Spa to Go" is your go-to when you need an ultimately relaxing experience. Choose from an array of modalities such as Thai, sports, reflexology, hands and feet, shiatsu, hot stone massage and much more. And if you have a pet in need of a massage, Be Well can give your furry friend the pampering it deserves.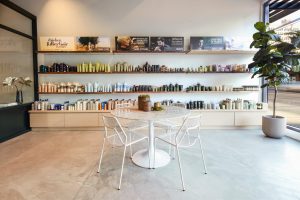 Overmorrow Salon & Spa 315 W. Olympic Boulevard Los Angeles CA 90015
Overmorrow is energetic luxury level AVEDA Salon and Spa in the heart of Los Angeles, that combines an industrial city vibe with organic roots. Housed in a sleek, modern facility, Overmorrow's philosophy is to enhance and refine your natural beauty, while helping you attain your aesthetic and wellness goals. The Salon offers Hair and Make Up services including Scalp and Remedy Hair Treatments, cuts, styling, color, hair extensions, and AVEDA's natural beauty make up applications. Step into the immersive Spa and relax with a Full Body Massage or indulge in the Signature Facial Therapy, which incorporates Korean-style face lifting and decollate massage. Rejuvenate your Qi with Body Contour Therapy, the technique of stimulating all pressure points for a healthier flow of energy. All body contour therapy sessions begin with a complimentary consultation to better understand your physical condition and needs. Book your appointment here.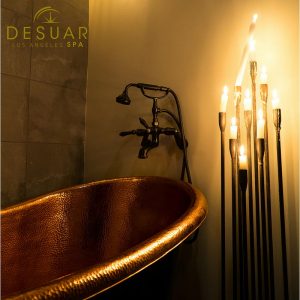 Desuar Spa 220 W. 5th St. Basement Los Angeles, CA 90013
Amidst the hustle and bustle of the city, there is an oasis of calm exclusivity to balance the body and mind. Desuar Spa's expansive state-of-the-art facility has been designed to deliver a fully immersive holistic health experience and unique atmosphere of well-being and relaxation. Guests have full access to the relaxation room and locker facility, and the spa provides bathrobes and slippers for use in between services. Desuar serves their special blend of herbal teas, and other refreshments, including complimentary wine. Beyond the usual massage and skin care treatments, Desuar offers the only Himalayan Salt Bed in Downtown LA, and exotic treatments such as the Cleopatra Soak (milk bath soak), Cannabis Soak, and Wine Soak. All soaks are done in a copper tub–the copper metal is bacteria and mold resistant, making it easy to maintain a clean and sanitary environment. Book appointment here.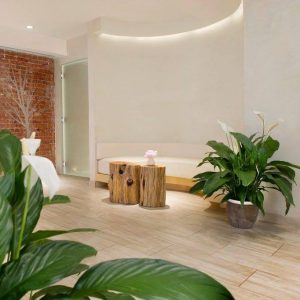 Frais Spa at The O Hotel 819 S. Flower St. Los Angeles, CA 90017
Calling itself the first "connected spa," Frais Spa's mission is to educate its clients and help them progress to improve their quality of life. Mixing an authentic spa-care experience with therapeutic expertise, Frais aims to redefine the relationship between spa, health professionals, clients and patients to provide a complete health benefit. Services include an array of massages, such as Tech Neck and Couples, along with Hot Stone Service, Organic Salt Foot Soak, and a variety of Scrubs, Wraps, and Facials. Frais also offers a Chiropractic and Acupuncture treatments, performed by licensed professionals. Book with the Frais app