Spending more time at home is a great opportunity to up your workout game. All those hours you would have spent commuting or just racing around town can be transformed into a fresh new fitness routine that you can practice anytime, in the comfort of your own abode. Whatever your favorite form of fitness, there's an app for that – many with no equipment necessary. If you do want to gear up, we found some handy tips on how to set up a home Pilates studio, along with apps to keep you on track. Welcome your Motivation Station – and discover online apps & classes for working out at home.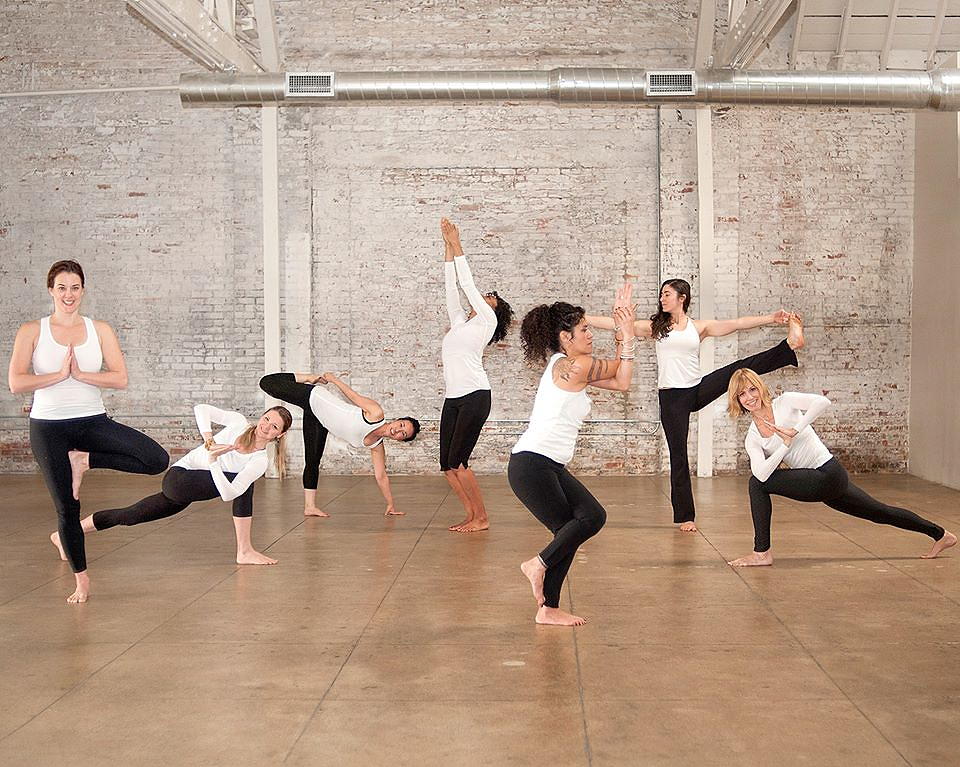 Your favorite Yogis On The Move classes are now available on Zoom, so Circa residents can participate with their normal class and instructor. Circa classes are scheduled for Saturdays @10am. Reach out to Jessica Kang at Yogis On The Move yogisonthemove@gmail.com or building management for Meeting ID#s. Yogis On The Move is a mobile yoga studio bringing convenience to busy professionals living in the urban jungle, with a mission is to break down the walls of urban life, and help neighbors connect in the convenience of their own residential community. Yogis On The Move has highly trained and experienced teachers with minimum 500 hour Teacher Training Certification, 5 years minimum of self-practice along with continued practice, and 3-5 years of teaching experience.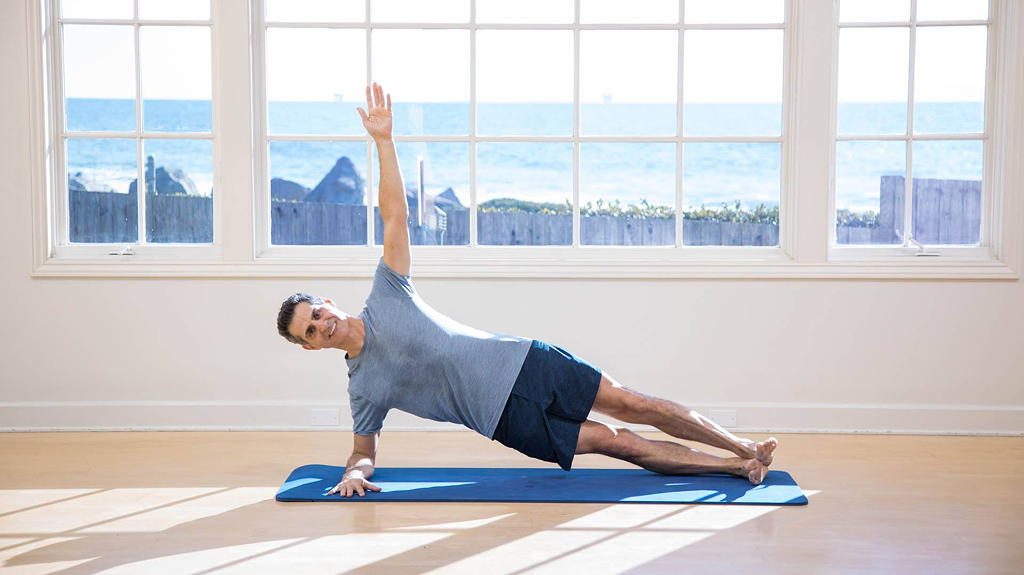 With the Pilates Anytime iOS app, you can easily stream videos on your iPhone, iPad, or Apple TV. Your subscription includes access to the Pilates Anytime website, plus, download up to 10 videos for offline viewing. With over 3,400 Mat and equipment classes for any experience level, you can fully customize your Pilates journey with filters for any duration, level, equipment, prop, or special need. New classes are added every week, so you will always have fresh new videos to try.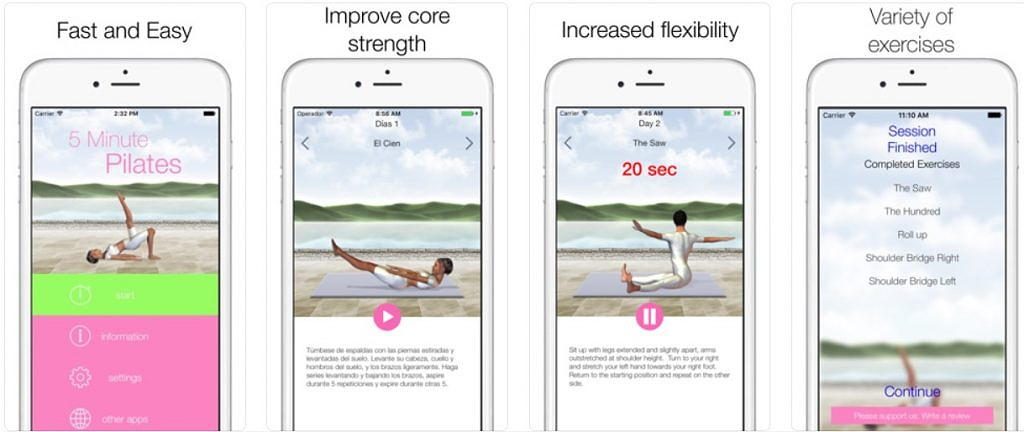 See what you can achieve in 5 minutes a day. 5 Minutes Pilates means quick and regular pilates practice can become a reality. No special equipment is required – just a soft floor or mat. All exercises have clear descriptions and 3D animations making it ideal for beginners. The app comes with a timer function which ensures workouts take less than 5 minutes. 5 Minute Pilates is free to use but they also offer an optional premium level accessed via auto renewing monthly or annual subscription.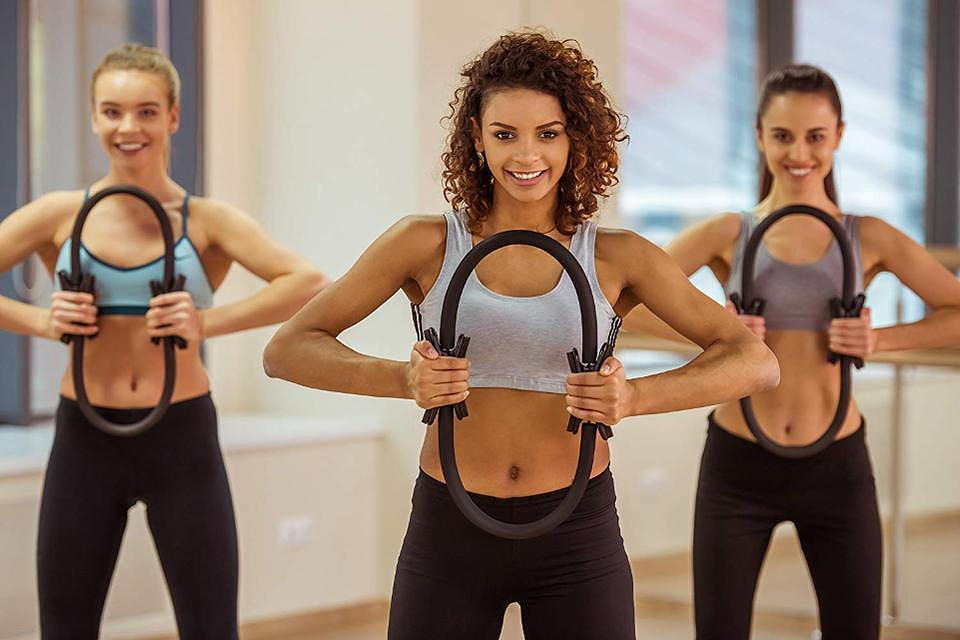 Set Up a Pilates Home Studio
To set up a simple Pilates home studio, start off with a good mat, such as the Fitness Mad Core Fitness Mat. Other accessories to consider include ThereBand Resistance Bands for strength and flexibility; Hugger Mugger Pilates Bolster for exercises that require more support; URBNFit Standard Exercise Ball for spine stretches, planks, hundreds and roll-ups; ProBody Pilates Pilates Rings, also known as the Magic Circle, these rings do wonders for improving balance and activating and resistance training; and Stott Pilates Mini Pilates Ball, which is great for activating the muscles that we often don't get to utilize during regular workouts. Unlike a treadmill or other large piece of equipment, your Pilates gear can be easily stored in a closet or stashed behind a screen in your bedroom. HERE are some great ideas from Forbes.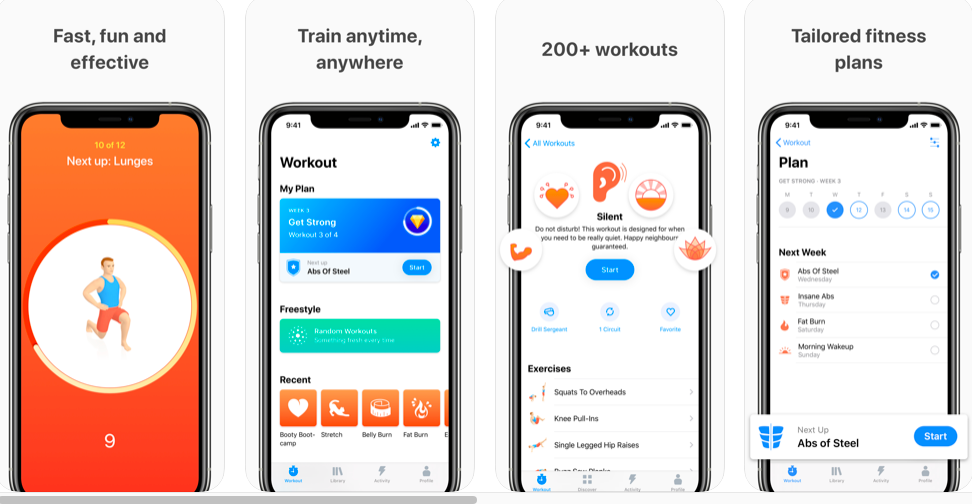 Join the movement of 30 million and see results with just 7 minutes a day. Getting fit has never been this easy – or this much fun. Seven's workouts are based on scientific studies to provide the maximum benefit in the shortest time possible. With personalized workout plans, Seven also makes sure you get the most out of your training. Want to get fit, lose weight or get strong? Just set your goal and fitness level, and let Seven take care of the rest.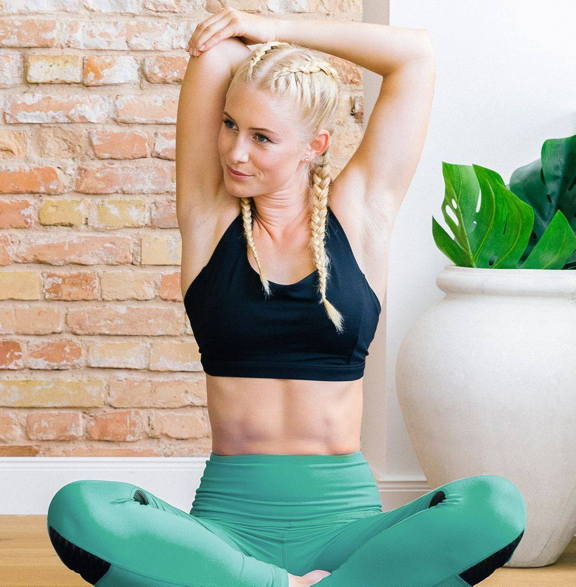 8fit offers custom no-equipment workouts ranging from 15 to 20 minutes long, along with nutrition guidance, meal plans, and other healthy eating tools. Workouts, including Tabata high intensity interval training, yoga, and boxing, meet you at your level and are designed for long-term results. Exercise is only one part of the wellness equation, so nutrition has an equally important role in the app. Get customized meal plans including vegan, paleo and pescetarian. You can also hone your cooking skills with 800 nutritionist-approved recipes.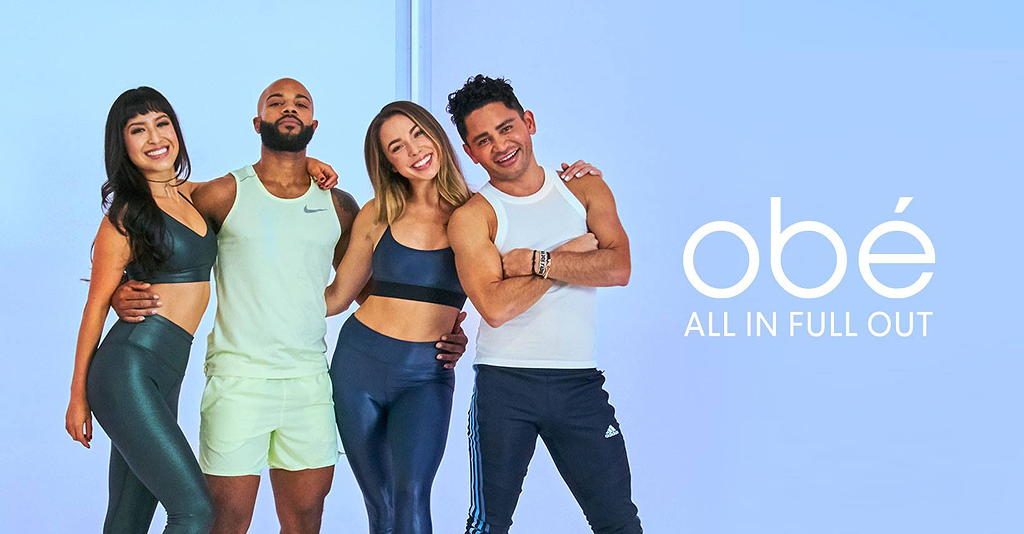 obé Fitness, the world's most immersive digital fitness experience & community, offers live and on-demand fitness classes at home. Get unlimited access to daily live and 4,000+ on-demand classes for less than the cost of one studio fitness class. Feel the energy of a live class with a talented team of motivated instructors who will keep you inspired to reach your personal best. obé's signature 28 minute classes fit into the busiest of schedules. In a time crunch? They've got you covered with the 10 minute express.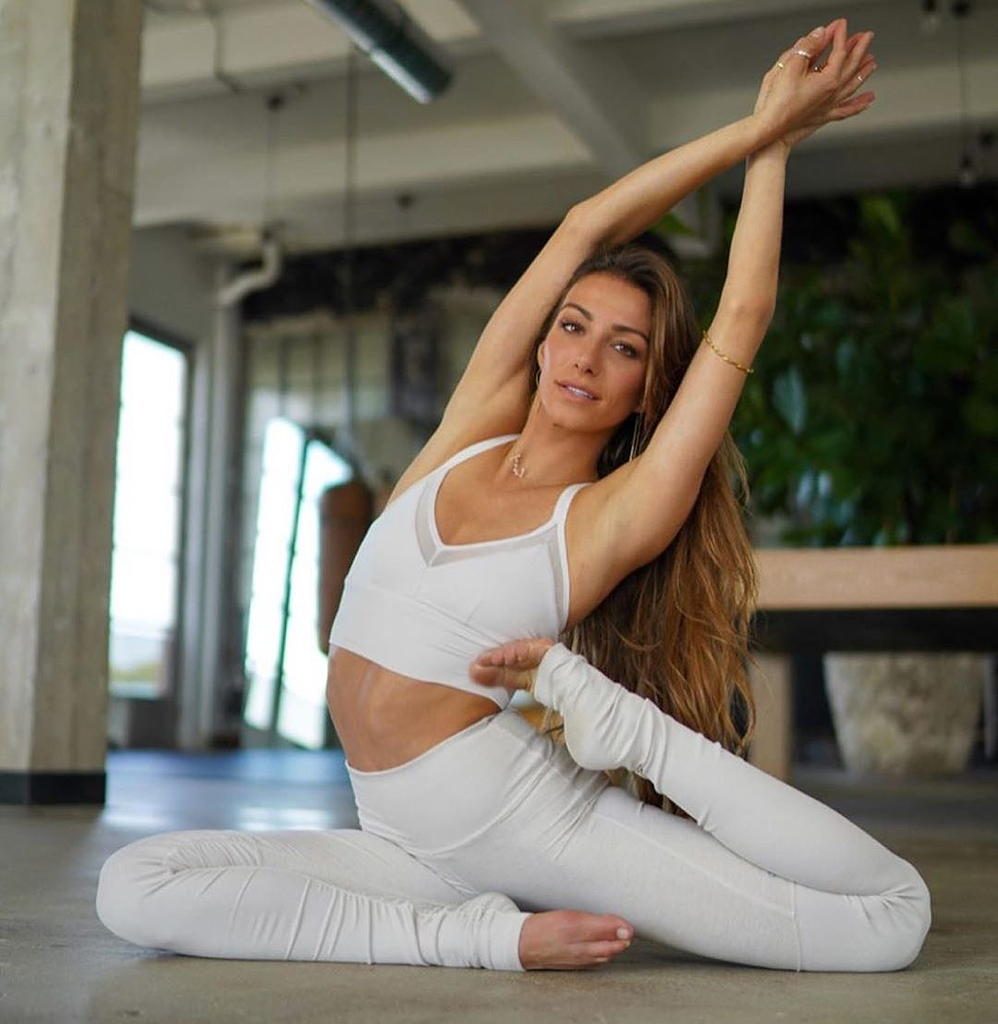 Alo Moves is the ultimate yoga app, offering yoga anywhere, anytime with some of the most inspiring teachers in the world. Access thousands of videos including workshop-level yoga series and single classes encompassing Power Yoga, handstand workshops, meditation and everything in between. New classes and workshop series are added daily. $20 monthly. Available on three platforms: phone, tablet & web.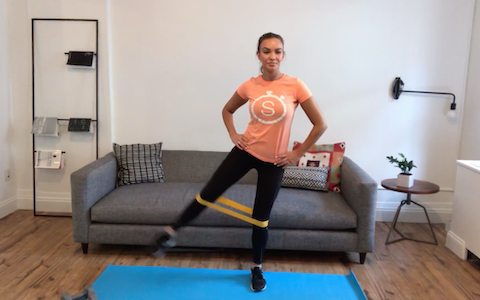 Sworkit daily workout is one of the top fitness apps for iPhone, Android, or web users. The workout plans are designed to help you reach your fitness goals faster and simpler, whether your goal is weight loss, muscle gain, improved flexibility, increased endurance, weight maintenance, or toning. Whether you're an absolute beginner, intermediate, or advanced, Sworkit makes it simple to get in shape and stay that way.
Photo credits:
Photo #1: obé Fitness
Photo #2: Yogis On The Move
Photo #3: Pilates Anytime
Photo #4: 5 Minutes Pilates
Photo #5: ProBody Pilates Rings
Photo #6: Seven 7 – Minute Workout
Photo #7: 8fit
Photo #8: obé Fitness
Photo #9: Alo Moves
Photo #10: Sworkit