March is National Noodle Month, a celebration of one of the world's most popular foods. And if you crave these delectable dishes as much as we do, there's no question that DTLA is a noodle lovers paradise. While Little Tokyo is the obvious downtown destination for authentic Japanese ramen, don't overlook Chinatown, Grand Central Market, or other local neighborhoods, many conveniently close to Circa. And catering to the health-conscious crowd, a number of restaurants offer vegan, gluten-free and macrobiotic options. If you want to dive deeper into the world of ramen, Japan House is presenting an immersive exhibition, The Art of the Ramen Bowl, opening on March 18.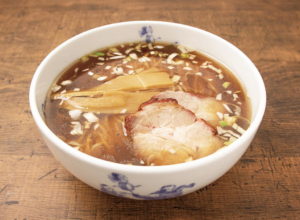 The Art of the Ramen Bowl Japan House 6801 Hollywood Blvd. Level 2 Los Angeles, CA 90028
This exhibition spotlights imaginative porcelain ramen bowls and spoons designed by 30 world-renowned artists. Seen for the first time outside of Japan, the exhibition includes a giant ramen bowl created by well-known Japanese plastic food sample manufacturer Iwasaki Mokei, and an introduction to the noodle dish itself and to ceramics from Mino, a major Japanese ceramics center for over 500 years. The fully immersive experience includes programs such as special ramen pop-ups in the Japan House restaurant space, films, and educational webinars.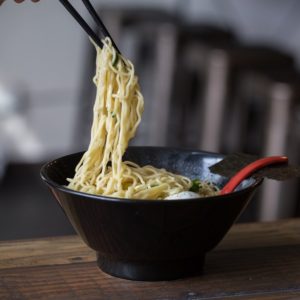 DTLA Ramen 952 S Broadway Los Angeles CA 90015
DTLA Ramen offers Japanese ramen with a modern California spin. You have a choice of broth for your ramen, including pork, chicken, vegetarian, soy milk, and no broth at all, with a selection of add ons, such as ground spicy chicken, spicy miso paste, injected egg, or hard boiled egg, and chashu belly. In true DTLA spirit, the restaurant offers interesting craft beers, with an emphasis on Japanese brews.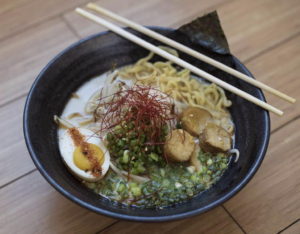 Ramen Hood Grand Central Market 317 S Broadway Los Angeles, CA 90013
Ramen Hood is a chef-driven destination vegan ramen shop located in Downtown LA's historic Grand Central Market. The food is one hundred percent vegan, with broth made by simmering kelp and shiitake mushrooms to extract their maximum umami. The "egg" is completely vegan, made in two parts. The "white" of the egg starts as locally made GMO-free soy milk, seasoned with salt and pepper and gelled with agar, a seaweed extract. The "yolk" is a combination of nutritional yeast, back salt and sodium alginate, which is spherified and placed it in the center of the white so that the yolk pops just like the real thing.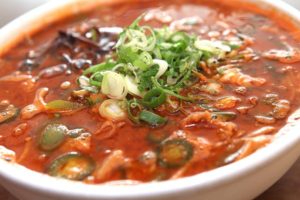 Ochoron Ramen 123 Astronaut E S Onizuka St, Ste 303 Los Angeles, CA 90012
One of the oldest running ramen shops in LA, Orochon is famous for their incredibly spicy ramen competition that gives a special designation for people who can finish it within 30 minutes. Not so spicy menu items are offered as well, including appetizers, dumplings and teriyaki dishes.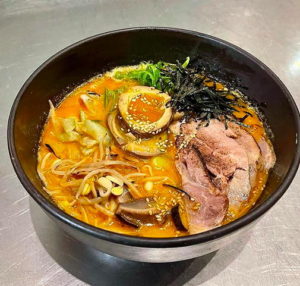 9th St Ramen 111 W 9th St. Los Angeles, CA 90015
This modern Japanese restaurant features big hearty bowls of ramen and a rotating collection of Japanese specialties including tsukune from a robata, enoki mushroom tempura, albacore donburi, spicy lamb ramen, and charcoal-grilled chicken tori paitan ramen. The noodles are made from toasted wheat and rye flour. They also offer a selection of natural wine and sake.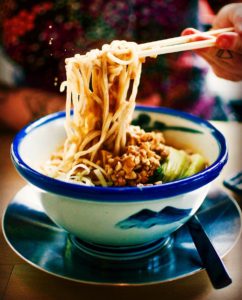 AFURI Ramen LA 688 Mateo St. Los Angeles, CA 90021
Tokyo's famous Afuri recently opened in DTLA after initially expanding to the Portland, Oregon area. The menu centers around their signature bowl of Yuzu Shio ramen – a light, delicate broth built upon a reduction made from local chicken, dry fish"niboshi" "katsuobushi", dry konbu seaweed, and vegetables to produce a layer of umami flavors, and hints of refreshing yuzu citrus. The kitchen uses the same techniques employed in their central kitchen at the foot of Afuri mountain in Japan.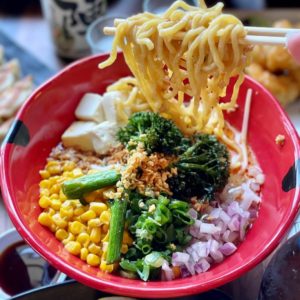 JINYA Ramen Bar 700 Wilshire Blvd Suite B Los Angeles, CA 90017
Anyone from Japan can tell you the two key ingredients in ramen are the broth and the noodle, and JINYA Ramen Bar works hard to ensure that both take center stage. Slowly simmered for more than twenty hours, each of their six signature broths balances flavors from whole pork bones, chicken and vegetables with just the right amount of bonito, dashi, miso, kombu, and other classic Japanese ingredients. The result is a rich broth that is thick and full-flavored.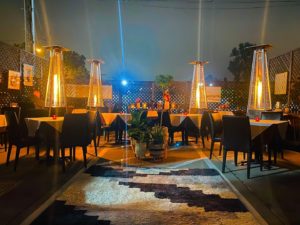 Shojin 333 S. Alameda St. Suite 310 Los Angeles, CA 90013
Shojin presents a unique vegan, macrobiotic, gluten free Japanese dining experience, offering natural, organic cuisine for health-conscious customers. The ramen is onion and garlic free, made from cabbage, carrot, celery and olive oil. Add ons include garlic, ginger, kale, extra noodles, shitake mushrooms, and extra chile oil.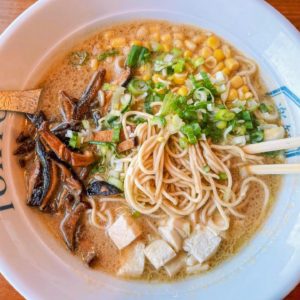 Rakkan Ramen 359 E 1st St. Los Angeles, CA 90012
In 2011, Rakkan Ramen began as a tiny, four seated ramen bar in Tokyo. In 2017, with a passion for the world to taste their authentic Japanese Ramen, they opened their first overseas location in Los Angeles. Rakkan Ramen's 100 percent plant-based broth is made with Dashi, a traditional Japanese soup stock full of umami, bringing out the best in each ingredient. They slowly simmer the carefully chosen vegetables and kombu (kelp) to extract the best flavor and lock in the umami. The marriage between the Oishii Japanese broth and silky slim noodles will help you discover the existence of another level of pleasure for your palate.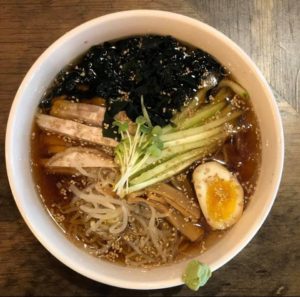 Daikokuya Little Tokyo 327 E 1st St. Los Angeles, CA 90012
Featured on ABC News, LA Eater, Thrillist, LA Times, ZAGAT, LA Weekly, Sunset magazine, and more, Daikokuya is known for their original soup made from soy sauce and pork bones, which are simmered for a full day. The signature Daikokuya Ramen consists of noodles, boiled egg, seasoned bamboo shoots, and green onions, with tender slices of homemade pork belly chashu. Eggs are soaked in a special sauce all through the night before serving. Be sure to try their premium brand sake, handmade by Daikokuya/Bishamon Group.
Photo credits:
Photo #1: DTLA Ramen
Photo #2: Japan House
Photo #3: DTLA Ramen
Photo #4: Ramen Hood
Photo #5: Ochoron Ramen
Photo #6: 9th St Ramen
Photo #7: AFURI Ramen LA
Photo #8: JINYA Ramen Bar
Photo #9: Shojin
Photo #10: Rakkan Ramen
Photo #11: Daikokuya Little Tokyo