Southern California is renowned for its magnificent sandy shores, perfect for sunning, surfing and swimming. But there's so much more to discover if you think beyond the beach.Take a jaunt along Pacific Coast Highway and you'll find everything from majestic rock formations to secret coves and magical tide pools, rich with marine life, many just an hour or so away from Circa. Before heading out, check the tides and plan to arrive about an hour before the lowest tide so you have time to explore without worrying about rising water. You can also download an app like Tide Alert (NOAA) and set up alerts for low-tide events. Check websites for guidelines and don't forget to bring your water shoes!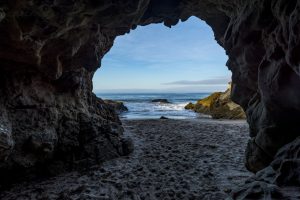 Leo Carrillo State Park 35000 Pacific Coast Hwy.Malibu, CA 90265
Leo Carrillo State Park features a stunning, ecologically diverse 1.5 mile beach perfect for swimming, surfing, windsurfing, and beach combing. Take a stroll and discover tide pools, hidden coastal caves, and reefs ready for exploring. The tide pools are made up of hundreds of small boulders lying along the beach. As the waves come in, water gets trapped between the rocks, allowing you to view a variety of sea creatures, including mussels, crabs barnacles, starfish, cowrie snails, and California spiny lobsters. The park also offers campgrounds shaded by giant sycamores, and back-country hiking.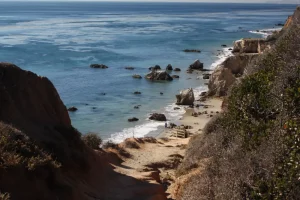 El Matador State Beach 32350 Pacific Coast Hwy. Malibu, CA 90265 
El Matador State Beach is the most popular of the three beaches within Robert H. Meyer Memorial State Beach. Start at their parking lot on the bluff, with picnic tables that look out over the Pacific Ocean. A trail descends through unique formations on the face of the bluff, then stairs take you down to the beach. Proceed north on the beach to discover caves and arches in the rocks. It's best to visit these natural features at low tide. Pack some water shoes, as the rocks can be difficult to navigate. There are no services or amenities at El Matador, so bring your own beach gear.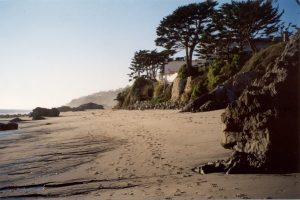 Lechuza Beach Sea Level Dr. Malibu, CA 90265
Lechuza Beach is a lesser-known public beach in Malibu, located below homes at the northern end of Broad Beach Road. The best public access is at the center of the beach with an entrance on Broad Beach Road across from a short cul-de-sac called Bunnie Lane. From this entrance, there is a short walk through a tree-covered corridor, then down a few flights of stairs to the sandy beach. There are several large rocks in the surf, making Lechuza a very photogenic spot. Sorry pet parents, no dogs are allowed on the beach.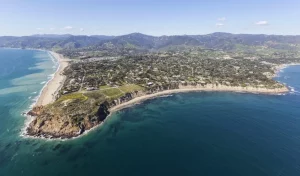 Point Dume State Beach 29245 Cliffside Drive Malibu, CA 90265
Point Dume is situated at the end of Malibu at a point where a dramatic cliff's edge juts into the Pacific and drops down to a beautiful crescent-shaped beach. At the end of Westward Beach Road, access to Point Dume Nature Preserve begins from the cul-de-sac. A gradual ascending trail leads to an ancient coastal bluff sand dune. On a clear day, you can enjoy an incredible view encompassing the entire Santa Monica Bay, north Malibu Coast, inland Santa Monica Mountains, and distant Catalina Island. Follow the trail down to the beach at Dume Cove and discover the amazing tide pools and wildlife habitats.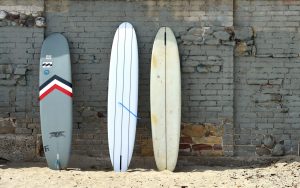 Malibu Lagoon State Beach 3835 Cross Creek Rd. Malibu, CA 90265
Malibu Lagoon State Beach comprises Malibu Lagoon, the Malibu Pier, and Surfrider Beach, which was popularized by surfing movies in the 1950s and 1960s. Malibu Lagoon includes 22 acres of wetlands, gardens, and sandy beach, and there is also a saltwater marsh if you want to study the local ecosystem. Adamson House, a National Historic Site, houses many Malibu historical artifacts, and the Malibu Lagoon Museum allows visitors to walk through the history of the area, from the days of the Chumash tribe, to the gentlemen ranchers, and finally to the birth of the surfing era.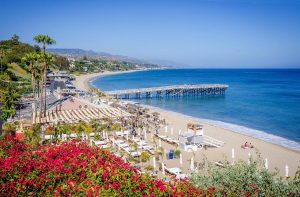 Paradise Cove 28128 Pacific Coast Hwy. Malibu, CA 90265
Paradise Cove in Malibu is a public beach in front of the privately-owned Paradise Cove Beach Cafe. Paradise Cove is a great starting point for long beach walks. Heading east, you'll walk below Malibu mansions, find some private beaches, and eventually end up at Escondido Beach. Heading west, you can walk below steep sandstone cliffs all the way to Little Dume Beach and Big Dume Beach in Point Dume State Beach. When you're ready for some refreshments, enjoy the iconic Southern California experience at Paradise Cove Beach Cafe nestled right on the sand in Paradise Cove.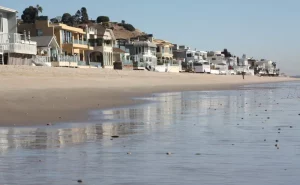 Carbon Beach 22126 Pacific Coast Hwy. Malibu, CA 90265
Carbon Beach, also known as Billionaire's Beach, is noted for the lavish homes owned by famous celebrities and CEO's that have been built right at the water's edge. The beach is a south-facing, mile-long stretch between the Malibu Pier at Surfrider Beach and Carbon Canyon Road. The water is excellent for swimming, calm with no rocks, and the sand is soft and cozy – perfect for a lazy afternoon. There are few places in Malibu that aren't overrun with people, and this is one of them, so enjoy.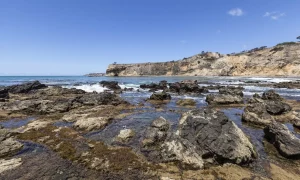 Abalone Cove Park 5970 Palos Verdes Drive S. Rancho Palos Verdes, CA 90275
Abalone Cove Park is a coastal treasure on the Palos Verdes Peninsula. The park contains an ecological preserve and is known for its outstanding tide pools. Trails meander on the bluff out to excellent views from two prominent points. Below these points are three separate coves with beaches and tide pools. Out at the end and right at the base of the points, you'll discover amazing rock tunnels where waves crash through. Before you go, check out the tide charts to visit these beaches at low tide, and take full advantage of the exposed tide pools and tunnels.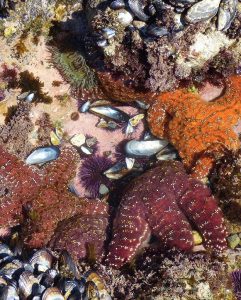 Crystal Cove State Park 8471 N Coast Hwy. Laguna Beach, CA 92651 
Crystal Cove State Park encompasses over three miles of waterfront, straddling the city border of Newport Beach and Laguna Beach. Nature lovers can enjoy the abundant tide pools and trails that lead up into the hills. At lower tides, the park's beaches can be combined into one long beach walking route, but at high tide when the sand is mostly wet, it is best to access each one individually. When the tide is out, tide pools will reveal a wide range of sea life, including octopuses, blue By-the-Wind Sailor jellyfish, tide pool sculpins, and giant anemones.
Photo credits:
Photo #1: California Department of Parks & Recreation
Photo #2: California Department of Parks & Recreation
Photo #3: California Beaches
Photo #4: California Mountains Recreation & Conservation Authority
Photo #5: California Beaches
Photo #6: Los Angeles County Dept. of Beaches & Harbors
Photo #7: Paradise Cove Beach Cafe
Photo #8: California Beaches
Photo #9: California Beaches
Photo #10: Crystal Cove State Park