It's time to sparkle and shine, and DTLA is all aglow with holiday lights to make your spirits bright. You'll also find some spectacular displays just a short distance from Circa, such as Altadena's legendary Christmas Tree Lane and St. Albans Road in San Marino. This year, you can experience seasonal celebrations from the comfort of your car, like the Dodgers Drive Thru Holiday Festival and The Bite LA Sweets Crawl at Whittier Narrows' Legg Lake. Or take a moment to reflect on nature's beauty at Descanso Gardens and stroll among the stunning art installations at South Coast Botanic Garden. This season, there's no end to the holiday magic when you let it glow.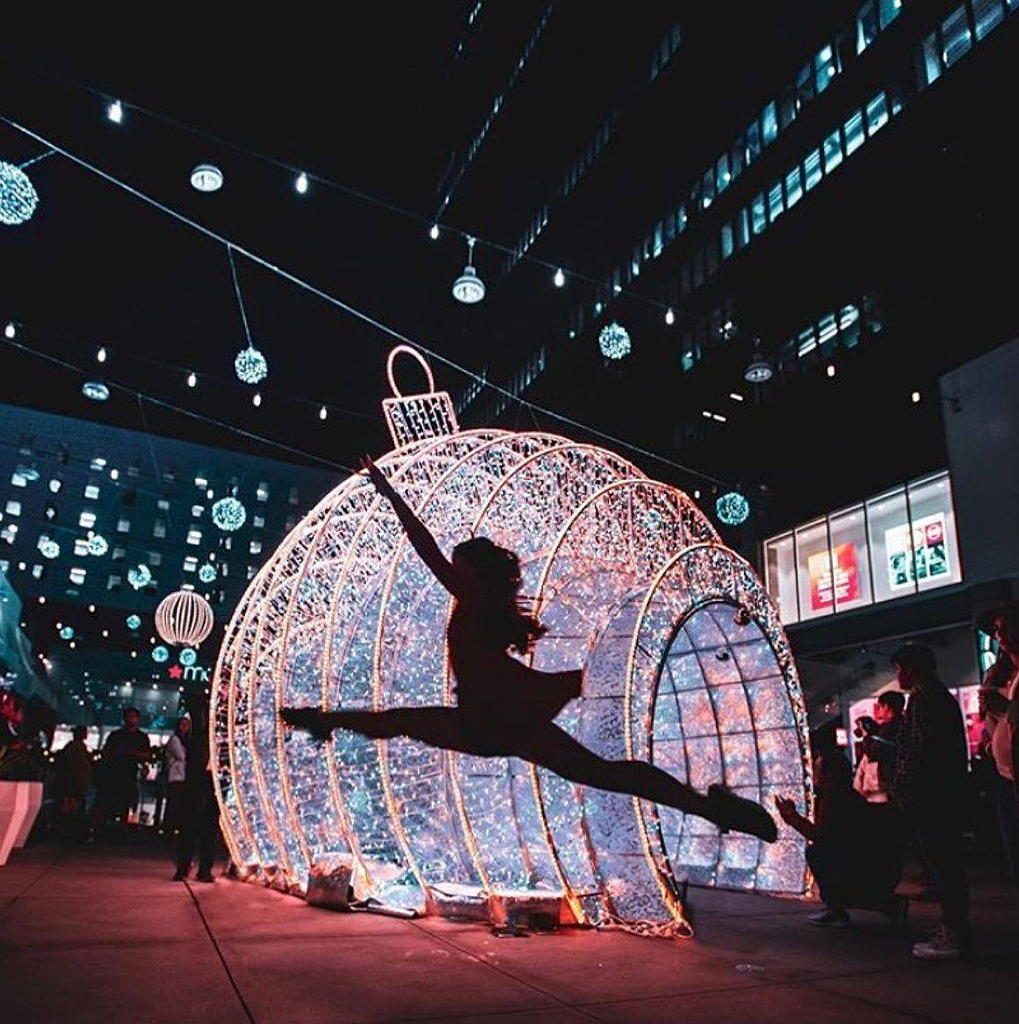 Sparkle DTLA The Bloc 700 W 7th St. Los Angeles, CA 90017
Experience a magical holiday show as 18 million hues of lights illuminate the night and synchronize to festive tunes. Sparkle DTLA at The Bloc will take you through an unforgettable night time journey that includes one of LA's largest multi-colored interactive holiday displays. Capture your perfect photo-op moments at this ultimate holiday experience.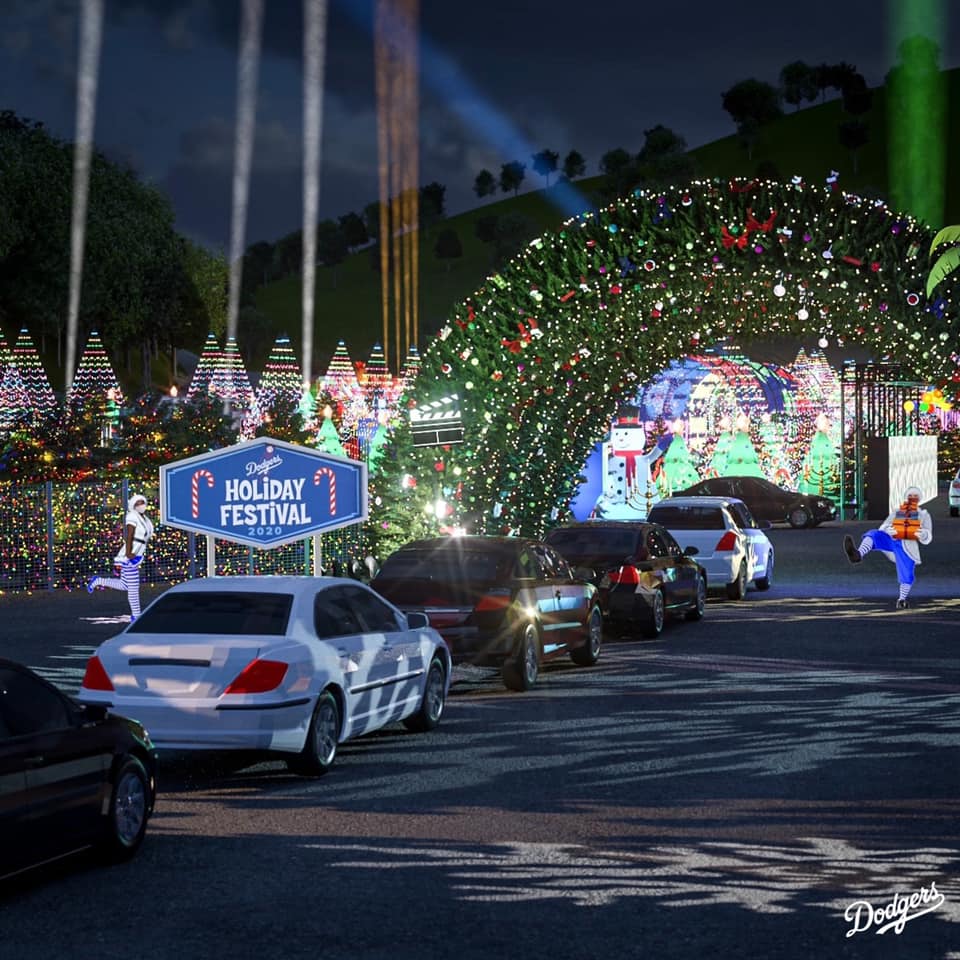 Dodgers Drive Thru Holiday Festival Dodger Stadium 1000 Vin Scully Ave. Los Angeles, CA 90012
The 2020 World Champion Los Angeles Dodgers are hosting a drive-thru Holiday Festival, complete with a light show, LED video displays, faux snow, and interactive displays honoring the Dodgers World Championship and celebrating the holidays. The Dodgers Holiday Festival is a great way to enjoy the holidays responsibly from the comfort of your own vehicle. Open nightly 5-10PM until December 24. Tickets must be purchased in advance.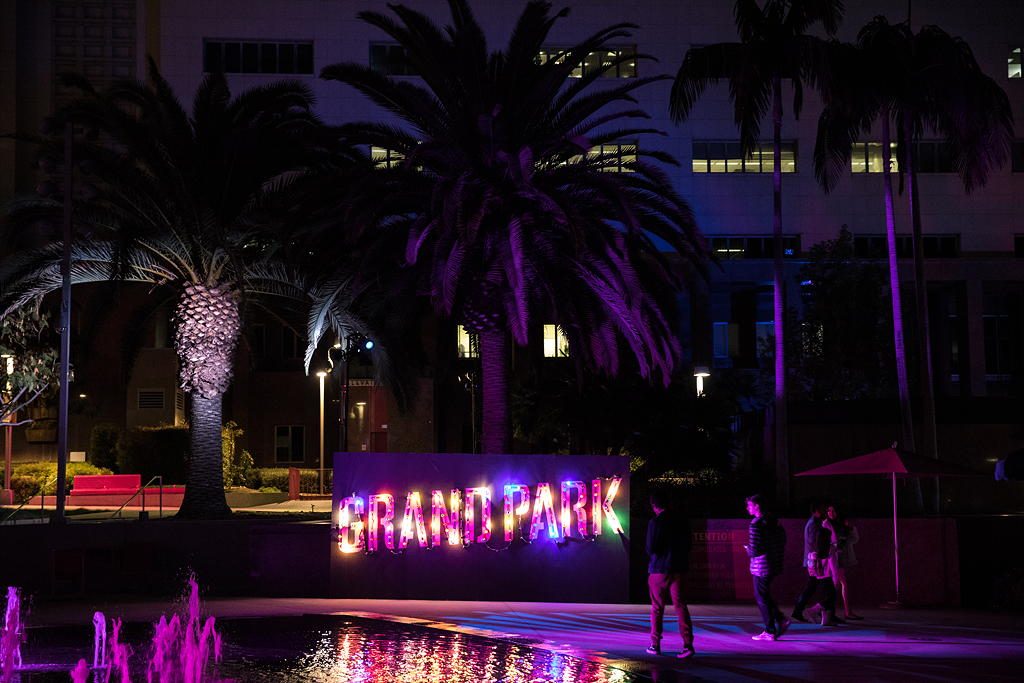 Grand Park 200 N Grand Ave. Los Angeles, CA 90012
This year Grand Park is trading its annual Winter Glow for a thoughtful art installation called "Ground Our Present, Dot Our Future," featuring walkways flecked with Angelenos' messages about hope and social connection. Read them in the glow of a lighted selfie wall, fountain and holiday tree in front of the Music Center. Until Jan. 2, 2021. Free admission.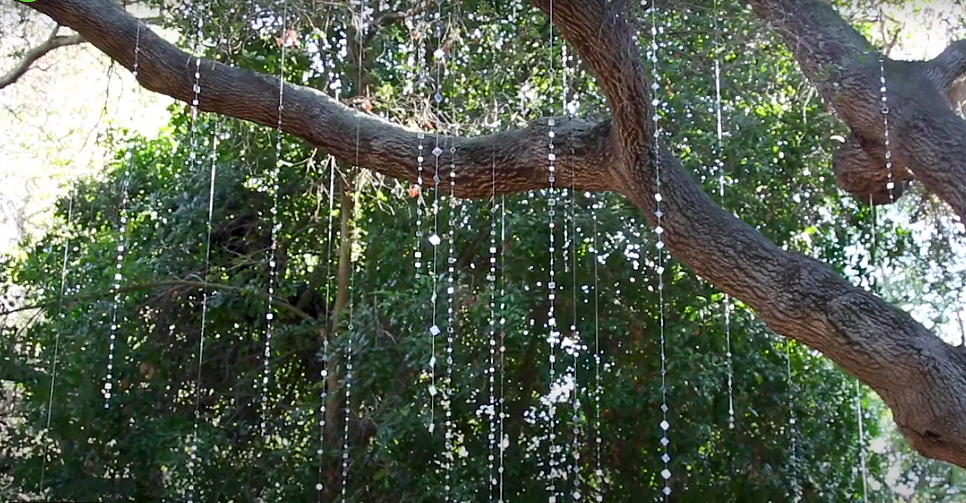 Reflections at Descanso Gardens 1418 Descanso Drive, La Cañada Flintridge, CA 91011
Descanso Gardens invites you to take a moment to reflect and enjoy the beauty that's all around us. Discover art pieces in the garden, special seasonal plantings, self-guided activities, and a beautiful Wishing Tree created by artist Kaz Yokou Kitajima. Walk through the Golden Grove where gold-burnished logs and stones will appear from the base of the oaks creating a festive glow. Stroll through the Camellia Forest and visit the Mirror Tree, adorned with mirrors that reflect the light and beauty around it, and make a wish for the New Year. Non-members must purchase tickets online in advance.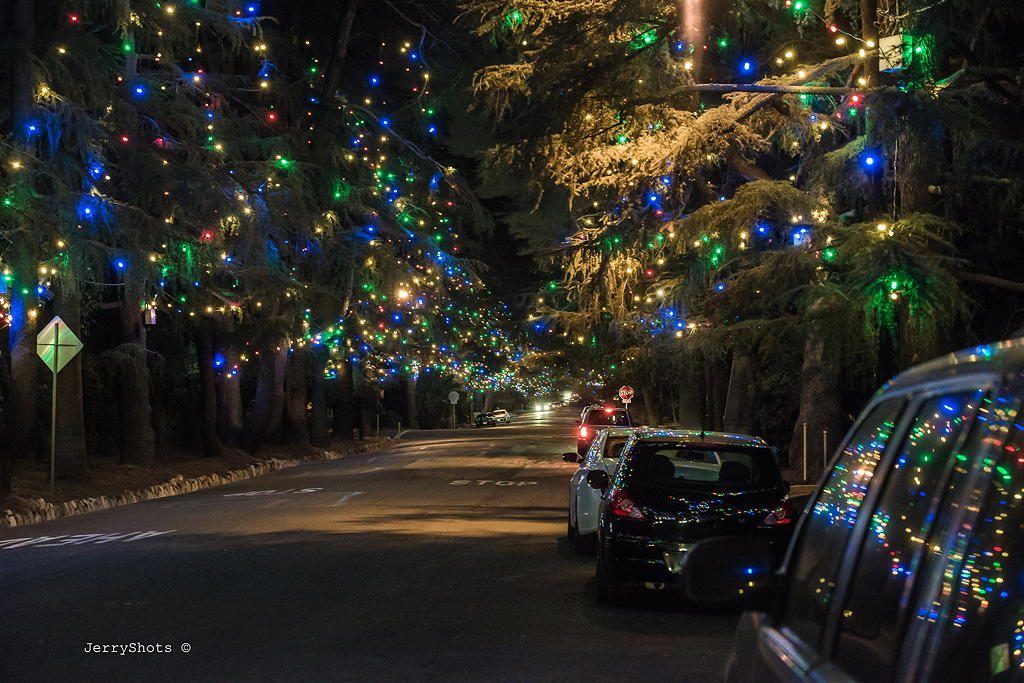 Christmas Tree Lane Santa Rosa Ave. (between Woodbury Ave. and Altadena Dr.) Altadena, CA 91001
Christmas Tree Lane in Altadena is the oldest large-scale Christmas lighting spectacle in the United States. In 1885, real estate magnate John P. Woodbury of the Woodbury Family, the founders of Altadena, planted 134 deodar trees (broad conical cedars) as a grand mile-long driveway entrance to the mansion he would build. Woodbury's mansion was never built, but the trees thrived and the "driveway" became Santa Rosa Avenue. Every Christmas season for more than 80 years, the majestic deodars on the "Mile of Christmas Trees" are strung with 10,000 lights for you to drive through and enjoy.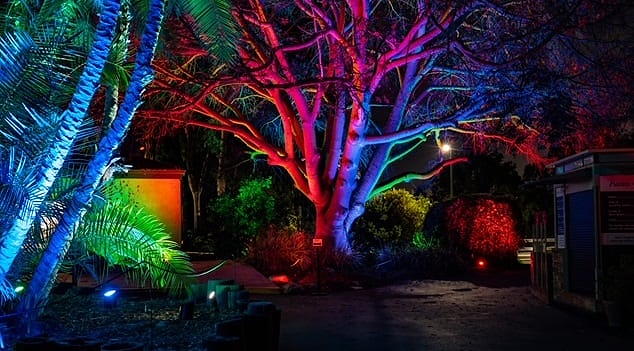 GLOW South Coast Botanic Garden 26300 Crenshaw Blvd. Palos Verdes Peninsula, CA 90274
South Coast Botanic Garden is proud to present GLOW, a visually stunning art installation that transforms the lush botanic oasis into an oceanic experience for their Garden Lights & Ocean Waters theme, using thousands of lights designed by California Outdoor Lighting. The walk is set to an artistically curated soundtrack featuring a little something for everyone, including original music created for GLOW by Jerzy, as well as Baja surf music, Train, and Vivaldi. Let the colors wash over you like a wave and the music be your current, guiding you through this unique and unforgettable after-dark walk.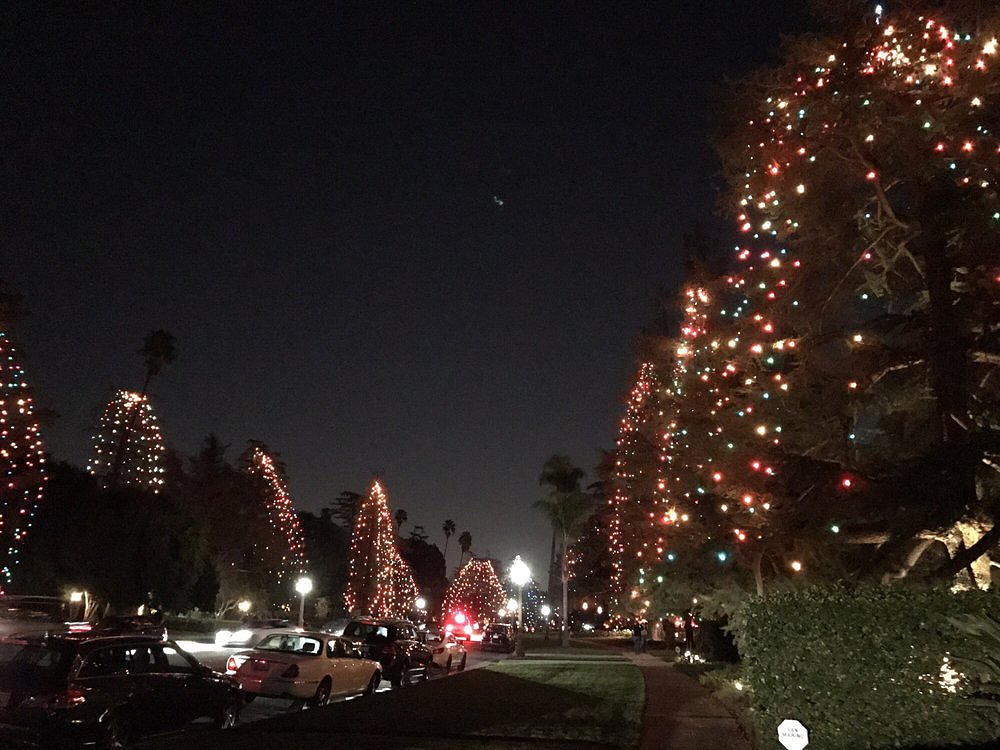 St. Albans Road St. Albans Rd. & Huntington Dr. San Marino, CA 91108
Every December, the tall majestic pines that line Saint Albans Road are bedecked in colored lights to resemble giant Christmas trees. This old San Marino neighborhood is also a treasure trove of stately old California architecture, all dressed up for the holidays.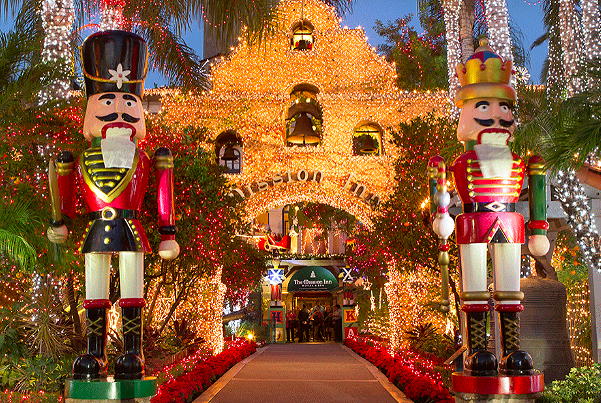 Festival of Lights Mission Inn & Spa 3649 Mission Inn Ave. Riverside, CA 92501
The Festival of Lights at the Mission Inn Hotel & Spa is one of the nation's largest holiday light collections, voted "Best Public Lights Display" by USA Today. The Festival of Lights is a cherished annual tradition created by the inn's owners as a gift for the community back in 1992. Every year, it attracts over 500,000 visitors, all thrilled to watch the display come to life through the holidays. This year, the hotel will feature dazzling lights on the exterior of the hotel, interior lighting, and holiday décor that captures the true essence and history of this beautiful venue.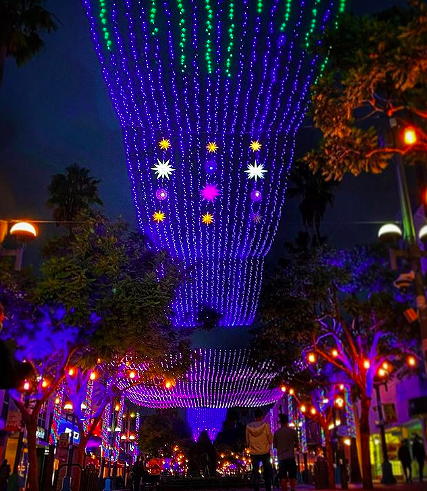 Winterlit 1351 3rd Street Promenade Downtown Santa Monica, CA 90401
Winterlit returns to Downtown Santa Monica to brighten up the holiday season. Tens of thousands of lights will illuminate the Third Street Promenade's festive outdoor retail, and holiday-inspired art installations will come to life at eleven stops throughout Third Street Promenade, featuring window displays in storefronts and murals created by local artists who were asked to interpret what the holiday season means to them during this unprecedented year.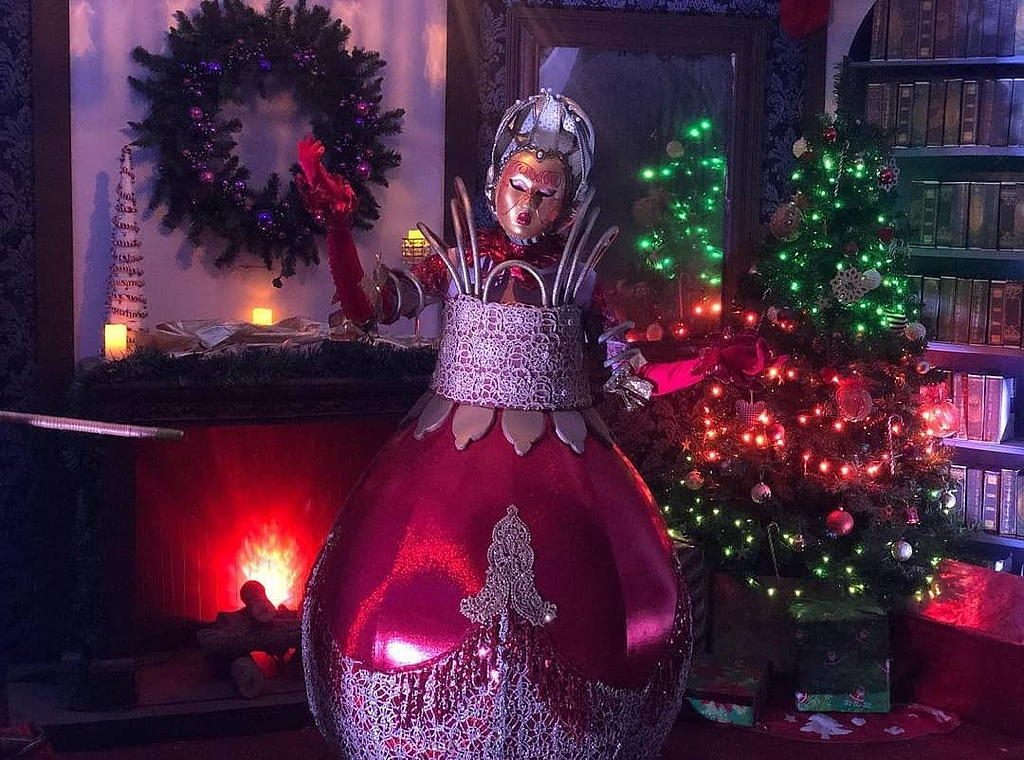 Stocking Stuffer Sweets Crawl Legg Lake 751 Santa Anita Ave. South El Monte, CA 91733
From the creators of The Bite LA: Halloween Food Crawl and the former creative director of the Los Angeles Haunted Hayride, comes a seasonal twist on the drive-thru experience offering immersive winter holiday fun. Whittier Narrows' Legg Lake is transformed into a winter wonderland with sweets and activities all available from the comfort of your car. Stock up on sweets with your complimentary BITE LA stocking (8 Sweets Bites are included). Get your bag of 5 safe, cotton plush 'sno-balls' (included with your ticket) and enter the Snowman Sno-Ball Fight. Dress up your ride in the ugliest holiday sweater or decor and be entered to win prizes throughout the season. The gaudier the merrier.
Photo Credits:
Photo #1: The Bloc
Photo #2: The Bloc
Photo #3: Los Angeles Dodgers
Photo #4: Grand Park
Photo #5: Descanso Gardens
Photo #6: Christmas Tree Lane
Photo #7: South Coast Botanic Garden
Photo #8: Red Tricycle/Sarah P. via Yelp
Photo #9: Mission Inn & Spa
Photo #10: Downtown Santa Monica
Photo #11: The Bite LA