Hot summer days just scream for ice cream. DTLA offers some tasty ways to keep your cool – from classic ice cream to European-style gelato, yummy soft serves, and other tempting treats, many just s short distance from Circa. Dairy not working for you? Many purveyors serve vegan and gluten-free options that offer the creamy richness, flavor and texture of traditional ice cream, without the drawbacks. So go ahead and chill out with our ultimate ice cream guide. Here's the scoop.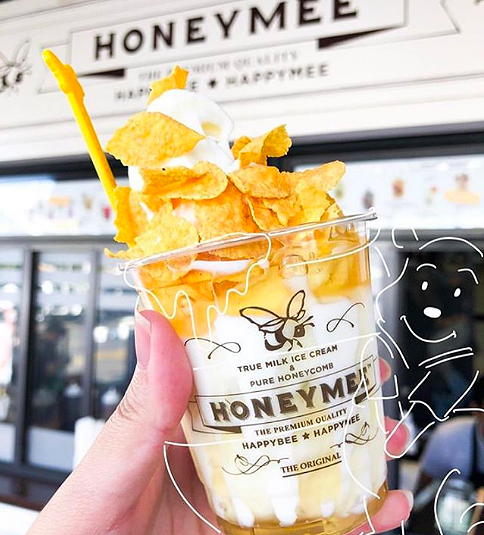 Honeymee DTLA 645 W 9th St, Los Angeles, CA 90015
Our neighbor Honey Mee creates pure milk ice cream with 100% pure honey and honeycombs with no artificial colors or flavors. They use fresh California milk from a family-owned, kosher certified dairy factory, so you'll get the authentic taste of what they call True Milk. The raw honey and honeycombs are 100% pure and natural, from a local, certified bee farm where they handle their award-winning honey with the utmost care. Honey Mee loves that something this delicious can provide such positive health benefits, such as increasing antioxidant levels and promoting digestive health. The product also has anti-bacterial, anti-fungal, and anti-viral properties. All the more reason to savor every spoonful.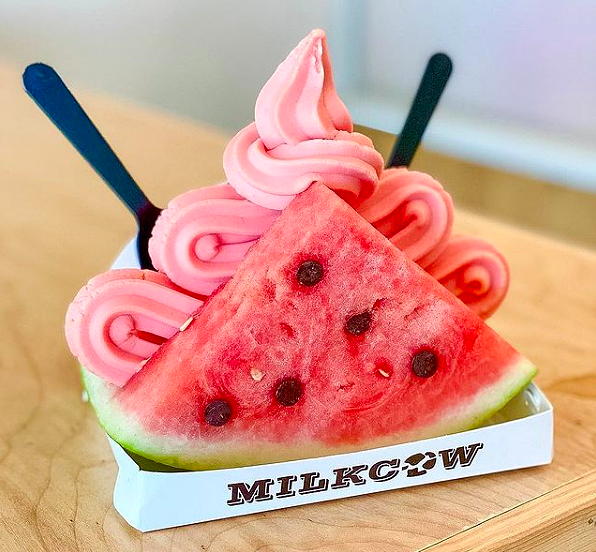 Milkcow Cafe 801 S Hope St B Los Angeles, CA 90017
Milkcow is a milk + honey concept ice cream brand, specializing in soft serve ice cream, premium drinks and desserts. With seven years in development, Milkcow has opened in over 15 countries with more than 50 locations, and now brings their authentic recipe to Los Angeles. They use locally sourced natural milk from California happy cows to make their smooth and creamy soft serve ice cream, which is characterized by a delicate milky aftertaste.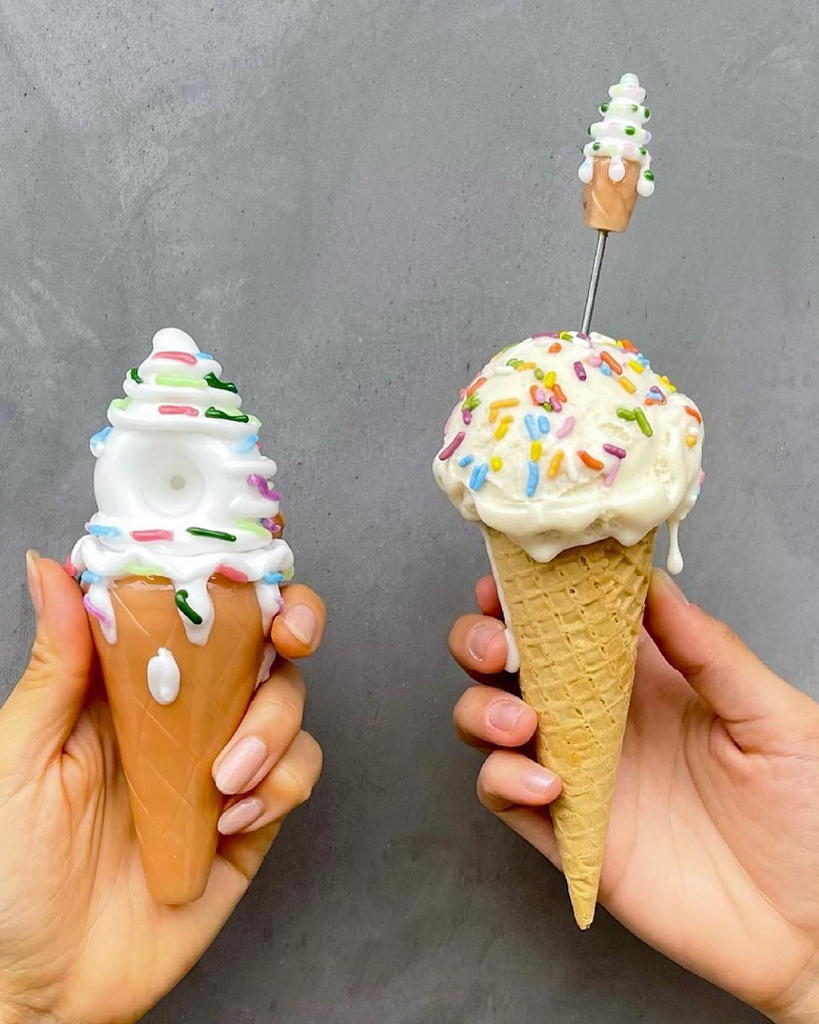 Ice Cream Alley Smorgasburg LA ROW DTLA 777 S Alameda St, Los Angeles, CA 90021
Ice Cream Alley is back at Smorgasburg LA through September 5. The dairy-delightful array of vendors includes Happy Ice, Sweet & Hollow, and Wanderlust Creamery and more. Smorgasburg LA is the largest weekly open-air food market in Los Angeles, attracting 8,000 to 12,000 attendees every Sunday, year round. Located on the five-acre site of the weekday 7th Street Produce Market in ROW DTLA, Smorgasburg LA features food and lifestyle vendors, a beer garden offering local craft beer, pop ups, and other surprises. Sundays 10 AM – 4 PM. Sorry, no pets allowed.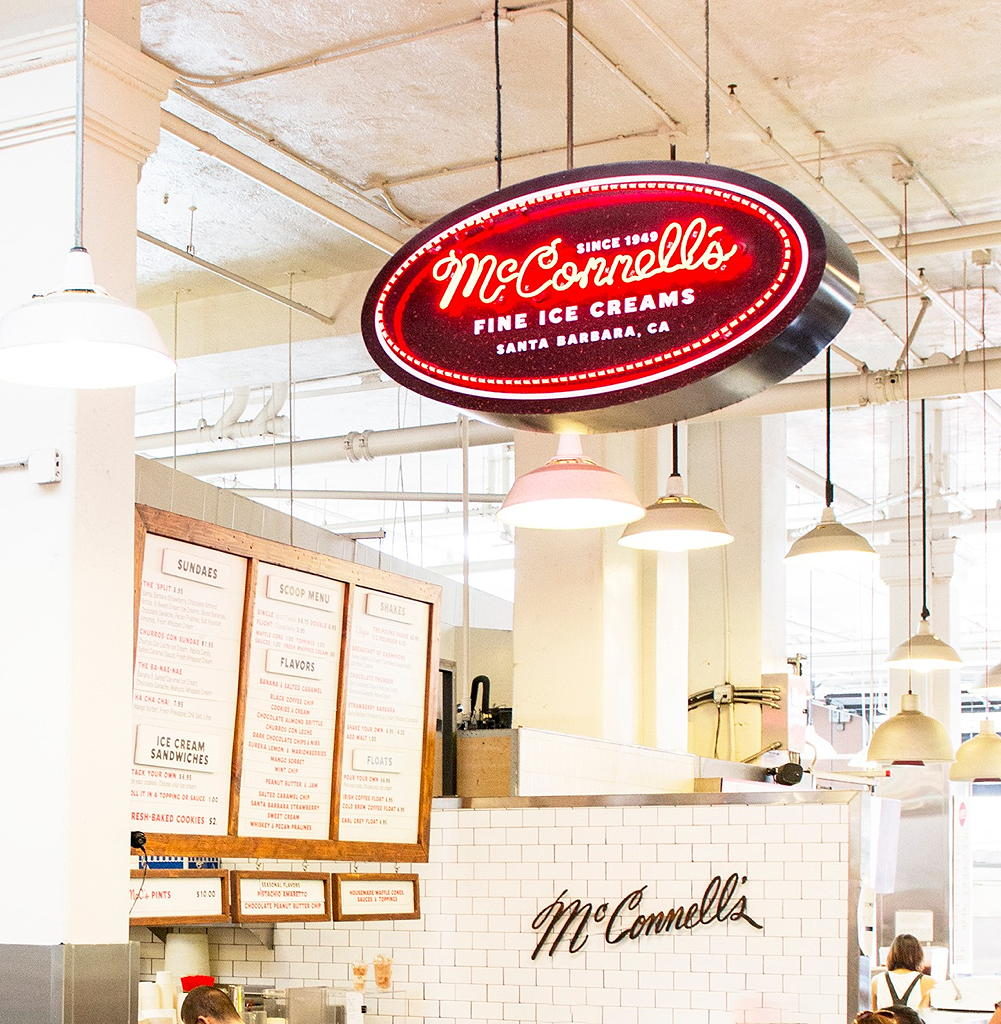 McConnell's Grand Central Market 317 S Broadway Los Angeles, CA 90013
For 70 years, McConnell's has been making dense and pure-flavored ice creams, with smooth, consistent texture and a rich, velvety mouth feel – all made from scratch with a few, simple ingredients. McConnell's mission is to produce the finest ice creams in the world, in the most responsible and sustainable way possible. In the process, they aim to enrich and enliven the communities in which they operate, and leave the world just a little bit "sweeter" than they found it.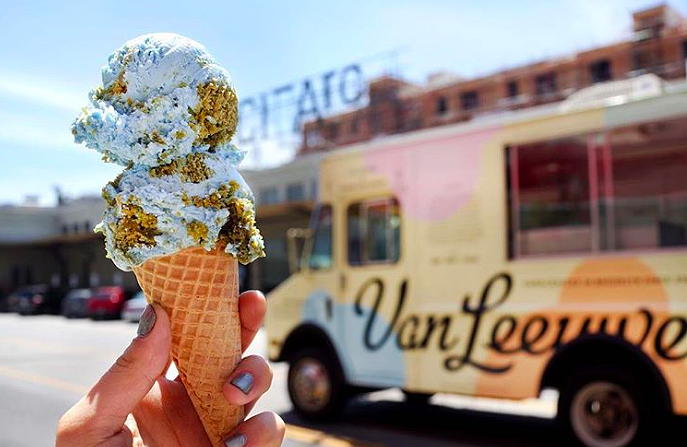 Van Leeuwen Ice Cream 300 S Santa Fe Ave. Los Angeles, CA 90013
Van Leeuwen Ice Cream started in the Spring of 2008 out of a buttery yellow truck on the streets of NYC. The founders set out to revive the classic American ice cream truck and the art of traditional ice cream making, using ingredients perfected by nature, not science. Van Leeuwen Classic and Vegan ice creams are made with just a handful of fresh ingredients. Each flavor is a celebration of some of the world's best artisan producers and farmers, both local and from around the world.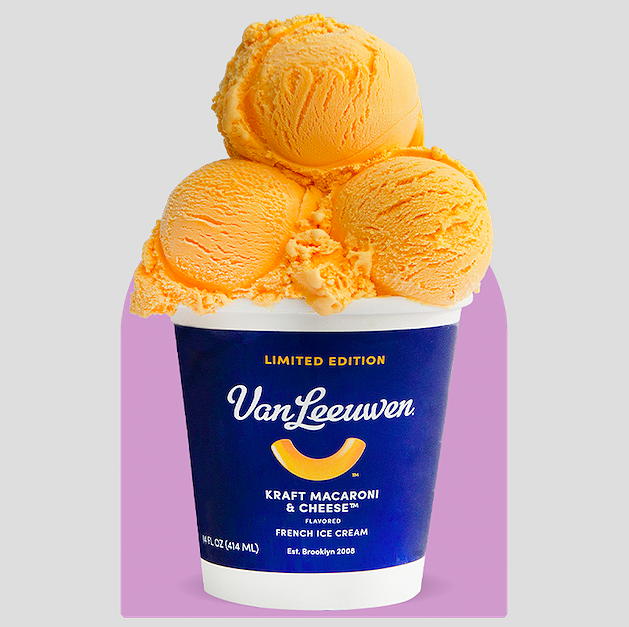 Kraft Macaroni & Cheese ice Cream
Van Leeuwen is offering a Limited Edition Kraft Macaroni & Cheese ice Cream – a flavor mash-up combining two of America's favorite treats – mac & cheese and ice cream. This popular product sold out in just a few hours, so if you missed out on getting your hands on it the first time, or were lucky enough to grab a pint but one wasn't enough, sign-up to be the first to know when it's available to purchase again HERE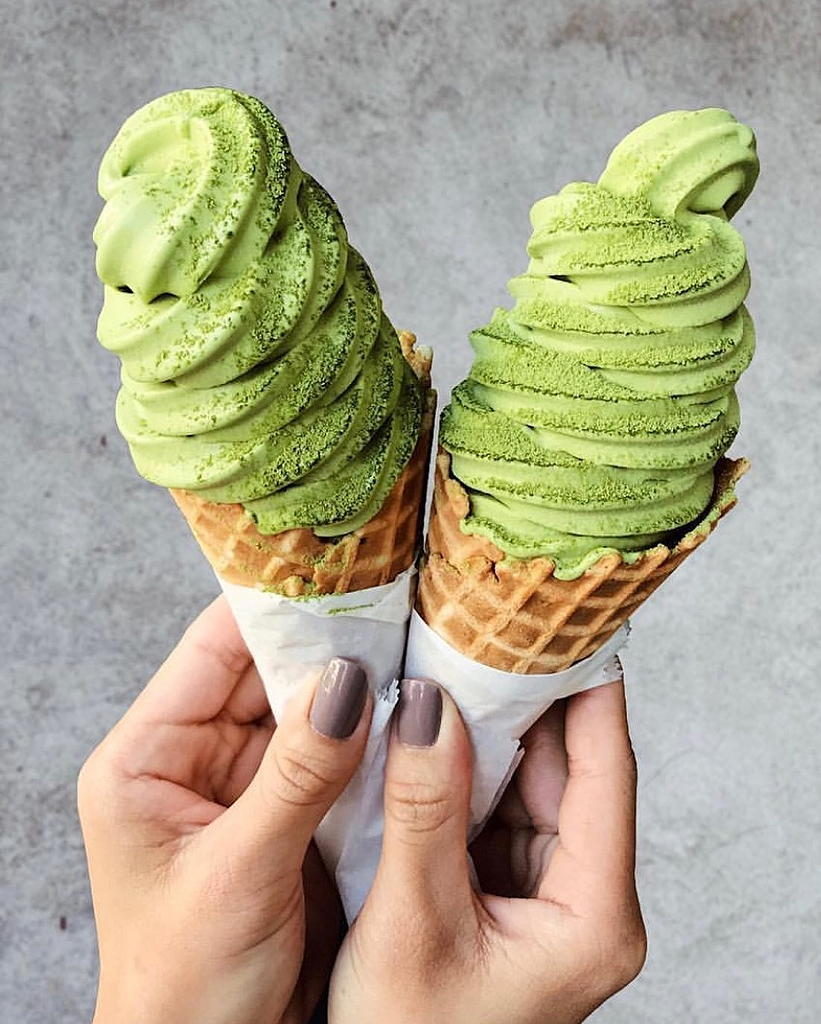 Midori Matcha Cafe 123 Astronaut Ellison S Onizuka St. Los Angeles, CA 90012
Located in DTLA's Little Tokyo, Midori Matcha specializes in serving Japanese Organic Matcha drinks, pastries and Kyoto style soft serve ice cream. Simple and pure are the two main ingredients. They hand-whisk each drink, using Organic Ceremonial Grade or Imperial Grade Japanese Matcha with never any preservatives, artificial flavors, artificial sweeteners or added colors. Health is the number one priority, which is why most drinks are unsweetened or have minimal calories, fat and sugar. Midori Matcha believes in enjoying matcha as close to its original traditional roots as possible.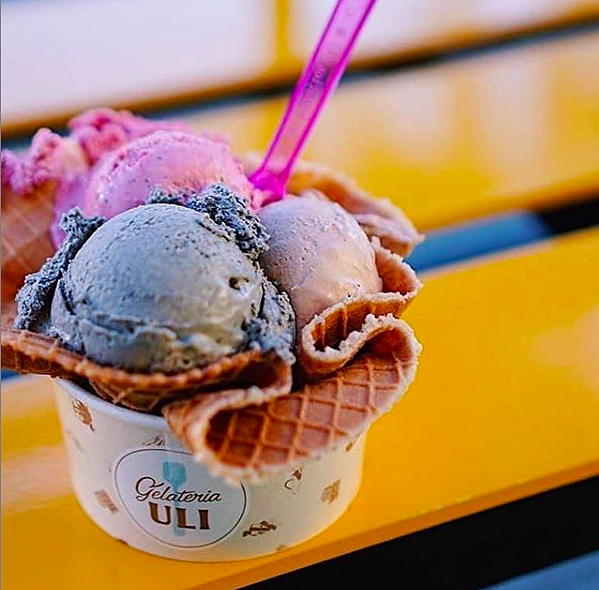 Uli's Gelato 541 S Spring St #104 Los Angeles, CA 90013
Named Best Ice Cream 2020 by LA Magazine, Uli's Gelato was founded by Uli Nasibova, who's originally from Baku, Azerbaijan. Uli opened her gelato shop in 2014 with the goal to make to make the best ice cream (not just gelato) in Los Angeles. Uli personally creates all recipes and sources the best possible ingredients for a taste treat that can't be beat.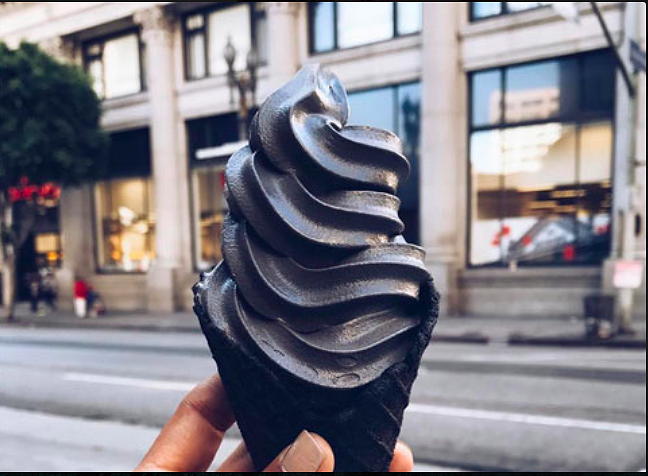 Little Damage 700 S Spring St. Los Angeles, CA 90014
Billing itself as "LA's finest soft serve ice cream," Little Damage is a small family owned business that draws its inspiration from the rich cultural fabric that makes Los Angeles special. Rather than offering a conventional selection, Little Damage offers a rotating menu of unique recipes that allow you step outside of your comfort zone and get a little adventurous, such as their famous charcoal cone. At least one vegan option is always included in the rotation to accommodate those who are dairy free.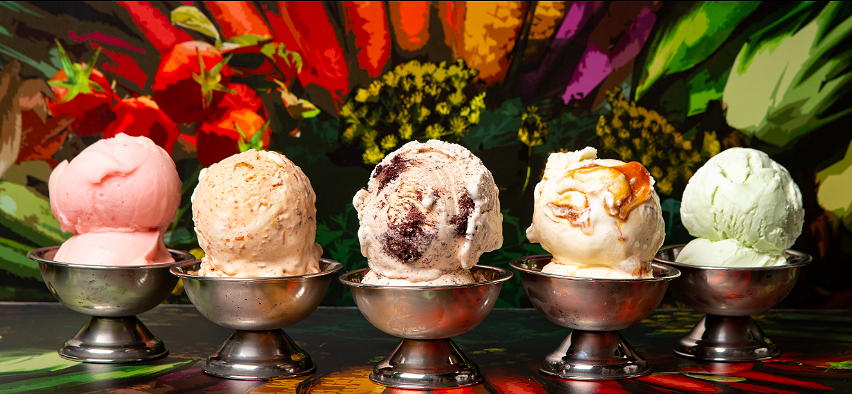 Salt & Straw 829 E. 3rd St. Los Angeles, CA 90013
The bright, spacious Arts District Salt & Straw scoop shop is an outpost of the popular ice cream concept from Oregon, known for inventive flavors and farm-sourced ingredients. The founders chose the name Salt & Straw because the ice cream is handmade, in small batches, the way ice cream was made traditionally. Back in the day, ice cream makers used rock salt to make it freeze, then it was packed in straw to keep it cold. Dairy-free options are available.
Photo credits:
Photo #1: Van Leeuwen Ice Cream
Photo #2: Honeymee
Photo #3: Milkcow Cafe
Photo #4: Smorgasburg LA
Photo #5: McConnell's
Photo #6: Van Leeuwen Ice Cream
Photo #7: Van Leeuwen Ice Cream
Photo #8: Midori Matcha Cafe
Photo #9: Uli's Gelato
Photo #10: Little Damage
Photo #11: Salt & Straw