Joie de vivre, French for joy of living, takes on a whole new meaning as the City of Light meets the City of Angels! For a bit of historical context, before Chinatown was Chinatown, it was Frenchtown. During the second half of the 19th century and into the 20th, the French community in Los Angeles was one of the most influential and robust in Southern California. By 1860, French was the second most-spoken language in Los Angeles.
Today, the French population in Los Angeles is represented by a fresh new wave of entrepreneurs, artisans, and restauranteurs who are making an impact on our culture and dining habits. From classic dishes like bouillabaisse, steak frites, tartare de boeuf, croque monsieur, and escargots, to new eateries with a French twist, you'll find your joie de vivre at DTLA's French bistros, bakeries and bars.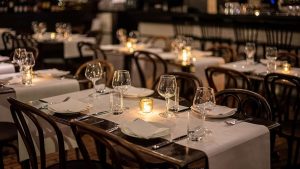 Church & State LA 1850 Industrial St, Los Angeles, CA 90021
After reoopening earlier this year, Chef David Féau's reinvigorated menu at Church & State proves that classics never go out of style. His interpretation of bistronomie is built on the foundation of the giants of the French culinary pantheon – Bocuse, Blanc, Vergé, Ducasse, along with his personal mentor, Guy Savoy – but is heightened with a lighter, California-driven sensibility. The new Church & State is a place to dine, for sure, but more than anything it is a place for people to come together, enjoy the company of friends, and to live well.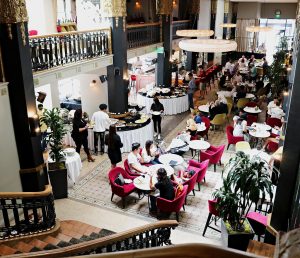 Le Petit Paris 418 S Spring St, Los Angeles, CA 90013
Housed inside the historic El Dorado Building, Le Petit Paris is the vision of Cannes-based restauranteurs David and Fanny Rolland. The 300-seat restaurant brings a quintessential brasserie dining experience to Downtown LA's Historic Core. The restaurant is an architectural marvel, designed by the Rollands, featuring multiple skylights, two bars, a mezzanine level, and a large outdoor patio. During the daytime, Le Petit Paris provides a tranquil, bright venue, and at night it transforms into an upscale fine dining restaurant with a lounge.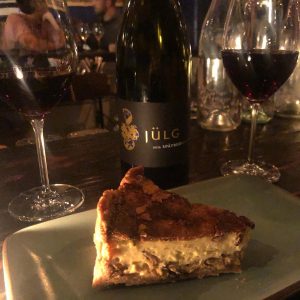 Mignon 128 E 6th St. Los Angeles, CA 90014
True to its name (mignon roughly translates to "small and cute" in French), this elegant little food and wine bar in DTLA's Historic Core aims to be an oasis for anyone who is weary of the ubiquitous bar experience. Seating about 20 around a U-shaped central bar, Mignon's inviting interior is rich with midnight blue walls, a pressed tin ceiling, homey book shelves, and framed portraits. Mignon specializes in small production, offering natural wines from all over the globe with an emphasis on the Old World. They also serve seasonal, rustic French cuisine, including a three-course pre-fixe option, small plates, and fine artisanal cheeses and charcuterie. The space is also a retail shop, so make sure you grab some bottles to go.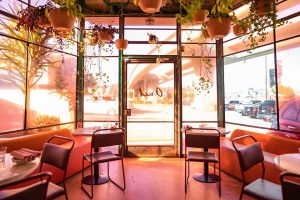 Oriel Chinatown 1135 N. Alameda St. Los Angeles, CA 90012
For lovers of authentic French wine and food, Oriel is a chic, comfortable wine bar styled to please even the most homesick Parisian. Located just far enough away from Chinatown's main drag, Oriel might be a little hard to spot hidden beneath the Chinatown Gold LIne Metro stop. But once inside, you'll be charmed by the sleek black and rose interior, lush hanging plants, and soft pink neon lighting. Oriel offers a curated selection of French bottles and some 20 wines by the glass, along with a classic bistro menu featuring French onion soup, steak tartare, chicken liver mousse, steak frites. escargots, and gnocchi.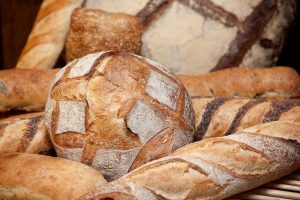 Pitchoun Bakery & Café 545 S Olive St, Los Angeles, CA 90013
Pitchoun! is a family owned French bakery, pastry store and restaurant, offering fresh artisan breads and home-made pastries and cakes, along with an array of healthy salads, sandwiches, hot dishes, soups, and more. Using traditional French family recipes, everything is home-made daily from scratch, using house-made starter levain and organic or local ingredients. The flavors are crisp, authentic, and clean, and all products aim for pure simplicity and high quality.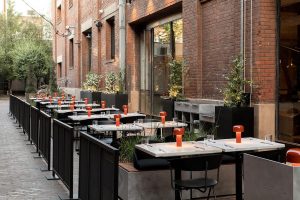 Bon Temps 712 S Santa Fe Ave. Los Angeles, CA 90021
An all-day restaurant in the Arts District of Downtown Los Angeles, Bon Temps from Chef Lincoln Carson reimagines a modern French brasserie with industrial roots. From morning until late-night, the menu is refined with an attention to detail that nods to Chef Lincoln Carson's lineage working in internationally-acclaimed restaurants. Bon Temps is a place for the downtown community to break bread in a space that pays homage to the old and new. Since opening in June, Bon Temps has been recognized as one of Esquire's Best New Restaurants 2019.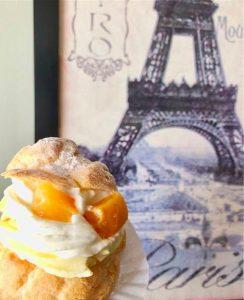 Paris Baguette 902 S Los Angeles St, Los Angeles, CA 90015
Paris Baguette is an international, premium bakery-café specializing in a yummy assortment of breads, pastries and cakes baked daily. Their mission is to bring happiness to everyone by adapting to people's ever-expanding palates with decadent, unique and sophisticated baked goods. They serve a variety of treats ranging from coffee, tea, smoothies, and frappes, to appetizing snacks, delicious cakes for all occasions, and chef-inspired sandwiches and salads.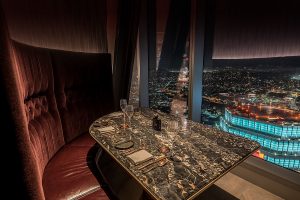 La Boucherie 900 Wilshire Blvd Fl 71 Los Angeles, CA 90017
Located on the 71st floor of InterContinental Los Angeles Downtown, La Boucherie boasts a top-tier, American steakhouse with a French twist. Feast on reimagined dishes and premium steaks, in addition to first-rate seafood sourced from around the globe. The restaurant also features a cheese cave and charcuterie atelier complemented by offerings from their extensive, Wine Spectator award-winning wine list of 1,200 different types, all of which can be enjoyed from the comfort of private dining rooms or discrete Starlight Booths.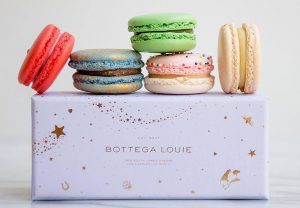 Bottega Louie Restaurant and Gourmet Market 700 S Grand Ave, Los Angeles, CA 90017
What could be more French than a macaron – a sweet meringue-based confection made with egg white, icing sugar, granulated sugar, almond meal, and food coloring. Since the 19th century, a typical Parisian-style macaron is presented with a ganache, buttercream or jam filling sandwiched between two meringue "cookies." But you don't have to travel to Paris to get your macaron fix – Bottega Louis offers literally mountains of these tempting treats for every occasion. Eat yours on the spot, or choose an elegant gift box from their extensive catalog.