Bastille Day is right around the corner, celebrating the storming of the Bastille on July 14, 1789 and the birth of the French Republic. But the French connection goes deeper as the City of Light meets the City of Angels. Did you know that during the late 19th century, the French community in downtown Los Angeles was one of the most robust in Southern California, and French was the second most-spoken language in LA? Today, the French population in Los Angeles is represented by a fresh new wave of artisans, entrepreneurs, and restauranteurs who are making their mark on our culture and dining habits. From Parisian-style bistros and wine bars to delectable pastry shops – many close to Circa – get ready to find your joie de vivre in DTLA.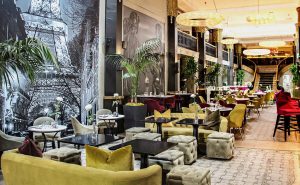 Le Petit Paris 418 S Spring St. Los Angeles, CA 90013
Celebrate Bastille Day with a special Moulin Rouge Cabaret Show and live DJ at Le Petit Paris. Housed inside the historic El Dorado Building, Le Petit Paris is the vision of Cannes-based restauranteurs David and Fanny Rolland. The 300-seat restaurant brings a quintessential brasserie dining experience to Downtown LA's Historic Core. The restaurant is an architectural marvel, designed by the Rollands, featuring multiple skylights, two bars, a mezzanine level, and a large outdoor patio. During the daytime, Le Petit Paris provides a tranquil, bright venue, and at night it transforms into an upscale fine dining restaurant.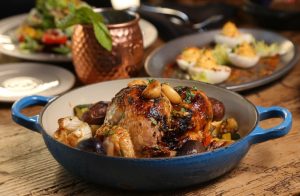 Kendall's Brasserie 135 N Grand Ave. Los Angeles, CA 90012
Soak in the conviviality and energy of a lively French oasis. Located at The Music Center on Grand Avenue below the Dorothy Chandler Pavilion, Kendall's Brasserie offers French cuisine with a California-flare, balancing beloved classic French styles of cooking with a focus on locally sourced, seasonal dishes. The recently reimagined space was inspired by mid-century French art and the cut paper of Henri Matisse, along with hidden nods to honor Kendall's history and location, such as chandeliers from Stern Grand Hall in the Dorothy Chandler Pavilion and drawn curtains from the Ahmanson Theatre.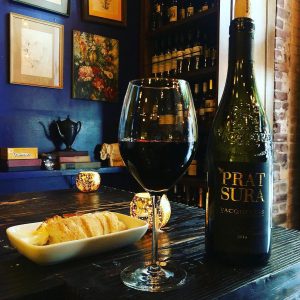 Mignon Wine Bar 128 E 6th St. Los Angeles, CA 90014
Mignon is a cozy wine bar in the heart of Downtown Los Angeles' Historic Core. True to its name (mignon roughly translates to "small and cute" in French), this elegant little spot aims to be an oasis for anyone who is weary of the ubiquitous bar experience. Mignon specializes in small production, offering natural wines from all over the globe with an emphasis on the Old World, along with seasonal, rustic French cuisine, including small plates, and fine artisanal cheeses and charcuterie.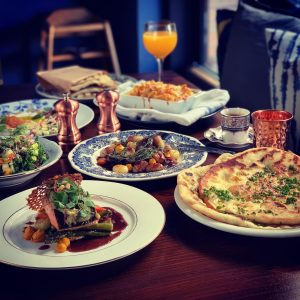 Air Food L'Appart 130 E 6th St. Los Angeles, CA 90014
Air Food L'Appart will make you feel that you flew straight to Paris with the Air Food company, and landed in an intimate Parisian apartment, where you'll enjoy an exclusive French culinary experience. Created by two passionate visionaries, Marc and Thierry, Air Food takes your tastebuds through a miraculous journey from traditional French cuisine to French and World Fusion from Europe, the Middle East, Africa, and North America.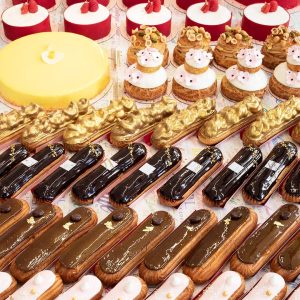 Bottega Louie 700 S Grand Ave. Los Angeles, CA 90017
Bottega Louie is a family-owned restaurant, gourmet market, patisserie and café, offering an extensive selection of sweet and savory products for your enjoyment both in-house, and to go. They also offer a full service bar with open seating. For a real taste of France, savor their patisserie menu, featuring a tempting selection of macarons, eclairs, tarts, Napoleons, and more. Large format special occasion pastries can be ordered in advance for pick-up.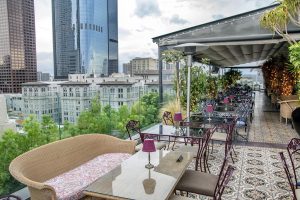 Perch 448 S Hill St. Los Angeles, CA 90013
Perch Los Angeles is a French inspired rooftop bistro that offers unobstructed views of Downtown Los Angeles that will make you feel as if you're floating over the skyline. The elevated spaces offer outdoor fireplaces, fir pits, lounge, and table seating. Enjoy classic French dishes with a twist from the menu for dinner, or sip beer, wine or Parisian-inspired cocktails at any one of the bars. Perch also offers a unique and elegant list of rare Cognacs, Armagnacs, Calvados and French Cordials.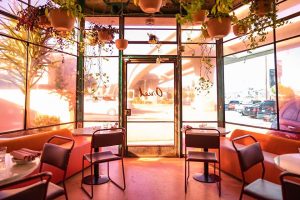 Oriel Chinatown 1135 N Alameda St. Los Angeles, CA 90012
For lovers of authentic French food and wine, Oriel is a chic, comfortable wine bar styled to please even the most homesick Parisians. Located just far enough away from Chinatown's main drag, Oriel might be a little hard to spot hidden beneath the Chinatown Gold Line Metro stop. But once inside, you'll be charmed by the sleek black and rose interior, lush hanging plants, and soft pink neon lighting. Oriel offers a curated selection of French bottles and wines by the glass, as well as beer, ciders, and aperitifs. The classic bistro menu features French onion soup, escargots, Moules Marinières, Saucisses aux Lentilles, and more.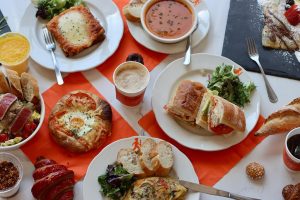 Pitchoun Bakery & Café 545 S Olive St. Los Angeles, CA 90013
Pitchoun is a family owned fine French bakery, pastry store and restaurant, offering fresh artisan breads and home-made pastries and cakes, along with an array of healthy salads, sandwiches, hot dishes, soups, and more. Using traditional French family recipes, everything is home-made daily from scratch, using house-made starter levain and organic or local ingredients. The flavors are crisp, authentic, and clean, and all products aim for pure simplicity and high quality.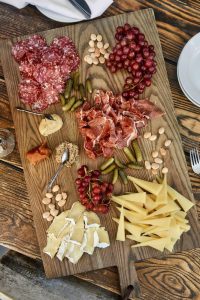 Zinqué DTLA 939 S Broadway, Los Angeles, CA 90015
Inspired by the zinc-topped bars found all over France, Zinqué is a high design, low-key all-day neighborhood restaurant serving French-inspired dishes and small plates, along with a craft cocktail menu and uniquely curated wine and beer selection. Soak up the atmosphere at a wooden table on their sidewalk patio or sidle up to the beautiful bar. To get you in the spirit for Bastille Day, Zinqué is offering a special cocktail – La Guillotine!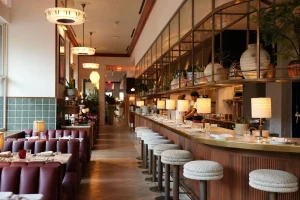 Café Basque The Hoxton 1060 S Broadway, Los Angeles, CA 90015
Café Basque celebrates the rich heritage of classic French tradition intertwined with the vibrant flavors of the southwest coast of France. The culinary creativity stems from the region's renowned use of sweet and mildly hot peppers. Drawing inspiration from their Californian surroundings, the team brings a local touch to each dish, highlighting the bounty of high-quality ingredients sourced from land and sea.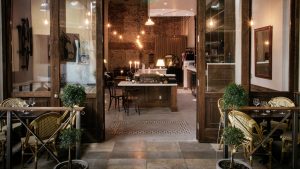 Garçons de Café 541 S Spring St. Los Angeles, CA 90013
Garçons de Café is a wine bar to go shopping, and a retail store to have a drink. A piece of France in downtown LA, Garçons de Café is the beautiful aftermath of what happened when three French traveling friends were united by their big dreams, expensive tastes, and love of California. Their passions joined to set up shop in Downtown Los Angeles, and to bring to the United States the most exquisite products from what France is known to do best.
Photo Credits:
Photo #1: Le Petit Paris
Photo #2: Le Petit Paris
Photo #3: Kendall's Brasserie
Photo #4: Mignon Wine Bar
Photo #5: Air Food L'Appart
Photo #6: Bottega Louie
Photo #7: Perch
Photo #8: Oriel Chinatown
Photo #9: Pitchoun Bakery & Café
Photo #10: Zinqué DTLA
Photo #11: Café Basque
Photo #12: Garçons de Café