Spring is in the air. Ready to give your home a stylish new signature look? 2021 is all about livable luxury, versatility, and effortless chic. Circa's lavish living spaces, with dramatic floor-to-ceiling windows and breathtaking views, provide the perfect canvas for the latest home interior design trends. One of the top trends is color, so we were excited when Pantone announced not one, but two Colors of the Year: Ultimate Grey and Illuminating Yellow. Multipurpose spaces are making news, as many of us have added workspaces to our living rooms and gyms to our bedrooms.
Other major trends include neutral tones, earthy palettes, plaid fabrics, decorative smart lighting, curved shapes, plush velvets, raw materials such as rattan and reclaimed wood, and lots of texture. Great news for vintage lovers – nostalgia will continue to be a favorite design mood in the coming year. And nature lovers can bring the outdoors inside, as houseplants and indoor trees continue their ascent as a home design mainstay. We've rounded up some inspiring ideas, along with local DTLA resources, so can get the look you love. Check websites for hours, appointments, and health guidelines.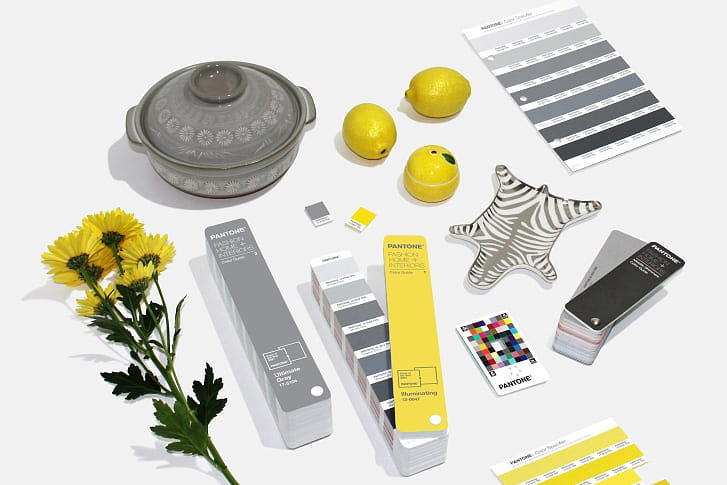 Get ready for a brighter future. Ultimate Grey and Illuminating Yellow are a marriage of color conveying a message of strength and hopefulness that is both enduring and uplifting. Practical and rock solid, but at the same time warming and optimistic, this is a color combination that gives us resilience and hope. These hues will inspire your lifestyle, from fashion and beauty to design and home decor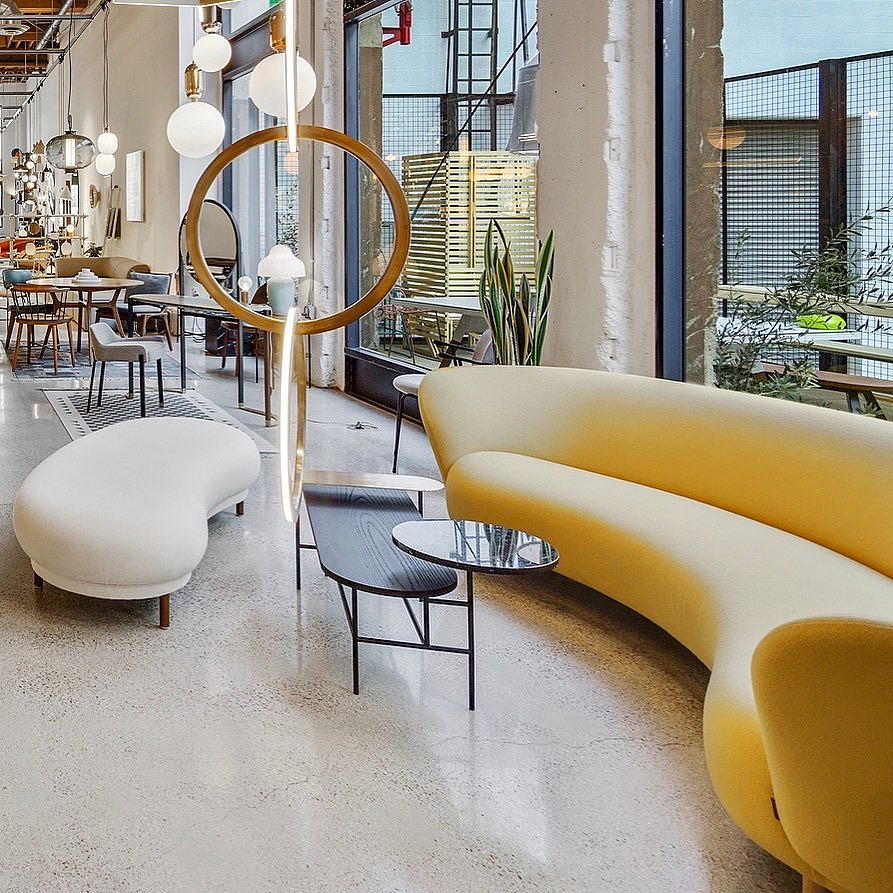 A + R Row DTLA 777 S Alameda St #100 Los Angeles, CA 90021
A + R stands for Andy and Rose: British ex-pat Andy Griffith, a former film editor and self-avowed design junkie, and Rose Apodaca, a pop culture and style journalist and author. From sofas to stools, clocks to carafes, tables to lightning, A + R's oeuvre is design that charms, functions and inspires. Need some style advice? A + R has a knowledgable team in-store and behind the scenes, who will share their enthusiasm for design, bound by the pursuit of aesthetics and innovative ideas.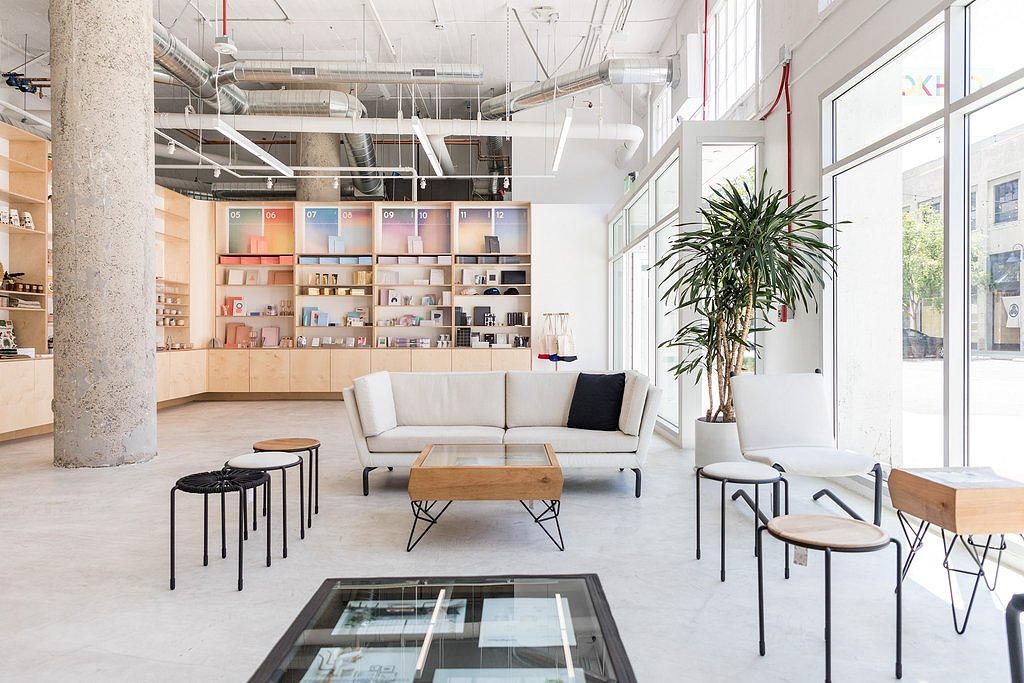 Poketo ROW DTLA777 S. Alameda St. B1 Suite 174 Los Angeles, CA 90021
No home decor shopping spree would be complete without checking out Poketo. Since its foundation in 2003 by husband-and-wife team Ted Vadakan and Angie Myung, Poketo has grown from a small startup into a creative hub and online destination for design-driven goods infused with aesthetic intentionality. Collections include everything from furniture & lighting to apothecary, tabletop, textiles, books & prints, and apparel.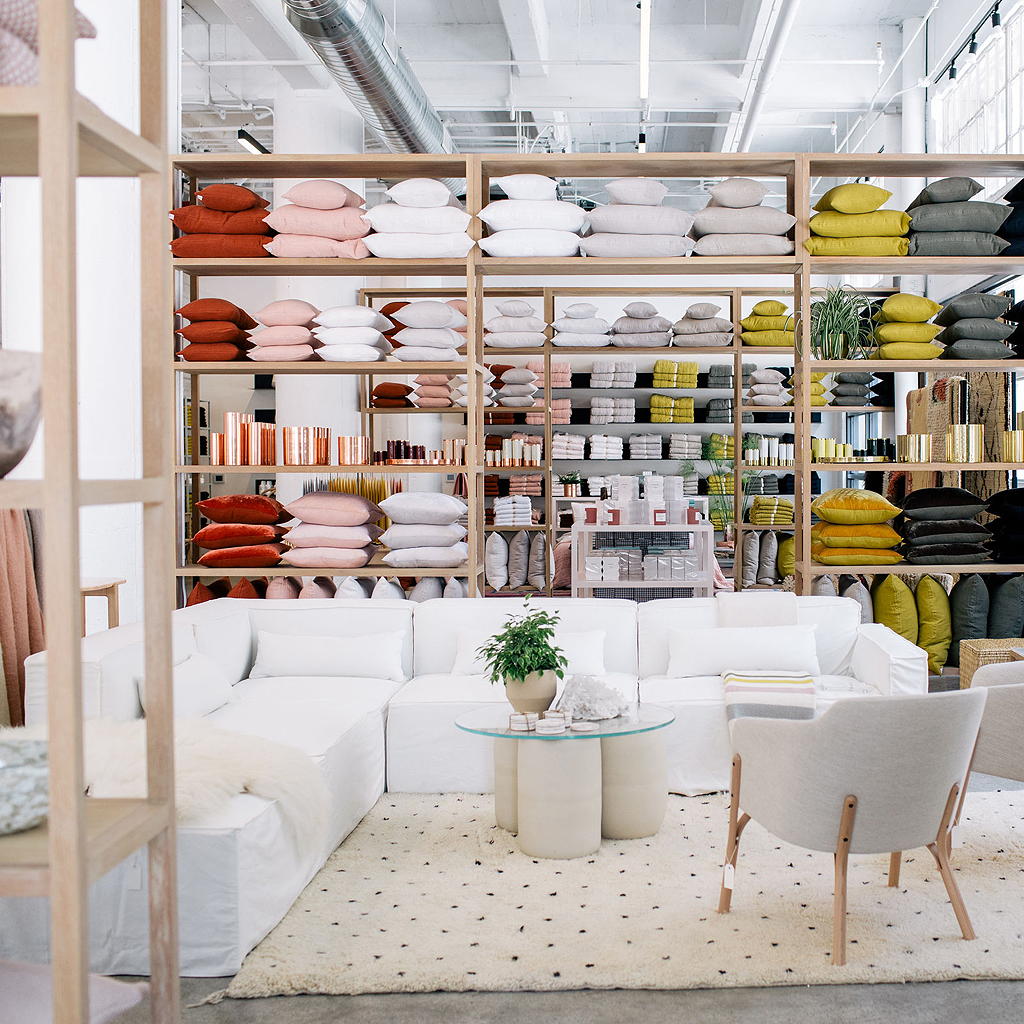 Hawkins New York ROW DTLA 767 S Alameda St. B2 Suite 152 Los Angeles, CA 90021
Hawkins New York was born out of a palpable void in the lifestyle market for quality, accessible, home goods. Citing a lack of range in small-scale home goods production, Hawkins was founded on the aim to incorporate the concept of artisanal collective production, while maintaining a modern sensibility in design. Their vision aims to not only enhances the physical environments in which their customers live and work, but creates a greater understanding and appreciation for responsible, aesthetically minded design. Shopping by private appointment only.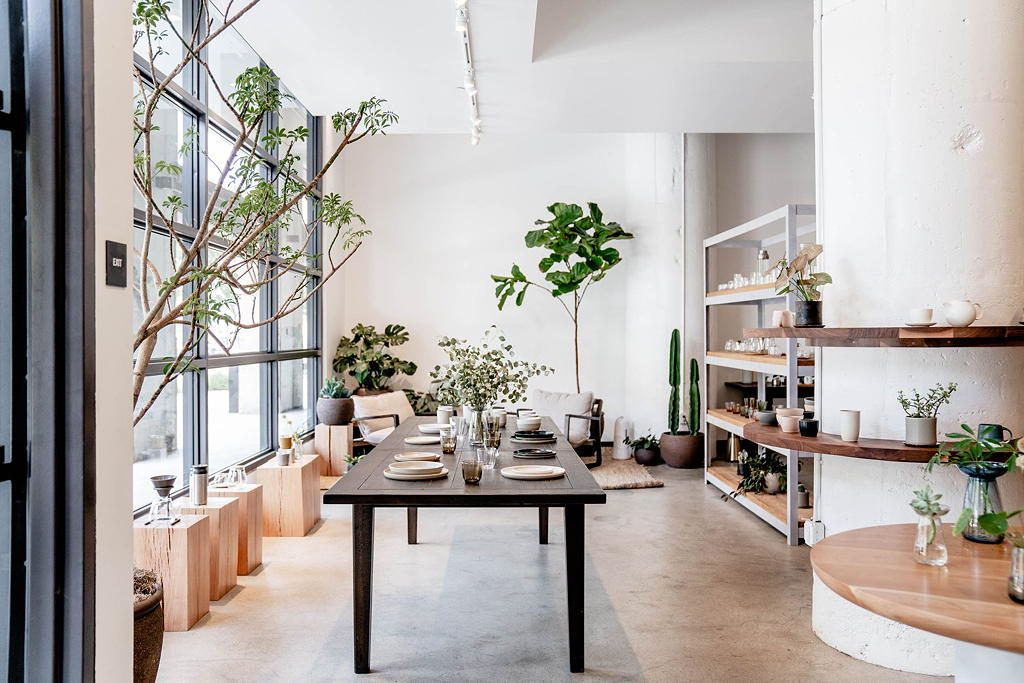 KINTO Tableware & Lifestyle Goods ROW DTLA 767 S Alameda St B2 Ste. 188 Los Angeles, CA 90021
KINTO is a Japanese brand that develops coffeeware, teaware, tableware and lifestyle accessories valuing the balance between usability and aesthetics. To slow down and see the beauty of nature, to unwind and feel connected with your loved one, KINTO imagines scenes that enrich your life to bring you products with genuine creativity and thoughtfulness.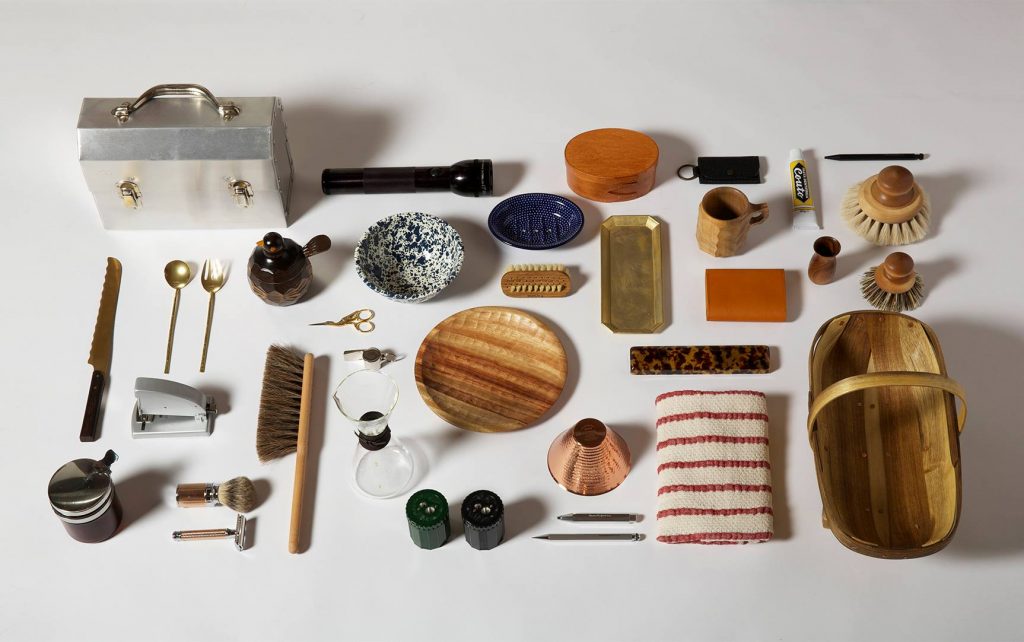 The Good Liver 705 Mateo St. Los Angeles, CA 90021
The Good Liver is a modern day version of a general store that sets out to inform, inspire and ultimately suggest a better way of living through a conscientious collection of enduring, quality goods from around the world. The store offers a carefully selected range of objects from international brands and makers, showcasing the history, philosophy and craftsmanship behind each of our items. Helpful staff share stories behind each product's creation, illustrating the The Good Liver's thoughtful curation and dedication to the good life.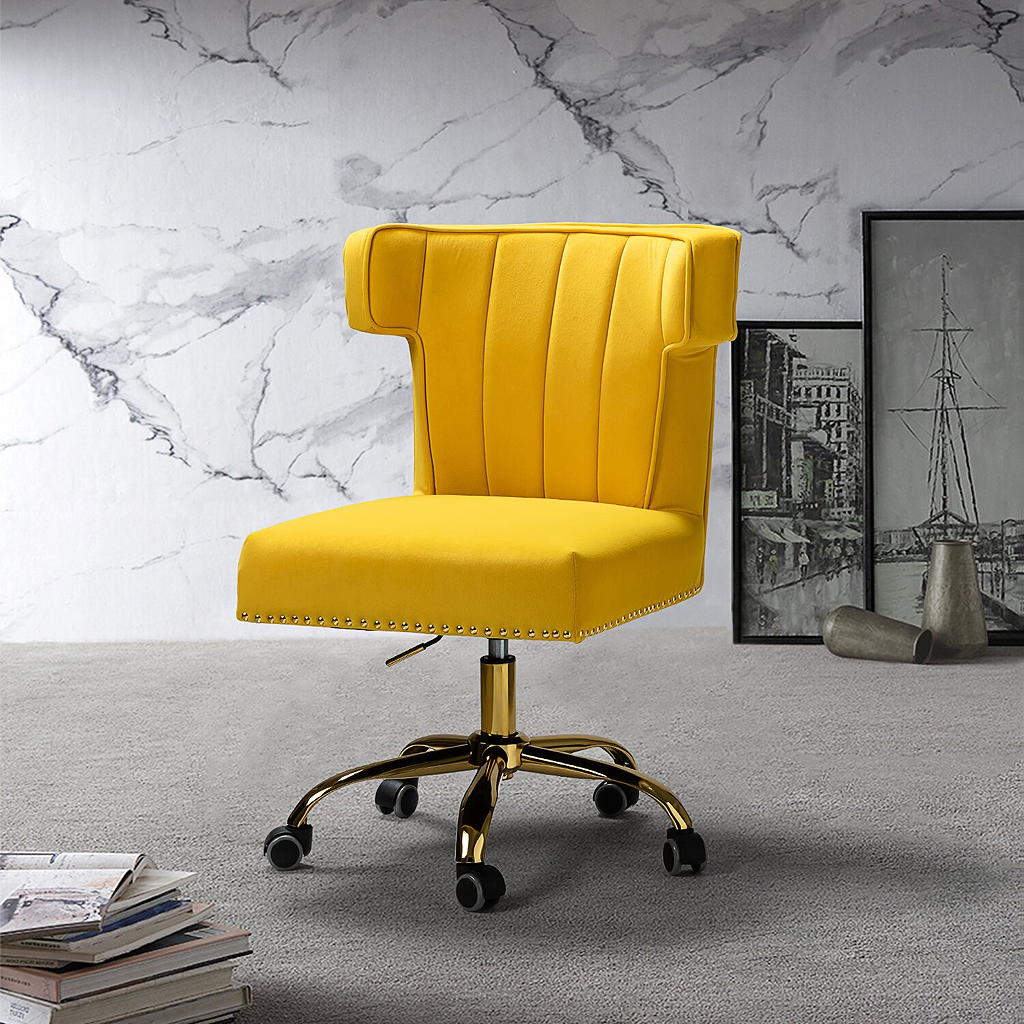 Maston Task Chair from Wayfair
Brighten up your home office with a statement task chair while adding a pop of Pantone's new Illuminating Yellow. The Maston Task Chair from Wayfair offers lots of comfort thanks to its ergonomic shape, and features a durable frame with soft filling. The bright colorful finish will blend with most color palettes, and this chic design is height-adjustable to personally tailor your space.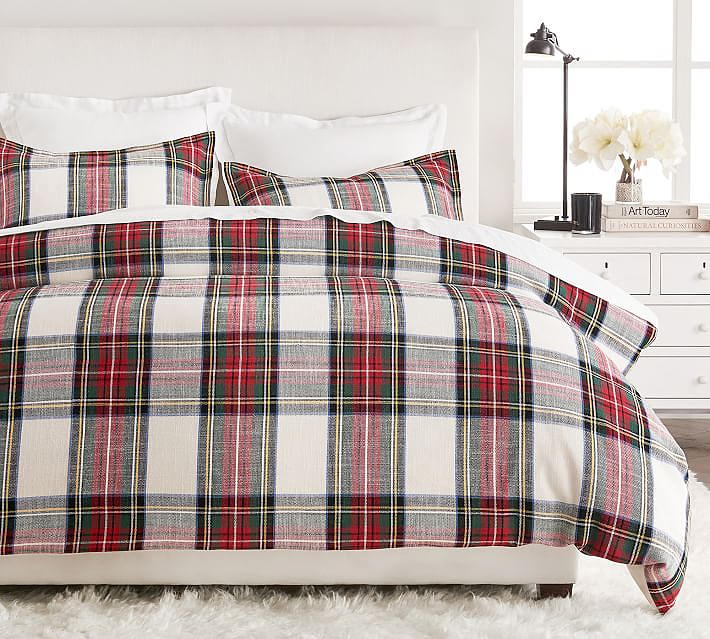 Pottery Barn Plaid Duvet & Pillow Sham
Perk up your bedroom with a wee pinch of plaid. Inspired by historic kilts of the Scottish highlands, tartan is now a favorite for decking out holiday halls. This timeless design was reimagined to work with any style, from contemporary to traditional. Layer this cotton bedding with all-white linens for a classic look or iconic holiday patterns for a more playful ensemble.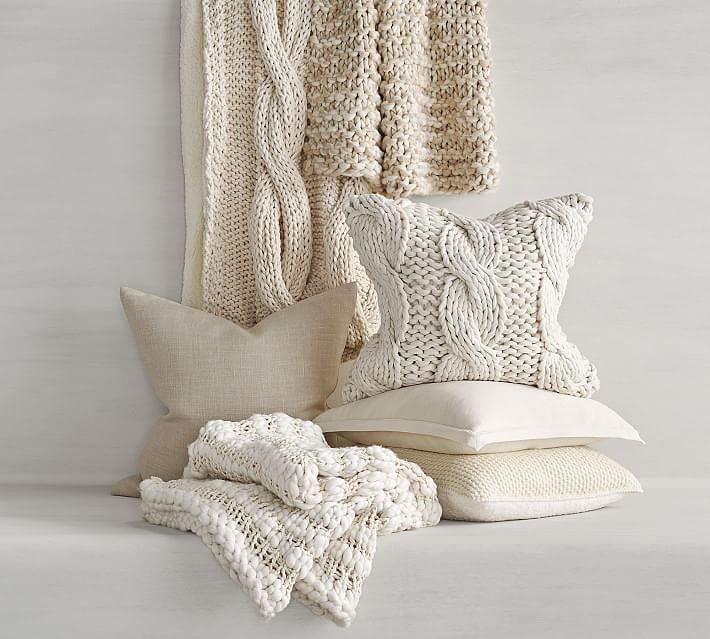 Pottery Barn Tonal Palette Pillow Collection
Nodding to nature, tonal palettes bring a touch of the outdoors in and create a curated, layered look. Inspired by warm vanilla and sandy shores, these cream-colored accents span the tonal spectrum to complete your space with rich texture and a soothing sensibility.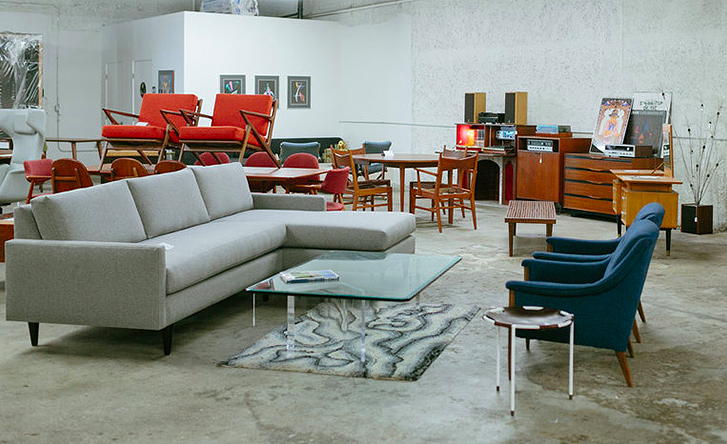 The Hunt Vintage Home Furnishing Store 812 Mateo St. Los Angeles, CA 90021
The Hunt Vintage is a vintage furniture store located in the DTLA Arts District. Hunt through their eclectic collection of mid-century and custom seating, desks, tables, lighting, storage, and table top. They also carry vintage yarn art wall hangings, framed posters, and lithographs.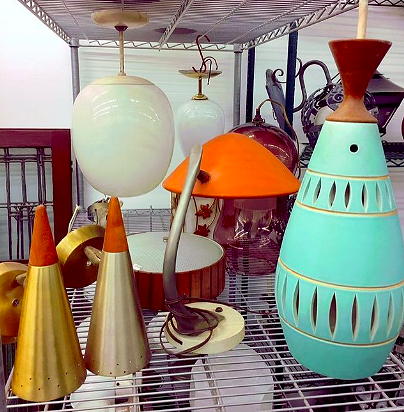 Eric's Architectural Salvage 1540 W. 6th St. Los Angeles, CA 90017
Looking for that perfect accent piece or unique statement item? Family-owned Eric's Architectural Salvage has been collecting items hands-on for over 18 years and is dedicated to the reuse way of life. Their goal is to save quality doors, windows, fireplaces, tile, sinks, tubs, vintage hardware and period lighting from old historic homes or buildings that are being torn down and destroyed every single day. Just imagine, with your help, a 100 year old piece of history can continue its life as an architecturally salvaged treasure.
Photo credits:
Photo #1: Crate and Barrel
Photo #2: Pantone Colors of 2021
Photo #3: A + R
Photo #4: Poketo
Photo #5: Hawkins New York
Photo #6: KINTO Tableware & Lifestyle Goods
Photo #7: The Good Liver
Photo #8: Wayfair
Photo #9: Pottery Barn
Photo #10: Pottery Barn
Photo #11: The Hunt Vintage Home Furnishing Store
Photo #12: Eric's Architectural Salvage