One of the most exciting things about summer is music under the stars! LA is pulsating with sounds of the season, from eclectic world beats to funky grooves, cool jazz, classical programs, and your favorite popular acts. Many outdoor concerts are free, such as Grand Performances and The Music Center's Dance DTLA, not far from Circa. Come for the concert, stay for the art. Major museums such as LACMA, Skirball Cultural Center, and The Getty Center are hosting free concerts. So pack a picnic and head out to celebrate summer with music under the stars.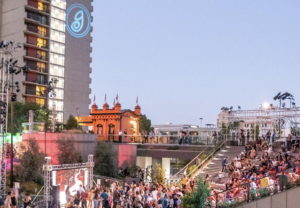 Grand Performances California Plaza 300 S Grand Ave. Los Angeles, CA 90071
Grand Performances returns to DTLA for the 36th year of free summer concerts at California Plaza. Hailed as the "Best Free Outdoor Summer Concert Series" by Los Angeles Magazine, Grand Performances presents world-class music, dance, theater, and more at the breathtaking California Plaza in the heart of DTLA. Every Saturday from June to September 2022.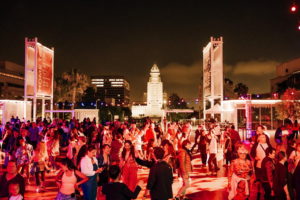 The Music Center Dance DTLA Jerry Moss Plaza 135 N. Grand Ave. Los Angeles, CA 90012
Join the thousands who love the chance to learn new dances and dance the night away under the stars with The Music Center's Dance DTLA. This highly popular free evening of dancing on Jerry Moss Plaza at The Music Center takes place on Friday nights during the summer. Some of L.A's top DJs and local bands play live while the crowd learns new moves in different dance styles – from Disco and Tango, to Bollywood and Salsa.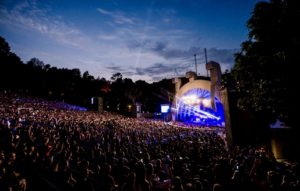 Hollywood Bowl 2301 N Highland Ave. Los Angeles, CA 90068
The Hollywood Bowl turns 100! Since its opening in 1922, our favorite outdoor amphitheater has been the premier destination for live music in Southern California, hosting everyone from Billie Holiday to The Beatles and Yo-Yo Ma under the iconic silhouette of its concentric-arched band shell. HERE is your guide to the Bowl's centennial festivities, with everything you need to know about how to celebrate the 100 years of summer.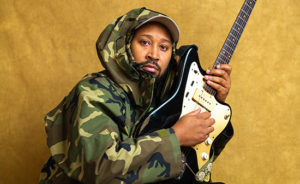 Off the 405 Getty Center 1200 Getty Center Dr. Los Angeles, CA 90049
Off the 405 is the Getty Center's annual outdoor summer concert series, bringing some of today's most exciting bands to the stage for a memorable experience amid stunning architecture and breathtaking sunset views. All performances take place in the Museum Courtyard, with a cash bar offering beer, cocktails, and bites. Arrive early to enjoy the Getty Center's spectacular ambiance and explore the world-class art collection and exhibits. Free admission. Register for tickets HERE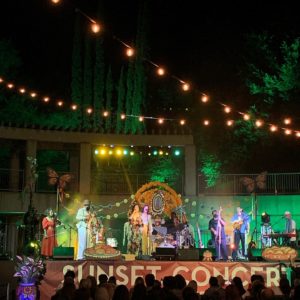 Sunset Concerts at Skirball Skirball Cultural Center 2701 N Sepulveda Blvd. Los Angeles, CA 90049
Marking twenty-five extraordinary years, this milestone season of Sunset Concerts brings an eclectic lineup of path-makers and bridge-builders from around the world to Los Angeles. Join in the fun this summer to sing, dance, and celebrate music's unique power to bring people together and forge cultural bonds. Arrive early to eat, drink, shop, and enjoy complimentary access to the exhibitions. Concerts are free. Advance reservations are required.

Jazz at LACMA 5905 Wilshire Blvd. Los Angeles, CA 90036
Jazz at LACMA is back, with open seating and picnicking on the grounds. The free concerts are presented Friday evenings from April to November. Jazz at LACMA is a celebration of L.A.'s finest jazz musicians and has featured such legends as Wayne Shorter, The Yellowjackets, Quincy Jones All Star Orchestra with John Clayton, Jeff Lorber, and many more. Concerts are broadcast on KJAZZ (88.1 FM) every Sunday evening from 7–9 pm and include interviews with featured performers.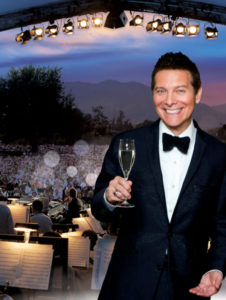 Pasadena Symphony and Pops LA Arboretum 301 N Baldwin Ave. Arcadia, CA 91007
Principal Pops Conductor Michael Feinstein and the Pasadena POPS announce the expansion of the POPS Summer Concert series to six concerts in summer 2022 at the Los Angeles County Arboretum. The six-concert series runs from June 25 to September 10 with a stellar line-up of multiple award-winning guest artists including Grammy-award winning singer Melissa Manchester, SAG Award winner LaChanze (The Help), Tony nominees Tony Yazbeck and Michael Cavanaugh and Tony Award winner Lillias White, plus Michael Feinstein in concert.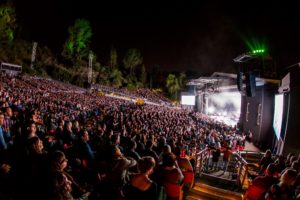 The Greek Theatre 2700 N Vermont Ave. Los Angeles, CA 90027
Located within Griffith Park, the historic Greek Theatre stands as one of the nation's most beloved and recognized outdoor entertainment venues. Throughout its history, the Greek has played host to some of the biggest legends in music, including Sir Elton John, Aretha Franklin, Frank Sinatra, Bruce Springsteen, Carlos Santana and many more. This iconic venue has also served as a site for numerous high school graduations, community events and backdrops for television shows and motion pictures. Concert schedule HERE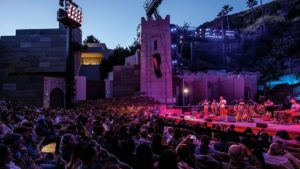 The Ford 2580 Cahuenga Blvd E. Los Angeles, CA 90068
For sheer beauty and intimacy, it's hard to beat The Ford for summer entertainment under the stars. Nestled in the Hollywood Hills, the open-air amphitheater is relatively intimate at just under 1,200 seats; no patron is more than 96 feet away from the stage. Bring your own food and drinks and grab a table on the terrace or garden for your picnic. You can also purchase your meal from The Ford Terrace Café or local curated offerings in the Grab & Go Market.
Photo Credits:
Photo #1: Hollywood Bowl
Photo #2: Grand Performances
Photo #3: The Music Center
Photo #4: Hollywood Bowl
Photo #5: Getty Center
Photo #6: Skirball Cultural Center
Photo #7: LACMA
Photo #8: Pasadena Symphony and Pops
Photo #9: The Greek Theatre
Photo #10: The Ford