Halloween is always a thrilling time of year, with spooky events and creepy outdoor activities unfolding under the night sky. But this year's celebration will be even more special, because a blue moon will illuminate the sky on the evening of October 31. Start your spirited adventure with an audio tour of DTLA's most ghostly buildings. Relish a ghoulish dinner at a haunted Vicitorian mansion or feed your fears at an eerie Halloween food crawl. Discover the traditions of Día de los Muertos as you stroll through Grand Park. Immerse yourself in a multimedia horror show from the safety of your own vehicle. For residents of Circa, there's no end to the fiendish fun when you get your Halloween scary on.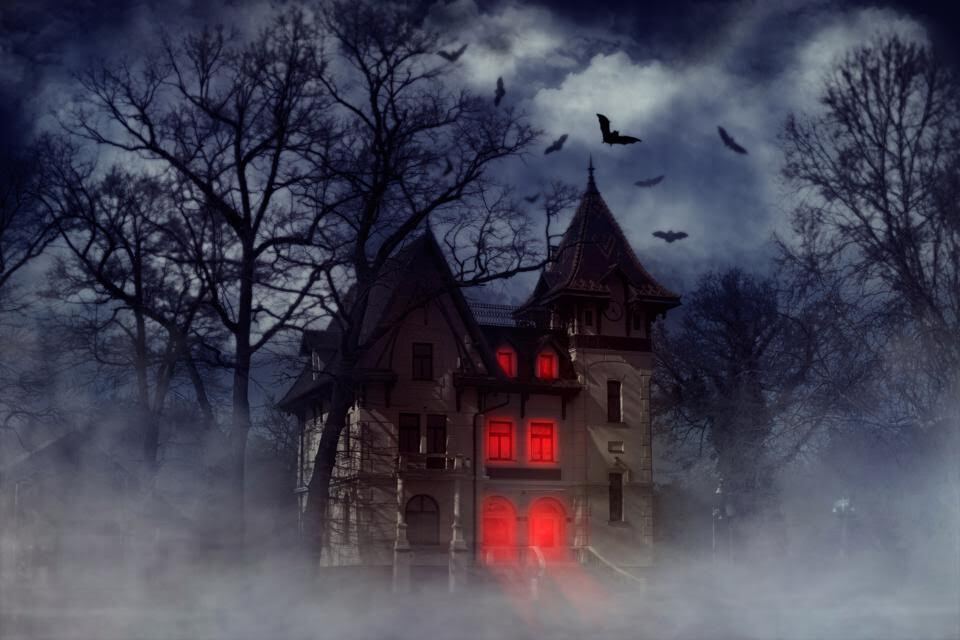 Haunted Dinner & Cocktail Experience 1725 N Hudson Ave. Los Angeles, CA 90028
Welcome hungry guests! A night of horror awaits you in a graveyard at L.A.'s oldest haunted house. Drop your candy basket at the door and step into this historic, three-story Victorian mansion where you're promised a thrilling night, Confirm your seat at the dinner table and make your way through various scenes and experiences. There'll be eerie encounters, with the eyes of demons, vampires, and witches on you at all times. Once you've made your way out of the maze of cobwebs and hallways with creaking floors, you'll be treated to a dinner in a wonderfully macabre outdoor area — a graveyard. The ghostly hosts will feed you a menu that is simply "to die for" so make sure you come with an appetite.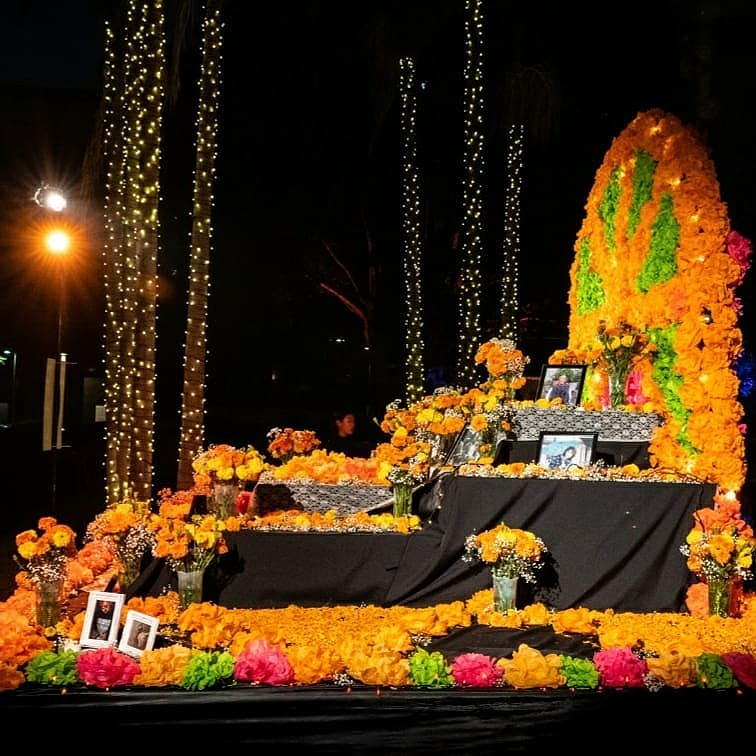 Día de los Muertos Altars Grand Park 200 N. Grand Ave. Los Angeles, CA 90012
Experience the traditions of Día de los Muertos as you stroll through 11 altars located throughout Grand Park, curated by Self Help Graphics in collaboration with their Noche de Ofrenda series of programs. The exhibiton includes the annual Community Altar created by Maestra Ofelia Esparza and her family. All personally and culturally relevant to Los Angeles, the 10 main large-scale altar installations represent the losses and causes of this past year. The altars are created by artists and community partners and focus on the youth from the East Los Angeles Women's Center, and workers and tenants from Community Power Collective.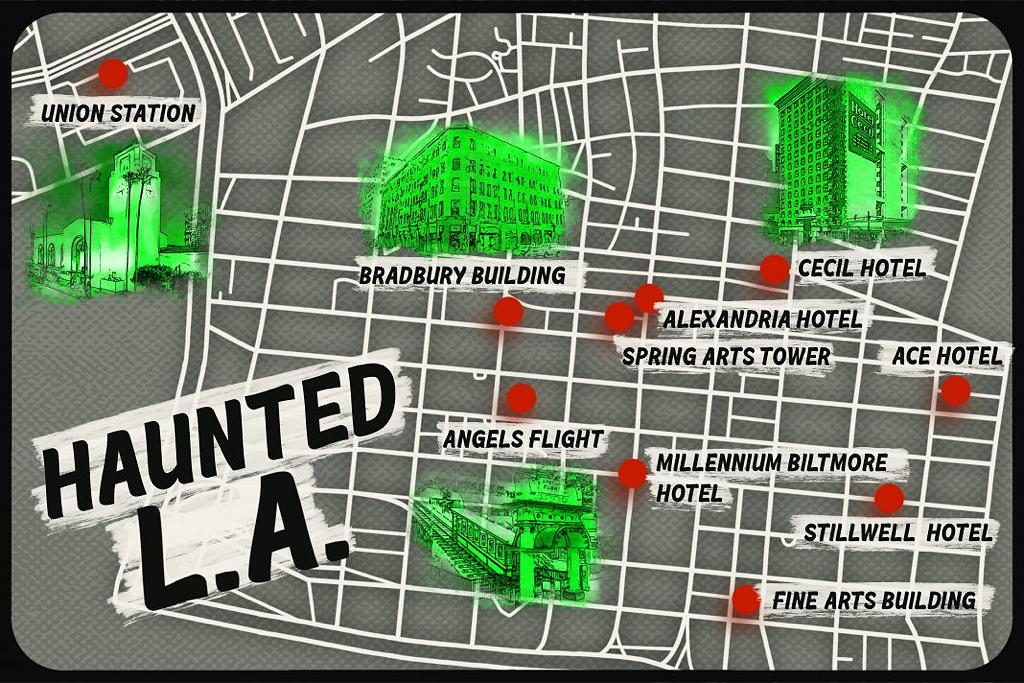 Self Guided Audio Tour of Haunted Downtown LA
Downtown Los Angeles has its share of ghost stories. The backdrop of noir novels and real-life crimes, the city's Beaux Arts buildings have seen their share of chilling events. This Halloween, you can see them for yourself, by taking an immersive, self-guided walking or driving tour of Haunted Los Angeles. When you arrive at each stop on the tour, trigger the audio to hear a bit about the eerie history of the location – and about the ghosts that are said to still haunt the hallways to this day. Words by James Bartlett and narration by Bill Kates.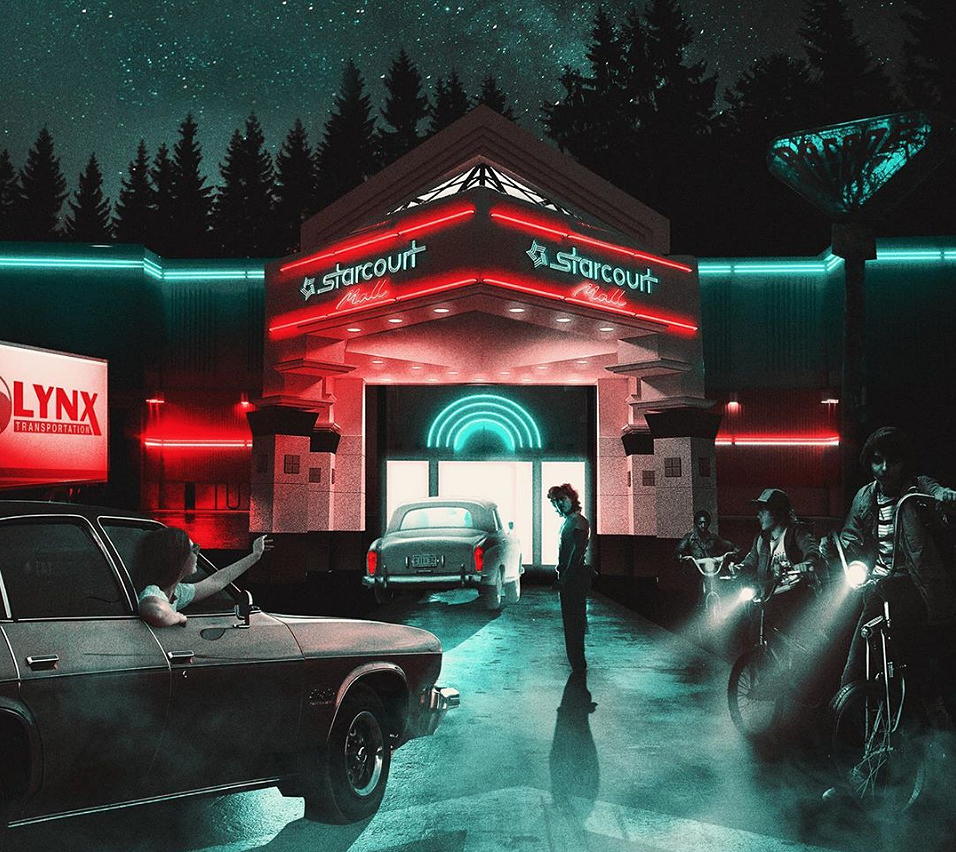 Stranger Things Drive-In ROW DTLA 777 Alameda St, Los Angeles, CA 90021
Attention all Stranger Things fans. It's time to travel back in time to 1985 and become a Hawkins resident – in real life. Adventure calls, so gather your friends and drive to the Starcourt Mall. Immerse yourself in the thrilling world of Stranger Things, where you will take part in a drive thru experience like no other. Unlock the story of Hawkins in this unique format as you savor some of the best moments from this Netflix series, and maybe even witness some unforeseen and unusual occurrences.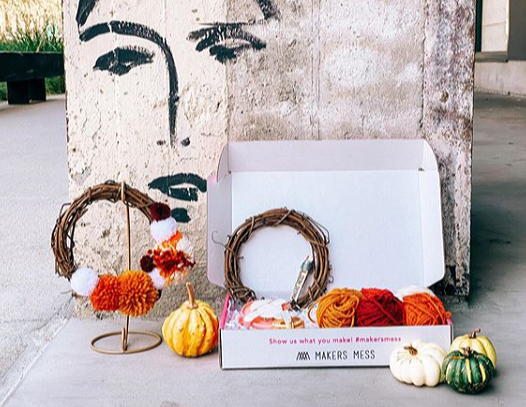 Makers Mess Halloween Kits ROW DTLA 777 Alameda St, Los Angeles, CA 90021
Halloween is not canceled and Makers Mess has fall kits ready to be picked up. Grab your pumpkin decorating kit and shop their mini pumpkin patch at ROW DTLA. Or just stop by to take a selfie. Makers Mess is a creative art studio that offers art and design classes for all ages. They support artists by cultivating opportunities for them to share their knowledge with individuals, groups and companies.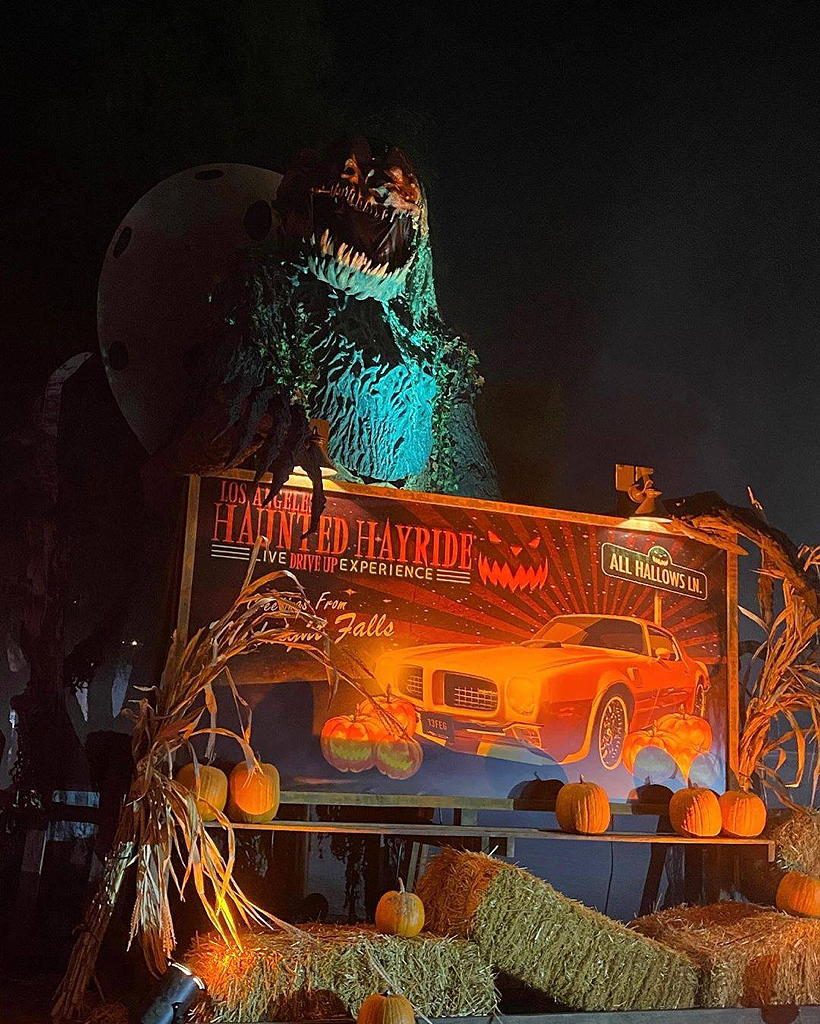 Los Angeles Haunted Hayride 120 Via Verde Dr. San Dimas, CA 91773
This year Los Angeles Haunted Hayride is taking the hayride off the trail and bringing it to you in the safety of your own parked vehicle. A first of its kind immersive experience from the creators of LA's favorite Halloween event, this is an original haunted show featuring a multimedia story displayed on a 40 foot screen, as well as horrifying sets and characters from Midnight Falls that surround the theater and bring the story to life. Tickets are extremely limited and will sell out nightly.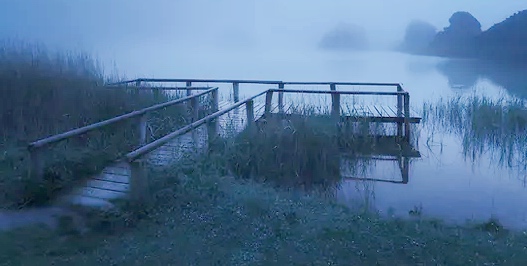 The Bite LA Whittier Narrows 750 S Santa Anita Ave. South El Monte, CA 91733
The Bite LA: Halloween Food Crawl and Creature Safari snakes its way around eerie Legg Lake and through immersive environments, where sinister specters offer up delicious bites of seasonal grub, all from the safety of your own car. Bites vary from savory to sweet and will include vegan, vegetarian and gluten free options for certain items. Bring a flashlight from home and scan the surrounding darkness from the safety of your car, in a hunt for the shadowy and monstrous creatures that roam the abyss. Can you find them all before they find you?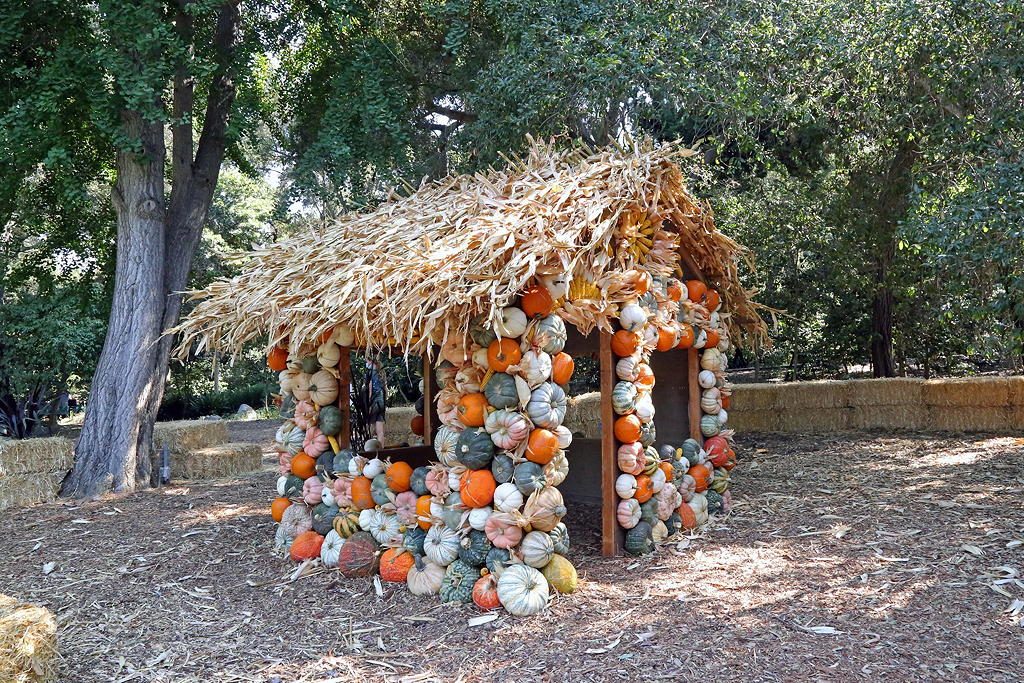 Halloween at Descanso Gardens 1418 Descanso Dr. La Cañada Flintridge, CA 91011
Throughout the month of October, explore Halloween at Descanso. Guests are invited to safely wind their way through socially-distanced, pumpkin-themed displays in the most popular sections of Descanso Gardens. Highlights include the pumpkin house and hay maze, wooden jack-o'-lanterns, pumpkin arch, and pumpkin mandalas. Descanso Gardens is an urban retreat of year-round natural beauty, internationally renowned botanical collections, and spectacular seasonal horticultural displays. Advance tickets are needed for non-members. Descanso Gardens members can enter anytime.
Photo credits:
Photo #1: Los Angeles Haunted Hayride
Photo #2: Secret Los Angeles
Photo #3: Grand Park
Photo #4: Los Angeles Magazine
Photo #5: Stranger Things Drive-In
Photo #6: Makers Mess
Photo #7: Los Angeles Haunted Hayride
Photo #8: The Bite LA
Photo #9: Descanso Gardens