We're all hopped up for Oktoberfest! But did you know that Oktoberfest in Munich actually starts in September and ends in early October? Here's a bit of history: The first Oktoberfest was celebrated in Munich on October 12, 1810 in honor of Prince Ludwig's marriage to Princess Therese von Sachsen-Hildburghausen. After such a spectacular party, the happy couple decided that the same type of festival should be continued annually. Eventually the date was moved forward into September, primarily because of the chilly Bavarian weather. So don your dirndls, lace your lederhosen, and get ready to oom pah pah! Oktoberfest is here!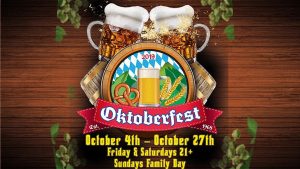 Alpine Village 833 W Torrance Blvd. Torrance, CA 90502
A little slice of Bavaria in sunny Southern California, Alpine Village was established in 1968 as a destination for shopping, dining and entertainment, and has been the home of the oldest and biggest Oktoberfest celebration in Southern California for over 50 years. Traditional Bavarian fun is supplied by Oom Pah Pah party bands, your appetite will sated by traditional German fare, and your thirst quenched by frothy German beers brewed by Paulaner. While you're there, be sure to visit the Alpine Village Imports Market, featuring a huge array of German foods and interesting alcoholic beverages like Goldschläger, a Swiss cinnamon schnapps with real gold flakes floating inside.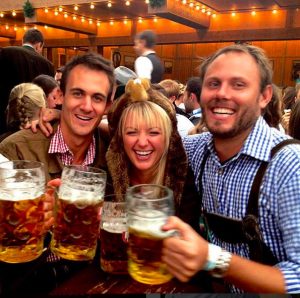 Wurstküche DTLA 800 E. 3rd St. Los Angeles, CA 90013
Enjoy the Oktoberfest zeitgeist all year around at Wurstküche! Known as a purveyor of rare and exotic grilled sausages – from rabbit to rattlesnake – this popular joint also offers more mainstream meats such as Bratwurst, Bockwurst, Hot Italian sausage, Polish Kielbasa, and Louisiana Hot Links. Other indulgences include Belgian Fries (topped with White Truffle Glaze, if you dare to go there), Double Dipped Fries with your choice of sauce, and a very naughty Toasted Apple Pie Ice Cream Sandwich on oatmeal raisin cookies. Expect an extensive selection of draft and bottle beers from Belgium Germany, US and UK, along with a nice wine list. For a special treat, try a palate-cleansing, digestion-promoting Eau de Vie, such as the German favorite Underberg, or some fruitier fixes such as Blume Marillen Apricot, Kirschwasser (dry cherry brandy) or Pear Williams Purkhart.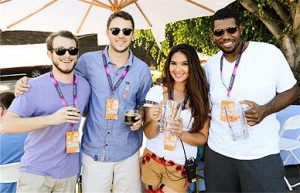 LA Oktoberfest Millennium Biltmore Hotel 506 South Grand Ave. Los Angeles, CA 90071
Hoist your steins and hightail it to LA Oktoberfest. This fun festival features traditional food, an assortment of craft beers served by dirndl-donning beer maidens. lively tunes, and sing-alongs of old time drinking songs. LA Oktoberfest offers a vareity of ticket choices, so you can participate however you want. You can choose a 2 or 4 hour pass that includes a Glass Stein and unlimited refills for the whole event. If you like to do it in style then grab either a 2 or 4 hour pass, get your souvenir glass stein and unlimited refills! The location also offers Pretzels for sale. Valet Parking is available and Overnight Accommodations are offered at a special rate. Overnight accommodations include 2 complimentary VIP tickets to the LA Oktoberfest.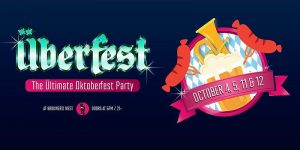 Uberfest! Oktoberfest at Brouwerij West 110 East 22nd Street Los Angeles, CA 90731
The most entertaining Oktoberfest in America comes to San Pedro! Oompah meets rock n' roll as you fill up on mouth-watering sausages, pretzels, desserts and of course, beer. Festmeister Hans & Die Sauerkrauts Oompah will take the stage with Heino & Gretel, along with amazing song and dance leaders. Brouwerij West is brewing up a special Überfest beer for this occasion – BOOM BRAU – which will only be available this one time. Brouwerij West will also be pouring a limited selection of some of their favorite beers during the fest!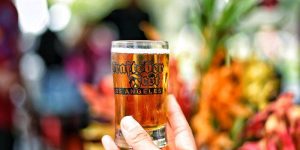 CraftoberFest Rose Bowl Stadium 1001 Rose Bowl Drive Pasadena, CA 91103
CraftoberFest Los Angeles is the premier Oktoberfest celebration of the season! With over 20 carefully curated craft breweries from the Southern California area, this food and drink festival will provide each guest with a delicious experience influenced by the world's largest "Volksfest" (beer festival) in Germany. First-class restaurants will serve traditional and fan favorite foods influenced by this internationally loved holiday. Don't miss out on your chance to spend the day on The Greens at the Rose Bowl Stadium, while delighting in some of the best beer and food Los Angeles has to offer.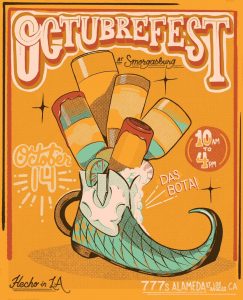 Octubrefest Smorgasburg LA 777 South Alameda St. Los Angeles, CA, 90021
Move over Oktoberfest, Smorgasburg LA is bringing you Octubrefest on Sunday, October 14. Celebrate LA's diverse craft beer scene, with a Mexican twist. Ditch the lederhosen and the brats because Octubrefest will feature a selection of Mexican inspired craft beer, Mexican food specials, a selection of different michelada flavors, live DJs, and popup shopping vendors. Popup food vendors will be serving chorizo, Oaxacan sausage and Mexican food specials from the weekly Smorgasburg LA vendors. DJs Metralleta De Oro and friends will be spinning cumbia, latin, funk, 90's hip hop, r&b & more; a perfect pairing for the craft beer selection.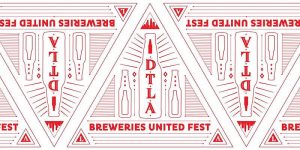 DTLA Breweries United Fest 101 Cider House 1700 Naud St. Los Angeles, CA 90012
Now here's a great deal for a good cause! On October 13th, DTLA Breweries United Fest brings together some of DTLA's fave breweries including Mumford, Arts District, Boomtown, Indie, Dry River, Angel City, Karl Strauss, 101 Cider House, and Imperial Western. Your $45 ticket includes unlimited tastings and a commemorative glass. 100% of the proceeds will benefit the Cystic Fibrosis Foundation. Food is provided by A's BBQ. For their safety, no pets or children are allowed.