LA is full of surprises! From games and arcades to experiential entertainment, there's always something new to discover. Did you know that some of your favorite bars and breweries host game nights? Or gather your friends to shoot some pool, book a bowling night in Little Tokyo, or get immersed in a futuristic escape room. No matter how you choose to play, you'll always find a fun way when you make Circa your home!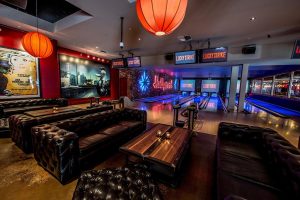 Lucky Strike LA Live 800 W Olympic Blvd. Ste. 250, Los Angeles, CA 90015
Nestled just steps away from the Crypto.com Arena, Lucky Strike LA Live is the perfect place to roll a few frames, shoot some pool, and enjoy delicious cocktails and tasty bites. Featuring 18 premium lanes, tons of screens to catch all the big games, and plenty of tasty cuisine to fuel your fun, there's no shortage of activities to enjoy. Check out the luxury suite that offers a private setting with four lanes, two billiards tables, and a private bar.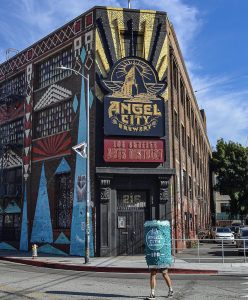 Angel City Brewery 216 S Alameda St. Los Angeles, CA 90012
You'll find games galore at the spacious Angel City Brewery. Just walk to the back and locate the shelves behind the stairwell. There you'll find many classic and nostalgic games, including Candy Land, Sorry, Clue, Uno, Taboo and dominoes. Every Tuesday celebrate all things "T" with tacos and trivia..Downtown Taco Co. will be serving up their grilled tacos, and you can exercise your brains with trivia from King Trivia. Gameplay is free. Check their website to see the current beer selection.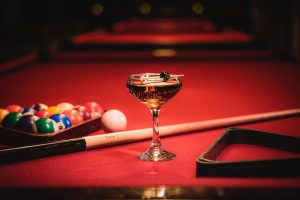 Rhythm Room L.A. 206 W 6th St. BSMT, Los Angeles, CA 90014
Located in the basement of the Hayward Manor Apartments, Rhythm Room L.A. is an underground speakeasy bar & lounge offering a slew of games including chess, checkers, board games, darts, pool, foosball and more, along with regular live jazz performances. The Rhythm Room name was inspired by a turn of the century underground jazz speakeasy located in what is still today the heart of DTLA. The revival of Rhythm Room at the Hotel Hayward channels the same spirit from the 1940s – simply a great local joint where friends can congregate, catch up over light bites, and enjoy a drink or two.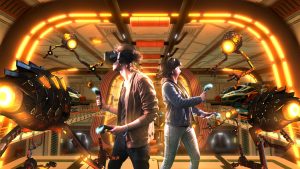 Two Bit Circus 634 Mateo St. Los Angeles, CA 90021
The world's first Micro-Amusement Park™, Two Bit Circus is an experiential entertainment company showcasing the future of fun and bringing people together through VR, escape rooms, re-imagined arcade games, immersive theater, and other new forms of entertainment. Get your whole body into the action with high-tech updates to Midway-style games. Pop balloons, race trains, and even demolish a building or two. Then fuel up at the Box Car cafe, because playing games is hard work!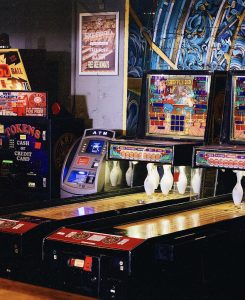 Arts District Brewing Company 828 Traction Ave, Los Angeles, CA 90013
If you're ready for a lively game of Skee-Ball, then head on out to Arts District Brewing Company, where you'll find an arcade with several lanes to enjoy this classic alley roller game. Play a couple of rounds while you enjoy a drink before or after you sit down for a meal. With a full bar of offerings, folks can enjoy a rotating selection of 30 craft beers, cocktails, and wine. INSIDER TIP: Be on the lookout for events like Free Skee Mondays and Taco Tuesday.
EightyTwo 707 E 4th Pl. Los Angeles, CA 90013
Part vintage arcade, part lounge venue, part nightlife destination, and part communal retail and recreational space, EightyTwo features over 55 vintage pinball and arcade machines, a full bar with 10 draft beers and seasonal craft cocktails, 3000 square feet of outdoor green patio space, and a listening bar with a full-time DJ program. Entry is always free of charge and on a first-come first-served basis. Reservations are not required.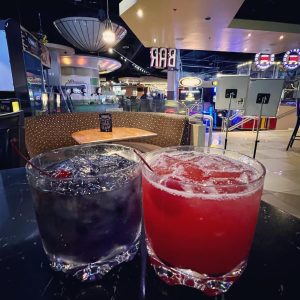 XLanes LA 333 Alameda St. Los Angeles 90013
Located on the third floor of the Little Tokyo Galleria, XLanes offers over 50,000 square feet of fun including 30 bowling lanes, over 80 arcade games, billiards tables, a full bar, restaurant, and karaoke. Explore, entertain, and take your party to the next level.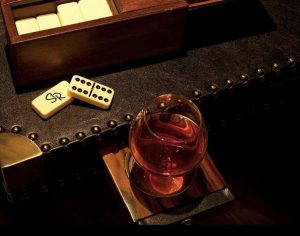 The Spare Room Hollywood Roosevelt Hotel 7000 Hollywood Blvd. Los Angeles, CA 90028
The Spare Room is a luxe gaming parlor and cocktail lounge located in the Hollywood Roosevelt Hotel. Complete with two vintage bowling lanes and some unexpected touches, it is a place built on social interaction that brings groups together by their passion for innovative cocktails, music, design, and the camaraderie of gaming. The bar has a collection of more than 15 high-end, high-quality, classic games like Monopoly, backgammon, Connect 4 and Scrabble. Before you go, check the website to make sure the venue is not hosting a private event.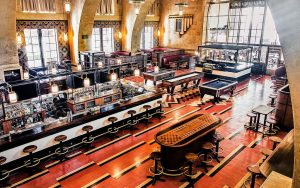 Homebound Brew Haus Union Station 800 N Alameda St, Los Angeles, CA 90012
Homebound is a raucous Dodger-loving Brew Haus and beer garden stashed away in LA's Union Station. Watch live sports, shoot some pool, play a game of shuffleboard, and enjoy beer from their extensive tap list, along with a full bar and tasty menu including brats, specialty sausages, burgers, pretzels, and shareable bites.
Photo Credits:
Photo #1: Rhythm Room L.A.
Photo #2: Lucky Strike LA Live
Photo #3: Angel City Brewery
Photo #4: Rhythm Room L.A.
Photo #5: Two Bit Circus
Photo #6: Arts District Brewing Company
Photo #7: EightyTwo
Photo #8: XLanes LA
Photo #9: The Spare Room
Photo #10: Hometown Brew Haus