Los Angeles is full of surprises…and this May is no exception! It's time to branch out and discover some new neighborhoods, venues and experiences. Fun and frolics abound if you just know where to look! From molecular cocktail making classes to money-themed pop ups, wacky immersive installations, indoor miniature golf, and even a secret retro hi-fi lounge, you can always expect the unexpected in LA!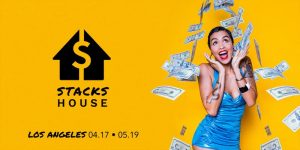 Stacks House LA 2018 East 7th Street Los Angeles, CA 90021
Come play with money! Stacks House is a ground-breaking experiential pop-up with a purpose, designed to promote financial independence. Like pop-up sensations Museum of Ice Cream, Color Factory and 29 Rooms, Stacks House is a visual spectacle, sensory experience, and Instagram playground housed in 11,000 square feet of stunning interactive, money-themed rooms like a Debt Boxing Gym, Retirement Rodeo, Stacks Salon, Gold Bar and Money Moves Room. The goal is for attendees to walk away with more confidence, financial literacy and inspiration for their path forward. Stacks House has been featured in The New Yorker, Forbes, Refinery 29, The Cut and more.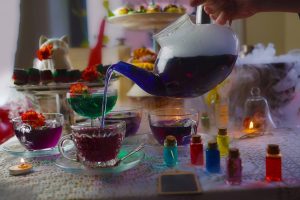 Mad Hatter's Gin & Tea Party 1661 Ivar Ave, Los Angeles, CA, 90028
The Mad Hatter, Dormouse, and Hare are teaming up to unleash teatime mayhem with an immersive 1.5 hour-long molecular cocktail making experience! Prepare to go mad at one of their boozy tea parties, all taking place in a secret Wonderland garden! Begin your journey down the rabbit hole and let your mad hosts guide you through concocting a selection of tantalizing tea party cocktails made with the most curious ingredients. But do remember — if you don't know where you are going, then it doesn't much matter which way you go… Just be sure that you're not late!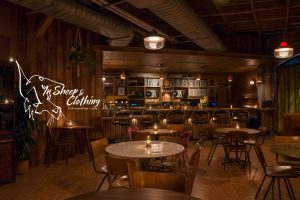 In Sheep's Clothing 710 E 4th Pl. (within Lupetti Pizzeria) Los Angeles, CA 90013
Where can you find a cool cocktail bar and retro hi-fi lounge in DTLA? Why hidden behind a nondescript door at an Arts District pizzeria, of course! Just another unexpected surprise in our fair city. Inspired by Japan's kissaten – audio-focused lounges and coffee shops – In Sheep's Clothing is an eclectic listening lounge and drinking den where the Japanese whiskey pours to experimental jazz records that spin on vintage turntables and heard through a pair of 1973 Klipsch speakers. With roughly 1,500 records spinning, the concept rotates throughout the day, from morning Coffee Culture to the full-on bar and listening experience starting at dusk.
Upside Down House Museum of 3D Illusions 6751 Hollywood Blvd. Los Angeles, CA 90028
Coming soon to the Museum of 3D Illusions is a brand new exhibit, the Upside Down House! We know everyone has an idea of their perfect dream house, but you've never dreamed of anything like this. Featuring seven different interactive upside down rooms: bedroom, bathroom, kitchen, living room, and more, you'll finally find out what it's like to walk on walls. Amaze your friends and family when they see you dancing on the ceiling. And you won't be bored sitting on the couch when it's hanging above you.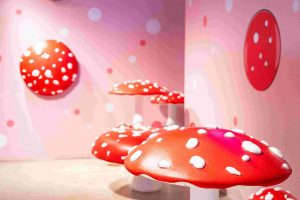 The Wonderworld 7080 Hollywood Blvd. Los Angeles, CA 90028
Down the rabbit hole we go! Originally located at the historic NYC studio of Andy Warhol, The Wonderworld is an immersive exhibition that invites you into a realm of fantasy. You will be wandering in six exquisitely well-designed installation spaces by New York based artists, and capturing and sharing your dreamy moments on Instagram. Explore a mushroom garden, steep in a giant teacup, splash in the bubble swimming pool, and soar to the moon. Share your experience on Instagram by tagging @WonderWorldSpace #MyWonder. Otherwise, was it just a dream?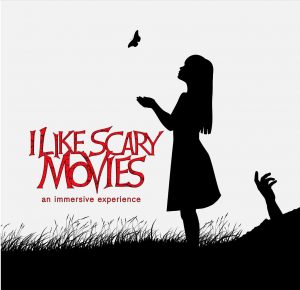 I Like Scary Movies The Desmond 5514 Wilshire Blvd. Los Angeles, CA 90036
I Like Scary Movies is the experience that all scary movie fans have been dreaming of – a groundbreaking immersive art installation that is a true celebration of some of the most beloved horror films. Here's a unique opportunity for fans to interact and enjoy the films that they love in a completely new way, with amazing photo opportunities to share with their friends. Go back to The Shining, where you can "sink" into the infamous carpet from the Overlook hotel, before wandering through Beetlejuice's graveyard on your way to the Netherworld Waiting Room. Feel the fear as you enter Freddy's boiler room from A Nightmare on Elm St. and then revisit The Lost Boys on your way to Pennywise's lair. You'll never look at a scary movie the same way again.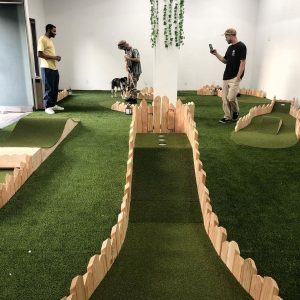 Hole 19 Miniature Golf Pop-Up Bar 314 N Harper Ave, Los Angeles, CA 90048
Hole 19 Miniature Golf Bar is a long forgotten 1900's British Golf Club Pop-Up. This temporary, crowd-funded event features 9 holes for now, and will give you a taste of what the permanent location could be like. Located on the cusp of West Hollywood, you can step inside, quench your thirst with adult beverages, and enjoy all the charm that the Signature Golf Course and Clubhouse Bar and Signature Golf Course have to offer. The Signature Golf Course is covered in luscious greenery, rustic wood and overgrown vines, with fairy lights hanging from the rafters. You can even enjoy a tipple or two as you play!