Summer heat getting your down? Time to freshen up with a luscious fruit salad, colorful veggie platter, or thirst-quenching agua fresca – a chilled drink made of fresh fruit blended with water, lime juice, and a bit of sweetener. Try your hand at making a soul-satisfying ratatouille, accompanied by a fresh baguette or pane rustica. Or fire up the grill for roasted vegetables, brushed with olive oil and garnished with fresh herbs. The possibilities are endless – from Grand Central Market to specialty grocery stores, weekly farmers markets, and even a fruit-themed pop up – you'll find a cornucopia of fresh produce in DTLA!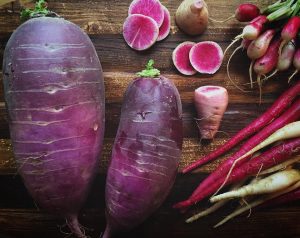 Urban Radish 661 Imperial St. Los Angeles, CA 90021
Urban Radish is a family-owned market carrying everything from cereal to hand-cut meats to local berries. This cutely-monikered establishment is also an eatery, serving breakfast, lunch, and dinner daily. In addition to their eclectic menu of grills, soups, sandwiches, and salads, their latest offering is fresh sushi, made in-house. The proprietors like to see themselves as curators, creators and matchmakers, serving the community with good food. Indeed, their wine room boasts some 300 labels, with a focus on small producers and organic/biodynamic production at a range of price points (most is under $30).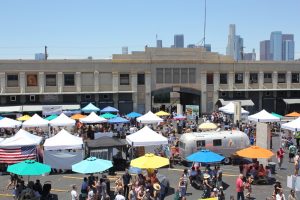 Smorgasburg LA ROW DTLA 777 S Alameda St. Los Angeles, CA 90021
Launched in June of 2016, Smorgasburg LA has become the largest weekly open-air food market in Los Angeles, attracting 8,000 to 12,000 attendees every Sunday, year round. Located on the five-acre site of the weekday 7th Street Produce Market in ROW DTLA, Smorgasburg LA features over 90 food vendors, a beer garden offering local craft beer and micheladas, live DJs, cultural events, pop-ups, and sophisticated shopping including design, craft, style, vintage, wellness, and more. Every Sunday 10am – 4pm. Sorry, no pets allowed.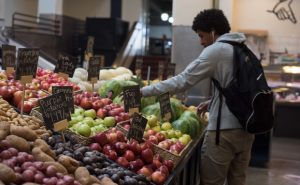 District Market Grand Central Market 317 S Broadway Los Angeles, CA 90013
A downtown landmark since 1917, Grand Central Market, brings together the cuisines and cultures of LA. If you're shopping for fresh produce, check out District Market, which specializes in organic, sustainable and locally-sourced fruit and vegetables, with an overall emphasis on quality, accessibility and education.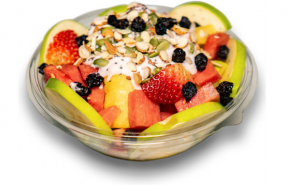 While you're at Grand Central Market, stop by La Frutería for a refreshing bowl of fresh watermelon, jicama, mango or cucumber, drizzled with a combination of yogurt, sweetened condensed milk, and Mexican crema. These flavorful treats, which originated on street food carts in Mexico, are commonly topped with shredded coconut, raisins, and granola.​ La Frutería is also the place for the best aguas frescas in town!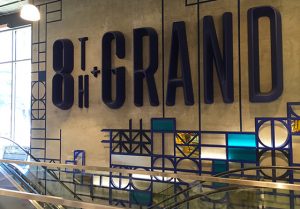 Whole Foods Market 788 S Grand Ave. Los Angeles, CA 90017
Located beneath the Eighth & Grand residences, this expansive 41,000 square foot Whole Foods Market was designed to meet the needs of local residents, professionals and businesses. Features include a juice bar, fresh poke, expanded vegan options in all departments, a coffee bar (with cold brew on tap), and more than 1,000 handpicked wines. Take a break at The Eight Bar, a gastropub located within Whole Foods, and enjoy beers on tap, bar food, wines by the glass, cocktails, and a rotating seasonal menu. The store provides a dedicated Instacart register and on-site storage for home delivery and personal shopping.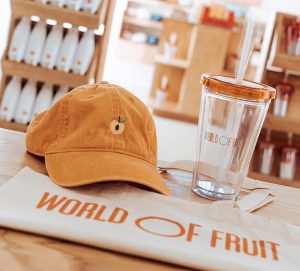 World of Fruit 716 N La Brea Ave Los Angeles, CA 90038
World of Fruit is a new fruit-themed experience created by fruit-obsessed Los Angeles natives. Featuring eight fruit-forward rooms, World of Fruit takes guests through an interactive experience that is wholly unexpected and unforgettable. Swing into the Watermelon Playground and grab a special treat from the watermelon ice cream truck. Enjoy the light show in the Pineapple Disco Derby, and jump into the Dragon Fruit Pool before entering the World of Fruit Garden, where fruit specialists serve the very best in-season fruits from all over the world, like jackfruit, baby pineapples, rambutan, tree-ripened mangoes, strawberry papayas, and more!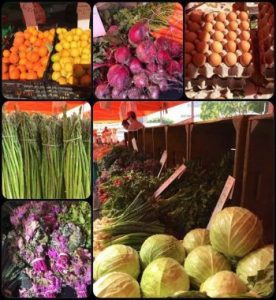 Certified Farmers Market @Pershing Square 532 S Olive St. Los Angeles, CA 90013
Every Wednesday, Pershing Square Farmers Market, presented in partnership with Raw Inspiration, sells garden fresh fruits, vegetables, and special delicacies. Raw Inspiration's mission is to educate children and adults on the importance of a healthy diet, especially on the importance of eating fresh fruits and vegetables daily. To accompany that mission, they have set up a program where growers can distribute their produce at neighborhood farmers markets. In and around Los Angeles, nearly 2,000,000 visitors enjoy Raw Inspiration farmers markets every year.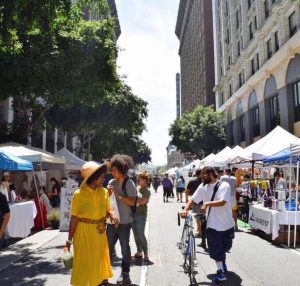 Historic Core Farmers Market 5th St. (between Broadway and Spring St.) 2 blocks from Pershing Square Station
Historic Core Farmers Market, LA's newest addition to the DTLA farmers market scene, is held every Sunday from 9AM – 2PM. In addition to fruits and vegetables, you'll find farm-fresh eggs (free range and sprout-fed); breakfast and brunch items; sweet pastries and empanadas; Mediterranean dips and spreads; flowers and floral arrangements; natural homemade skincare products; and dog food and pooch products. Along with fresh local groceries, there's a selection of prepared food and drinks including fresh juices and lemonade; coffee; tacos and breakfast burritos; pupusas, barbecue, curry, and much more!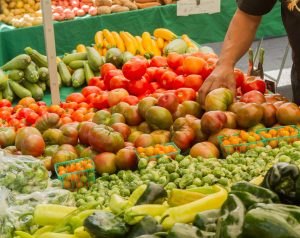 Union Station Train-to-Table Farmers Market Union Station 800 N Alameda St Los Angeles, CA 90012
Union Station has partnered with California Certified Farmers Markets to bring the Train-to-Table Farmers Market to Union Station's South Patio. Every Thursday from noon – 6pm, the market features a wide array of fresh, local fruits and vegetables as well as fresh-cut flowers, artisanal baked bread, roasted coffee, and a host of small bites for a mid-day snack or dinner on the commute home. Playing to the strengths of the California climate, the historic South Patio opened in 1939 and was designed as a formal garden through which travelers (and often celebrities) exited the station. The expansive patio, featuring towering palm trees and an iconic 100-foot-tall clock tower, has evolved into a vibrant meeting place for Angelenos. The Train-to-Table Farmers Market is part of Union Station's diverse lineup of unique events, festivals, thought-provoking cultural programs and live music throughout the year.