Founded in the late 1800s, Little Tokyo has grown into a bustling hub of delectable food options, great nightlife, world-class museums, and eclectic shopping. A major attraction is the restaurant and bar scene, but Little Tokyo offers so much more than just great sushi, saki and Japanese whiskey. Venture off the beaten track and you'll find everything from historic cultural centers to a Buddhist temple, trendy Japanese fashion, sweet shops, and even a glitzy bowling alley! You'll never run out of fun things to discover when you explore DTLA's Little Tokyo!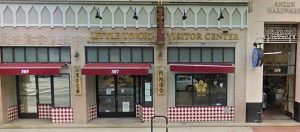 Little Tokyo Koban and Visitor's Center 307 E 1st St. Los Angeles, CA 90012
Need a map or have some questions? Start off at the Little Tokyo Koban and Visitor's Center, where you can find brochures, maps, newsletters, and flyers about Little Tokyo and the Japanese community.

Japanese American National Museum 100 N Central Ave. Los Angeles, CA 90012
The Japanese American National Museum is the largest museum in the United States dedicated to sharing the experience of Americans of Japanese ancestry. Common Ground: The Heart of Community, their ongoing exhibition, incorporates hundreds of objects, documents, and photographs collected by the museum. The exhibition chronicles 130 years of Japanese American history, beginning with the early days of the Issei pioneers, through the World War II incarceration to the present. Among the many notable artifacts on display is a Heart Mountain barracks, an original structure saved and preserved from the concentration camp in Wyoming.

Union Center for the Arts 120 Judge John Aiso St. A Los Angeles, CA 90012
The Union Center for the Arts anchors the northwestern end of the Little Tokyo Historic District. Completed in 1923, The building was the former Union Church, the combined home of three Japanese American congregations. After suffering severe damage during the 1994 Northridge earthquake, the Little Tokyo Service Center Community Development Corporation completed a multi-million dollar renovation of the building in 1998 to house three arts organizations: East West Players, America's premier Asian American Theatre; Visual Communications, a nonprofit with the mission to develop and support the voices of Asian American and Pacific Islander filmmakers and media artists; and LA Artcore, an art space dedicated to recognizing diverse artistic accomplishments and bringing innovative exhibits and events to the public.
Shabu-Shabu House 127 Japanese Village Plaza Mall Los Angeles, CA 90012
Locals line up at this no-nonsense spot for cook-it-yourself Japanese shabu-shabu, a Japanese hotpot dish of thinly sliced meat and vegetables boiled in water and served with dipping sauces, such as ponzo. Choose from 10 pieces or 15 pieces of meat – your meal comes with raw veggies to cook, noodles to boil, and a bowl of steamed rice. Once the soup is ready, simply toss your veggies into the pot and dip your beef into the boiling soup. Lightly dip the cooked items in the ponzu sauce and eat with rice.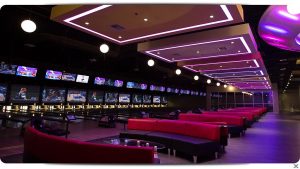 X Lanes LA 333 Alameda St. #300 Los Angeles, CA 90013
X Lanes is a splashy 50,000 square-foot venue equipped with state-of-the-art LED lanes, competition felt-quality billiards tables, private karaoke rooms, and retro to modern video games. You can expect to compete with players from all over the world with the high-performance virtual dart machines. X Lanes serves a great selection of American-style grub including appetizers, fresh pizzas, burgers, pastas and even steaks. Planning a party? The venue can accommodate special events up to 500 people!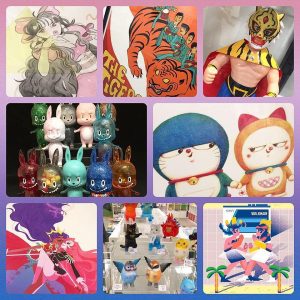 Q Pop Shop 319 E 2nd St #121, Los Angeles, CA 90012
Q Pop is your one stop destination for unique artist made goods, vinyl toys, rare records, and Japanese funky street fashion. Located in the heart of historic Little Tokyo, Q Pop features beautiful interior design by Justin K Thompson, and two large murals by renowned artists Kevin Dart, Chris Turnham, and Elizabeth Ito. Q Pop is the exclusive southern California seller of Harajuku fashion label Algonquins, as well as the exclusive US seller of Super Lovers. Q Pop is also a mini gallery space where exhibitions, events, and performances take place regularly.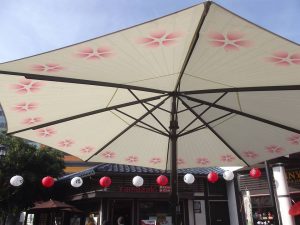 Japanese Village Plaza 335 E 2nd St. Los Angeles, CA 90012
No trip to Little Tokyo would be complete without a stop at this iconic destination. Japanese Village Plaza offers a unique shopping and dining experience in a relaxing, comfortable atmosphere. More than just a historic shopping center, it is a place where customers can come early and stay late for a variety of services, specialty markets, and gift boutiques. Abundant parking is available on Central Avenue, between 1st and 2nd Street.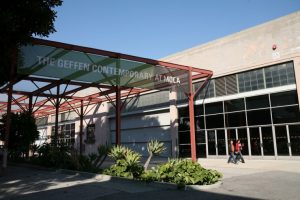 The Geffen Contemporary at MOCA 152 N Central Ave. Los Angeles, CA 90012
Located in a former police car warehouse in Little Tokyo's Historic District, renovated by architect Frank Gehry, The Geffen Contemporary at MOCA (formerly The Temporary Contemporary) opened in 1983. Originally established in 1979, MOCA houses one of the most compelling collections of contemporary art in the world, comprising roughly 7000 objects, and has a diverse history of ground-breaking, historically-significant exhibitions. With two distinct venues in Los Angeles—MOCA Grand Avenue, and The Geffen Contemporary at MOCA—and Michael Heizer's seminal artwork Double Negative (1969-70) in the Nevada desert, MOCA strives to engage audiences through an ambitious program of exhibitions, educational programs, and publishing.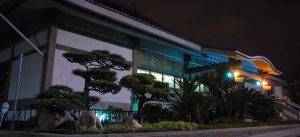 Higashi Honganji Buddhist Temple 505 E 3rd St Los Angeles, CA 90013
Throughout its 2,500 years history, Buddhism has evolved over the years to meet the spiritual needs of the people. The Higashi Honganji Buddhist Temple offers a spiritual environment that cultivates individual exploration based on the Buddhadharma. Through self-reflection, we are encouraged to strive for harmony with respect for the differences in our diverse community. The Little Tokyo Higashi Honganji Buddhist Temple is an affiliate of one of the oldest and largest denominations in Japan, the Shinshu Otani-ha, with approximately 10,000 temples and 10,000,000 members. It espouses the teachings of Jodo Shinshu, also known as Shin Buddhism, a form of Pure Land Buddhism.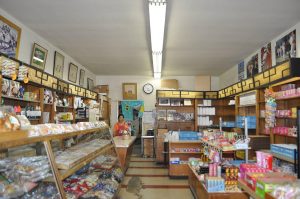 Fugetsu-Do Confectioners 315 East First St. Los Angeles, CA 90012
Family owned and operated since 1903, Fugetsu-Do is the longest running mochi business in Little Tokyo. They are famous for their variety of hand made Japanese confections, from small sweet cakes to chocolate filled mochi – a Japanese confection found usually in the shape of a small, round rice cake which can be eaten with condiments such as kinako (roastedsoy bean flour), manju (sweet red bean paste), soy sauce dip, and seaweed. Traditionally, mochi is made by pounding steamed glutinous rice in a large wooden mortar, called the usu, with a wooden mallet called the kine. Mochi was originally made as offerings to kami (gods) at shrines, and eventually became an integral part of the Japanese New Year tradition..