Located at 317 S Broadway in the heart of DTLA, Grand Central Market has been a downtown landmark since 1917. Bringing together the wealth of cuisines and cultures of Los Angeles, the Market provides a national-caliber eating experience that showcases California's best ingredients, chefs, and entrepreneurs. The 30,000 square-foot arcade in the historic Homer Laughlin Building encompasses a food emporium and retail marketplace that continues to grow, by offering downtown a shared gathering place and a dynamic hub for public programming and events. With some 38 vendors, you'll find everything from grocery essentials to prepared foods, sweets & treats, beverages, and even jewelry!
Here are a few of our favorites!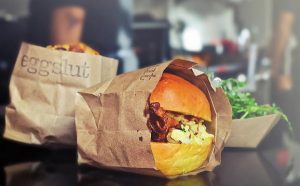 Eggslut Stall D-1
Start your day with a protein-packed breakfast at Eggslut. Founded in 2011, Eggslut is a chef driven, gourmet food concept inspired by a true love for eggs. The menu is a balance of comfort and innovation, celebrating food that appeals to both novice and extreme foodies through classic comfort fare with a twist, all encompassing the key ingredient eggs. No longer just a breakfast staple, Eggslut make eggs appetizing all day, everyday.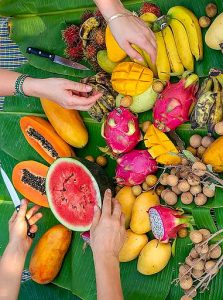 What's more refreshing than a bowl of delicious watermelon, jicama, mango or cucumber! La Frutería brings the Mexican street-snack tradition of spicy and healthy fruit cups that beat the plain,old fruit routine. This authentic Mexican frutería from the team behind Villa Moreliana and La Tostadería offers a wide assortment of exotic fruit salads, licuados (fruit shakes) and more. A highlight of the La Frutería menu are Biónicos, tasty bowls of seasonal fruits, drizzled with a combination of yogurt, sweetened condensed milk, and Mexican crema. La Frutería is also the place for the best aguas frescas in town!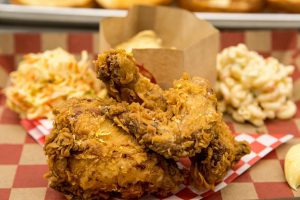 The market's first-ever stall dedicated solely to fried chicken and its accoutrements, Lucky Bird features their famous citrus-brined chicken recipe developed by Chef/ Owner Chris Dane. Everything is made from scratch, from the buttermilk biscuits to the house made hot sauce. Ingredients are locally sourced to ensure the freshest and highest quality product, from Mary's Organic Free Range Chickens to their organic produce and spices. Beverages include local craft beers. Happy Hour takes place Monday through Thursday from 3 PM to close!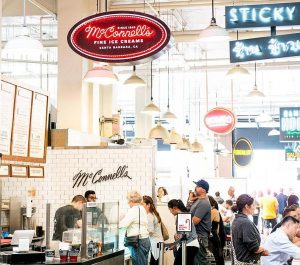 McConnell's Fine Ice Cream Stall D-4
For 70 years, McConnell's has been making dense and pure-flavored ice creams, with smooth, consistent texture and a rich, velvety mouth feel – all made from scratch with a few, simple ingredients. McConnell's mission is to produce the finest ice creams in the world, in the most responsible and sustainable way possible. In the process, they aim to enrich and enliven the communities in which they operate, and leave the world just a little bit "sweeter" than they found it.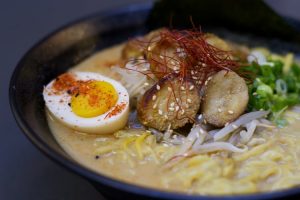 This ramen and pho shop by Chef Ilan Hall of The Gorbals is 100% vegan. The broth is made by simmering kelp and shiitake mushrooms to extract their maximum umami. Roasted sunflower seeds with white miso are combined with the kelp/mushroom stock, then the mixture is pressure cooked to release the natural oils and starches from the seeds. What's left is a rich, creamy, broth that rivals it's non-vegan counterparts flavor and texture. The "egg" is completely vegan, made in two parts using a little magic, so that the yolk pops just like the real thing!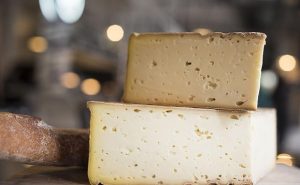 DTLA Cheese and Kitchen Stall A-7
DTLA Cheese is Downtown's first full-service cheesemonger, specializing in domestic and imported cheese plates, griddle sandwiches and seasonal salads. DTLA Cheese is the passion of Lydia & Marnie Clarke and Chef Reed Herrick, who opened their first store in 2010 in the historic downtown Claremont Village with the mission to bring something exciting to the culinary forefront.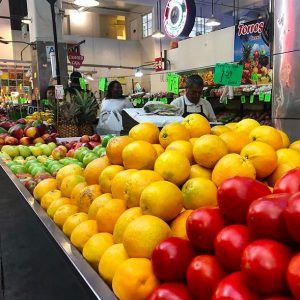 Torres Produce Stall D-7
This is the perfect time of year to dust off your recipes for homemade soups, salads, snacks, and sides! Stock up on healthy ingredients at Torres Produce, a produce stand offering a bountiful selection of seasonal fruit and vegetables.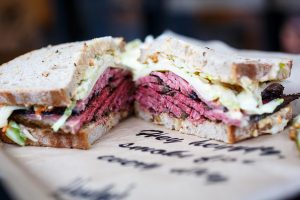 Wexler's Deli Stall D-5
Wexler's Deli stands for three things: tradition, craftsmanship, and quality. Born of a desire to serve classic Jewish deli food made by people who care, Wexler's uses old-school methods to handcraft their pastrami and smoked salmon. After curing in a special blend of salt and spices, the meats and fish are slowly smoked in-house over apple wood and sliced by hand in front of your eyes. Wexler's also serves breakfast sandwiches, and a selection of sides including coleslaw, potato salad, egg salad and tuna salad. Wash it all down with a good old fashioned Chocolate Phosphate or Chocolate Egg Cream.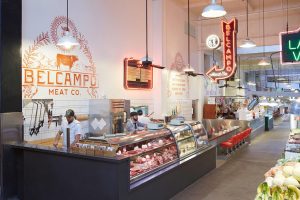 Belcampo Meat Stall F-9
Part country cafe and part full-service butcher shop, Belcampo Meat presents organic, grass-fed meats that have been raised on their own 10,000 acre ranch near Mount Shasta, and custom-butchered in house. Grab a seat at their modern-meets-retro counter service diner for breakfast or lunch. Indulge in the signature organic grass-fed burgers while people watching and enjoying a glass of beer or wine. Or stop by after work to pick up their ever-changing rotation of Grab & Go foods and convenient reheat & eat options to bring home for dinner.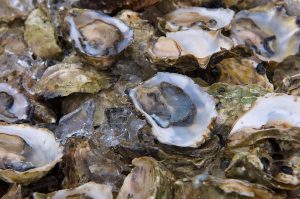 The Oyster Gourmet Hill Street Platform
The Oyster Gourmet Kiosk is the realization of Christophe Happillon's dream of creating a forum to share his passion for the oyster and the ocean. Designed by The Los Angeles Design Group, The Oyster Gourmet Kiosk was created to be a a hybrid restaurant and performance piece with Happillon on stage in the center, akin to the pearl within the oyster. The menu of the new Oyster Bar displays oysters, of course, but also clams, shrimp, sea urchin, and some raw fish. Most of the seafood is sourced from the West Coast, with each selection certified ecologically sustainable.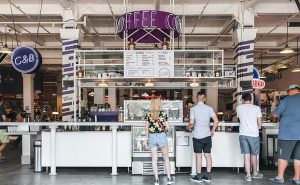 G&B Coffee Stall C-19
From champion baristas Kyle Glanville and Charles Babinski, G&B Coffee serves up coffees, espresso drinks, and teas selected from the world's top roasters and farms. If you're craving a special treat, G&B's coffee milkshake and hop-infused carbonated ice tea are instant Market classics. Stop by for weekly cuppings every Tuesdays at 2pm to taste the range of G&B coffees from around the world. Parking Tip: Miraculous free 5 minute parking in the drop-off lane in front of the G&B stall.