Summer weather beckons with sunny days and starry nights! Your favorite Downtown Los Angeles restaurants near Circa are answering the call, expanding their patio seating, adding street side tables, and even commandeering alleys and parking lots, so you can enjoy elegant outdoor dining. Did you know there's a new "European Corner" at 6th & Los Angeles Streets? Mignon has teamed up with their neighbors L'APPART restaurant and Cento Pasta Bar to bring you more outdoor seating and more culinary choices!
From luxury hotel rooftops with breathtaking views, to charming garden patios, and lively street side seating, there's a table waiting for you! Check their websites for hours, reservations and takeout/delivery options.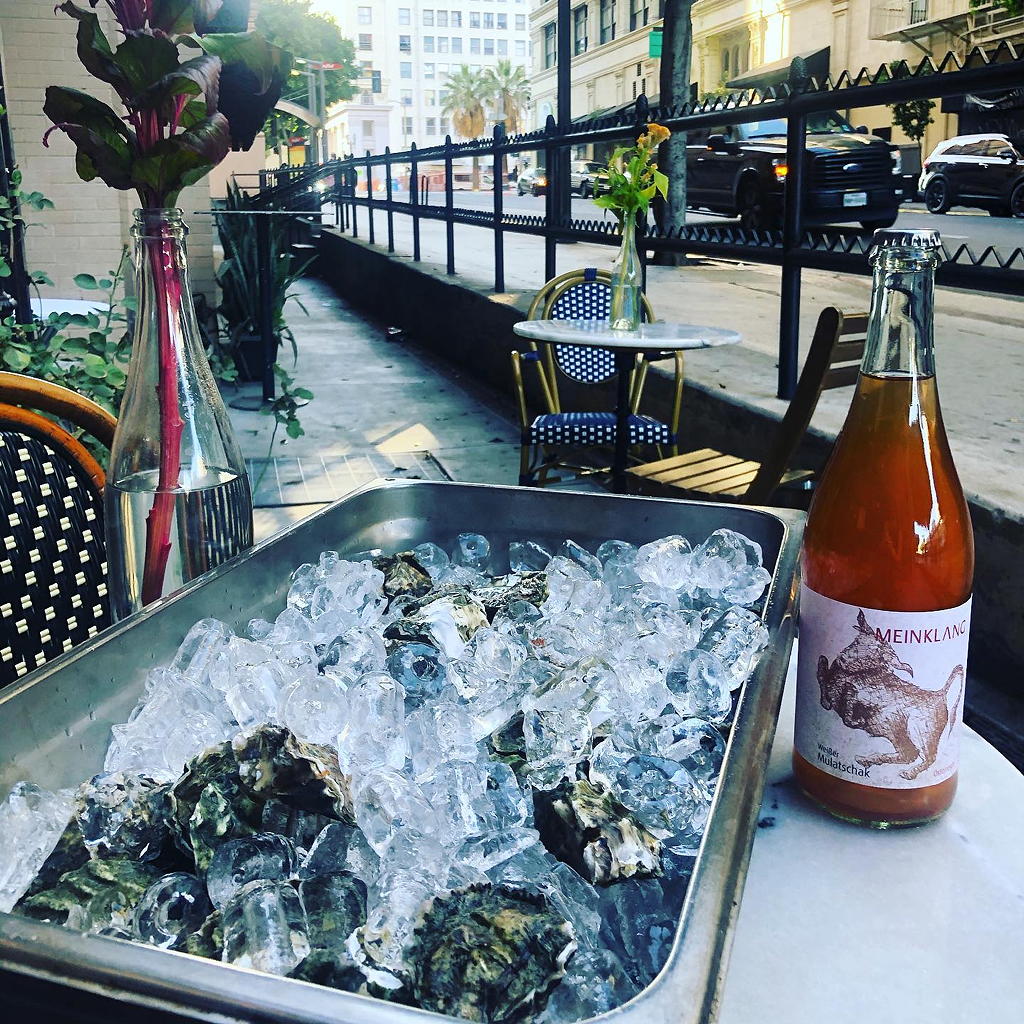 Mignon 128 E. 6th St. Los Angeles, CA 90014
Mignon is teaming up with L'APPART restaurant to bring you more outdoor seating and more culinary choices. You can enjoy alfresco dining in front of either restaurant and receive both menus. They are also collaborating with Cento Pasta Bar, who is back in action across the street at JJ's. True to its name (mignon roughly translates to "small and cute" in French), Mignon specializes in small production, offering natural wines from all over the globe with an emphasis on the Old World. They also serve seasonal, rustic French cuisine, including a three-course pre-fixe option, small plates, and fine artisanal cheeses and charcuterie. The space is also a retail shop, so make sure you grab some bottles for your home cellar.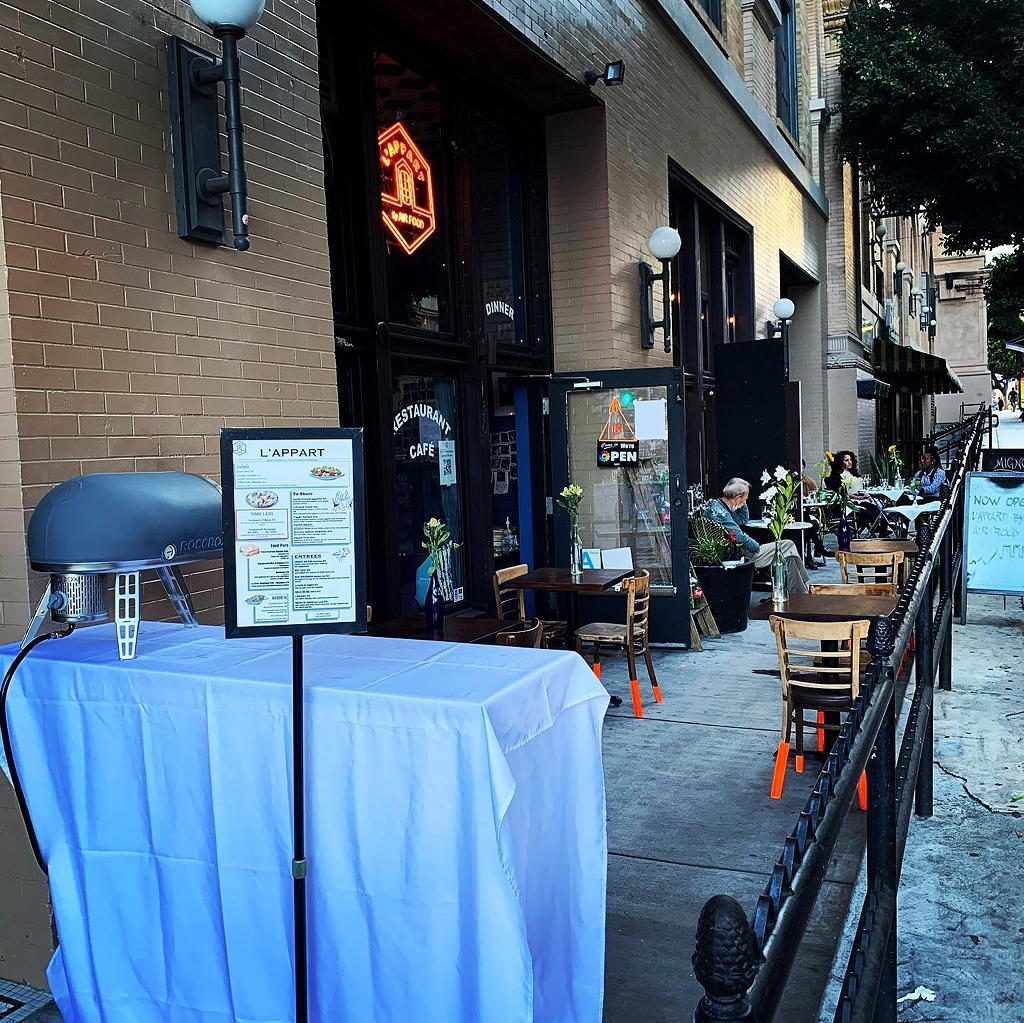 L'APPART by AIR FOOD 130 E 6th St. Los Angeles, CA 90014
L'APPART by AIR FOOD will make you feel that you flew straight to Paris where you'll enjoy an exclusive French culinary experience. Created by two passionate visionaries, Marc and Thierry, L'APPART by AIR FOOD takes your tastebuds through a miraculous journey from traditional French cuisine to French & World Fusion from Europe, Middle East, Africa, and North America.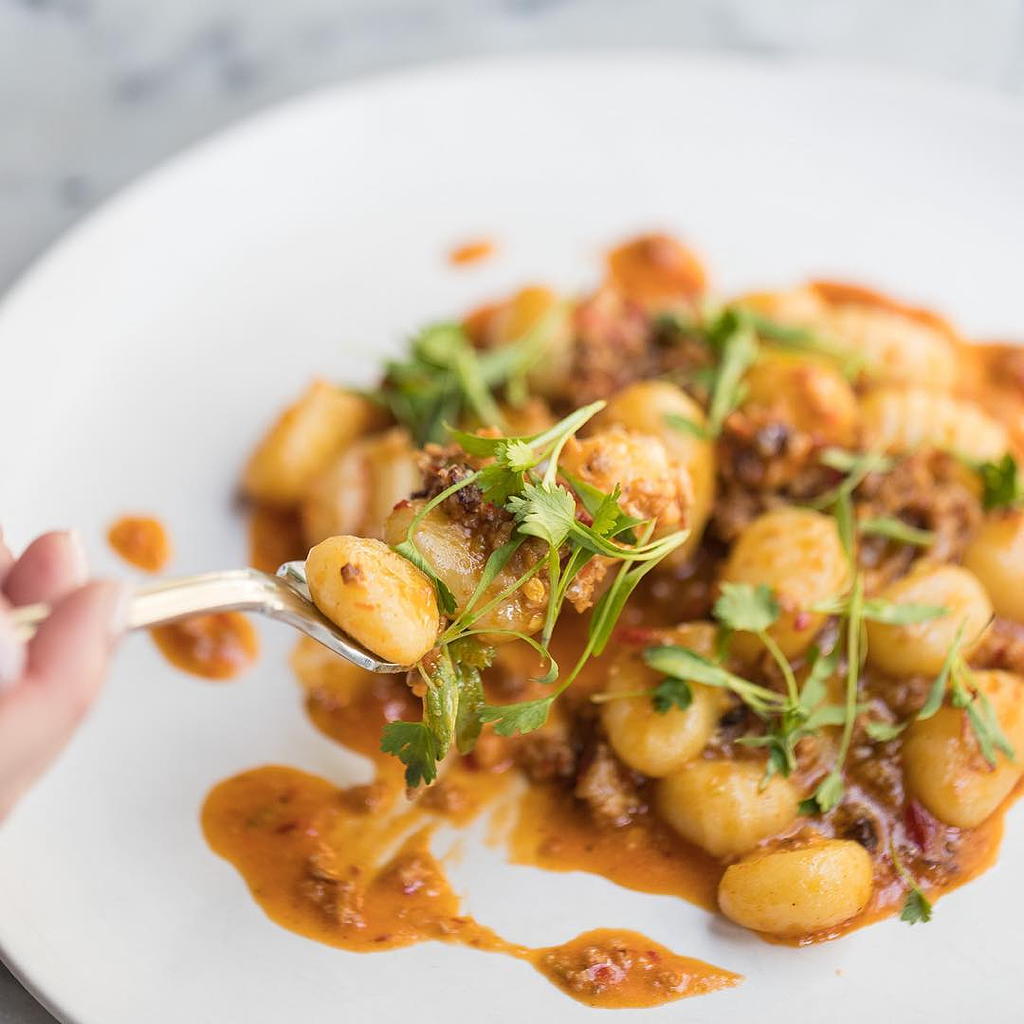 Cento Pasta Bar @JJ's Sandwich Shop 119 E 6th St. Los Angeles, CA 90014
Mignon Wine Bar becomes this handmade pasta bar at lunchtime several days a week. You can buy takeout pastas from Cento, walk across the street to Mignon, purchase a glass or bottle of wine, and enjoy your food al fresco. In 2015, long-time friends Avner Levi and Santos Uy opened Cento Pasta Bar as a lunch residency at Santos' downtown wine bar, Mignon. Cento is inspired by Avner's desire to share his experiences with the people around him through cooking. At Cento, Avner is responsible for all facets of the kitchen, including menu design and development, bringing his philosophy of thoughtful, seasonal ingredients to every dish with an element of fun.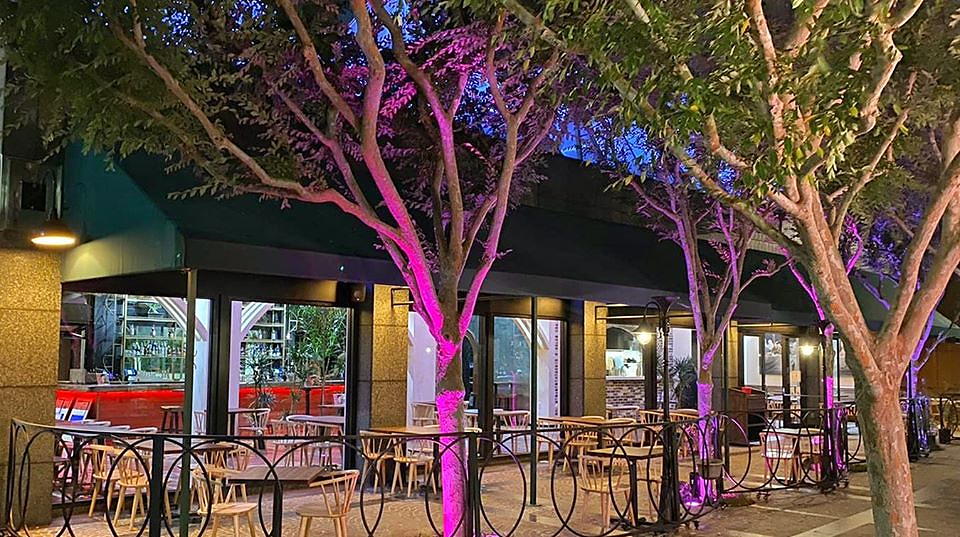 Strada Eateria & Bar 825 W 9th St, Los Angeles, CA 90015
A new spot in Downtown LA near Staples Center, Strada Eateria & Bar presents world flavors made with local ingredients.. The eclectic menu includes ceviche, lobster ravioli, and an ahi tuna steak burger, along with a full bar. Strada is now offering al fresco dining with sidewalk seating on W. 9th St. Complimentary parking. Reservations are recommended.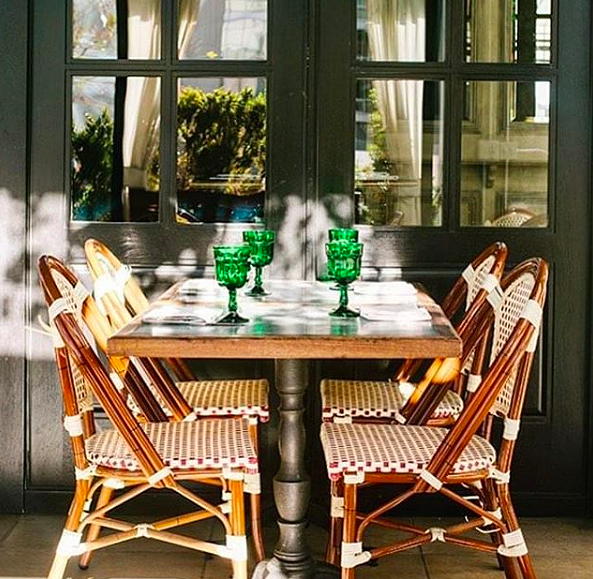 Faith & Flower 705 W 9th St. Los Angeles, CA 90015
Faith & Flower is open for patio dining. Located in the Watermarke Tower in DTLA's South Park district, the name Faith & Flower pays homage to the two major Renaissance periods – the 1920s and modern day – that have fundamentally shaped the Downtown Los Angeles community. "Flower" refers to the street on which the restaurant lies today, and "Faith" for the street's alleged name during the early 1920s. Inspired by a global influence of flavors and techniques, complemented by the use of a wood-fired oven and pristine raw bar, the menu redefines Californian rustic cuisine. Reservations are highly recommended. Takeout and delivery are also available.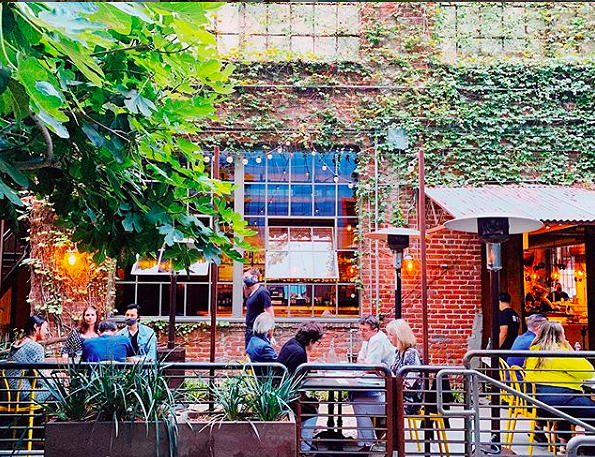 Bestia 2121 E 7th Pl. Los Angeles, CA 90021
Arts District darling Bestia is now accepting reservations for outdoor dining. Their menu is also available for takeout. Owned and operated by husband and wife Ori Menashe and Genevieve Gergis, the menu features a generous selection of authentic Italian stalwarts such as antipasti, pizzas, pasta, secondi (fish, lamb, steak), finished off with dolci (mascarpone rice pudding, crème fraîche panna cotta, and bar au chocolat bittersweet chocolate budino tart). Buon appetito!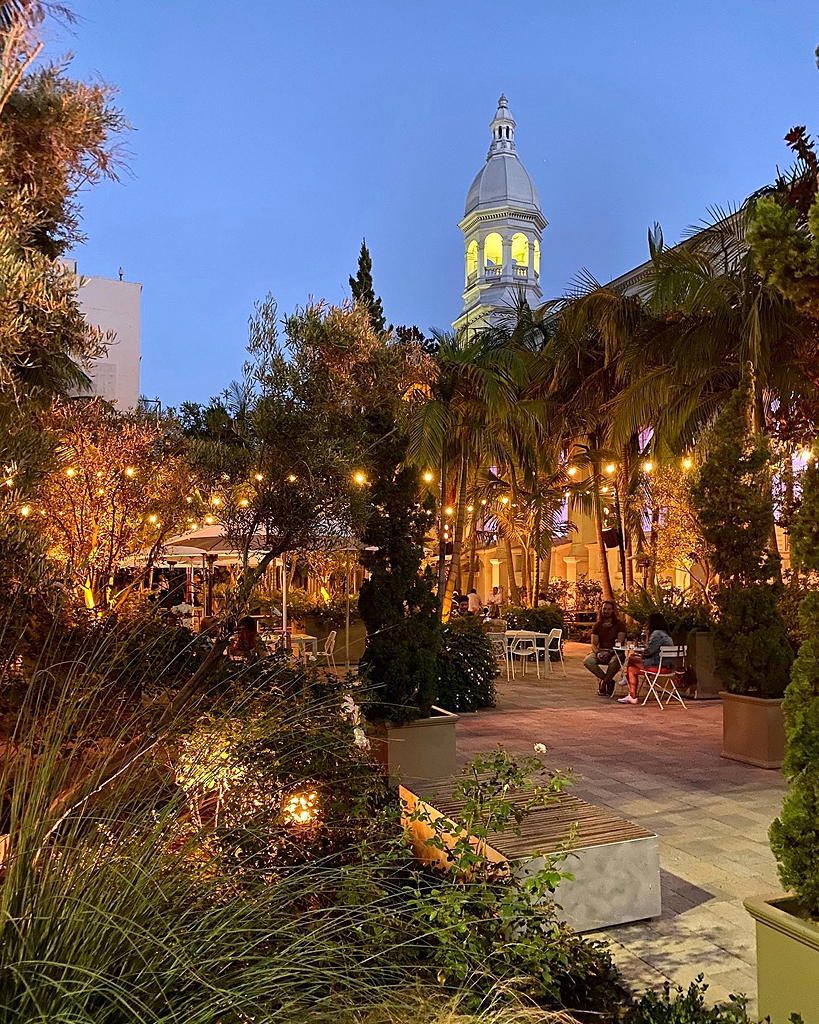 Redbird 114 E 2nd St. Los Angeles, CA 90012
Redbird is open with three different outdoor dining options! In addition to the Redbird Courtyard, they've created two new open air dining rooms: the Redbird Garden and the Lounge on the Vibiana Courtyard. Redbird is carved into one of the city's most historic architectural gems – the former rectory building of Vibiana, cathedral-turned-event-venue. Chef Neal Fraser and Amy Knoll Fraser feature Modern American cuisine that is refined yet approachable and highlights the multi-cultural influences of Fraser's native city – Los Angeles.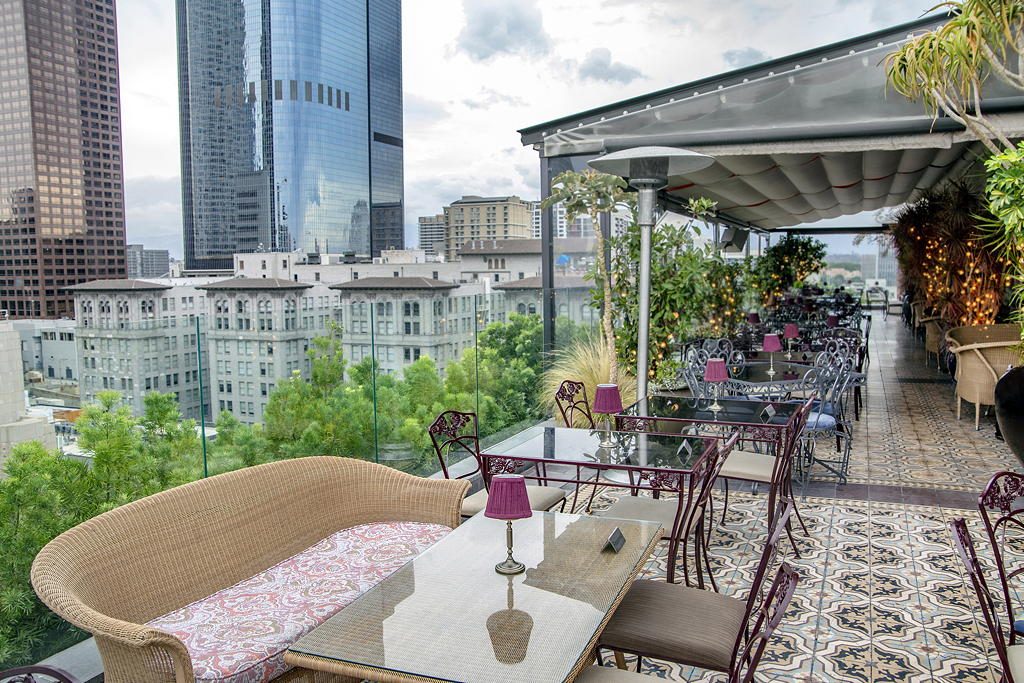 Perch 448 S Hill St. Los Angeles, CA 90013
Perch Los Angeles is a French inspired rooftop bistro that offers unobstructed views of Downtown Los Angeles that will make you feel as if you're floating over the skyline. Their 15th floor outdoor patios and 16th floor rooftop are now open for outdoor dining. The elevated spaces offer outdoor fireplaces, rooftop fire pits, indoor and outdoor dining experiences, and lounge seating to experience the city skyline views. Perch executive Chef Gerardo Benitez has created a playful menu inspired by French culinary classics utilizing the freshest of seasonal ingredients. Pick up and delivery is also available.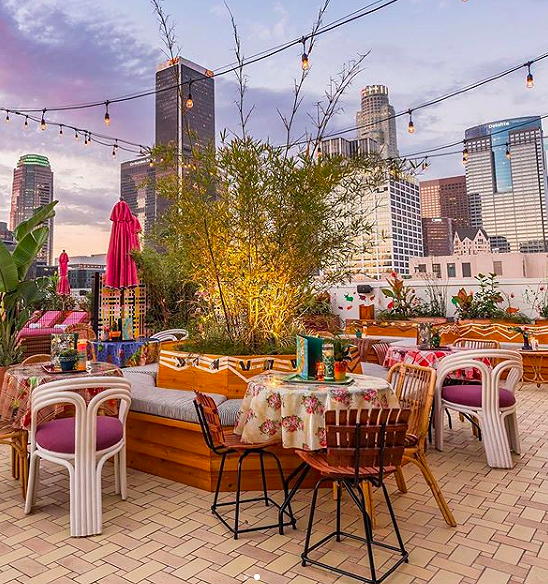 Broken Shaker Freehand Hotel 416 W 8th St. Los Angeles, CA 90014
An oasis in the heart of Downtown LA, Broken Shaker, located on the Freehand Hotel rooftop pool deck, offers an eclectic menu of handcrafted cocktails and small bites. A James Beard Award finalist and winner of Tales of the Cocktail's Best American Hotel Bar award, Broken Shaker serves up delicious cocktails, infused with homemade elixirs and exotic ingredients, bringing the flavors of the beach to the center of the city.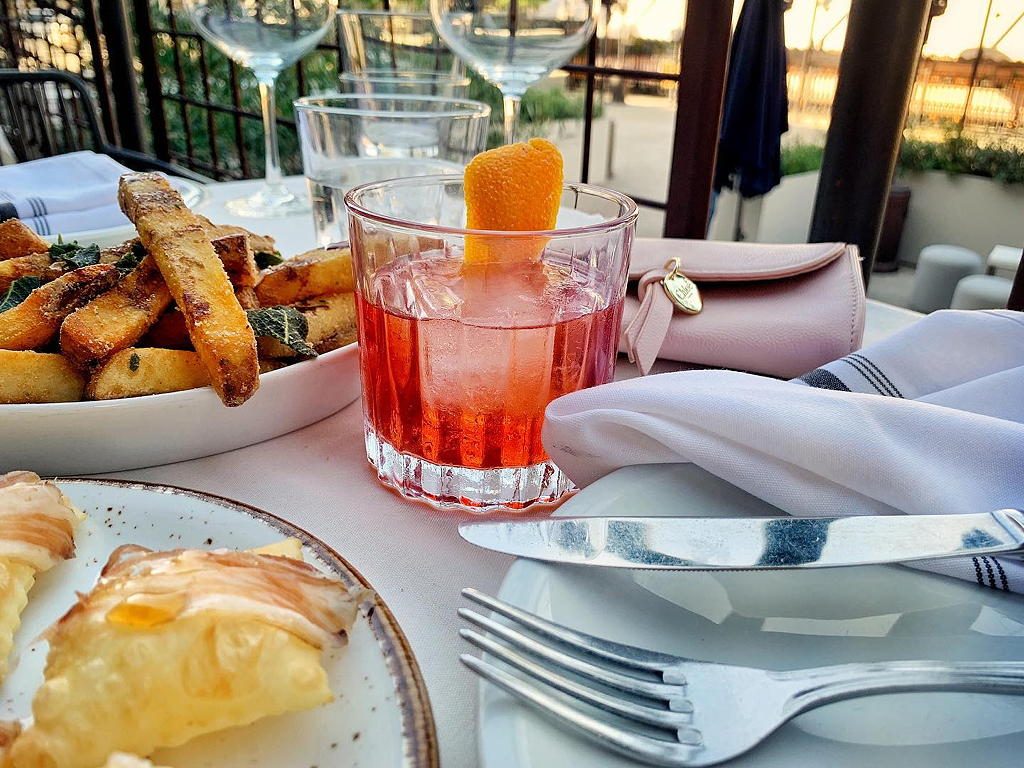 Rossoblu City Market South 1124 San Julian St. Los Angeles, CA 90015
Rossoblu tells the story of the two places Chef Steve Samson considers home – Los Angeles and Bologna, Italy. The restaurant is an homage to Samson's heritiage, inspired by childhood memories spent in Bologna and its surrounding region, Emilia Romagna. Rossoblu features handmade pastas, fresh produce, and an extensive in-house butchery and salumi program. The wine list offers unique Italian and Californian varietals. At its core, Rossoblu is a true family-owned and operated restaurant, with Steve's wife Dina helming the operations and long time friend and partner Hans Luttmann leading a team that has become family. Rossoblu is open for al fresco dining, takeout and delivery.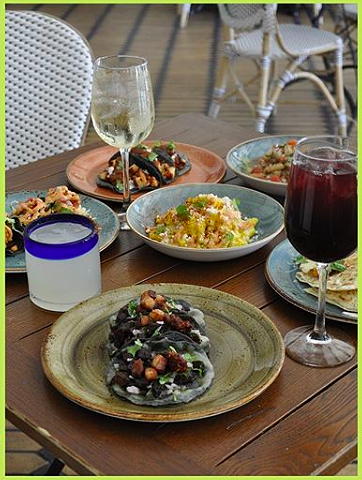 Veranda Al Fresco Hotel Figueroa 939 S Figueroa St. Los Angeles, CA 90015
Chef Adrian Garcia is serving up an authentic Mexico City-inspired menu, befitting the tropical vibe at Veranda Al Fresco, DTLA's urban oasis at Hotel Figueroa. Savor a tasty, simple street taco menu paired with a great selection of cocktails. Veranda Al Fresco is open Wednesday to Sunday 12pm-7pm. Salud y buen provecho!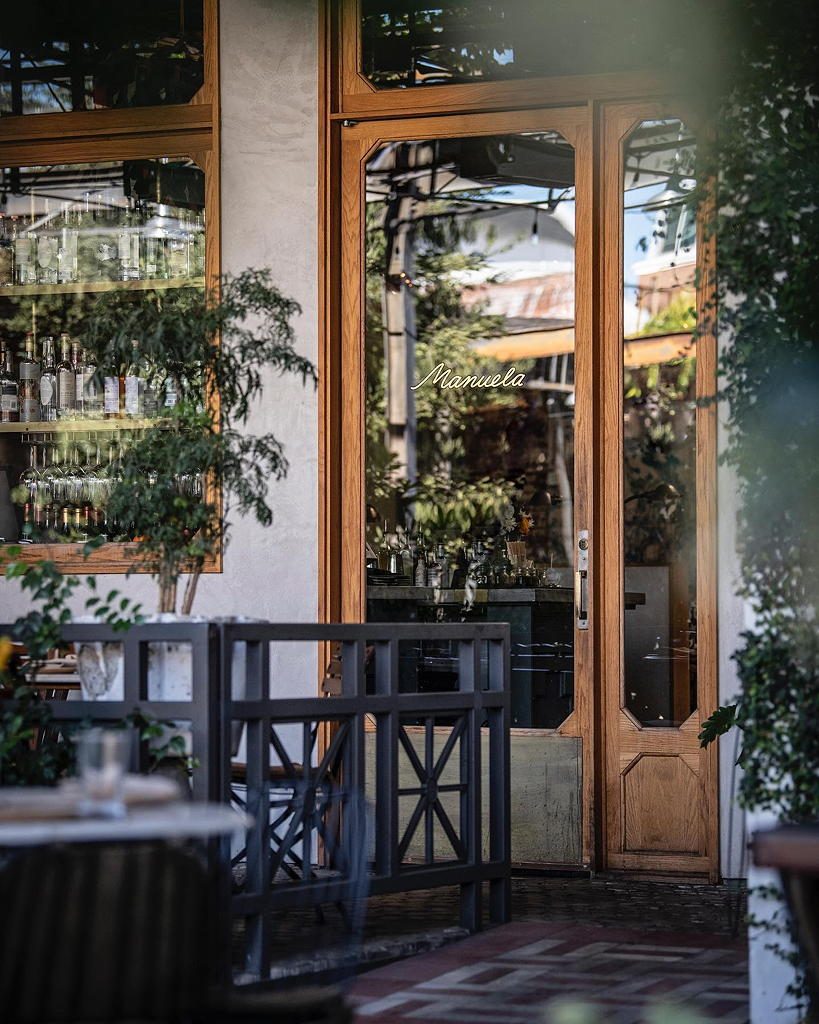 Manuela 907 E 3rd St, Los Angeles, CA 90013
Manuela is excited to welcome guests back to dine in their spacious outdoor patio. Located in the DTLA Arts District, Manuela unites chef, farmer and artist to create an authentic and original dining experience. Under the direction of Executive Chef Kris Tominaga, the menu celebrates seasonal ingredients sourced from the best farms and producers in Southern California. Serving a wide range of vegetables, grains, fish, and game, Manuela also features an exemplary bar program, which serves classic cocktails using house-made bitters and tonics. Local beers are on tap, while the carefully selected wine list is designed to pair with the smoke and acid at the heart of Manuela's menu.
Photo credits:
Photo #1: Rossoblu
Photo #2: Mignon
Photo #3: L'APPART by AIR FOOD
Photo #4: Cento Pasta Bar
Photo #5: Strada Eateria & Bar
Photo #6: Faith & Flower
Photo #7: Bestia
Photo #8: Reedbird
Photo #9: Perch
Photo #10: Broker Shaker
Photo #11: Rossoblu
Photo #12: Veranda Al Fresco
Photo #13: Manuela