Cocktails are going beyond the blender! Mixology – the refined and in-depth study of the art and craft of mixing drinks – is diving deeper into the chemistry behind our favorite adult beverages. Top bartenders are creating innovative libations, often using unique, housemade, or historical ingredients, and upping their game giving classic cocktails a new twist. Time to wet your whistle and explore DTLA's hottest spots for the Art of the Craft Cocktail.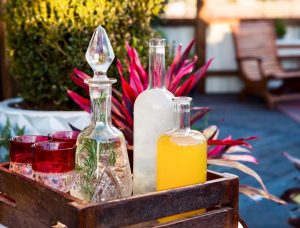 Apotheke 1746 North Spring St. Los Angeles, CA 90012
Backed up against the LA River and the underpass that leads into Lincoln Heights, Apotheke exudes an air of mystery where speakeasy meets Absinthe bar. Once you've found the unmarked entrance on Doyers Street, make your way to the back bar, which holds rows of tinted pharmacist's vials with hand-lettered Latin labels. In keeping with the apothecary theme, the cocktail menu is described as a "prescription list," and offers categories based on healing properties rather than alcohol selection. For those who take their cure seriously, the establishment offers Apotheke Academy, featuring interactive hands-on mixology and cocktail classes on-site. Upon completion, each guest may purchase Apotheke's full service mixology kit to recreate cocktails at home. Courses are also available for off-site private events. For more information Reservations@ApothekeLA.com
The Wolves 519 S. Spring Street Los Angeles, CA 90013
Situated in the historic Alexandria Hotel in the heart of DTLA, The Wolves is a breathtaking homage to the Parisian Art Nouveau salons of the early 1900s. Designed with period antiques from across America, the restaurant boasts the only balcony dining inside and outside on Spring Street. The vibe is an elegant yet approachable gathering place, with a live performance stage located in the back for guests to experience vaudevillian theater, performance art, and live music. Whiskey and cocktail enthusiast Kevin Lee makes all the vermouths, bitters, and liqueurs, using seasonal produce and local ingredients to emulate the European originals, but with a distinctive Southern California context.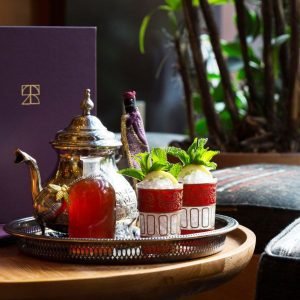 Rudolph's Bar & Tea The Freehand 416 W. 8th St., Los Angeles, CA 90014
Try a new take on tea! Located in the Freehand Hotel lobby, Rudolph's Bar & Tea offers an intriguing bar menu built around tea-infused cocktails, alongside full tea service and light bites. The bar is a nod to Rudolph Rosenberg, once the owner and operator of the Commercial Exchange Building that now houses Freehand LA. Stop by for Happy Hour, happening every day from 4-6pm, offering tasty tidbits such as hummus & tahini, marinated olives, crab croquettes, and their signature Exchange Burger.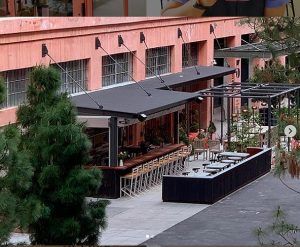 The Alameda Cocktail Club 757 Alameda St. Los Angeles, CA 90021
If you're looking for some interesting libations, try The Alameda Cocktail Club, now open at The Alameda Supper Club. The 28-seat outdoor bar features signature cocktails such as the Celine Dijon with tequila reposado, pineapple mostarda and Lillet Blanc; The Giuseppe, made with grappa, italicus rosolio, verjus and prosecco; the Rhu Tang, made with clarified rhubarb, vodka, lime, zucca and rosé; and the Cel Me This Pen, made with celery kombucha, bourbon, falernum and lemon. The Alameda Supper Club is housed within The Manufactory LA, a collaborative project where good friends are creating amazing food and warm experiences.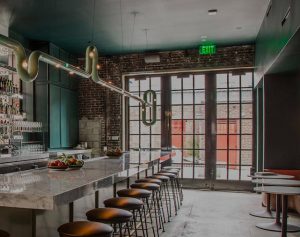 Arts District Firehouse Hotel 710 S. Santa Fe Avenue, Los Angeles, CA 90021
One of DTLA's newest additions, Arts District Firehouse Hotel is an independent boutique hotel, restaurant, event space and coffee bar housed in a historic 1927 firehouse. An extensive covered patio running the length of the building contains the bulk of the bar and restaurant seating. A destination to drink, dine and dwell, The Firehouse Hotel promises a fresh take on the urban adventure.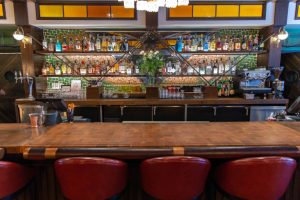 Here and Now Cocktail Bar 300 S. Santa Fe Ave. Suite N Los Angeles, CA 90013
Here and Now is a new bar and restaurant located at the south end of the Arts District's One Santa Fe building. This hip hangout features train-style booths, swanky travel-inspired drinks, and a playful small plates menu. Cocktails range from high octane mezcal and tequila mixes to variations on Planter's Punch, French 75, and even an Espresso Martini.
Redbird 114 E 2nd St, Los Angeles, CA 90012
Chef Neal Fraser and Amy Knoll Fraser's flagship restaurant Redbird is carved into one of the city's most historic architectural gems, inside the former rectory building of Vibiana – the cathedral-turned-event-venue which is also owned and operated by the Frasers. An extensive cocktail menu by Tobin Shea features well-balanced, bespoke renditions of the classics and has garnered him awards such as Time Out's Best Restaurant Bar Program in 2017. Wine Director Josh Wibbenmeyer's wine list is well rounded with great finds from both established and emerging wine regions throughout the world, and has received many awards including "Top 100 wine restaurants in the United States" by Wine Enthusiast and the "Best of Award of Excellence" from Wine Spectator.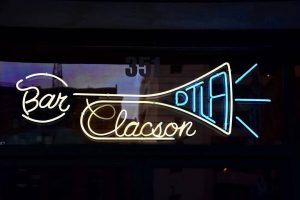 Bar Clacson 351 S Broadway Los Angeles, CA 90013
Neighboring Grand Central Market, Bar Clacson showcases a program of masterfully crafted classic cocktails, which received a James Beard nomination, accompanied by a menu of European fare including cheese & charcuterie boards and paninis. The space boasts an indoor petanque (bocce) court, allowing guests to sip their drinks while playing the quintessential European game.

Giannini Bar NoMad Hotel LA 649 S Olive St. Los Angeles, CA 90014
Located on the corner of 7th and Olive Street, The NoMad Hotel resides in the historic building, Giannini Place. Originally built in the 1920s as the headquarters for The Bank of Italy, the building's gold and blue Italianate lobby ceiling has been fully restored and serves as inspiration throughout. Situated just off the main lobby, The Giannini Bar is named for Amadeo Giannini, founder of The Bank of Italy, who originally commissioned the building for his corporate headquarters. Handsome and well-appointed, the bar features a wide selection of classic and proprietary cocktails crafted by the NoMad's award-winning Bar Director, Leo Robitschek, who along with his team, received the honor of "America's Best Bar Team" at the 2017 Spirited Awards.