Take a break for breakfast! A delicious, nutritious morning meal sets the tone and provides an energizing prelude to your busy day Whether you eating on the go, meeting with colleagues before work, or enjoying a leisurely weekend brunch with friends, DTLA is a breakfast-lover's banquet of cool coffee shops, sumptuous brunch spots, and even some hidden gems!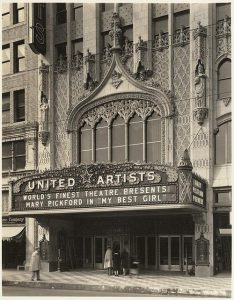 Best Girl 927 S Broadway Los Angeles, CA 90015
Named after the first film screened at the United Artists Theatre in 1927, Best Girl is DTLA's local haunt featuring rotating seasonal fare and classic favorites. In partnership with James Beard Award winner Chef Michael Cimarusti, Best Girl's menu is keenly inspired by Los Angeles' history, culture and cuisines – an eclectic mix of globally influenced eats, featuring fresh, market-driven veggies, fruit, seafood and meats. The extensive breakfast menu presents market fruit salads, yogurt & granola, buckwheat pancakes, bagels, pastries, and a selection of hearty egg dishes. Sunday brunch offers even more opulent options including oysters, crab cakes, potato latke, steak & eggs, pozole verde, and Tonkatsu chicken sandwich.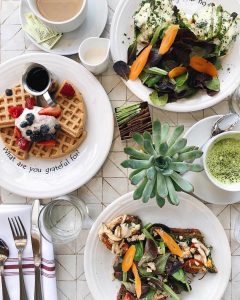 Café Gratitude 300 S Santa Fe Ave. Los Angeles, CA 90013
Café Gratitude is an expression of a world of plenty. and the food and people are a celebration of our aliveness. Café Gratitude selects the finest ingredients to honor the earth and ourselves, as we are one and the same. The restaurant supports local farmers, sustainable and regenerative agriculture, and environmentally friendly products. The breakfast menu includes a healthy selection of gluten-free muffins, donuts, rolls, cookies and cakes, along with chia seed pudding, avocado toast, buckwheat flax pancakes, and taco plate. If you really want to rev up your morning, try the açai superfood bowl, with crispy quinoa cashew granola, coconut, forest berries, banana, ginger syrup, and your choice of 2 additions, such as hemp seeds, almond butter, coconut yogurt, inca berries, cacao nibs, or raw honey.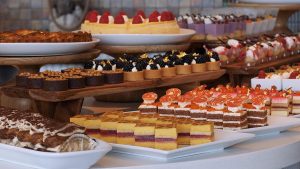 Dekkadance 900 Wilshire Blvd. Los Angeles, CA 90017
Located on the 69th floor of InterContinental Los Angeles Downtown, Dekkadance presents a unique farm-to-fork international dining experience. True to its name, Dekkadence offers a truly decadent à la carte breakfast menu featuring Venice Toast (turmeric black sesame toast, California avocado mash, sun-dried tomato, sliced egg, radish), Tiramisu French Toast (french toast served with Grand Marnier & Kahlua maple syrup, espresso infused cream cheese & berry compote), and Classic Two Eggs Any Style (with choice of bacon, pork sausage, black forest ham, or chicken apple sausage). Sparkling Sunday Brunch includes endless sparkling wine, Mimosas, Peach Bellinis, and Kir Royales.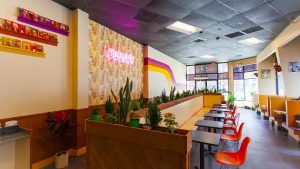 Buddy's 363 S Broadway, Los Angeles, CA 90013
Ready for some classic affordable diner-inspired grub? Buddy's, from the team that brought you Bernadette's (right next door) is located at the corner of Broadway and 4th in the heart of downtown LA's Historic Core, just steps away from Grand Central Market, Angel's Flight, and the Metro red line. Brunch is available every Saturday and Sunday from 11am-4pm, where you can feast on stick-to-your-ribs meals like French Toast Fried Chicken Sandwich, Tots Benedict (poached egg, breakfast sausage, spicy hollandaise, served on a bed of crispy tater tots), Egg & Cheese Sandwich, Breakfast Burrito, and Potato Hash. Lighter options include Bruschetta (tomato, avocado with white balsamic on a pair of small toasts), Overnight Oats, and a selection of seasonal fruit.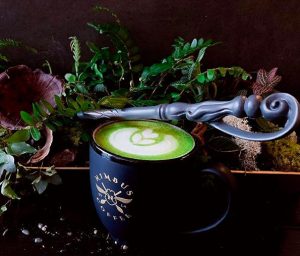 Nimbus Coffee 1115 S Hope St. Los Angeles, CA 90015
The self-proclaimed place for wizards, witches and muggles alike, Nimbus Coffee is a fantasy-inspired cafe with a heavy dose of Harry Potter vibes. Nimbus Coffee expresses the vision of its owners as a unique establishment where coffee meets culture, offering the urban community delectable food and beverage in a photogenic setting that interweaves wizardry and Afro-centric artistry. The whimsical decor features books and travel trunks, some quirky portraits of real-life celebrities reimagined as wizards and witches, and in the back, you'll find a wall filled with magic wands displayed below a cryptic neon sign.

Paris Baguette 902 S Los Angeles St. Los Angeles, CA 90015
Paris Baguette is an international, premium bakery-café specializing in yummy assortments of breads, pastries and cakes baked daily. Their mission is to bring happiness to everyone by adapting to people's ever-expanding palates with decadent, unique and sophisticated baked goods. They serve a variety of treats ranging from coffee, tea, smoothies, and frappes, to appetizing snacks, delicious cakes for all occasions, and chef-inspired sandwiches and salads.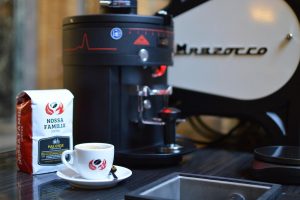 Nossa Familia Coffee 601 W 5th St. Los Angeles, CA 90071
Nestled in the historic lobby of the The CalEdison building, according to Eater LA, Nossa Familia might be the most gorgeous place to drink coffee in LA. Nossa Familia Coffee is a Portland, Oregon-based roaster founded in 2004 by Brazilian native Augusto Carneiro, whose family has been growing coffee in the highlands Brazil since the 1890s. Early on, all of Nossa Familia's coffee was imported directly from his family's farms, and today these Brazilian fazendas remain at the core of their direct coffee trade model. Over time, Nossa Familia has developed deeply-rooted relationships with coffee growers around the world, with excellent specialty coffees from Guatemala, Nicaragua, Peru, Kenya, and beyond.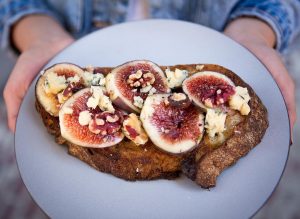 Bon Temps 712 S Santa Fe Ave. Los Angeles, CA 90021
Set within the former Heinz testing kitchen in the DTLA Arts District, Bon Temps is an all-day restaurant from veteran pastry chef Lincoln Carson. Reimagining a modern French brasserie with industrial roots, Bon Temps' menu is refined with an attention to detail that nods to Carson's lineage working in internationally-acclaimed restaurants. Breakfast goodies include tantalizing pastries, croissants filled with cream cheese, kouign-amanns (Breton cakes) topped with caramel, and scones dotted with currants, or with cheddar spiked with flecks of jalapeño.