Breakfast is the most important meal of the day, so why scimp out! Jumpstart your busy schedule with classic American comfort food at a homey cafe. Or treat yourself to crispy Belgian Waffles topped with fresh fruit, along with a steaming cappuccino. Making weekend plans? Celebrate the occasion with a savory Salmon Benedict and some bubbly on the side.
When you live at Circa, you'll never run out of options! DTLA abounds in the best breakfasts and brunches–guaranteed to please every palate!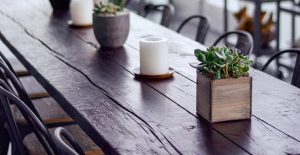 The Rustiq Table 2280 S Figueroa St. Los Angeles, CA 90012
Located in downtown Los Angeles near the USC campus, The Rustiq Table offers a unique and modern take on comfort food. Breakfast, served from 8am – 11am, offers specialties such as Avocado Toast, RUSTIQ's Classic Breakfast Burrito, Breakfast Buttermilk Biscuit, and Chilaquiles (Fried tortilla chips, green salsa, black beans, feta cheese, sour cream, onions, fried egg). Saturday brunch, from 10am to 3pm, features unique dishes such as the Farro Avocado Breakfast Bowl, Zucchini Pancakes with Smoked Salmon, as well as RUSTIQ Burgers. To top it off, indulge in a tempting cookie or brownie with a cup of Stumptown coffee or tea. Dine in the cozy storefront or take away to enjoy at home.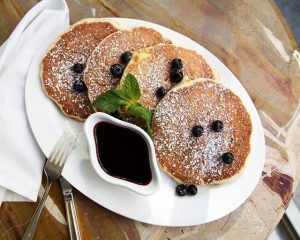 Bottega Louie 700 S Grand Ave. Los Angeles, CA 90017
This iconic 255 seat restaurant, gourmet market, patisserie and café offers pizzas, pastas, small plates and macarons to-go in a bright, bustling space. The sumptuous Breakfast Menu presents a selection of egg dishes, omelettes, Avocado Toast (avocado, poached egg, chorizo, Fresno chiles & red onion on pain de mie), Smoked Salmon Benedict (poached eggs, smoked salmon, crème fraîche, red onions, sautéed spinach & hollandaise sauce on potato pancakes), and Prosciutto & Burrata (prosciutto, burrata, basil & extra virgin olive oil on a potato pancake). Weekend Brunch is a celebration of sweet and savory choices including Belgian Waffles, Lemon Ricotta Pancakes, French Toast, Avocado Toast, Tuscan Farro & Eggs, Lobster Hash, and Farmers Market Breakfast (poached eggs, Japanese sweet potatoes, crispy Brussels sprouts, asparagus, baby artichokes & ricotta salata). Full bar available. Salut!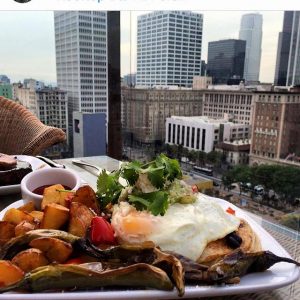 Perch 448 S Hill St. Los Angeles, CA 90013
Perch Los Angeles is a French inspired rooftop bistro with unobstructed views of Downtown Los Angeles that will make you feel as if you're floating over the skyline. Brunch is served until 4:00pm on Saturdays and Sundays. Start with a chef's selection of scones, muffins, and croissants with whipped honey butter or jam. Or savor the sybaritic Baked Brie (fennel apple pecan slaw, mâche, wholegrain mustard aïoli). Other signature dishes include Perch Truffle Cheese Frites (white cheddar & pecorino), Avocado Toast (roasted campari tomatoes, frisee, citronette, candied pepitas), Perch Fromage + Charcuterie (daily selection of two cheeses & two cured meats, nuts, fruit, sour cherry mustard, raisin-walnut crostini), plus an array of salads, eggs, omelettes, and burgers. Bubbles and craft cocktails are available from the bar.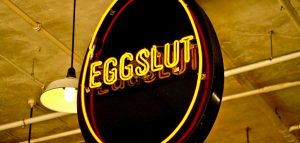 Eggslut Grand Central Market 317 S. Broadway, Stall D-1 Los Angeles, CA 90013
Eggslut is a chef driven, gourmet food concept founded in 2011, inspired by a true love for eggs. The menu is a balance of comfort and innovation, celebrating food that appeals to both novice and extreme foodies through classic comfort fare with a twist, all encompassing the key ingredient–eggs. No longer just a breakfast staple, Eggslut make eggs appetizing all day, everyday.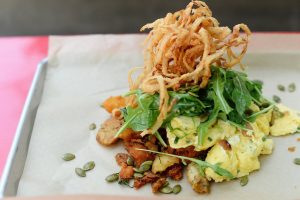 KTCHN DTLA 428 S Hewitt St. Los Angeles, CA 90013
This weekend pop-up brunch spot features elevated breakfast dishes and cocktails in an open, airy venue. The location and menu have changed over time, but the quality of the food is consistently top-notch, receiving accolades from Eater LA, Thrillist, Eye on LA, and Zagat. KTCHN is currently posted at Resident in DTLA's Arts District. Let go of any expectations and trust that you will have a great time and an amazing meal.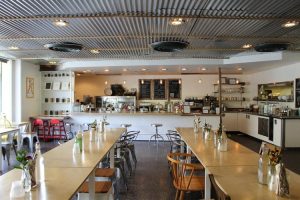 Poppy + Rose 765 Wall St, Los Angeles, CA 90014
Featured on LA Weekly's Best of L.A. Food & Drink, Poppy + Rose is inspired by the country kitchens we all know and love. A collaboration between Diana Yin and Chef Michael Reed, the restaurant serves classic American diner fare prepared with honest ingredients. Their signature Fried Chicken & Waffles is made with free-range Mary's chicken and a Belgian-style waffle. Biscuits are baked from scratch every morning with real butter, and fries are hand cut from fresh Kennebec potatoes. Poppy + Rose offers a full range drop-off catering menu, from high-volume corporate events to a small gathering of friends for breakfast in your home.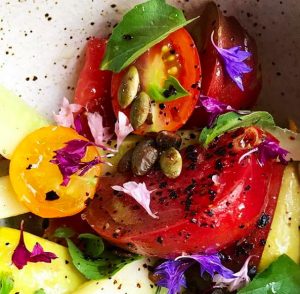 P.Y.T. 400 S Main St, Los Angeles, CA 90013
P.Y.T. is a vegetable-centered restaurant in downtown Los Angeles, inspired by a garden not far away. Caspian pink tomatoes, chocolate mint, marigolds, passion fruit, Japanese red mustard, Bright Lights Swiss chard, scarlet radishes, and purple top turnips grow on the hillside. Some days, there might be 35 pounds of tomatoes that seemed to appear overnight, so they make tomato tarts. Sample the Persimmon toast with ricotta, pumpkin seeds and Old Bank honey or if you're feeling especially adventurous, the Green piri piri rice with herbs, fried egg, sesame seeds and tiny arare (rice crackers). Weekend Brunch is served Saturday & Sunday 10am to 3pm.