What could be more delicious than driving up Pacific Coast Highway to enjoy cocktails and dinner at sunset. Or lingering over a Mimosa-fueled weekend brunch while watching the seagulls play above the waves. All along our beautiful shoreline, you'll find amazing options – from legendary beachfront cafes to elegant restaurants with stellar menus and views to match. It's time to take a jaunt up the coast and discover panoramic oceanfront dining and coastal icons.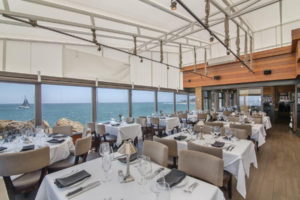 Mastro's Ocean Club 18412 Pacific Coast Hwy. Malibu, CA 90265
Now that you've experienced fine dining at Mastro's Ocean Club at Circa, it's time to discover Mastro's gorgeous Malibu location. Consistently hailed by diners and critics alike as one of the top 10 steakhouses in the nation, Mastro's is known as the preferred steakhouse of celebs and locals alike. The artfully crafted chef's menu includes appetizers, soups & salads, steak & chops, seafood, and delicious sides, along with a renowned cocktail program, award-winning wine cellar, and tempting desserts.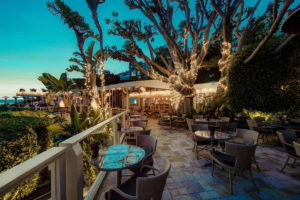 Geoffrey's Malibu 27400 Pacific Coast Hwy. Malibu, CA 90265
Enjoy magnificent views of the Pacific coastline complemented by waterfalls and tropical plants, creating a romantic Mediterranean meets Malibu atmosphere. Guests can enjoy California-style international cuisine during a relaxing weekday lunch, weekend brunch, or candlelit dinner with surrounding fire pits. Every table in the house has a panoramic view of the ocean, one in which there are no boundaries between the restaurant and the splendor in which it is surrounded.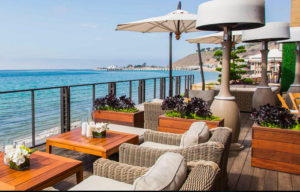 Nobu Malibu 22706 CA-1 Malibu, CA 90265
Nobu restaurants are the creation of Nobuyuki "Nobu" Matsuhisa, a Japanese celebrity chef and restaurateur known for his fusion cuisine blending traditional Japanese dishes with Peruvian ingredients. After emigrating to the U.S. from Japan in the late 70s, Nobu built a high-end sushi empire that now encompasses more than three dozen restaurants across the globe, from Malibu to Manila, Beijing to Budapest. Nobu Malibu is open daily for lunch and dinner.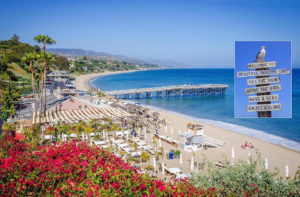 Paradise Cove Beach Cafe 28128 Pacific Coast Hwy. Malibu, CA 90265
Enjoy the iconic Southern California experience at the quintessential beach restaurant, Paradise Cove Beach Cafe. Nestled right on the sand in Paradise Cove, in the heart of Malibu, you can smell the fresh sea air and gaze at the beautiful blue Pacific Ocean with a cocktail in hand. Indulge in the wide selection of breakfast, lunch, and dinner items. Walk along the beach and look at the homes of movie and rock stars, billionaires and Wall Street magnates. Kick back and experience the magic of Paradise.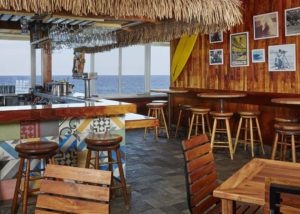 Duke's Malibu 21150 CA-1 Malibu, CA 90265
Surfing meets Hollywood by the sea! Surfing legend Duke Kahanamoku taught surfing in Malibu and spent time in the area where he was a lifeguard, competed in water sports and also appeared in over 28 Hollywood movies. Duke's Malibu honors Duke, but also pays tribute to the early days of surfing in Malibu. Adding to the lore, Kathy Kohner Zuckerman, who was the inspiration for the Gidget novel, movie and TV series that sparked the California surfing craze, works at Duke's Malibu as the Ambassador of Aloha.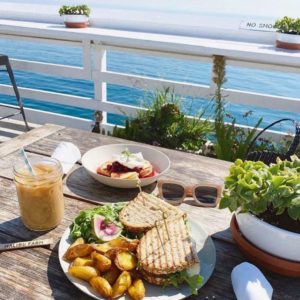 Malibu Farm 23000 Pacific Coast Hwy. Malibu, CA 90265
Situated at both ends of the Malibu pier, Malibu Farm Cafe and Malibu Farm Restaurant were founded by Helene Henderson, who started out doing cooking classes and farm dinners out of her home and in her backyard. The Cafe is a popular lunch spot with fantastic views at the end of the pier, while the Restaurant, located at the start of the pier, offers abundant fresh produce, free range chickens, sustainable seafood, full bar, and specialty cocktails.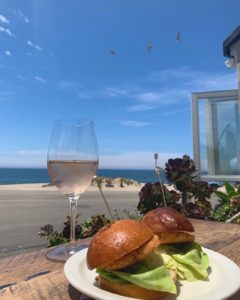 The Sunset Restaurant & Beach Bar 6800 Westward Beach Rd. Malibu, CA 90265
The Sunset Restaurant, located on a beautiful stretch of Zuma Beach in Malibu, offers a unique dining experience unmatched in Southern California. With incredible ocean views, casual décor and congenial ambience, the relaxed beach atmosphere of The Sunset Restaurant is well worth the drive. The seafood dishes are right on point, along with interesting sides, desserts, and craft cocktails. Make a reservation to ensure your table has an ocean view.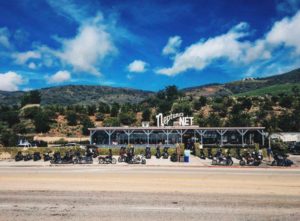 Neptune's Net 42505 Pacific Coast Hwy. Malibu, CA 90265
For over half a century, Neptune's Net has been a special part of history. In 1956, NASA aerodynamicist, Eastman Jacobs, retired and started the restaurant across beautiful County line beach in Malibu. The original building has not changed and is currently the site of the "restaurant side." Over the decades, the "seafood side" and the outdoor patio area were added, but the place has still kept its historic flare. Come hang out and enjoy some fish and beer, and view the epic waves in the Pacific Ocean.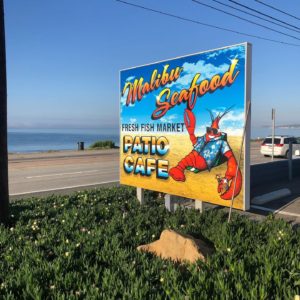 Malibu Seafood 25653 Pacific Coast Hwy. Malibu, CA 90265
Malibu Seafood is a favorite local restaurant with the slogan "The reason we don't serve breakfast is we're out catching lunch." Founded in 1972, Malibu Seafood is owned and operated by commercial fishermen intent on bringing you the finest seafood from around the world. The fish market displays the highest quality fresh fillets and shellfish. In addition, they offer prepared seafood to enjoy on the spacious patio overlooking the ocean. The menu includes hand battered Alaskan Cod with their famous tartar sauce, homemade clam chowder, coleslaw, and other specialty items prepared fresh daily.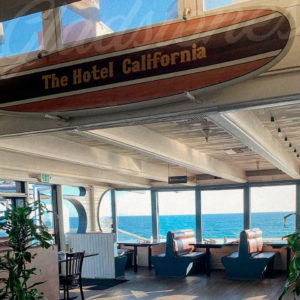 Gladstones Restaurant 17300 CA-1 Pacific Palisades, CA 90272
Founded in 1972, Gladstones restaurant has been a symbol of Los Angeles and the Southern California lifestyle for 50 years. Owned by former Los Angeles Mayor Richard J. Riordan, this classic establishment has stood the test of time, outlived trends, and set the bar for quality and warmth. Located at the historic intersection of PCH and Sunset Blvd, Gladstones offers the freshest seafood, classic cocktails, and timeless California sunsets. Sunday brunch at Gladstones is legendary. Get there early – tables fill up fast.
Photo Credits:
Photo #1: Nobu Malibu
Photo #2: Mastro's Ocean Club
Photo #3: Geoffrey's Malibu
Photo #4: Nobu Malibu
Photo #5: Paradise Cove Beach Cafe
Photo #6:Duke's Malibu
Photo #7: Malibu Farm
Photo #8: The Sunset Restaurant & Beach Bar
Photo #9: Neptune's Net
Photo #10: Malibu Seafood
Photo #11: Gladstones Restaurant