Thanks to the recent storms, our local waterfalls, many of which were previously dry, are now flowing in abundance. This is the perfect time to take a waterfall hike and enjoy these natural wonders in all their splendor. Some of the most popular hikes are in the San Gabriel Mountains, not far from Circa. Please be advised that river levels are high and the water is moving very swiftly, so make sure to use proper trail proper trail etiquette and take all the rainy season safety precautions. Check weather forecasts before you go, avoid hiking when it's actually raining, wear hiking boots, and be extra careful when walking on wet rocks and muddy slopes. If you come well-prepared, your waterfall hike will be an adventure for the ages – one that you'll never forget.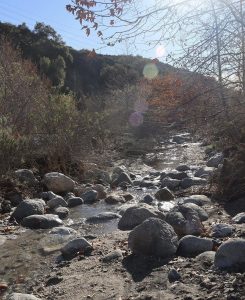 Eaton Canyon Falls Eaton Canyon 1750 N Altadena Dr. Pasadena, CA 91107
Eaton Canyon Trail is a scenic hike to the 40-foot Eaton Canyon Falls, with beautiful views of the San Gabriel and Santa Monica Mountains. The trail has only a few hundred feet of elevation gain, but there are several stream crossings and areas of boulder-hopping and rock climbing on the way to the falls. Eaton Canyon Natural Area is a 190-acre zoological, botanical, and geological nature preserve situated at the base of the San Gabriel Mountains. Visitors can enjoy hiking trails, equestrian trails with a staging area, picnic areas, seasonal stream, rocks and minerals, various natural habitats, native plants, and wildlife.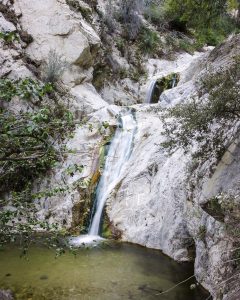 Switzer Falls Trail 701 Angeles Crest Hwy. Tujunga, CA 91042
Switzer Falls in the San Gabriel Mountains is one of the most popular waterfall hikes in Los Angeles County. This 50-foot waterfall is reached via a 4.5 mile out-and-back trek on Gabrielino Trail that follows a shaded creek down into a wooded canyon. The trail to Switzer Falls begins at Switzer Picnic Area, ten miles up CA 2 from Altadena. Cross the bridge and walk down Bear Canyon on a road that was paved back in the 1930s. Bear Canyon Trail descends to a creek. Turn upstream toward Switzer Falls to discover small pools and cascades beneath the waterfall.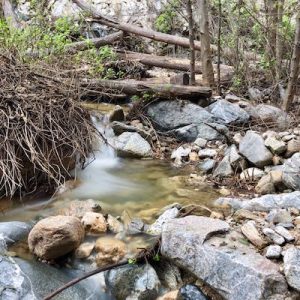 Millard Canyon Falls 4041 Chaney Trail, Altadena, CA 91001
Millard Falls is a 50-foot waterfall nestled in Millard Canyon in Altadena. To get to the trail, park at the Millard Campground Trailhead parking lot. Follow the trail that leads away from the lot and past the Millard Campground. Follow signs for Millard Falls as the trail veers right and follows the creek. You'll have to traverse the creek several times as the trail winds through the canyon. Hiking poles are definitely recommended since you'll end up walking on several slippery rocks as you cross the creek. Make sure you wear waterproof shoes.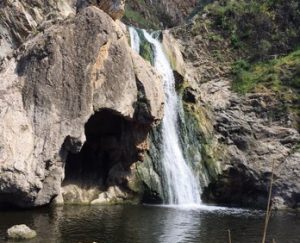 Paradise Falls Wildwood Regional Park 928 West Avenida De Los Arboles, Thousand Oaks, CA 91360
Paradise Falls is a 40-foot waterfall located in Wildwood Regional Park in the Conejo Valley. This dramatic waterfall plunges into a pool at the end of the North Fork of the Arroyo Conejo. Generally considered a moderately challenging hike, the Paradise Falls route follows Mesa Trail to Teepee Trail to Moonridge trail, making a nice loop, which takes an average of about an hour to complete. Parking is free at the Wildwood Regional Park trailhead.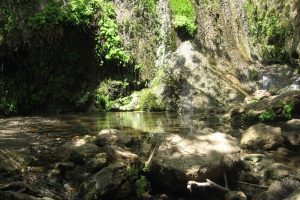 Escondido Canyon Falls 27200 Winding Way, Malibu, CA 90265
At 150 feet, Escondido Canyon Falls is the tallest waterfall in the Santa Monica Mountains, accessed by a lovely and shaded trail through beautiful sage scrub. Starting from Pacific Coast Highway about a mile south of Kanan Road in Malibu, take the Edward Albert Trail through Escondido Canyon Natural Area. The trail leads hikers, mountain bikers, and equestrians 4.2 miles through oak woodland, riparian woodland, and coastal sage scrub to the spectacular, multi-tiered waterfall.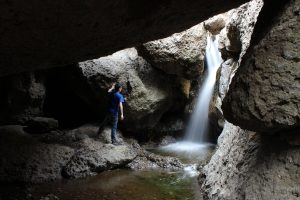 The Grotto at Circle X Ranch 12896 Yerba Buena Road, Malibu, CA 90265
Tucked in the canyons above Malibu and nestled below majestic Boney Mountain, you will find Circle X Ranch. This former Boy Scout camp offers many opportunities for exploration and leisure. Hike one of the many trails that wind through this rare coastal Mediterranean ecosystem, experience the chaparral plant community, and look for red shank chamise, a tree-like shrub with reddish-brown bark. Journey to Sandstone Peak, the highest point in the Santa Monica Mountains, then hike down towards the Grotto, enjoying a creek-side picnic along the way.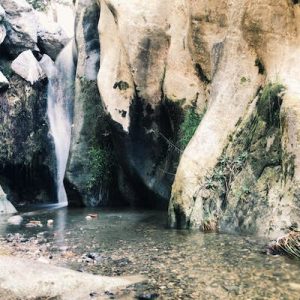 Santa Ynez Waterfall Trail Pacific Palisades, CA 90272
This is a popular trail along a shaded creek with dense tree cover to a short 18-foot waterfall. Stay near the creek, as the trail generally runs directly alongside it and crosses it at various points. Near the waterfall, the canyon walls grow closer and the trail becomes more rocky, although the terrains stays relatively mild for the length of the trail, with a very slight incline towards the falls. From the PCH, turn inland on Sunset Boulevard (approximately 1 mile north of Will Rogers State Beach). Travel one half mile on Sunset Boulevard and turn left on Palisades Drive. After 2.4 miles turn left onto Vereda De La Montura. The trailhead will be on the right side of Vereda De La Montura approximately 0.2 miles after the turn, before the gate.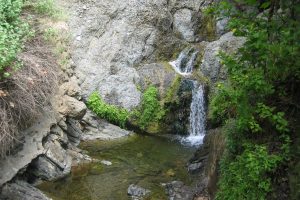 Temescal Canyon Falls Temescal Gateway Park 15601 Sunset Blvd. Pacific Palisades, CA 90272
Hikers start at Temescal Gateway Park and can access the Temescal Canyon Trail from Temescal Ridge Trail. The lower part of Temescal Canyon Trail and the Mountains Recreation & Conservation Authority (MRCA) segment lead through a wooded canyon floor. You'll find the waterfall when crossing the bridge at the bottom of the canyon. To enter the park from the PCH, head inland on Temescal Canyon Rd. for 1 mile and continue past Sunset Blvd. From the main parking lot, follow the park road. Keep left at the fork. Temescal Ridge Trail is on the left after 100 feet 
Photo Credits:
Photo #1: Wikipedia/Scott Medling
Photo #2: Visit Pasadena
Photo #3: Visit Pasadena / California Hiking Adventures
Photo #4: The Outbound Collective
Photo #5: Conejo Recreation & Park District
Photo #6: Santa Monica Mountains Recreation & Conservation Authority
Photo #7: Santa Monica Mountains National Recreation Area
Photo #8: The Outbound Collective
Photo #9: Santa Monica Mountains Recreation & Conservation Authority