Looking for a refreshing respite from the summer heat? The Los Angeles area is home to some of the world's most beautiful botanical gardens, many just a short distance from Circa apartments. These foliage-filled natural retreats present a vast array of native flora and fauna, as well as spectacular species from all corners of the globe. You might just meet a peacock, commune with the koi, or even encounter a resident turtle! Some botanical gardens require advance ticket purchase – check their websites for details. Watch for visitor guidelines at all locations.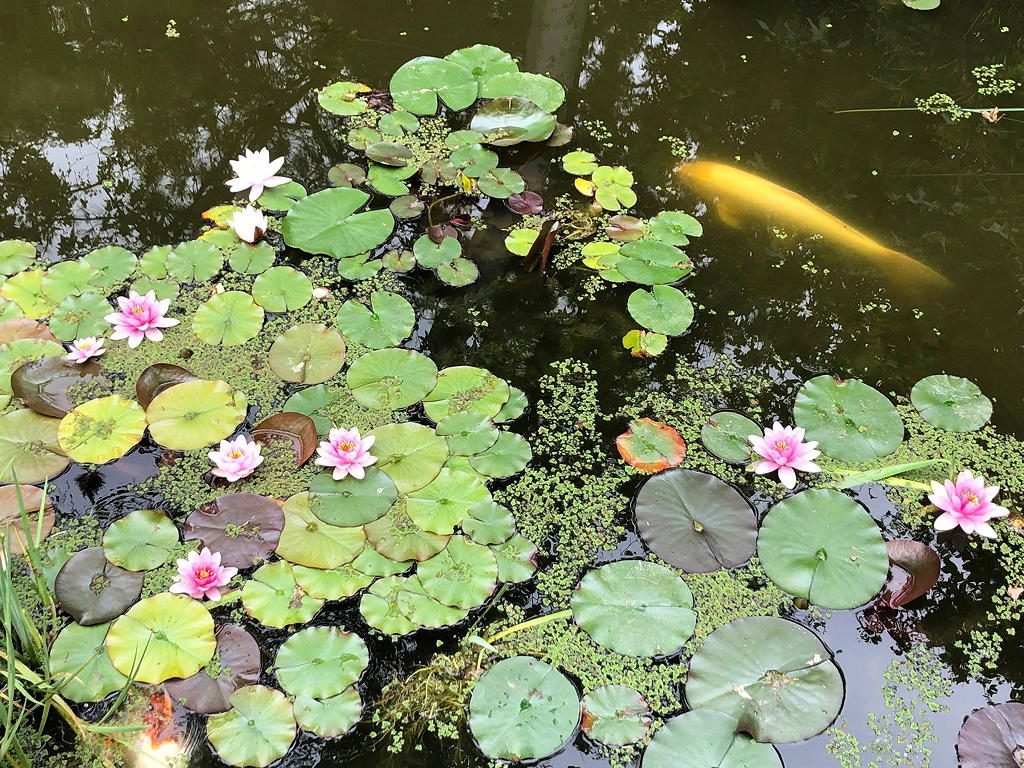 Storrier Stearns Japanese Garden 270 Arlington Dr. Pasadena, CA 91105
The Storrier Stearns Japanese Garden was created by Kinzuchi Fujii for Charles and Ellamae Storrier Stearns in 1935. Fujii designed and built Japanese landscapes across Southern California in the first half of the 20th century. The Storrier Stearns Japanese Garden is his only remaining garden and the only intact example of a major Japanese-style garden created before World War II for a residence in Southern California. This pond-style stroll garden features a fifteen-foot waterfall and a formal teahouse on approximately two acres of land. The garden is considered by many to be a masterwork and it demonstrates the adaptability of Japanese culture in modern America.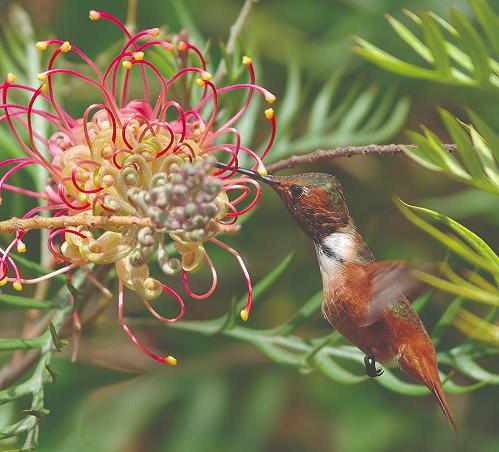 Arlington Garden 275 Arlington Dr. Pasadena, CA 91105
Pasadena's only dedicated free public garden, Arlington Garden is a three- acre community-built Mediterranean garden in the heart of Pasadena on Caltrans-owned land. The site is leased to the City of Pasadena and entrusted by the city to Arlington Garden in Pasadena, a non-profit 501(c)3 corporation. The garden includes thousands of California-native plants such as poppies, sunflowers, cactus and succulents, orchards of orange and olive trees, and many more species. Arlington Garden is not only friendly to people and pets, but also serves as a refuge for Pasadena's native fauna. Birds, bees and butterflies are particularly abundant and can be seen throughout the year. Arlington Garden is open every day except Tuesday. Please wear a mask and practice social distancing.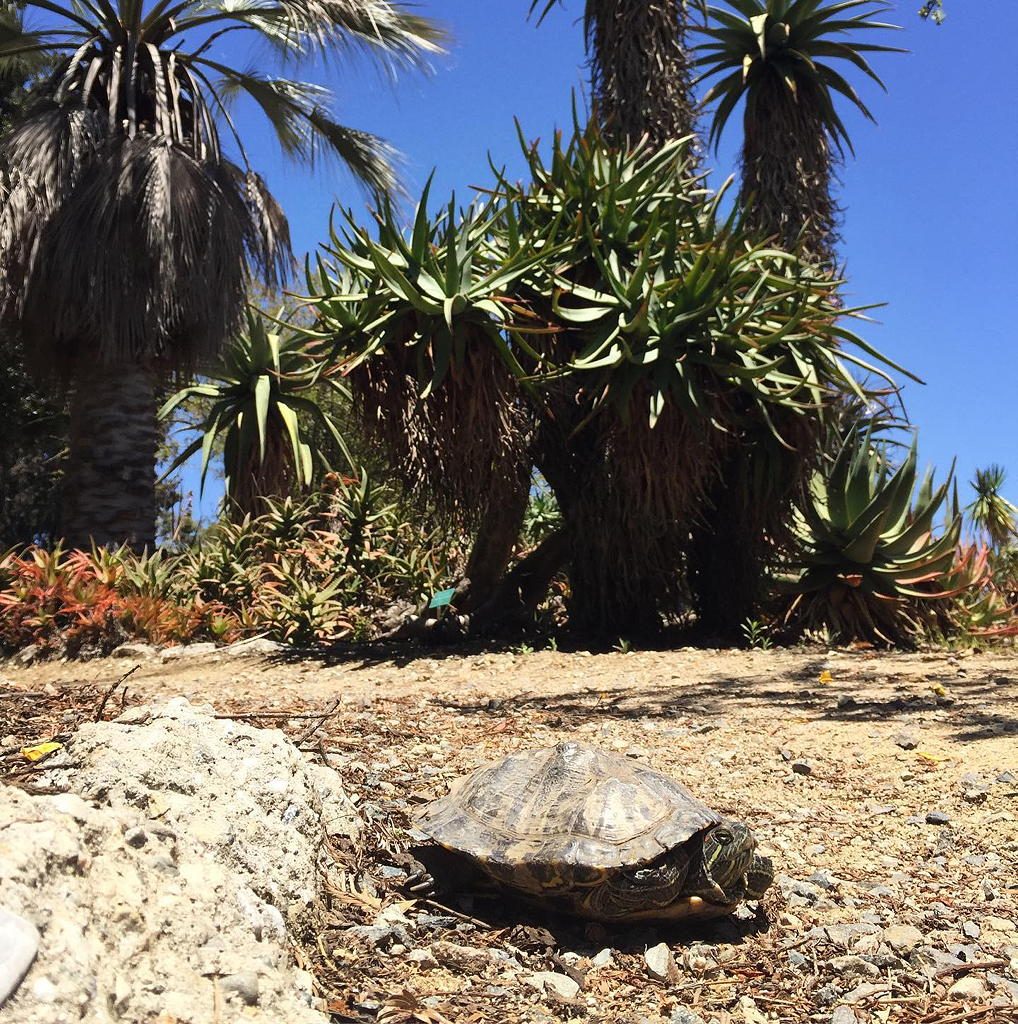 Mildred E. Mathias Botanical Garden UCLA 707 Tiverton Dr. Los Angeles, CA 90095
Mildred E. Mathias Botanical Garden is a living museum that maintains one of the most important living botanical collections in the U.S. Over 3,000 types of plants grow in the garden and a wide range of environments are found within its borders, from the dry desert and Mediterranean sections on the eastern end to the shaded, lush interior. A stream and series of ponds run through the center of the garden, which is home to koi and turtles.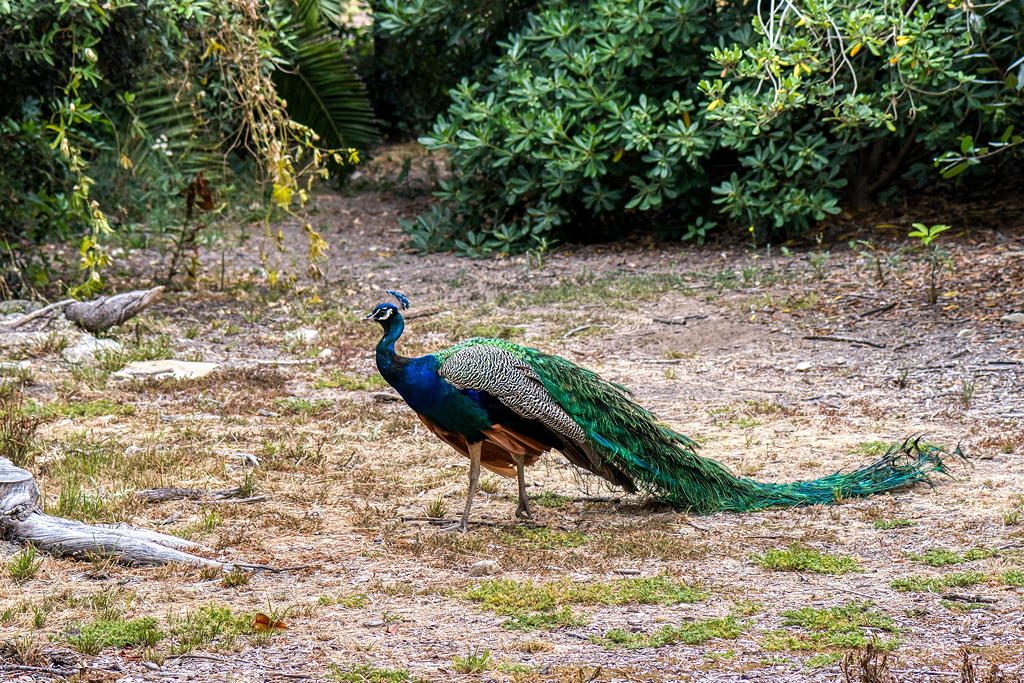 South Coast Botanic Garden 26300 Crenshaw Blvd. Palos Verdes Peninsula, CA 90274
Unique from the start, South Coast Botanic Garden is one of the world's first botanical gardens to be developed as a masterpiece of creative land reclamation and environment improvement. The mission of South Coast Botanic Garden is to serve the community by providing a unique horticultural and wildlife habitat experience, and to represent a model of excellence for land reclamation and sustainability. This continuing experiment in land reclamation has drawn horticulturists from all over the world, including Prince Charles of England, to study the feasibility of similar projects. Today the garden is host to over 200,000 plants, and numerous wildlife residents, including hedgehogs and peafowl.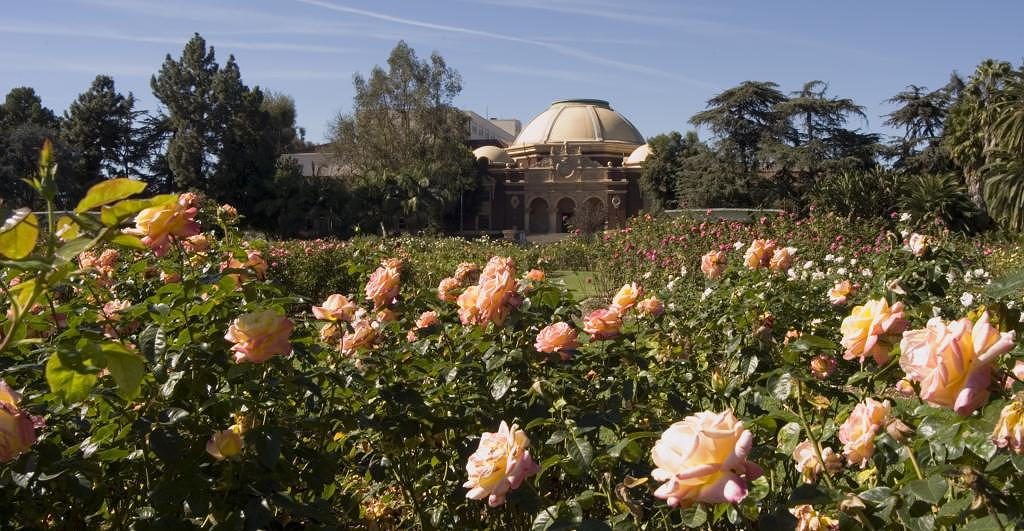 Exposition Park Rose Garden 701 State Drive, Los Angeles, CA 90037
The Exposition Park Rose Garden is a historic 7-acre sunken garden located in Exposition Park in Los Angeles. It has been called "one of the city's best-kept secrets" and was added to the National Register of Historic Places in 1991. You'll discover green spaces scattered around the USC-adjacent property, but the most charming section lies in the lovely Rose Garden.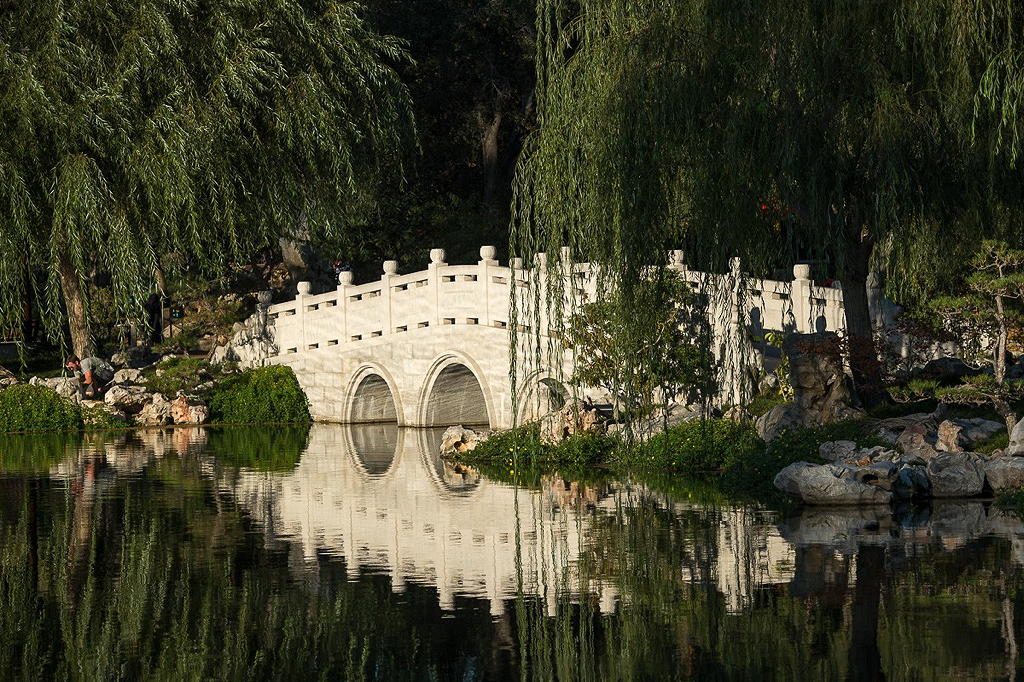 Huntington Botanical Gardens 1151 Oxford Road San Marino, CA 91108
Huntington Botanical Gardens is offering Huntington Evening Strolls! Beat the heat of the day and enjoy a leisurely evening walk through the gardens Friday – Sunday from 4:30–7 p.m. through Labor day. Advance tickets are required. In 1903 Henry E. Huntington purchased the San Marino Ranch, a working ranch with citrus groves, nut and fruit orchards, alfalfa crops, a small herd of cows, and poultry. Today, the estate is home to 16 spectacular themed gardens spread across 120 acres, including Desert Garden, Camellia & Rose Gardens, Japanese Garden, Jungle Garden, Herb Garden and more. The Huntington has reopened most of its 130 acres of gardens, with new safety measures in place, but the galleries remain closed. All visitors, including Members must reserve tickets online in advance.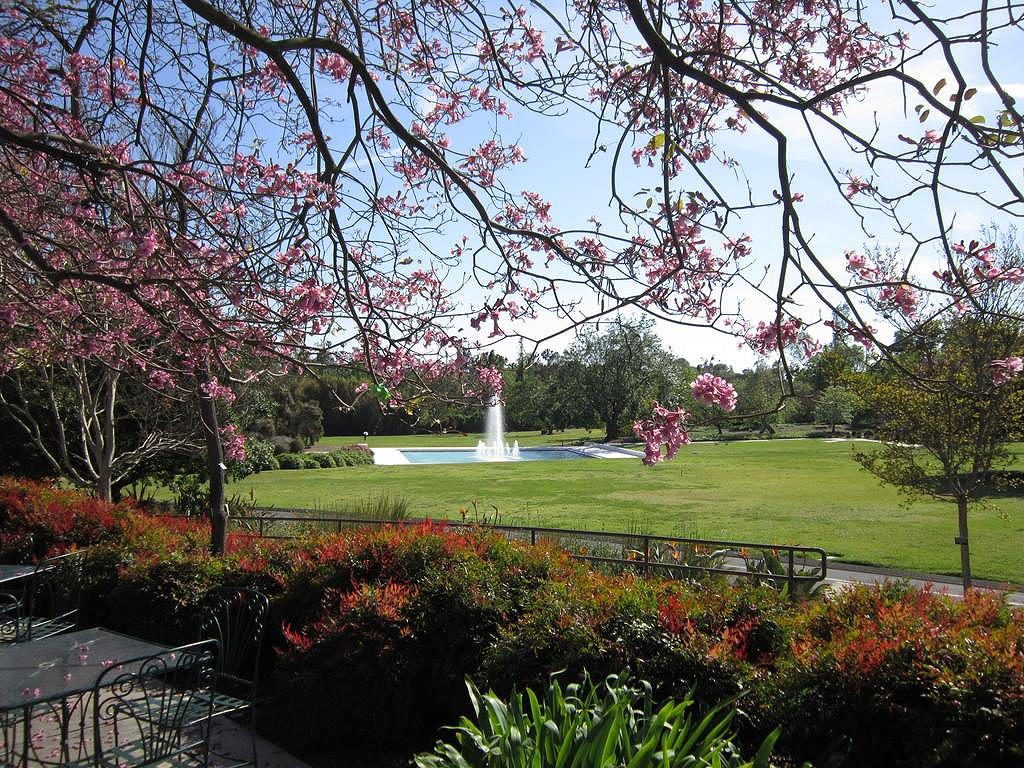 LA Arboretum 301 N Baldwin Ave Arcadia, CA 91007
The Los Angeles County Arboretum and Botanic Garden is a unique 127-acre botanical garden and historical site located in what was once the heart of the historic Rancho Santa Anita in the city of Arcadia. Did you know The Arboretum is also an official wildlife sanctuary? In addition to the famous peafowl, visitors will see species of resident and migratory birds, aquatic creatures, and numerous species of small reptiles and mammals. Tickets are now limited to preserve safe distancing and all indoor spaces are closed. Members are required to reserve free tickets. Non-members must buy advance tickets online to ensure entry.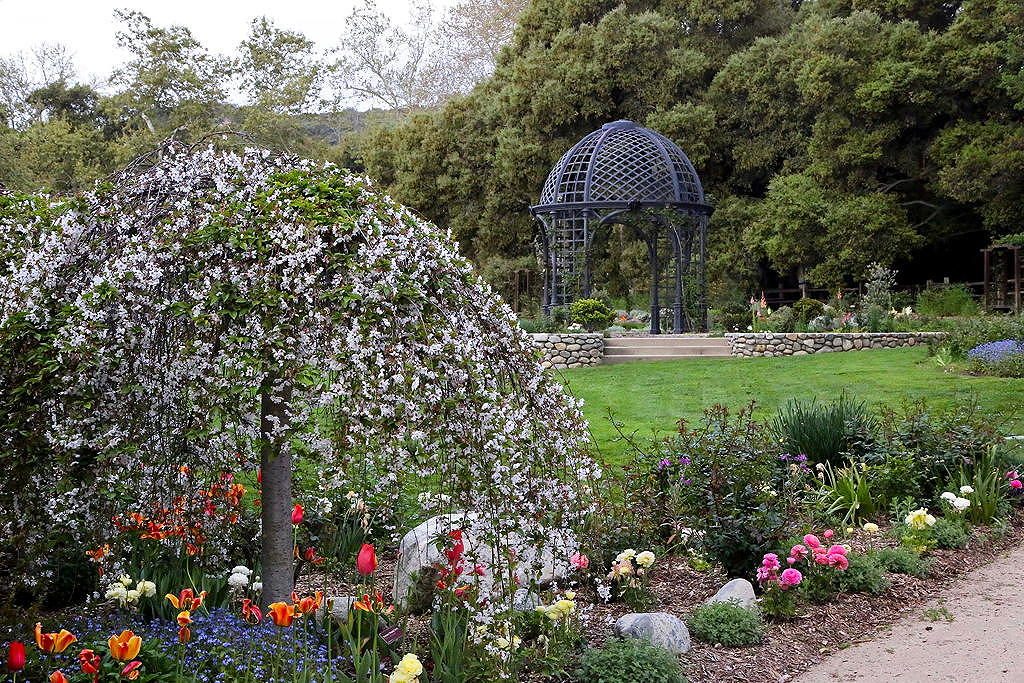 Descanso Gardens 1418 Descanso Dr. La Cañada Flintridge, CA 91011
Descanso Gardens is an urban retreat of year-round natural beauty, internationally renowned botanical collections, and spectacular seasonal horticultural displays, located just 20 minutes from downtown Los Angeles. The principal collections include California native plants and oak woodlands; one of the largest collections of camellias in the Western Hemisphere; a rose garden with specimens from all corners of the globe; and significant presentations of lilacs, maple trees, cherry trees and iris. Members can enter without an advance ticket, but visitors who are not members and guests not covered under a membership will need advance tickets with timed entry.
Photo credits:
Photo #1: Storrier Stearns Japanese Garden
Photo #2: Storrier Stearns Japanese Garden
Photo #3: Arlington Garden in Pasadena
Photo #4: Mildred E. Mathias Botanical Garden
Photo #5: Los Angeles Department of Recreation and Parks
Photo #6: Huntington Botanical Gardens
Photo #7: Los Angeles County Arboretum & Botanic Garden
Photo #8: Descanso Gardens