Los Angeles is renowned as one of the most exciting places in the world for street art. Incredible murals and art walls appear all around the city, and many have become permanent, treasured fixtures. Artists have found their canvas on buildings, walls, freeway barriers, and even LA River storm drains, enriching our public art scene and attracting street art fans from around the world. Many of the most significant artworks are in Downtown Los Angeles near Circa. Whether you're an art lover looking for new neighborhoods to explore or just want to snap some fresh content for your social feed, get out there and discover LA's amazing murals and street art.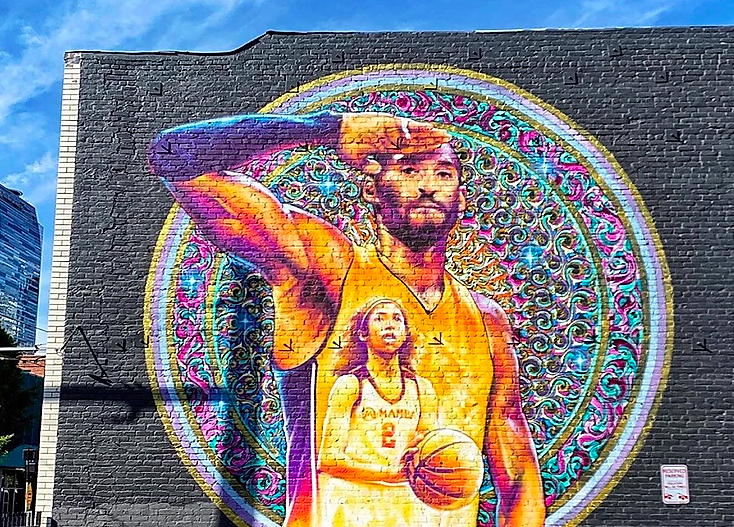 The City of Los Angeles recently came out in droves to pay their respects to sports legend Kobe Bryant and his daughter Gianna Bryant on Kobe Bryant Day August 24, 2020. Figueroa St. between Olympic and MLK will soon be Kobe Bryant Blvd. In celebration of his life, there are dozens of amazing Kobe Bryant murals located in Downtown Los Angeles and the Arts District near Staples Center. You can view a MAP of all Kobe mural locations and follow along at Instagram.com/KobeMural Pictured: Mural by Los Angeles-based visual artist AISEBORN at 1348 Flower St. Los Angeles, CA 90015.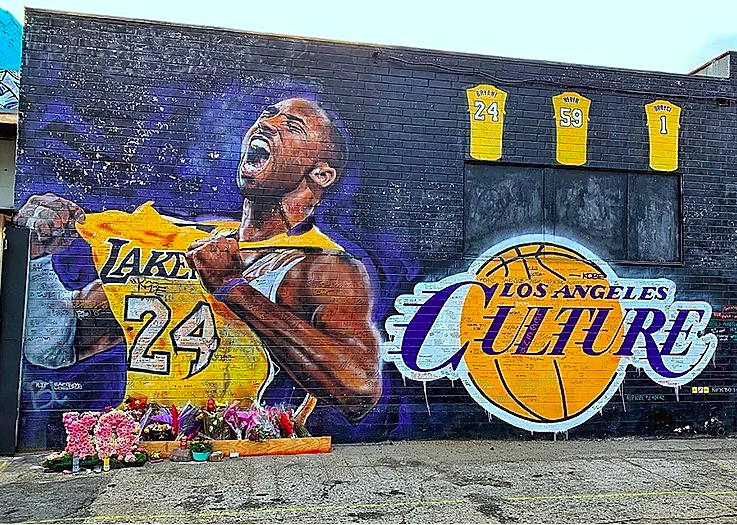 Kobe Mural by Jonas Never 1337 Lebanon St. Los Angeles, CA 90015
Nearby the Staples Center, Los Angeles sports muralist Jonas Never created a Kobe Bryant mural to honor the star's NBA career in 2016. Following the news of the accident, fans gathered at the Downtown Los Angeles mural along the 1300 block of Lebanon Street. Hundreds of people have written down their tributes on post-its and hung them bellow the iconic mural. The artwork features Kobe doing his iconic Mamba yell along with "Los Angeles Culture" styled as the Lakers' logo.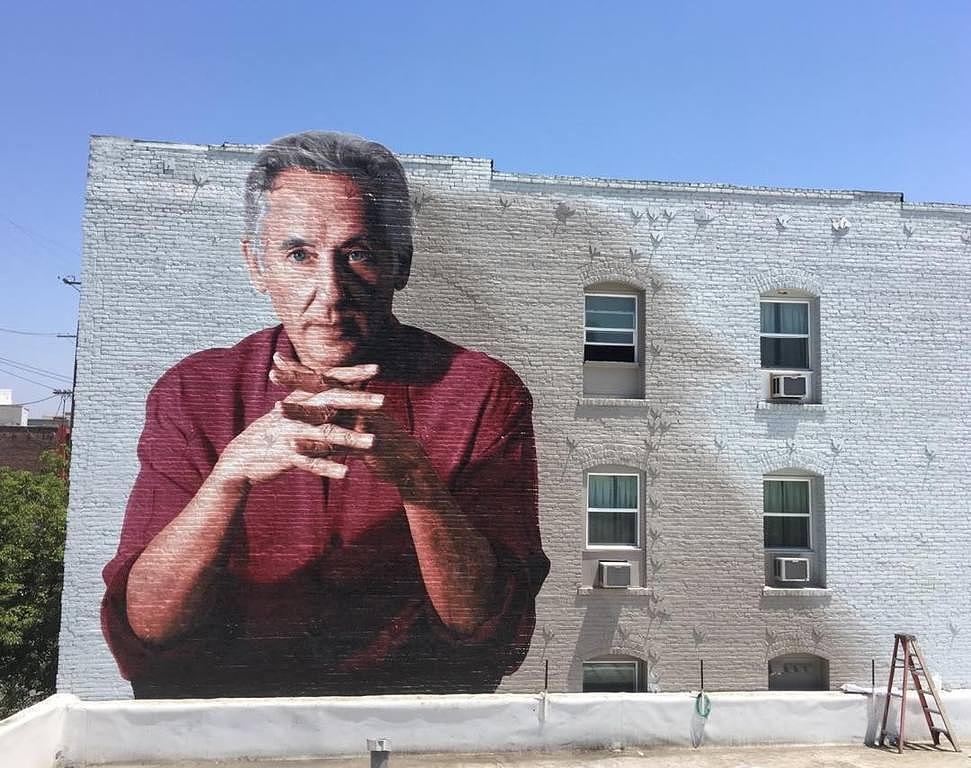 Kent Twitchell Ed Ruscha Monument American Hotel 303 S. Hewitt St. Los Angeles, CA 90013
A veritable legend in the L.A. mural scene is Kent Twitchell, who is internationally famous for his realistic multi-storied mural portraits. He's been painting across the city for decades, although some of his most beloved pieces have been erased over the years, such as his original portrait of the artist Ed Ruscha. Fortunately, Twitchell had the chance to do an updated version of Ed Ruscha Monument on the side of the American Hotel in the Arts District. One of his moet iconic works, Harbor Freeway Overture, a depiction of three Los Angeles Chamber Orchestra musicians, is located on the Citiicorp Plaza parking structure at 8th St. and the Harbor Freeway.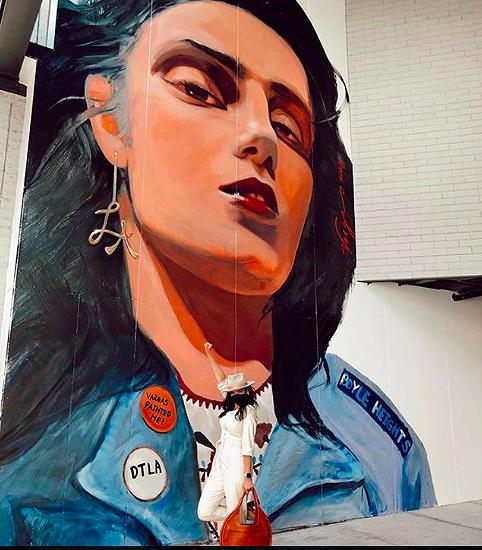 Street Art @The Bloc 700 W 7th St, Los Angeles, CA 90017
Explore the street art at The Bloc while social distancing and rocking your masks. You'll have plenty of great opportunities to perk up your social media feed as you pose with colorful murals featuring the work of WRDSMTH, Antigirl, Colette Miller, and more. Hashtag #bestofdtla to enter-to-win a $1,000 giveaway! Pictured is a dramatic 30-foot mural by Robert Vargas with photo by @vero.parga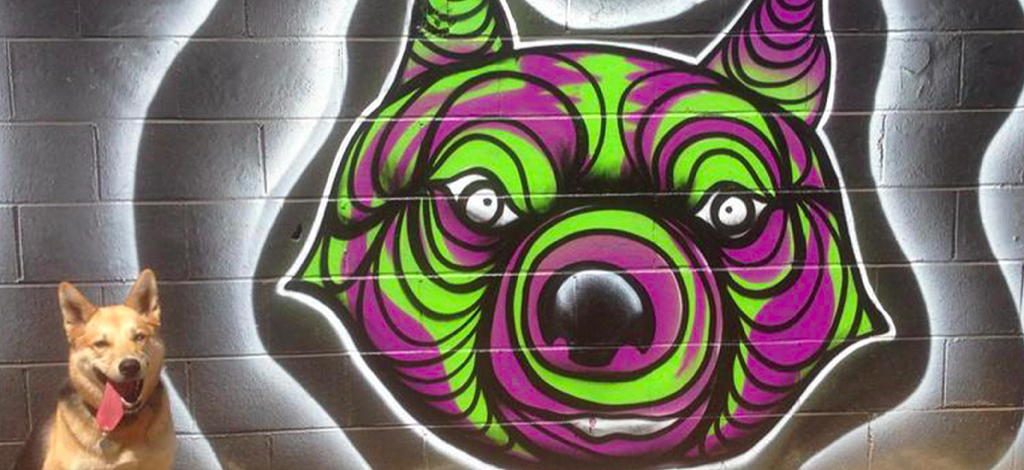 Arts District Dog Park 1004 E 4th Street Los Angeles, CA 90013
Here's the chance to see some amazing LA murals while taking your pooch on a well-deserved trip to the park. True to its creative surroundings, The Arts District Dog Park is punctuated with colorful murals by LA artist Septerhed. Featured on ABC7 LA, KTLA, WKBW Buffalo, and more, Septerhead is an LA-based artist specializing in murals, illustrations, paintings, live painting and other wave lengths. The park includes a dog water fountain, separate small dog area, shade trees, benches for humans, a community bulletin board, pooper-scoopers, and trash bins. Not run or supported by the City of Los Angeles, this volunteer-run park is a true example of community spirit.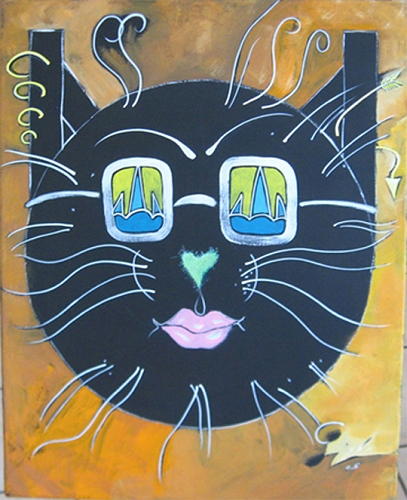 Leo Limón LA River Catz
For 35 plus years East LA-born artist Leo Limón has been painting the Los Angeles River cat faces on the storm-drain covers in a beloved project known as the LA River Catz. In the 70s, Limón developed an interest in the arts and discovered a prime, neglected canvas in the L.A. River's storm drains. His detailed paintings of cat faces represent his love for the unique flora and fauna of our urban river. With help from the city, Leo hired youth from different high schools, not only working with them to paint over 30 feline faces, but also working to reduce violence and other challenges facing his young assistants. Cats were chosen because the storm drains themselves look like a cat\'s face with the sealing hinges appearing as pointy ears and the doors themselves being a circular shape like a face. Limon is involved with groups whose efforts are to revive the Los Angeles River as a historic region, cultural art enclave and tourist destination.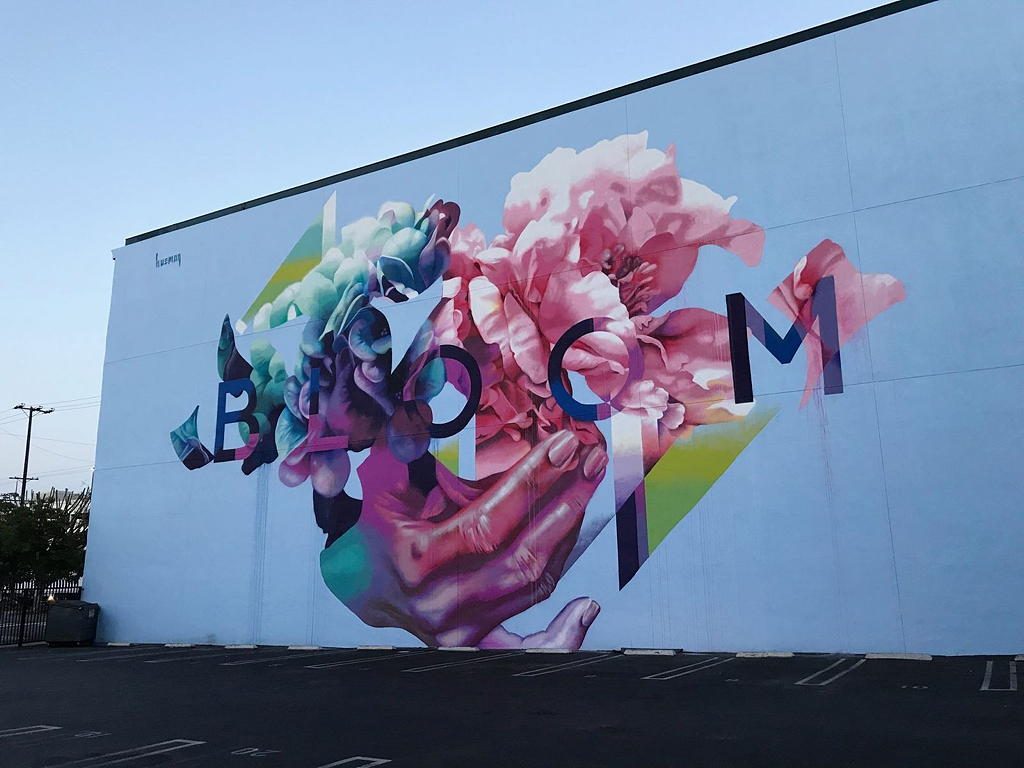 Guide to LA Arts District Murals
Discover Los Angeles has a great guide to the Downtown LA Arts District Murals. Please note that the walls are in a constant state of flux and some artworks are more permanent than others. Murals give way to the elements, their colors fading with time. Some are obliterated as walls are taken over by new artists. The Arts District you see when you visit one summer may not be the one you see the following year. The lesson here is to always take photos! Pictured is Bloom by Hueman, an Oakland based painter and street artist.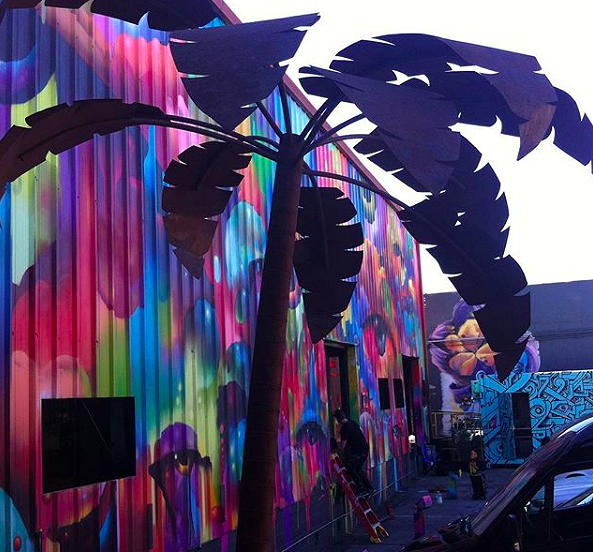 The Mural Conservancy of Los Angeles
The Mural Conservancy of Los Angeles (MCLA) was created by a coalition of artists, public art advocates, city of Los Angeles and state of California public officials, and restoration specialists. MCLA built long-term programs to retain mural arts as a part of Los Angeles' cultural legacy and establish murals as a significant part of our city's cultural heritage. MCLA maintains a free database of Los Angeles' Mural History linking artists, murals and neighborhoods. The MCLA website allows submissions of murals created recently in Los Angeles, forming an ever growing archive joining the historic with the new. Pictured is a mural by Vyal at The Container Yard arts center 800 East 4th St, Los Angeles, CA 90013. Vyal is one of the most identifiable graffiti artists on the West Coast.
Photo credits:
Photo #1: Harbor Freeway Overture/Kent Twitchell
Photo #2: Kobe Mural/AISEBORN
Photo #3: Kobe Mural/Jonas Never
Photo #4: Kent Twitchell/Ed Ruscha Monument
Photo #5: The Bloc/Photo cred: @vero.parga Mural by: @therobertvargas
Photo #6: Arts District Dog Park/Septerhed
Photo #7: Leo Limón LA River Catz
Photo #8: Bloom by Hueman/Discover Los Angeles
Photo #9: MCLA/Vyal/The Container Yard