Mezcal is rising in popularity in American bars and tequila lovers are taking note. While the two Mexican spirits are both made from agave, there are key differences between these two beverages. Essentially, all tequilas are mezcals, but not all mezcals are tequilas. Tequila is a type of mezcal, which is defined as any agave-based liquor. However, tequila and mezcal are made from different agaves, produced in different regions, and distilled differently. Vive la difference!
Getting thirsty? Now that we've piqued your interest, It's time to discover DTLA's craft tequila and mezcal bars!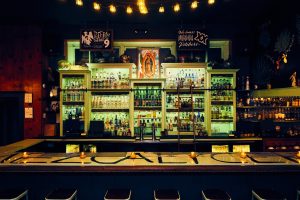 Las Perlas 107 E 6th St. Los Angeles, CA 90014
Las Perlas, the nation's first mezcal bar, opened in March 2010 in the historic Sante Fe building at Sixth & Main in DTLA. This Oaxacan style cantina exists as a living tribute to Mexico's native spirit, mezcal, with the finest selection of more than 400 premium agave spirits in the United States. Las Perlas cocktails arrive garnished with everything from wild hibiscus flowers to the Oaxacan delicacy of spicy, roasted chapulinas, while also offering ice cold Mexican cerveza.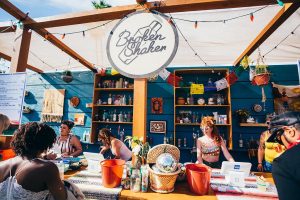 Broken Shaker Freehand Hotel 416 W. 8th St., Los Angeles, CA 90014
An oasis in the heart of Downtown LA, Broken Shaker, located on the Freehand Hotel rooftop pool deck, offers an eclectic menu of handcrafted cocktails and small bites. A James Beard Award finalist and winner of Tales of the Cocktail's Best American Hotel Bar award, Broken Shaker serves up delicious cocktails, infused with homemade elixirs and exotic ingredients, bringing the flavors of the beach to the center of the city.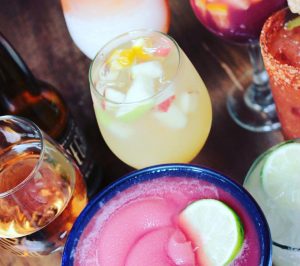 Rosa Mexicano 800 W Olympic Blvd, Los Angeles, CA 90015
Rosa Mexicano offers a wide array of tequila and mezcals. With close to 100 varieties, you're certain to find something to quench your thirst. From the signature pomegranate margarita, to your favorite classic cocktail reimagined with mezcal, you'll enjoy a truly unique experience in every glass. Enjoy your cocktail at the bar, with a selection from the botanas menu (bar snacks), or imbibe in the dining room. Let the cocktail menu be your guide or bring your own spirited inspiration. The bartenders will not disappoint!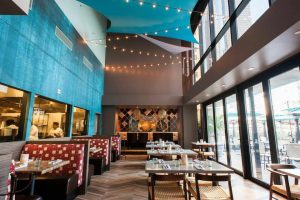 Pez Cantina 401 S Grand Ave, Los Angeles, CA 90071
Pez Cantina is a sustainable Coastal Mexican-style restaurant and bar serving the freshest sea-to-land dishes in an oasis-type atmosphere. Inspired by his travels to Loreto, a sleepy fishing town in Baja California, Mexico, and his marriage into a Mexican family, Chef Bret Thompson captures the complexity and spirit of the food he has developed a strong love and passion for. Pez Cantina's menu focuses on dishes from the many distinct regions of Mexico: from Baja, to Oaxaca, to the Yucatan Peninsula. A fine-tuned selection of bright and eclectic cocktails, California-focused wine list and craft beers, round out the menu.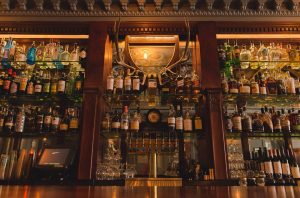 The Love Song Bar 450 S Main St. Los Angeles, CA 90013
This charming, cozy bar offers eclectic decor, vinyl records spinning cool music, friendly bartenders, and solid craft cocktails. Adjacent to the Regent Theatre and next door to Prufrock Pizzeria, you can order pizza from the bar and they'll bring it right over. Whether you're catching a show at The Regent or bar-hopping in the area, Love Song Bar is a great spot to stop and chill.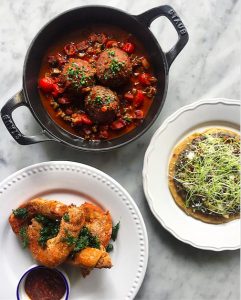 Broken Spanish 1050 S Flower St. Los Angeles, CA 90015
Following the evolution of its chef, Ray Garcia, a classically trained chef born and raised in Los Angeles, Broken Spanish offers an amalgamation of new ideas with the powerful influence of his Latin upbringing. Drawing inspiration and flavors from a diverse community, Broken Spanish presents a distinct culinary perspective with an elevated contribution to a bountiful culinary history.The cuisine is expressed in bold yet refined flavors, demonstrating elements of long-established traditions, while finished dishes are showcased with modern appeal. The bar offers an aromatic selection of tequilas, mezcals, and intriguing craft cocktails.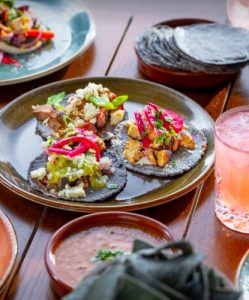 Veranda Hotel Figueroa 939 S Figueroa St #500 Los Angeles, CA 90015
Just in time for summer, Chef Adrian Garcia is serving an authentic Mexican popup menu, befitting the tropical vibe at Veranda, DTLA's urban oasis at Hotel Figueroa. Cocktelier Dushan Zaric has created an agave program that spotlights some of Mexico's finest tequila and mezcal distillers and their unique takes on the craft. Mixed with house-made ingredients, such as grapefruit and hibiscus cordials, and mango sangrita, the cocktails complement Chef Garcia's cuisine. Kick back poolside and toast this season with a fresh fruit margarita or snifter of Tequila. Salud y buen provecho!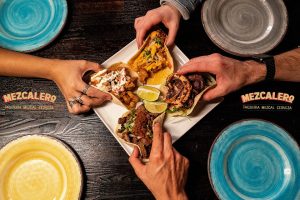 Mezcalero 510 S Broadway Los Angeles, CA 90013
The name that says it all! Mezcalero is a small, laid-back joint in the heart of DTLA, presenting a dizzying selection of mezcal. tequila and other agave spirits, along with craft beer and Mexican street food. The down to earth staff, lead by mixologist Nathan McCullough, loves sharing and shaking up our cocktails while generating a welcoming environment for all. Mezcalero offers daily happy hour specials, Taco Tuesday parties, and Sunday brunch. So come on by any day of the week and experience the local love and dedication. Salud!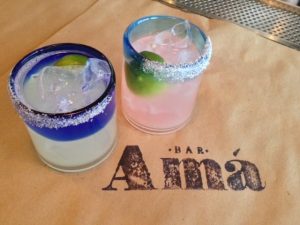 Bar Amá 118 W 4th St. Los Angeles, CA 90013
This Tex Mex hot spot will tingle your tummy with specialities like fideo and borracho beans with cilantro and pork belly, simmering on the stove. Chef Josef Centeno created Bar Amá as his interpretation of the food he was nurtured on by the women who raised him, and the menu reflects that comfortable sense of home. The bar offers a great selection of tequilas and mezcals, along with absinthe, whiskey, gin, beer, wine, and more.