Did you know that Los Angeles is in the midst of a baking renaissance? In the last decade or so, the LA region has seen a wealth of independent bread bars and bakeries spring up, spearheaded by talented local entrepreneurs with a passion for bringing the freshest, handmade artisanal offerings to the community, many just a short distance from Circa. From traditional breads and baked goods, to elegant European pastries and historic shops serving unique confections, you'll discover there's plenty of loaves to love when you shop DTLA's artisanal bakeries and bread bars. Check websites for opening hours, pickup and delivery.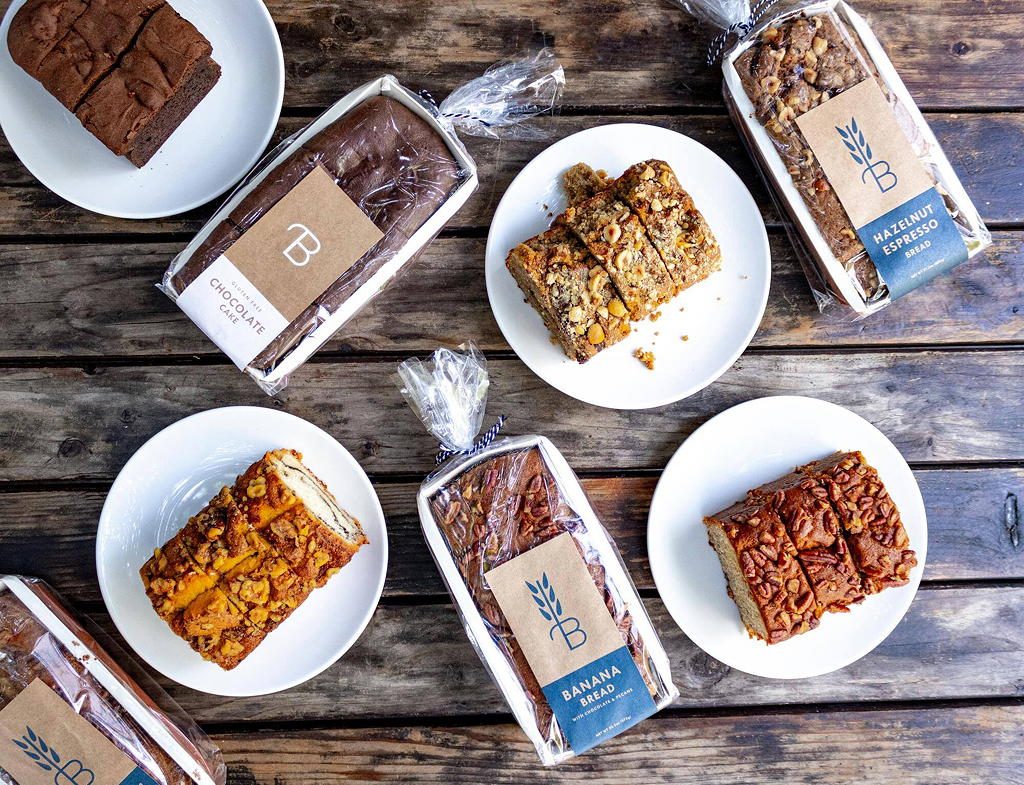 Bread Lounge Bakery 700 S Santa Fe Ave. Los Angeles, CA 90021
Since 2010, Bread Lounge has brought the art of baking to the Arts District in downtown Los Angeles. Handcrafted and baked fresh daily, they pride themselves in using only all natural ingredients: water, flour, natural yeast and salt. This European-stye bakery & cafe serves traditional European baked goods along with the flavors of Mediterranean food. You can order online for pick up and delivery from their website HERE
Clark Street Bread Grand Central Market 317 S Broadway A-1 Los Angeles, CA 90013
Clark Street Bread is an organic bakery specializing in naturally leavened, traditional European hearth breads. In addition to their handcrafted loaves, baguettes and croissants, they also offer a bread-centric breakfast and lunch menu. Clark Street was founded in 2014 by Zack Hall out of his apartment in West Hollywood. After spending the summer at his wife's family's town working in a wood-fired bakery in the Swedish countryside and falling in love with the craft, Hall returned home to become a full-time bread baker. In 2015 Hall set up shop in Grand Central Market and today has four locations in Los Angeles.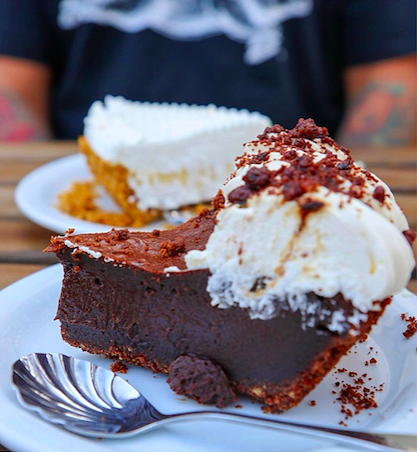 Fat & Flour Grand Central Market 317 S Broadway A-1 Los Angeles, CA 90013
While you're at Grand Central Market, make sure you visit Fat & Flour, a pie and cookie shop from Los Angeles chef and author Nicole Rucker. Rucker is known internationally for her rustic desserts and has won several awards for her homespun pies, including the 2012 National Pie Championship, KCRW Good Food Pie contest, and a Star Chef award for baking. Her first cookbook, Dappled: Baking Recipes for Fruit Lovers, was recently nominated for a James Beard Award for baking.
Pitchoun Bakery & Café 545 S Olive St. Los Angeles, CA 90013
Pitchoun is a family owned French bakery, pastry store and bistro, offering fresh artisan breads and home-made pastries and cakes, along with an array of healthy salads, sandwiches, hot dishes, soups, and more. Using traditional French family recipes, everything is home-made daily from scratch, using house-made starter levain and organic or local ingredients. The flavors are crisp, authentic, and clean, and all products aim for pure simplicity and high quality.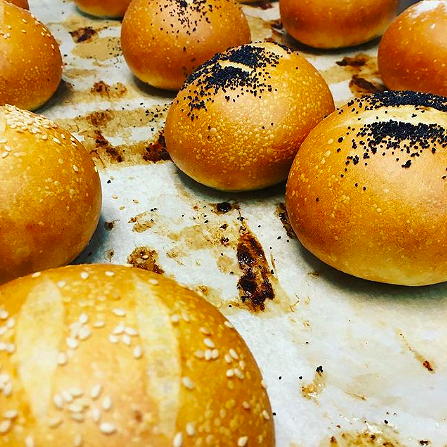 Hygge Bakery & Cafe 1106 S Hope St. Los Angeles, CA 90015
Hygge Bakery & Cafe opened their doors to give the bustling city of Los Angeles something it was missing – hygge (pronounced "hoo-gah"). Hygge is a Danish and Norwegian word for an attitude of coziness, wellness and contentment. Hygge Bakery & Cafe takes a nod to this mood with fresh pastries, cakes, coffee, and comfort. Available for takeout and delivery.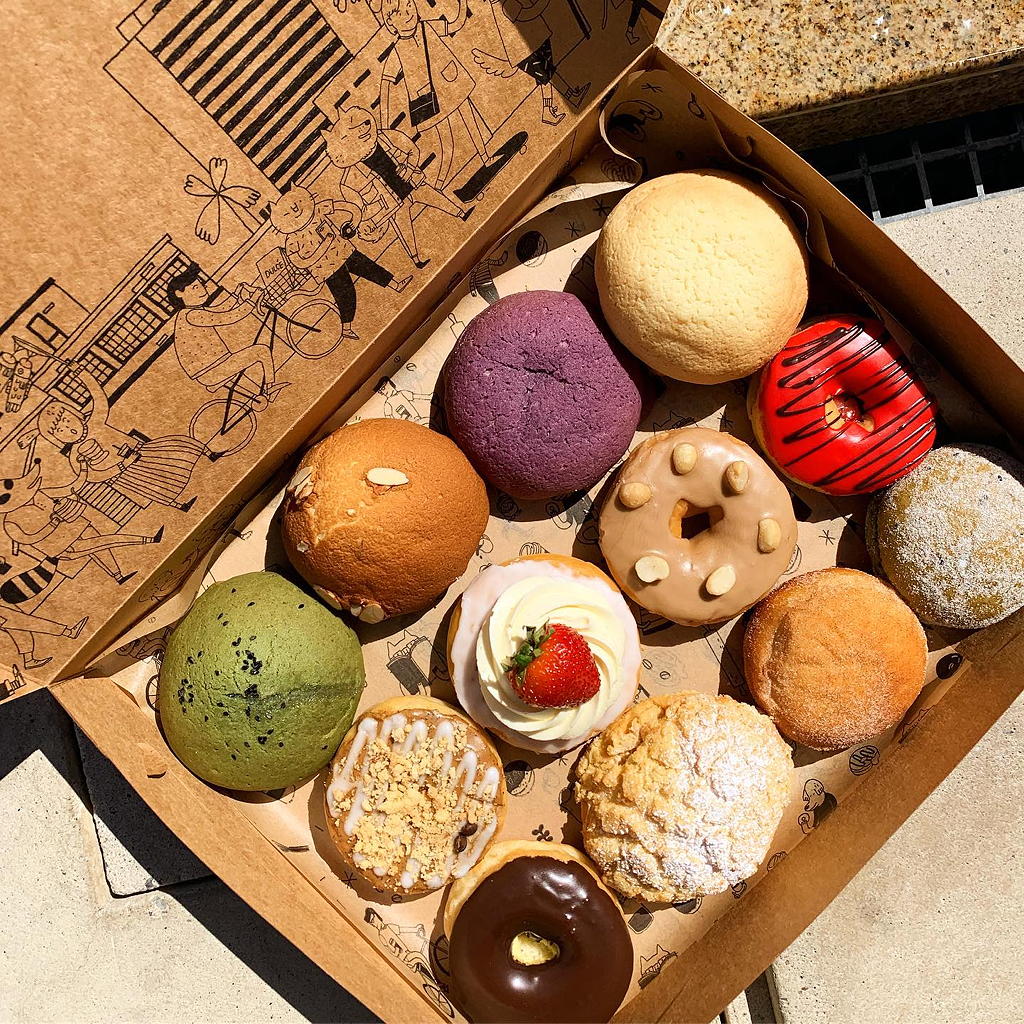 Cafe Dulce ROW DTLA 777 S Alameda Street Unit 150 Los Angeles, CA 90021
Cafe Dulce has expanded to ROW, serving fresh baked goods delivered daily from their original kitchen in Little Tokyo. This local favorite is widely known for its signature hand-crafted beverages including the Vietnamese iced coffee, single origin pourovers, blueberry matcha lattes, and green tea donuts. Stop by to enjoy a little break in your morning or afternoon.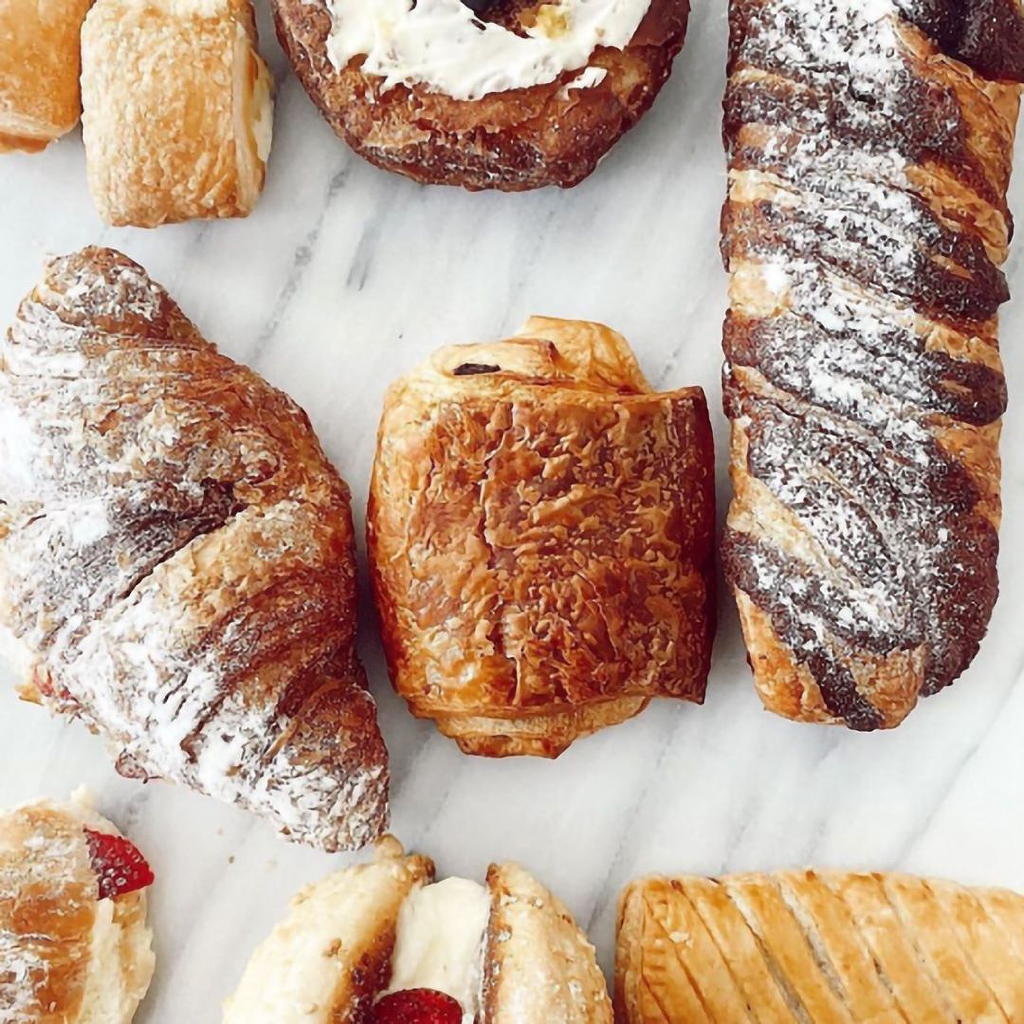 Paris Baguette 404 W 8th St. Los Angeles, CA 90014
Paris Baguette is an international, premium bakery-café specializing in yummy assortments of breads, pastries and cakes baked daily. Their mission is to bring happiness to everyone by adapting to people's ever-expanding palates with decadent, unique and sophisticated baked goods. They serve a variety of treats ranging from coffee, tea, smoothies, and frappes, to appetizing snacks, delicious cakes for all occasions, and chef-inspired sandwiches and salads.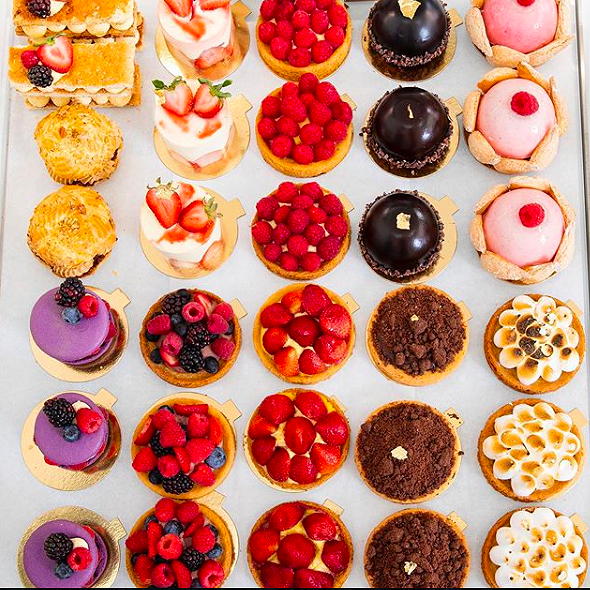 La Tropézienne Bakery 757 S Main St. Los Angeles, CA 90014
Born and classically trained in France, La Tropézienne Bakery's founders bring French savoir-faire to DTLA with the traditional taste of classic viennoiseries and pastries. Named after the famous dessert, La Tropézienne, their traditional baked goods are available all day long, including croissants, brioche, pain au chocolat, and original creations such as tasty macarons and a delicious almond and pistachio croissant.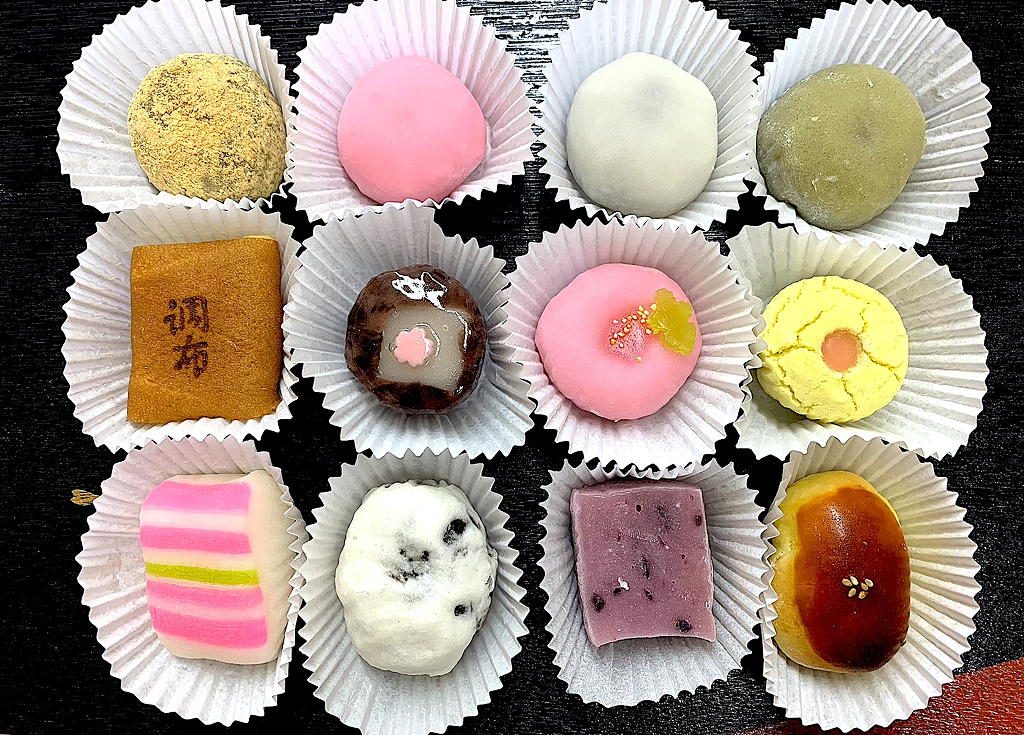 Fugetsu-Do 315 E 1st St. Los Angeles, CA 90012
Fugetsu-Do is a family-owned mochi and manju sweet shop in Little Tokyo since 1903. Fugetsu-do creates the finest Japanese mochi and manju in Los Angeles by expert artisans. Mochi is a Japanese confection, usually found in the shape of a small round rice cake, which can be eaten with condiments such as kinako (roasted soy bean flour), manju (sweet red bean paste), soy sauce dip, and seaweed. Traditionally, mochi is made by pounding steamed glutinous rice in a large wooden mortar, called the usu, with a wooden mallet called the kine. The store is open for in-person shopping or you can order your mochi online from Japansuper.com and have it delivered fresh to your door.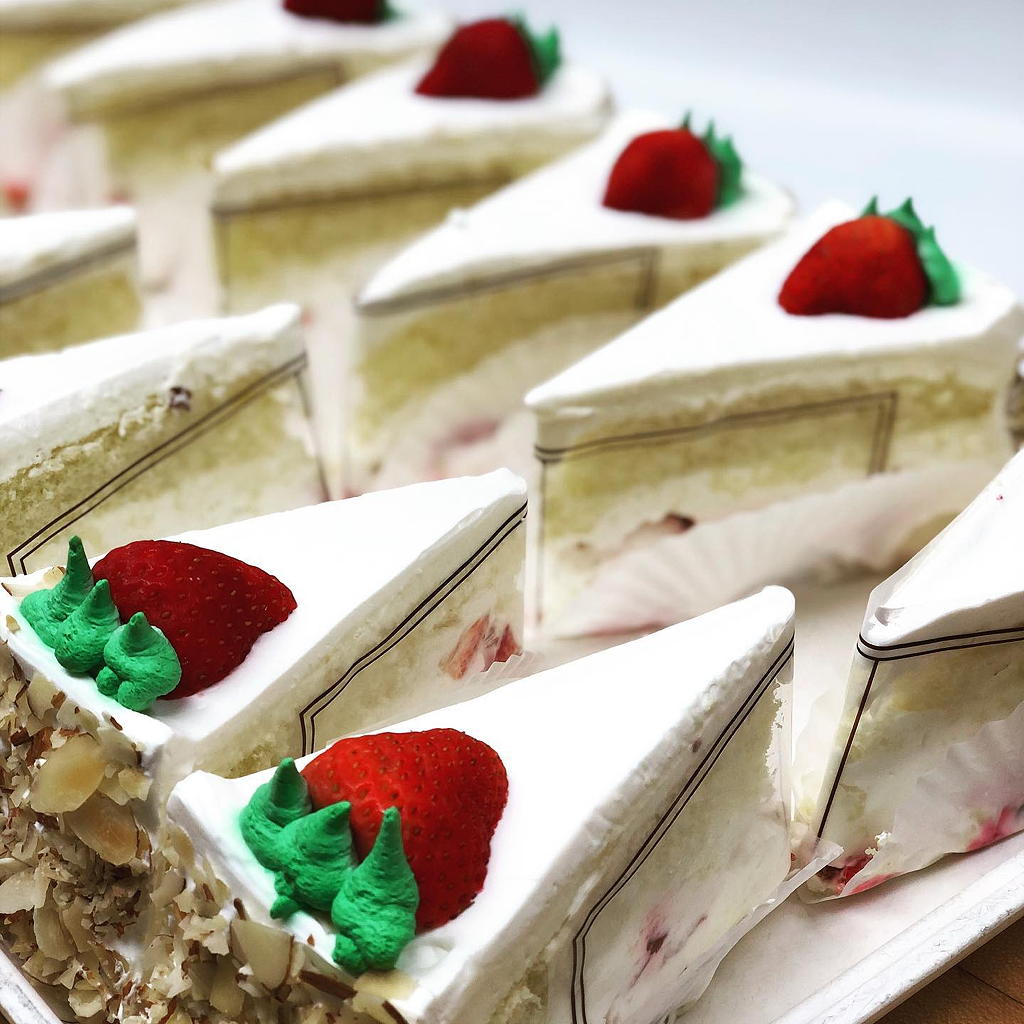 Phoenix Bakery 969 N Broadway Los Angeles, CA 90012
A real Chinatown icon, Phoenix Bakery has been creating delectable cakes and pastries since 1938. Founded by, and still operated by the Chan Family, the bakery serves families and celebrities alike for all occasions. Famous for their fresh strawberry whipped cream cake, Phoenix Bakery cakes have become a tradition across generations as families and friends celebrate special occasions from kids birthday parties to quincineras, retirement parties and more. If you're just stopping by, try their yummy sugar butterflies and almond cookies – the perfect bite to sweeten your day.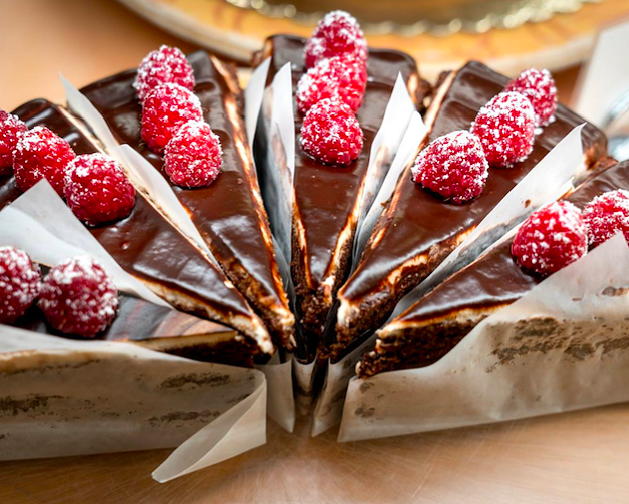 Amandine Patisserie Cafe 650 S Hill St k10, Los Angeles, CA 90014
Located in historic Saint Vincent Court, Amandine Patisserie Cafe's delicious French Japanese style breads, cakes and pastries are all made in-house from scratch and baked fresh daily. Since 2002, Amandine Patisserie Cafe has been combining the finest baking traditions from France and Japan to create unforgettable gourmet experiences. Every day they source local fresh ingredients from the finest suppliers to create mouthwateringly fresh dishes made to order.
Photo credits:
Photo #1: Paris Baguette
Photo #2: Bread Lounge Bakery
Photo #3: Clark Street Bread
Photo #4: Fat & Flour
Photo #5: Pitchoun Bakery & Café
Photo #6: Hygge Bakery & Cafe
Photo #7: Cafe Dulce
Photo #8: Paris Baguette
Photo #9: La Tropézienne Bakery
Photo #10: Fugetsu-Do
Photo #11: Phoenix Bakery
Photo #12: Amandine Patisserie Cafe