Summer weather beckons with sunny days and starry nights. Now that LA is opening up again, your favorite downtown rooftop restaurants and bars near Circa are coming back. We can't think of a more exhilarating way to spend a leisurely afternoon or balmy evening than enjoying craft cocktails and chef-driven menus, served high in the sky. From elegant hotel dining, to poolside bistros and charming urban oases, there's an elevated table waiting for you. Check websites for hours and reservations.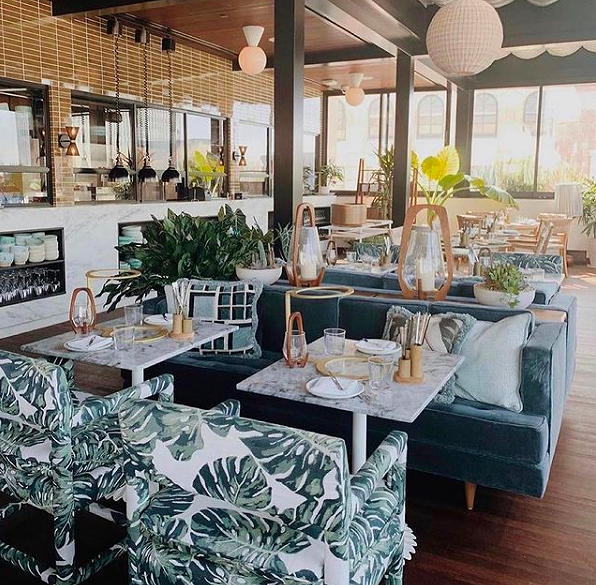 Pilot DTLA 1060 S Broadway, Rooftop, Los Angeles, CA 90015
Pilot is a coastal Mediterranean restaurant, pool, bar and lounge atop the roof of The Hoxton hotel, serving up an outdoor dining menu of dreams including square pizzas, shoestring fries, grain bowls and a weekday Happy Hour that'll ease you into the eve. Think fire cooking, laid back snacks, seafood displays and playful cocktails, while gazing at the expansive skyline views.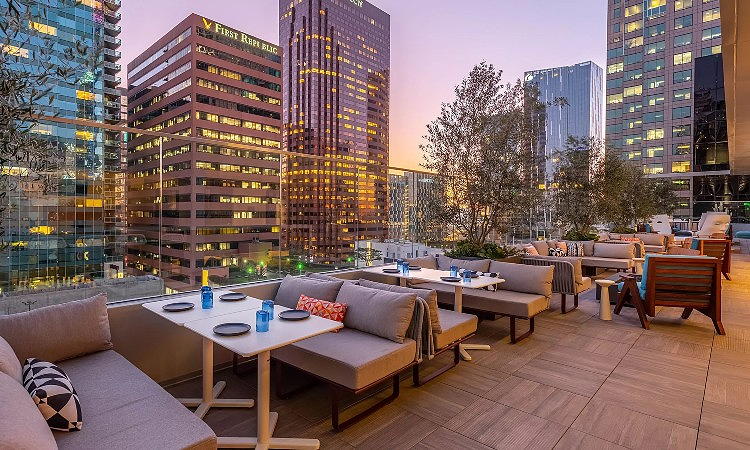 The Rooftop at The Wayfarer 813 Flower St. Los Angeles, CA 90017
Revel on the outdoor rooftop veranda at The Wayfarer Hotel in the heart of DTLA. Enjoy killer cocktails with views to match. Cool off by the water while the mixologist gets creative with the next round. Menu items range from savory starters to full on dinner dishes such as marinated baby lamb chops and bacon-wrapped sea scallops. Finish your meal with sweet indulgences such warm chocolate chip cookies or beignets.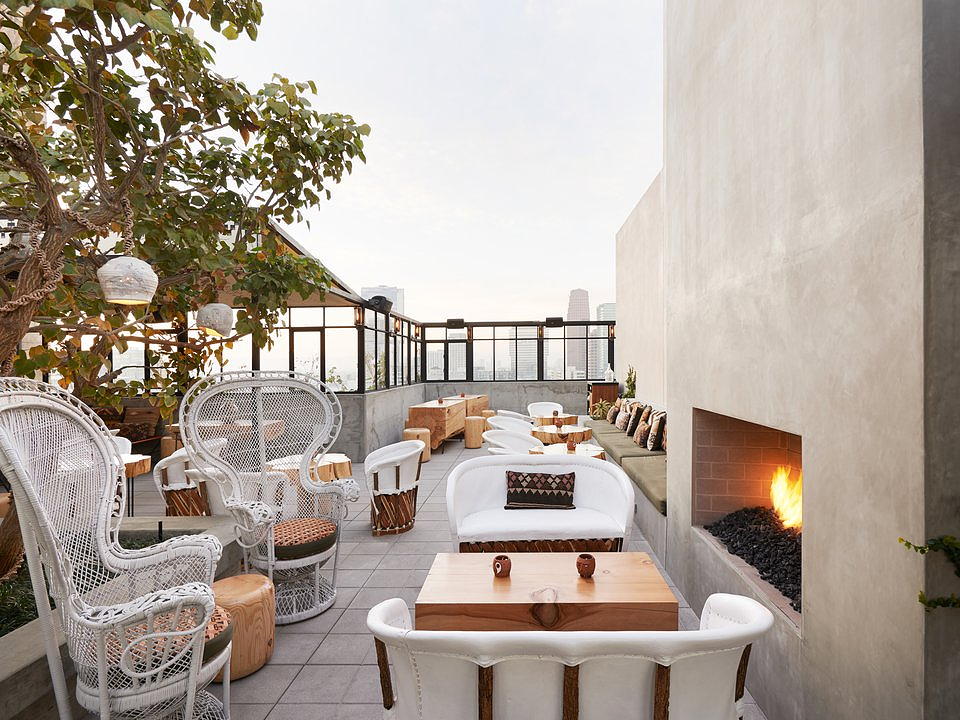 Upstairs at Ace Hotel 929 S Broadway Los Angeles, CA 90015
Perched on the rooftop of Ace Hotel Downtown Los Angeles, Upstairs' eclectic all-day menu is cultivated to complement the vibrant atmosphere of your open-air home away from home, with cinematic city views stretched out in all directions. Perfect for reclining by the rooftop pool or hanging out on a stool after sunset, enjoy frozen drink specials and small plates served poolside. If you can't bear to detach from your device, there's free WiFi.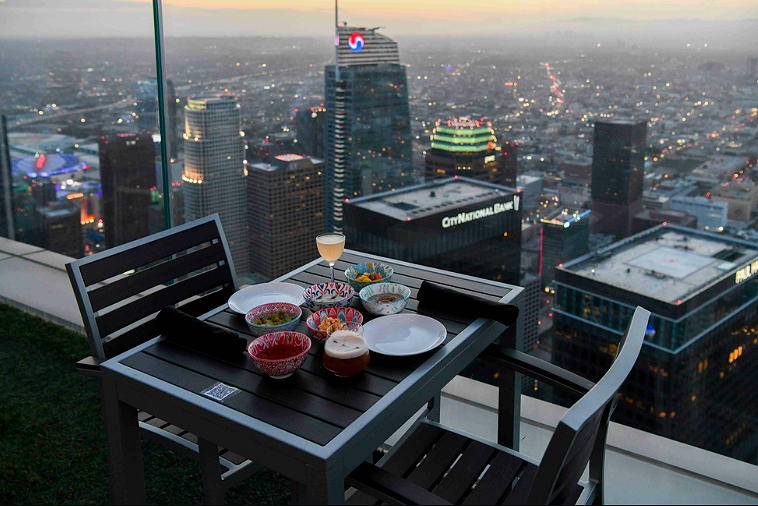 Vista Patio 71 Above 633 West 5th St. Los Angeles, CA 90071
Vista is a Mediterranean food and cocktail pop-up by 71Above, located on the 69th floor patios of the US Bank Tower, serving a tasting menu of mezze plates paired with cocktails and wine. If you really want to elevate your experience, at 950 feet above ground level on the 71st floor, 71Above is the highest restaurant west of the Mississippi. Offering sophisticated modern American cuisine by Chef Vartan Abgaryan, 71Above boasts breathtaking ocean views from Malibu to Laguna Hills, along with spectacular views of the Los Angeles basin and the surrounding mountain ranges.
Perch 448 S Hill St. Los Angeles, CA 90013
Perch Los Angeles is a French inspired rooftop bistro that offers unobstructed views of Downtown Los Angeles that will make you feel as if you're floating over the skyline. The elevated spaces offer outdoor fireplaces, various fir pits, and lounge and table seating. Enjoy classic French dishes with a twist from the menu for dinner, or sip beer, wine or Parisian-inspired cocktails at any one of the bars. Perch also offers a unique and an elegant list of rare Cognacs, Armagnacs, Calvados and French Cordials to pique your palate.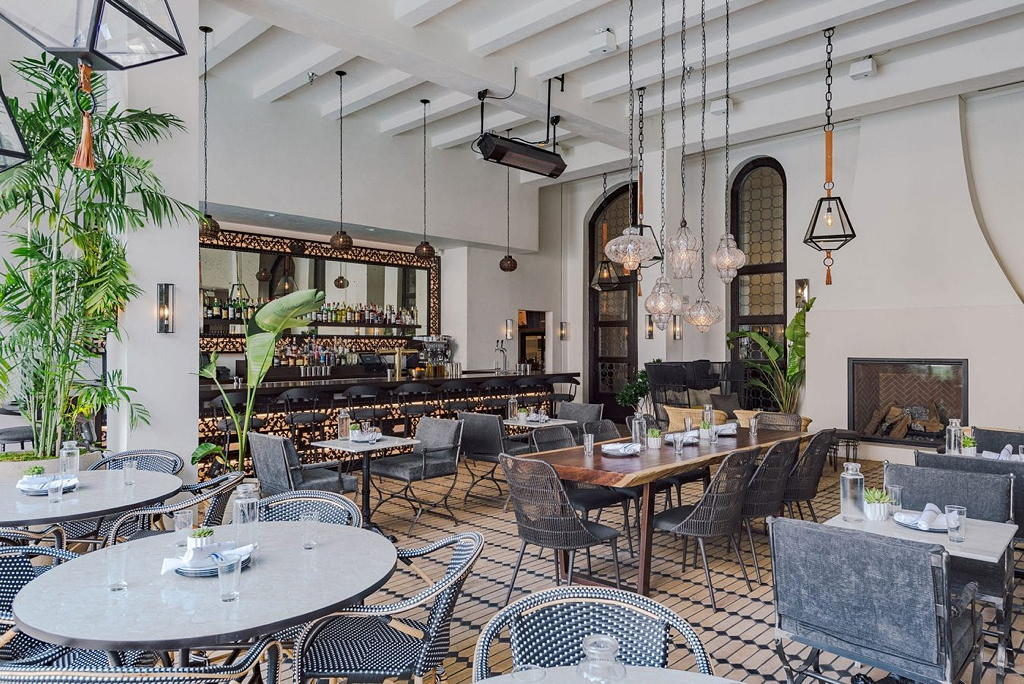 Veranda Al Fresco Hotel Figueroa 939 S Figueroa St. Los Angeles, CA 90015
Chef Adrian Garcia serves up an authentic Mexico City-inspired menu, befitting the tropical vibe at Veranda Al Fresco, DTLA's urban oasis at Hotel Figueroa. Savor a tasty, simple street taco menu paired with a great selection of cocktails. Salud y buen provecho!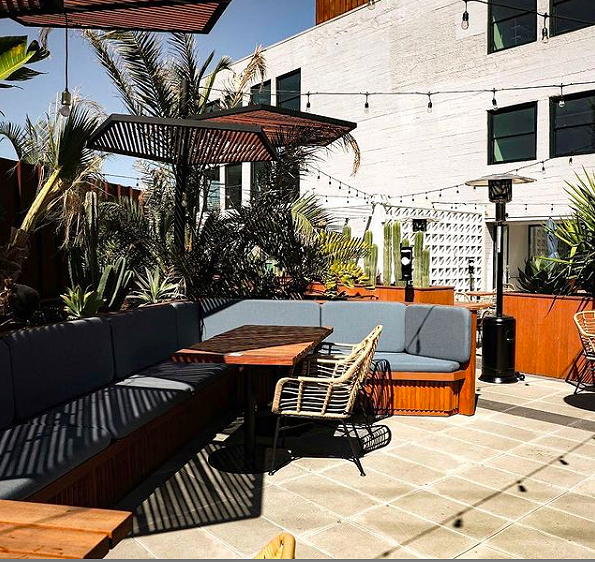 LA Cha Cha Chá 812 E 3rd St. Los Angeles, CA 90013
The sister location of Terraza Cha Cha Chá in Mexico City, LA Cha Cha Chá recently opened a chic outdoor rooftop space in the Arts District. The restaurant offers gorgeous views of DTLA and a notable menu by Mexico City-born, LA-raised chef Alejandro Guzman. There are traditional starters like aguachile and ceviche, along with chicharos de sierra with fresh peas, serrano aioli, and crispy potato – a revamped family recipe. Cha Cha Cha also offers a tacos and tostada menu, and heartier dishes like grilled fish, charcoal roasted chicken, and a pork shoulder confit carnitas with braised beans and pico de gallo.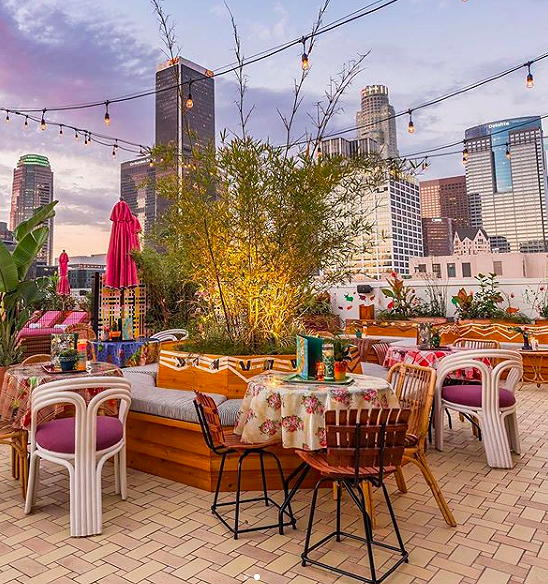 Broken Shaker Freehand Hotel 416 W 8th St., Los Angeles, CA 90014
An oasis in the heart of Downtown LA, Broken Shaker, located on the Freehand Hotel rooftop pool deck, offers an eclectic menu of handcrafted cocktails and small bites. A James Beard Award finalist and winner of Tales of the Cocktail's Best American Hotel Bar award, Broken Shaker serves up delicious cocktails, infused with homemade elixirs and exotic ingredients, bringing the flavors of the beach to the center of the city. Reservations are required.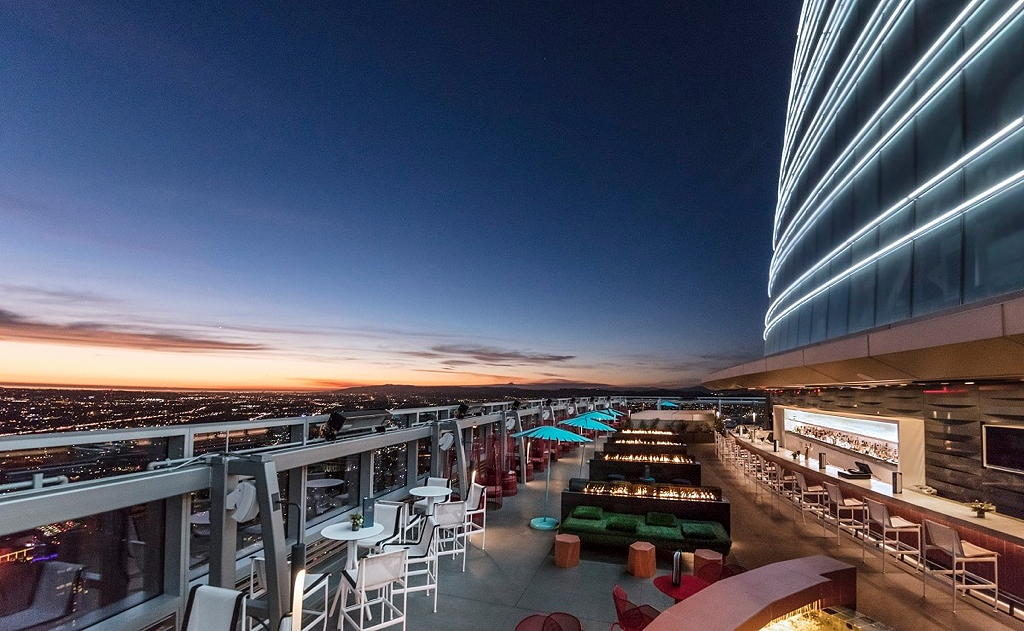 Spire 73 900 Wilshire Blvd Floor 73 Los Angeles, CA 90017
Just in time for rooftop season, take in unrivaled views of the city from Spire 73, the tallest open-air bar in the Western hemisphere, while indulging on a seasonal menu of culinary expressions. Located atop the 73rd floor of InterContinental Los Angeles Downtown, this reservation-only dining experience under the stars is bookable through OpenTable to guests and locals alike HERE
Photo credits:
Photo #1: Perch
Photo #2: Pilot DTLA
Photo #3: The Rooftop at The Wayfarer
Photo #4: Upstairs Ace Hotel
Photo #5: Vista Patio 71 Above
Photo #6: Perch
Photo #7: Veranda Al Fresco
Photo #8: LA Cha Cha Chá
Photo #9: Broken Shaker
Photo #10: Spire 73